(This article by Robert Kiener originally appeared in Military Officer, a magazine available to all MOAA Premium and Life members. Learn more about the magazine here; learn more about joining MOAA here.)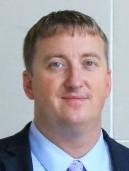 Maj. Zac Fike, ARNG, has his work cut out for him. His office is filled with packages containing Purple Heart medals that were sent to him in the hopes that the nonprofit organization he founded, Purple Hearts Reunited, can help return them to their rightful owners.
Since founding the Vermont-based organization in 2012, Fike, pictured, and a small staff of volunteers have returned more than 800 lost Purple Hearts to their original recipients or, more commonly, to their surviving relatives.
"The more people that hear about us, the more medals we receive," said Fike, who devotes much of his spare time to running Purple Hearts Reunited. "Believe it or not, we are now getting about one medal a day from across the country."
The organization currently has about 1,000 medals on hand awaiting return. If recipients cannot be located, medals are donated to military museums or similar establishments.
More than 1.8 million Purple Hearts have been awarded since the modern form of the honor was established in 1932. (An earlier version, the Badge of Military Merit, was created by President George Washington in 1782.) Because Purple Hearts are presented to servicemembers who are wounded or killed in combat, Fike said many people are surprised that so many medals have gone missing. But he's not.
[RELATED: MOAA Members Share How They Earned Purple Hearts in Vietnam]
"In the short time I've been doing this, I've seen everything," he said. "We have received medals that have been lost, stolen, misplaced, tossed out, even sold."
Many feel there should be a ban on collectors buying or selling Purple Hearts. Indeed, Rep. Paul Cook (R-Calif.), a two-time Purple Heart awardee, has sponsored a bill to penalize the sale of the medals.
"These medals are sacred," said Fike. "They represent someone spilling their blood or losing their life for our country. It breaks my heart that they can be bought and sold like baseball cards and may be treated with such disrespect."
Remarkable Recoveries
In addition to receiving medals from the public, Fike and his volunteers regularly comb auction sites, antique stores, and pawn shops for Purple Hearts. The average posthumous medal sells for $300 to $500. Fike's charity has spent more than $100,000 buying medals engraved with the recipient's name to return them. The most it paid was $6,000 two years ago for the Purple Heart of a Navy sailor who died on the USS Arizona (BB-39) at Pearl Harbor on Dec. 7, 1941. This topped the previous record of $5,000, for a Purple Heart awarded to a Marine who served in Iwo Jima during World War II.
Fike said he remains fascinated by the way Purple Hearts have been found over the years.
"It never fails to amaze me," he said.
Remarkable finds include medals that were discovered in a landfill. Others were found in the water by scuba divers or buried in land by metal detectorists. One was found lodged in a broken-down dryer in an Alabama nursing home, one in a Walmart parking lot, others on an airport's baggage carousel and in taxi cabs. A recently issued Purple Heart was spotted on the floor of a Broadway theatre — it had fallen off a soldier's uniform — and Fike helped return it to its owner.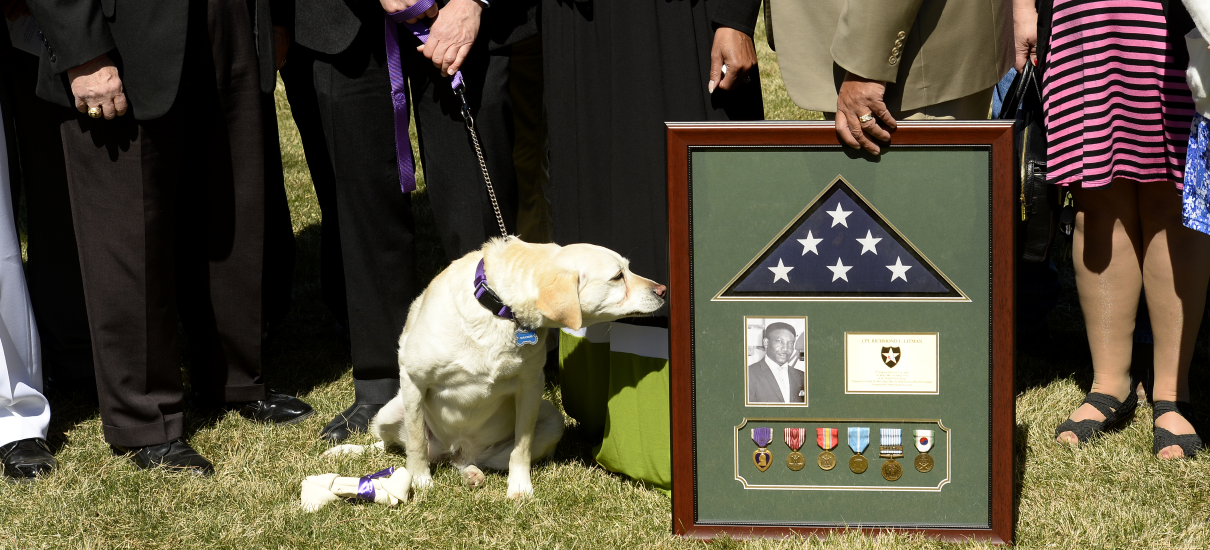 Smuckers was the first dog to find and return a Purple Heart. After digging up the medal in a backyard, the dog wore it on her collar during a return ceremony in 2015. (Helen H. Richardson/The Denver Post via Getty Images)
One of Fike's favorite finds was thanks to Smuckers, a Labrador-golden retriever mix who dug up a Purple Heart in a backyard in Denver in 2005. Years later, the dog's owners contacted Fike's charity, and he located the recipient's relatives in 2015.
"Smuckers was the first dog to find and return a Purple Heart," said Fike.
At a special graveside ceremony in 2015, Smuckers returned the medal, via a ribbon on her collar, to Leatra Plick, the daughter of deceased Korean War recipient Cpl. Richmond Litman, USA. As she held the medal for the first time in years, Plick said, "It's like I am holding a piece of my dad, you know?"
Return Ceremonies
To locate owners of Purple Hearts or their relatives, Fike and his team use websites such as Ancestry.com as well as governmental databases like the World War II Memorial Registry or the National Archives' World War II Serial Number Index. It helps that the medals have the recipient's name engraved on the back.
"Some names pop right up," Fike said, "and others take a lot more sleuthing."
After Fike and his volunteers successfully complete a search, they offer to return the medals by mail or via a formal return ceremony. Fike used to do most of these by himself, often at his own expense, but he has since enlisted the aid of a team of Valor Guards, who help return medals across the U.S. So far, they have traveled more than 100,000 miles and visited 46 states to return medals.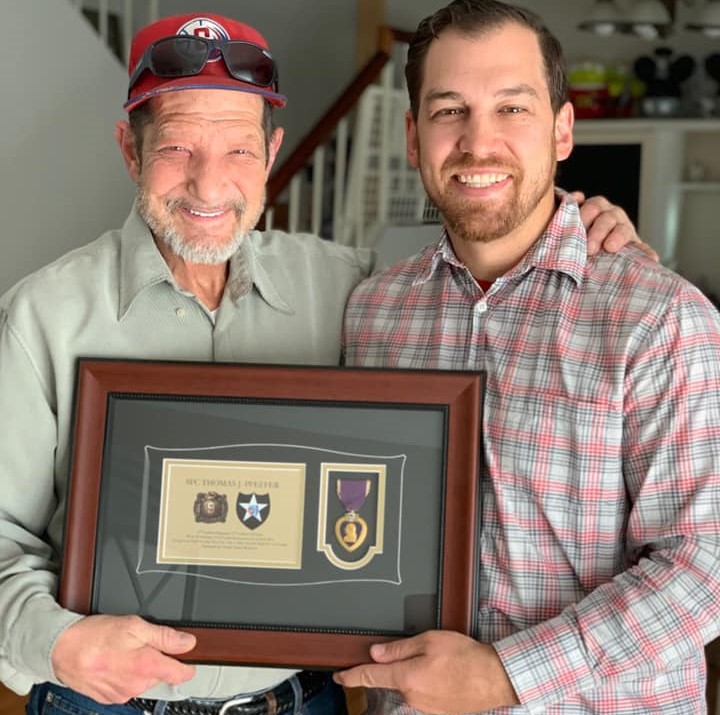 Purple Hearts Reunited has returned more than 800 medals to individuals and their families. (Courtesy of Purple Hearts Reunited)
Expenses for each return average $1,200, which includes costs to purchase the medal if needed, framing, and travel for the return ceremony.
Retired Madison, Wis., police officer and former Staff Sgt. Mike Brennan, USA, explains that he "got hooked" on helping Purple Hearts Reunited return medals when he took part in a return with Fike several years ago.
"When you see the look on the face of the medal recipient or his family members, you can never forget that," Brennan said. "It's clear that you are returning something that is priceless to them. It's often the last link they have to their lost loved one."
Fike said these return ceremonies are what keep him spending his minimal free time — he and his wife have two young children — researching and returning medals. He has scores of stories of being moved emotionally by meeting these medal recipients or their relatives.
He remembers returning a Purple Heart to a veteran who served closely with Gen. George Patton.
"We sat down at his kitchen table with his family, and for two hours he told all of us the incredibly moving story of how he had been wounded," Fike said. "We were all in tears. Later, his daughter told me that this was the first time she had ever heard her father talk about those days. Things like that happen time and time again. It's such a privilege to do what I do."
Fike spoke at a 2018 ceremony in Louisville, Ky., where he helped return seven long-lost World War II-era Purple Hearts. These stolen medals had been found — just before they were to be destroyed after being unclaimed for 23 years — in the Louisville Metro Police's property room. As Fike spoke in front of the recipients' families, he explained the importance of the medals and the people who received them.
"The heroes we are honoring today are represented by their families. … I often say that families are the forgotten heroes," he said. "They have had to live with that loss for the rest of their lives; in this case 60, 70, 80 years. ... I ask you to honor them today."
'He Helped Us Heal'
Fike explained that one of the reasons these returns affect him so strongly is that he knows how important these medals were — and are — to both recipients and family members.
"These medals are so special to families. Imagine getting that telegram telling you your loved one had been killed. This unmarked envelope would show up 30-60 days later, and in it was the last tangible item they had ever received of their loved one. I can picture, say, parents holding these medals, cherishing them. Losing them must have created a hole in their hearts. Reconnecting with that medal helped heal that hole."
"Zac Fike is exactly right," said 79-year-old Howard Scott, who, with Fike's aid, recently received a Purple Heart medal for his uncle, 1st Lt. Jason Hunt, USA. "I'd grown up hearing so many stories about my uncle Jason, who was killed in 1918 in the skies over France. But his body had never been recovered, and it was as if he had disappeared. Zac graciously helped us, and my uncle — the uncle I never met — was awarded the retroactive Purple Heart for his actions and bravery over 100 years ago. It brought our entire family closure and so much more. The family is indebted to Zac and Purple Hearts Reunited. He helped us heal."
After researching the stories of so many heroes and learning firsthand the "special power" these medals have for both recipients and their relatives, Fike explains that it is as if he has come to know these warriors.
"These stories, these brave men and women, are always with me," said Fike. "It has been an honor to carry out this mission. I've been so lucky to find my life's calling."
There's another reason why learning about these stories of valor and seeing these Purple Hearts returned to their rightful owners mean so much to Fike. On Sept. 11, 2010, he was wounded in an insurgent rocket attack at Bagram Airfield in Afghanistan while serving with the Vermont National Guard's 86th Infantry Brigade Combat Team. "For wounds received in combat against hostile enemy forces," he was subsequently awarded his own Purple Heart.
Robert Kiener is a writer based in Vermont.
MOAA Knows Why You Serve
We understand the needs and concerns of military families – and we're here to help you meet life's challenges along the way. Join MOAA now and get the support you need.