The U.S. awarded an estimated 351,000 Purple Hearts during the Vietnam War. The oldest military medal, the Purple Heart is earned by servicemembers who are wounded or killed in combat.
To many, the award symbolizes the sacrifice and courage displayed in war. But to those who are alive to accept it, including the three MOAA members profiled in words and images below, the medal represents something else – survival.
'I Knew I Was Going to Get Hit'
Capt. David Tanis, USA (Ret), remembers being woken up by a woman's scream after he lost both of his legs in Vietnam on D-Day in 1970.
"It wasn't a shriek, it was just a little scream," he said. "And I started trying to focus through the fog of drugs they'd given (me)."
A mischievous man lying in the bed next to Tanis had pinched the nurse caring for the ward. When the injured man saw Tanis waking up, he turned his attention away from the nurse.
"He said, 'Hey, how you doing? You've been asleep a long time,'" Tanis said, remembering the encounter. "He's all happy."
When Tanis got a good look at the man, he saw he was a triple amputee … and immediately decided to stop feeling sorry for himself because he'd lost his legs.
Tanis was patrolling with his infantry company when a sister infantry company was attacked by a mortar round. As the senior officer in the area, Tanis ran to the other company to take command of both.
He never made it. The enemy continued dropping mortar rounds and bracketed him in.
"I knew I was going to get hit, and the third mortar landed right next to my right foot," Tanis said. "Must have missed my head by half an inch when it blew my legs off."
A medic reached Tanis quickly and applied life-saving tourniquets.
Tanis thought of his wife and two kids, which helped him overcome the urge to just close his eyes and sleep. He said he was conscious the entire time until he was rescued.
[RELATED: MOAA Life Member Helps Return Lost Purple Hearts to Recipients]
But he wasn't safe yet. The helicopter carrying Tanis and nine other men was shot down.
The group – seven wounded and three dead – had to wait another 45 minutes for another helicopter. Tanis remembers arriving at the emergency room at Hawk Hill, where a doctor put a mask over his face and told him to count backward from 10.
The next thing he remembered was being woken up by the nurse's yelp.
Once he was back in the U.S., Tanis remained at Walter Reed National Military Medical Center where he got to know other injured soldiers in Ward One well. With the support of his loving wife and a good sense of humor, Tanis was able, eventually, to adjust back to civilian life.
"Getting wounded definitely changed my life, but I think in a better way," he said. "I would have probably never done the things I've done or had the respect of the community if I hadn't been wounded, if I hadn't gone to Vietnam. So, you know, in that respect, I'm very, very satisfied with my life."
Today, Tanis jokes he can do almost anything that he could have done with his own two legs – except kick.
The War Comes Home
Like many other veterans, David Echevarria, returned home from war to a new battle – many American's negative view of the Vietnam War, and of those who'd fought in it.
He was on the Buffalo campus of the State University of New York when members of the Student Revolutionary group, a student organization vocal about its disdain with the war, confronted him.
"They were going to a demonstration one night and I purposely wore my leather flying jacket with all my squadron insignia on it," said Echevarria, who served as a Marine in Vietnam but later retired as a captain in the Army Reserve. "And a young student came up and threatened me and I was sitting down at the time, (so) I stood up and I must've been at least a foot taller than him. I said 'You know, you really have no idea who you're threatening.'"
As a response, the student spat in Echevarria's face and walked off.
"That was probably the worst situation in the homecoming," Echevarria said.
Echevarria was injured in 1966 during Operation New York, a successful last-minute operation that prevented the Viet Cong from bombing a base on the Phu Thu peninsula.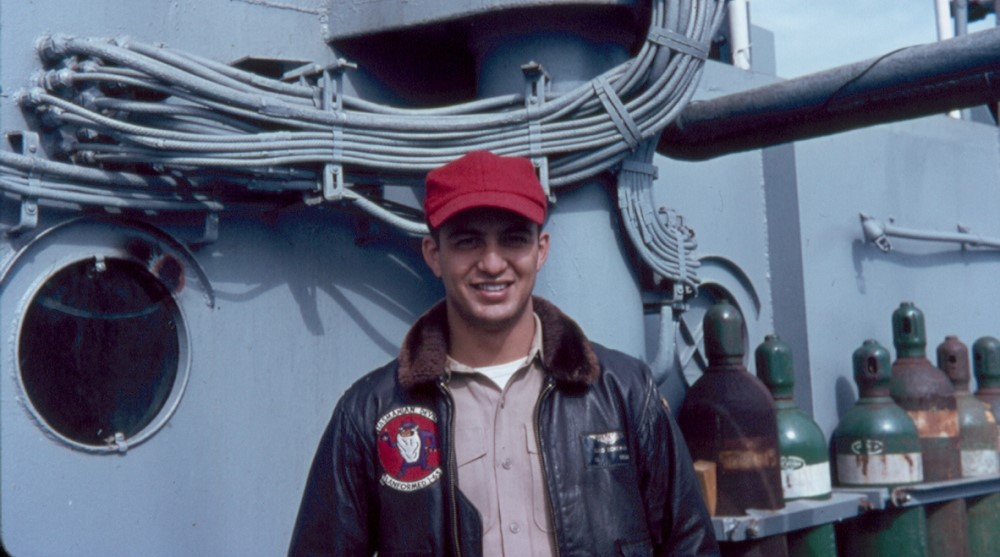 David Echevarria poses aboard a warship in 1965. He served as a Marine in Vietnam before retiring as a member of the Army Reserve. (Courtesy photo)
It was around noon when the first shots filled the air as the 2nd Battalion, 1st Regiment, was moving across a Vietnamese graveyard. About 20 minutes into the fire fight, Echevarria was trying to move into a better position when a bullet ricocheted off of his .45 and lodged itself into his hip.
Echevarria retreated behind a Vietnamese grave, which was essentially a tall mound of sand, until a medic reached him and put a bandage on his hip.
"The scariest part for me was laying there, listening to that French 75[mm], the rounds going overhead, and then… about 20, 30 minutes later, we had a couple of 8-inch artillery guns … aimed at our position. … I think two 8-inch rounds (came) in, and it sounded like a freight train."
After being rescued, Echevarria went into surgery. About 45 minutes into the procedure, the doctor informed him that the bullet was in too deep to easily remove. The doctor said that if Echevarria left the bullet in, his body would eventually form a callous around it and after some initial discomfort, he should not feel it there anymore.
Echevarria has been living with his Vietnam bullet in his hip for over half a century.
To Echevarria, his Purple Heart merely means that he lived to share his story.
"Everybody that's wounded in combat gets the Purple Heart," he said. "In my case, thankfully I survived. It wasn't awarded to me posthumously. I have several friends that were killed in Vietnam (who) were awarded the Purple Heart, obviously among other things. But thank God I survived the experience."
A Date With Destiny
When former Capt. Kevin Hynes, USAF, got the name and number of a Pan American Airways stewardess in Vietnam, he did not think twice at the time.
"Pan Am said this to all their crews: 'Give the troops your name and number. You'll never hear from them, but give them your name and number,'" Hynes recalled.
After returning to the states, Hynes decided to call the stewardess. And after more than 50 years of marriage, Hynes said the rest is history.
"She's been very much my rock (and) could take care of me," he said. "She understood that there were some dark days. And when I was still in the Air Force, I (would) wake up in the middle of the night, cold sweats and not know why. I had flashbacks and those types of things."
Hynes was sleeping in a chapel on Tan Son Nhut Air Base in 1968 when North Vietnamese troops began attacking. Since Hynes lived off-base in Saigon, he often found refuge in the base chapel because it was unsafe for him to travel home when the sun went down.
"It was covered, and they offered it to any wayward souls that needed to needed a roof over their head," he said.
One night, around 2 a.m., a 122mm rocket went through the roof of the chapel, blowing him out of a back wall and into a ditch. When he came through from the impact of the explosion, he got up and tried to rescue some others around him.
"Several men died that night," Hynes said. "I think it was five or six men were pretty much burned to death or blown into pieces. (I) helped to get one or two guys out."
One of the men noticed that Hynes was bleeding. Hynes didn't realize it at the time, but he also had a severe concussion.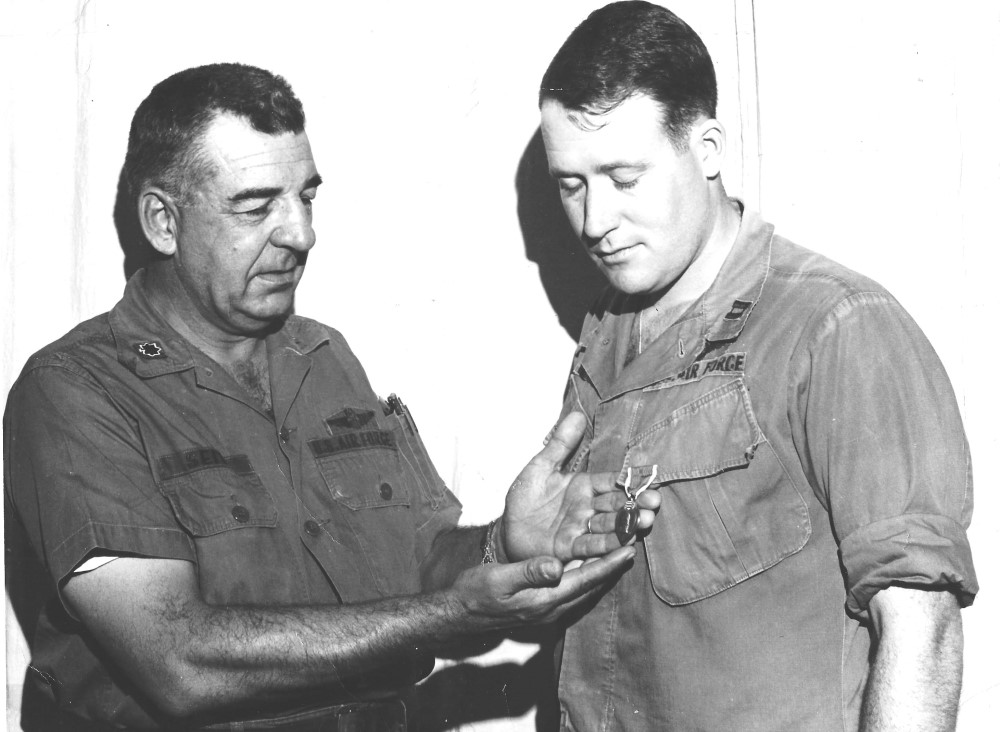 Capt. Kevin Hynes, USAF, receives his Purple Heart Medal. (Courtesy photo)
"They took me to the aid station and the medics patched me up," he said. "Pulled a lot of shrapnel out of my wound, out of my limbs and back (of my) legs and everything. I helped them. I got a pair of tweezers or tongs … and pulled out the shrapnel that was in my legs."
After that, it is a complete blank for Hynes. He was told that one of his squad roommates took him to the Army hospital, where they checked him out and put some bandages on him.
Hynes would eventually leave the Air Force as Captain after six years. Decades have passed, and the service that almost took his life has been acknowledged by others. The Purple Heart he received has always provoked his memories of service and the sacrifice of his comrades.
"It means I survived," Hynes said. "It's not an award you want to get. You don't want to be a member of this club."
MOAA Knows Why You Serve
We understand the needs and concerns of military families – and we're here to help you meet life's challenges along the way. Join MOAA now and get the support you need.