(This article by Christopher P. Cavas originally appeared in Military Officer, a magazine available to all MOAA Premium and Life members. Learn more about the magazine here; learn more about joining MOAA here.)
The intense brightness of a high-beam light cut through the total blackness of the ocean floor, nearly 3½ miles from the surface. Searchers were using an unmanned underwater vehicle (UUV) fitted with high-quality video cameras, combing the bottom of the Pacific Ocean for one of the most famous and elusive shipwrecks, that of the USS Indianapolis (CA-35). The U.S. Navy heavy cruiser was tragically torpedoed and sunk in the waning days of World War II, and the deprivations of the survivors as they drifted for days while sharks steadily cut down their number are well known.
But the exact whereabouts of the ship had remained a mystery for more than 70 years.
Then wreckage came into view, seen far above by searchers in a control room aboard the research vessel Petrel. Soon it was obvious they were looking at a big ship, recognizable and with a two-tone camouflage pattern. The UUV moved closer to the bow. A small but clear number came into view: 35. The hull number of the Indianapolis. The long-lost ship had been found.
The discovery in August 2017 of the cruiser's final resting place was only the latest triumph by the Petrel's crew of wreck finders, organized and funded by Microsoft cofounder and multi-billionaire Paul Allen. Since locating the Japanese battleship Musashi in March 2015, Allen's team has compiled an unprecedented record of searching for and finding dozens of shipwrecks, many from World War II, that had long been thought unfindable and unreachable in the ocean's greatest depths.
Aided by top-notch technology and a highly professional work ethic, the crew of the Petrel is in the forefront of several groups using ever-sophisticated tools to discover long-lost and long-sought shipwrecks. The discoveries bring to life events of the past, allow historians and naval architects to examine wrecks in detail, and often bring some sense of closure to family members of those lost with the ships.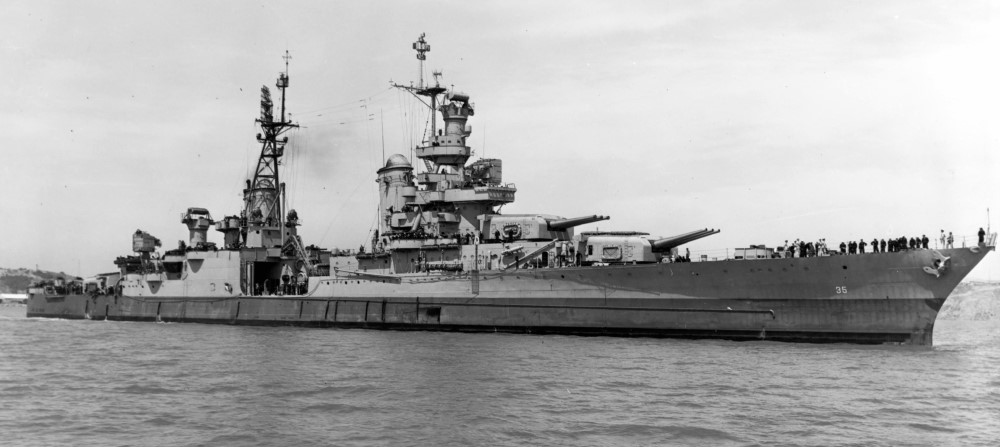 The cruiser Indianapolis on July 10, 1945, 20 days before she was torpedoed and sunk in mid-Pacific. (Photo via Naval History and Heritage Command)
But improved technology is something of a two-edged sword. As finding wrecks has become more feasible, it's become easier for those wrecks to be exploited, especially those in shallower waters.
Sometimes the ships are thought to contain treasure – gold bars, for example, or a large cash payroll – and artifacts can fetch attractive black-market prices. Worst of all, scrappers are hauling up shipwrecks en masse to be melted down into scrap metal, a problem that's become particularly acute in the southwest Pacific and southeast Asia waters.
In a distressingly growing number of cases, some shipwrecks have disappeared entirely.
"We're acutely sensitive to what's been going on in the Java Sea and the South China Sea," Sam Cox, director of the Naval History and Heritage Command (NHHC) in Washington, D.C., said of the areas where the most wrecks have vanished.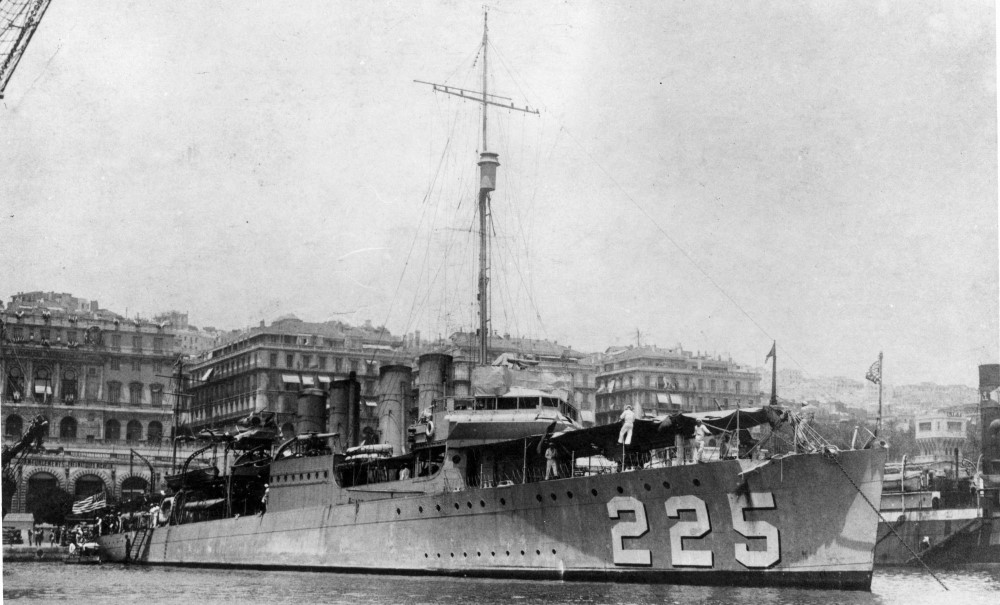 The wreck of the Pope (DD-225), sunk in the Java Sea during 1942, is gone, illegally brought up and turned to scrap metal by bandit salvagers. (Photo via Naval History and Heritage Command)
"The U.S. Navy has lost two ships as a result" of undersea scrappers, Cox said. "The submarine USS Perch (SS-176) and the destroyer USS Pope (DD-225). The saving grace in both of those is that neither went down with their crews, so they weren't grave sites."
The Navy is particularly concerned with disturbances of its ships that contain war dead. As more sunken ships and aircraft are found and disturbed, numerous legal and ethical questions are raised, and in 2004 Congress enacted the Sunken Military Craft Act (SMCA). The act is intended "to preserve and protect from unauthorized disturbance all sunken military craft owned by the U.S. government," including foreign sunken military craft in U.S. waters and aircraft.
Further, the law settles the question of ownership of sunken government ships and aircraft with the provision that, "the Navy's sunken military craft remain property of the U.S. government regardless of their location or the passage of time and may not be disturbed without permission from the U. S. Navy."
Ships and aircraft containing human remains are considered hallowed sites, Cox said.
"They represent the last resting place of sailors who gave their lives in battle or against the elements. As such we believe those sites deserve to be respected accordingly," he said.
[RELATED: Marking a Milestone: World War II, 75 Years Later]
The ongoing discovery of shipwrecks and the legal issues they sometimes raise led the Navy to create the Underwater Archeology Branch of NHHC in 1996.
"One of the projects instrumental in creating the branch was the CSS Alabama," said branch director Bob Neyland, referring to the Confederate raider sunk in 1864 off the coast of Cherbourg, France in battle with the Union sloop Kearsarge. The wreck was found in 1984 by a French naval minehunter.
"Because it had been found in French waters by a French archeological team they initially believed it would be their property," Neyland said. "But there was congressional interest in the wreck and there were principles of sovereign immunity which would make it U.S. property. At the end of the Civil War any property of the Confederacy became the property of the Union."
Arrangements had to be worked out, such as who would pay for conservation of the artifacts and who the artifacts would belong to, Neyland said. The resulting agreement has become a model for subsequent issues involving multiple nations and historic shipwrecks.
"Before that we had to go to court several times to hold up the Navy's principles of ownership to these ship and aircraft wrecks," Neyland said. Once the law was enacted, "we haven't really had to go to court over these issues."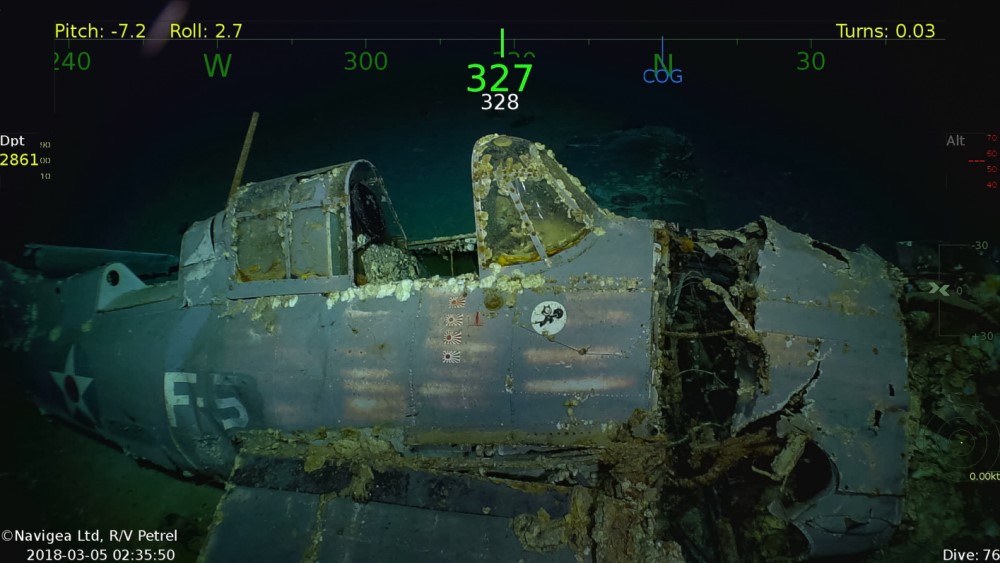 A Grumman F4F Wildcat fighter found near the wreck of the carrier USS Lexington, sunk in May 1942. The aircraft displays the Felix the Cat symbol of Fighter Squadron Three and bears four Japanese aircraft kill marks and a bomb symbol for a bombing attack, along with "F-5" marking it as the 5th aircraft of the squadron. (Photo by Navigea Ltd.)
Fresh Water Finds
While deep-ocean shipwrecks routinely garner publicity, the deep fresh waters of the Great Lakes hold more than their share of interesting and historic wrecks. Many World War II Navy pilots learned to fly on and off aircraft carriers aboard two converted training ships operating largely on Lake Michigan, and the pace of the training resulted in numerous accidents and mishaps. More than a hundred dive bombers and torpedo bombers went to the floor of the lakes, where the environment kept many in relatively good condition.
"Fresh water is usually a better preservation environment, especially if it's deeper and cold, and you don't get a lot of sunlight," Neyland said. "If they become buried [in mud or sand] it encourages the preservation of organic materials like wood and leather, and human remains in some cases."
Numerous groups have been searching for aircraft in the Lakes and, especially since the 1990s, several dozen Navy planes have been found and brought up.
"The aircraft that come out often still look pretty good," Neyland said. Many of the planes have been restored. "They are generally better preserved than the aircraft you find in salt water environments."
The Lake Michigan aircraft also represent an historically significant era, Cox said.
"They're World War II Wildcats, Dauntlesses. They tell a story about the valor about the United States Navy and about the cost when you're not prepared for war that in my view serves an educational value."
Thousands of airline passengers pass each year beneath a Douglas SBD-4 Dauntless dive bomber at Chicago's Midway International Airport, part of an exhibit devoted to the Battle of Midway. Most visitors probably don't realize the aircraft spent 44 years on the bottom of Lake Michigan after crashing in 1944. It was raised in 1991 and painstakingly restored. (Photo by Chris Cavas)
In most cases the Navy has no funding or requirement to explore its undersea ships and aircraft.
"The Navy's not going to pay any money to raise these wrecks," Cox said. "If someone were to come forward with a funded proposal, I would consider it, and if it looked good, I would have my staff work with the state, the preservation offices, the Corps of Engineers, the Environmental Protection Agency, and everyone else who would need to be brought on board with the plan, although nowadays it is more complex and difficult than it would have been back in the 1990s."
While Cox and the Navy sometimes support restoration of the aircraft, one thing they will not allow is for a plane to again take to the air.
"On a case-by-case basis we would consider raising an aircraft for educational purposes with the caveat that it can't be flown," Cox said. "There are folks who want to raise them and restore them to flying condition, but there's too much legal liability involved with that, plus the risk that the thing will crash. We're not really interested in those kinds of proposals."
[MORE FROM MILITARY OFFICER: Live and Play 2020]
One of the leading groups recovering lost aircraft is Chicago-based A&T Recovery, founded in the 1980s by Allan Olson and Taras Lyssenko. A&T has recovered at least 40 aircraft, most from Lake Michigan.
At least 25 have been restored to near-flying condition and placed on display in museums around the country. The aircraft include F4F and FM Wildcat and F6F Hellcat fighters, F4U Corsair fighters, TBF Avenger torpedo bombers, SB2U Vindicator and SBD Dauntless dive bombers.
Among the restored aircraft on display are a Grumman F4F-3 Wildcat at Chicago's O'Hare International Airport, part of an exhibit honoring Navy pilot Butch O'Hare, and a Douglas SBD-4 Dauntless dive bomber at Midway International Airport.
Chicago's Municipal Airport in 1949 was renamed Midway to honor the 1942 battle, won by Dauntless dive bombers catching and sinking four Japanese aircraft carriers. Many of the SBDs that survived the battle were subsequently replaced by more modern aircraft and quite a few were transferred to the naval aviation school at Glenview Naval Air Station near Chicago.
Some of those planes wound up in Lake Michigan.
One SBD, bureau number 10575, crashed in September 1944. The pilot survived but the aircraft was lost until 1988 when A&T located the plane near downtown Chicago in less than 100 feet of water.
Raised in 1991, the aircraft was restored and, after a lengthy and somewhat convoluted process, was acquired by the City of Chicago. It was placed on display at Midway Airport and dedicated in 2004.
Arguably both of these aircraft, displayed inside two of the country's busiest airports, are seen by more people each year than any other museum aircraft.
Both were lost, found and restored to become reminders, as Chicago Mayor Richard Daley said at the SBD's dedication, "of American values, a tribute to the courage and skill of our armed forces, and a reminder of just how much we owe to the men and women who made up what has rightly been called 'the greatest generation.' "
In Part II: Inside the R/V Petrel organization, the world's greatest shipwreck finders.
Christopher P. Cavas is a naval journalist and commentator based in the Washington, D.C., area. He's on Twitter @CavasShips.
MOAA Knows Why You Serve
We understand the needs and concerns of military families – and we're here to help you meet life's challenges along the way. Join MOAA now and get the support you need.