A bill put forward by Rep. Phil Roe (R-Tenn.) on the eve of his retirement would create a bipartisan committee to discuss potential changes to VA eligibility and offer recommendations to improve and simplify criteria.
Roe – a doctor who spent two years in the Army Medical Corps and a legislator who spent his entire 12-year tenure on the House Veterans' Affairs Committee – was honored during a Dec. 2 committee hearing, where members paid tribute to their former committee chair and current ranking member.
MOAA acknowledged appreciation for Roe's faithful years of service to his country and his work to provide for his fellow veterans in a statement for the record. Roe's work on the committee is a testament to his love of service and those who serve — a legacy of service that will live on for generations.
[RELATED: Rep. Phil Roe Receives MOAA's 2019 Arthur T. Marix Congressional Leadership Award]
Roe responded to fellow members' heartfelt thanks and best wishes, saying his service in Congress has been an honor of a lifetime.
"Almost always on my travels I hear from veterans that the VA is better now, a result of our bipartisan efforts," he said. "I will forever be proud of the work we've done and I know my fellow veterans are in good hands as I cheer the committee from afar while you continue the hard work of ensuring our grateful nation fulfills its solemn obligation to the brave men and women who secured our freedoms."
Roe's bill, the Modernizing Veterans' Healthcare Eligibility Act, creates a commission to address VA health care eligibility, a system he believes has been relatively unchanged since the Veterans Health Care Eligibility Reform Act of 1996. Roe insists there is a deepening disconnect between the VA system we have today and the diverse and ever evolving veteran population the system serves.
MOAA did not take a position on the legislation, but instead urged Congress to proceed carefully and deliberately by addressing a number of outstanding questions and gaps in data, as well as considering the unknown impact of COVID-19 on the health (physical, psychological, and financial) of veterans during this difficult time. Other veterans service organizations (VSO) stated similar concerns during the hearing.
[MORE MOAA ADVOCACY: Ask Congress to Pass the NDAA]
A senior specialist on veterans policy from the Congressional Research Service (CRS) offered a brief history of the system, all the way back to the establishment of the VA in 1921 and the creation of the veterans' hospital system in 1922 to care for World War I veterans.
The CRS summarized the evolution of health care eligibility in its testimony by noting, "What started out as a hospital and domiciliary care system to care for injuries or diseases incurred or aggravated by the person's wartime military service, has evolved into a comprehensive health care system, not only providing primary, specialized medical care, and nursing home care — both within and outside facilities — but also conducting medical research, educating health care professionals, and serving as a back-up to the nation's health care system during national emergencies and disasters."
"While Congress has changed eligibility for care — sometimes narrowly and sometimes more broadly...it has also had to grapple with the central policy question pertaining to VA health care: which veterans should be eligible for care and under what circumstances while striking a balance between budgetary constraints 'and a grateful nation'[s]' attempts to repay its indebtedness to those who serve[d] in the military."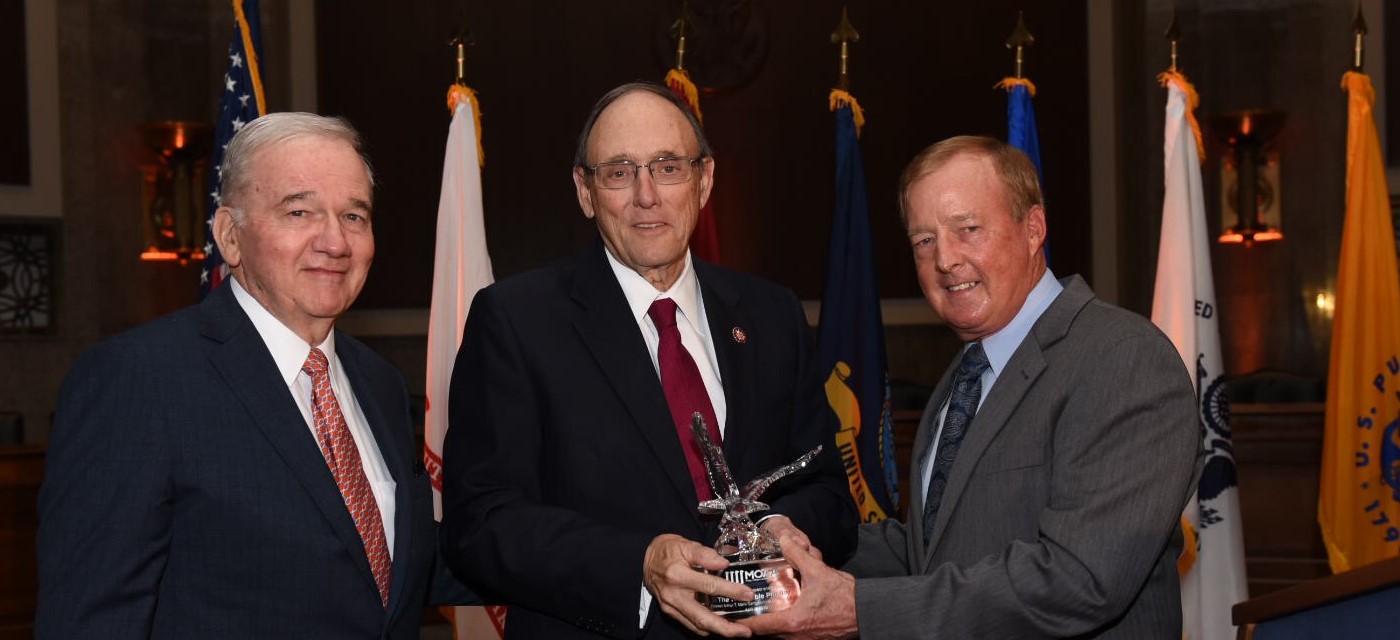 Rep. Phil Roe (R-Tenn.), center, poses with then-MOAA Board Chairman Adm. Walter Doran, USN (Ret), left, and MOAA President and CEO Lt. Gen. Dana T. Atkins, USAF (Ret), during MOAA's 2019 awards ceremony on Capitol Hill. (Photo by Stephen Barrett for MOAA)
More Work to Be Done
The VA and most VSO witnesses believe VA's current framework for determining eligibility has served veterans well, even though it is complex. However, all were open to ongoing assessments for system improvements.
"Respectfully, VA does not support an independent commission to review eligibility," said Tammy Czarnecki, deputy to the VA undersecretary for health operations.
Similarly, many VSOs agreed there needed to be more exchange between Congress, including appropriators, VA, and veterans organizations before such a commission be considered, most agreeing there was sufficient expertise within these organizations to discuss the scope and issues associated with eligibility reform.
When one lawmaker asked if the problem was about eligibility or more about the challenges veterans are experiencing with the enrollment process, the Paralyzed Veterans of America told the committee, "The problem was neither an eligibility nor an enrollment problem stating the only limitation to enrolling in VA health care is whether the annual appropriation is sufficient to treat all enrolled veterans."
Rep. Conor Lamb (D-Pa.) agreed, saying "a commission can't fix VA's budget issues, only Congress," and with the COVID-19 pandemic raging, "we shouldn't tolerate a single person not having health insurance."
Nothing was decided from the hearing but certainly Roe's desire for thoughtful exploration and discussion was achieved. MOAA appreciated the opportunity to provide our views and concerns on eligibility.
Changing veterans' eligibility or expanding the health care system has enormous consequences. Going forward, MOAA will do our part to ensure VA and Congress exercise due diligence in exploring all aspects before changing health care eligibility—anything less would be a disservice to, and ignore the service and sacrifices of, our nation's veterans.
MOAA Knows Why You Serve
We understand the needs and concerns of military families – and we're here to help you meet life's challenges along the way. Join MOAA now and get the support you need.