MOAA members this month cruised down the Seine River, walked among Monet's gardens and the Palace of Versailles, and a few brave souls even raced through the streets of Paris in the sidecar of a motorcycle.
But the most memorable stop for these guests – travelers on MOAA's Paris & Normandy River Cruise – was likely Utah and Omaha beaches, where they honored those who fought there 75 years ago.
"Just to stand there on those beaches and imagine what those young soldiers went through as they were landing there, was just unbelievable," said Gail Joyce, a member of Military Officers Association of America's Board of Directors.

[RELATED: 1944: How Each Service Helped Turn the Tide in WWII]
The trip included a special wreath-laying ceremony on Omaha beach, and visits to the nearby towns.
"Normandy has this undying respect for Americans," said MOAA President and CEO Lt. Gen. Dana Atkins, USAF (Ret), who participated in the cruise with his wife Laura. "When you went all the way through this Normandy area, even when you weren't in the vicinity of the beaches, there are American flags. Probably equal to the French flags flying. It underscores their respect for what America did to save their future."


The fact that everyone aboard the S.S. Joie de Vivre were MOAA members added to the value of the cruise, Atkins said.
"There was this sense of camaraderie that you got. Shared experiences, and now enduring friendships that evolved," Atkins said. "At the end, one of the things that most of the passengers wanted was a contact list."
A second D-Day cruise – an all-inclusive, 8-day vacation – embarks from Paris in just a few days.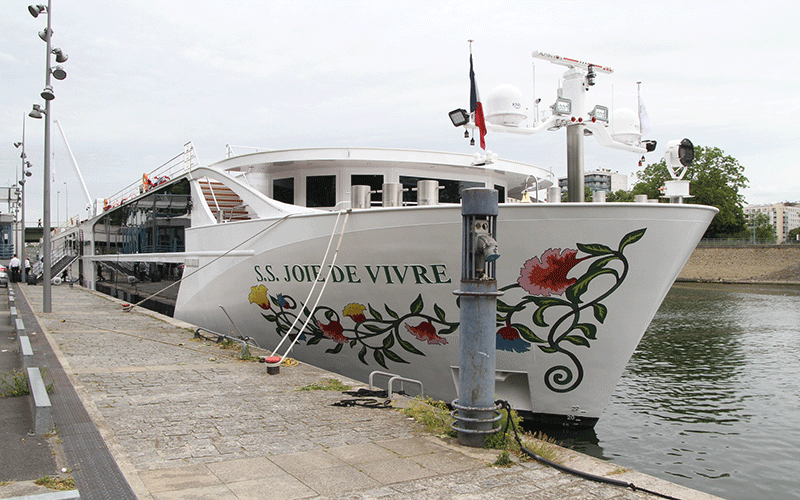 A view of the S.S. Joie de Vivre. (Photo by Jim Partain)


If you feel like you're missing out, there are more MOAA vacations on the calendar, through our travel partner Brennco. These include a 7-day cruise in September from Seattle to Alaska and a 10-day land tour from Berlin to Oberammergau in September 2020. Click here to learn more.
Col. Bob Certain, USAFR (Ret), a MOAA board member, is a veteran cruise vacationer. He said the ship, the food, the sights and the hospitality were all top notch. And the friendships formed were priceless.
"MOAA members all have this common thread of service to the country there's almost a natural relationship when you get on board," he said. "Meeting up with some longstanding friends and meeting new people who were just a delight to be with."