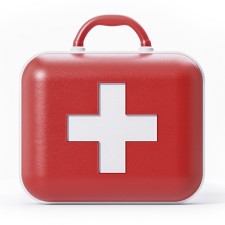 MOAA's TRICARE Toolkit provides insight and tips for navigating your TRICARE benefits. Have a question or suggestion for an upcoming column? Email beninfo@moaa.org. Read other TRICARE Toolkit columns at MOAA.org/tricaretoolkit. This toolkit entry is also part of MOAA's 2022-23 TRICARE Guide, brought to you by MOAA Insurance Plans, administered by Association Member Benefits Advisors (AMBA). A version of the guide appeared in the November 2022 issue of Military Officer magazine.

TRICARE's pharmacy copay increases were passed by Congress in 2018, to be in effect for the next 10 years and implemented each even year, including 2022.
TRICARE beneficiaries may have been surprised to see a bill with their Express Scripts mail-order refills: Generic refills now come with copays.
[RELATED: Can You Save on TRICARE Meds? Check Out This Price Tracker]
Beneficiaries living near a military treatment facility (MTF) pharmacy network continue to receive new prescriptions and refills with no copay. Those using retail pharmacies (new 30-day prescriptions) and Express Scripts mail order (maintenance 90-day prescriptions) have copays on par with civilian counterparts who use an employer-provided medical/pharmacy plan, according to the Kaiser Family Foundation's 2021 Employer Health Benefits Survey.
Your TRICARE and TRICARE For Life pharmacy benefits work exactly alike. Your commercial pharmacy copays are the maximum you should be charged for the classification of your prescription (generic, brand, or non-formulary). Non-formulary drugs, when approved, are covered with a higher copay than drugs in the generic and brand-name formularies.
TRICARE Cost Shares, 2022-2027
2022-23:

Retail (30-day supply) – generic, $14; brand, $38; non-formulary, $68. Mail order (90-day supply) – generic, $12; brand, $34; non-formulary, $68.

Proposed 2024-25:

Retail (30-day supply) – generic, $16; brand, $43; non-formulary, $76. Mail order (90-day supply) – generic, $13; brand, $38; non-formulary, $76.

Proposed 2026-27:

Retail (30-day supply) – generic, $16; brand, $48; non-formulary, $85. Mail order (90-day supply) – generic, $14; brand, $44; non-formulary, $85.
Many MOAA members say they have found that shopping around may yield a commercial pharmacy that charges less than the prescribed retail amounts above. Here are some other cost-saving ideas:
Go generic whenever possible (with physician consent).
Order by mail whenever possible to receive 3 times (90 versus 30) the supply for a reduced cost.
Use a TRICARE pharmacy network or download the Express Scripts mobile app.
If TRICARE denies coverage for your prescription needs, look into Rx discount programs such as Good Rx or AARP's Prescription Discounts program.
If your employer provides a Flexible Spending Account, you have coverage for prescription and over-the-counter medicines with a physician's approval.
Have More Questions About Your Health Care Benefit?
MOAA's TRICARE Guide answers some commonly asked questions.