(This article by military culture and lifestyle writer Charlsy Panzino originally appeared in the June 2021 issue of Military Officer, a magazine available to all MOAA Premium and Life members. Learn more about the magazine here; learn more about joining MOAA here.)
There's no shortage of natural beauty in Arizona, from the impressive Grand Canyon to the red rocks of Sedona and the towering cacti at Saguaro National Park.
Several Arizona cities have been named some of the best places for veterans, with nearly half a million veterans living in the state. About 17% of Arizona's residents are over 65. There's no tax on Social Security or groceries, and the climate creates an active, outdoor lifestyle.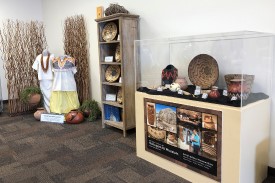 Sponsored Content: Whether you have a few hours or a few days, there's plenty to do in the Talking Stick Entertainment District, the pride and joy of the Salt River Pima-Maricopa Indian Community. Just 20 minutes from Sky Harbor International Airport and 10 minutes from downtown Scottsdale, the Salt River Indian Community (www.DiscoverSaltRiver.com) is rich in history, culture, and entertainment. As a year-round leisure destination, the Salt River Indian Community boasts 330 days of sunshine with outstanding mountain views. The Talking Stick Entertainment District has over 15 attractions from an aquarium and indoor sky diving to a butterfly conservatory, golf, and cultural events including the must-see USS Arizona Memorial Gardens at Salt River, which honors the brave individuals who served aboard the USS Arizona at Pearl Harbor.
With almost 300 sunny days per year, you can take advantage of year-round golfing, pool time, and hiking. Piestewa Peak, the third-tallest mountain in Phoenix, is named in honor of Army Spc. Lori Piestewa, who died in 2003 while serving in Operation Iraqi Freedom.
Whether you're looking for adventure or solace, Arizona offers options. Scottsdale is the place for trendy, bustling restaurants and shops, while Tombstone in southern Arizona takes you back to 1881 as the site of the gunfight at the O.K. Corral. Or head up north to the cooler forests of Flagstaff and check out Lowell Observatory, where astronomers discovered Pluto. For an extraterrestrial vibe, northern Arizona also offers Meteor Crater, named one of the 2020 Seven Wonders of the World by England-based Conde Nast Traveler.
Sponsored Content: The beautiful campus of La Posada in Green Valley/Sahuarita is like a 100-acre small town near a grove of pecan trees, with Santa Rita mountain views. It's a space that captures Southern Arizona, yet it's less than 30 minutes from the Tucson Airport and Davis-Monthan AFB. Over 750 residents of La Posada enjoy a satisfying and friendly lifestyle, with reduced stress and the peace of mind of on-site assisted living and memory care neighborhoods. There is a choice of 489 Independent Living apartments, garden homes, and single-family residences, including 17 newly constructed free-standing Pavilion Homes. La Posada is CARF-accredited and a 501(c)(3) nonprofit corporation, providing residents with a life lease program. Visit Posadalife.org.
For fans of golf, the Phoenix Open draws hundreds of thousands of spectators during the four-day tournament that's part of the PGA Tour. If you prefer baseball, head to Arizona during March, as it's one of only two states to hold spring training every year. Or watch a post-season ballgame during Arizona's Fall League, enjoying the hint of crispness in the air.
ARIZONA'S MILITARY MUST-SEE: The USS Arizona Memorial Gardens opened in Scottsdale in February 2020 to honor those aboard the battleship during the attack on Pearl Harbor. The memorial uses LED lights to span the length and width of USS Arizona, with more than 1,500 posts to represent those who were on the ship.
More State Resources
Check out other states that make up Live and Play 2021. Thinking about a long-term move? Visit MOAA's Military State Report Card and Tax Guide as part of your financial decision-making process.