(This article by military culture and lifestyle writer Charlsy Panzino originally appeared in the June 2021 issue of Military Officer, a magazine available to all MOAA Premium and Life members. Learn more about the magazine here; learn more about joining MOAA here.)
The Evergreen State lives up to its nickname with its abundance of national parks. Visitors and residents can explore volcanoes, islands, forests, and beaches.
One of the most iconic images in Washington state is Mt. Rainier, an active volcano about 60 miles south of Seattle. The stratovolcano sits in Mount Rainier National Park at 14,410 feet above sea level and has the most glaciers in the contiguous U.S., creating five major rivers. The park is part of the Cascade mountain range and has a mix of wildflower meadows and thick forests full of wildlife.
Olympic National Park on Washington's Olympic Peninsula comprises nearly 1 million acres of mountains, rainforests, and 70 miles of coastline. The San Juan Islands are a ferry ride away. Here, you can catch views of whales, sea lions, jellyfish, and other wildlife. Or you might hear the rumble of jets flying to and from nearby Naval Air Station Whidbey Island.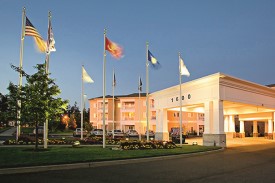 Sponsored Content: Surrounded by the natural beauty of the Pacific Northwest, Patriots Landing is nestled in the small town of Dupont, Washington, just minutes from Joint Base Lewis- McChord and Madigan Army Medical Center. Whether you feel like taking a dip in the pool, enjoying a walk around the grounds, or putting on the green, our retirement community has a well-earned reputation for providing exceptional amenities, superior care, and a wide spectrum of lifestyle choices, ranging from independent cottage living to memory care. It is everything our founder, Gene Lynn, envisioned this special community to be — surrounded by family, friends, and those familiar with the military lifestyle. We've got you covered as you live retirement, your way.
Fort Worden sits on the northeastern-most tip of the Olympic Peninsula and was built to defend the Puget Sound from invaders. The fort was part of the Triangle of Fire, a coastal defense system including Fort Flagler and Fort Casey.
You can head to Seattle to marvel at the Space Needle and stroll through Pike Place Market. Tucked against Benaroya Hall, home to the Seattle Symphony, is the Garden of Remembrance, honoring Washington state residents who have died in wars since World War II.
Two hours east of Seattle is Leavenworth, a Bavarian village with snow-capped mountain views in the winter and wine tasting or river rafting during the summer. Spring brings fly fishing to the town's rivers, lakes, and creeks where you can catch salmon, bass, trout, and more.
WASHINGTON'S MILITARY MUST-SEE: An hour north of Seattle is the Jim Creek Recreation Area. Dedicated in 1953, Jim Creek is a naval radio station that lets the Navy communicate with ships, submarines, and aircraft around the world. The recreation area is open to active duty servicemembers, reservists, veterans, DoD civilians, and guests and offers a variety of outdoor activities.
More State Resources
Check out other states that make up Live and Play 2021. Thinking about a long-term move? Visit MOAA's Military State Report Card and Tax Guide as part of your financial decision-making process.