A quartet of lawmakers instrumental to the passage of "long overdue" comprehensive toxic exposure benefit legislation led a list of honorees April 25 at MOAA's annual awards ceremony in Washington, D.C.
MOAA honored Sens. Jon Tester (D-Mont.) and Jerry Moran (R-Kan.) along with Reps. Mike Bost (R-Ill.) and Mark Takano (D-Calif.) with the Arthur T. Marix Congressional Leadership Award for their work on the Sergeant First Class Heath Robinson Honoring Our Promise to Address Comprehensive Toxics (PACT) Act of 2022. Named after the founder and first president of MOAA, the award is given annually to members of Congress who distinguish themselves in protecting the rights and interests of uniformed servicemembers, their families, and their survivors.
The legislation expands health care and benefits for millions of veterans exposed to toxic substances during their time in service.
[RELATED: VA.gov/PACT | MOAA.org/PACTResources]
"The legislation was long overdue," Bost, chairman of the House Veterans' Affairs Committee, told the crowd gathered at the Top of the Hill Banquet & Conference Center. "It is already having a direct positive impact on millions of veterans suffering from toxic exposure."
"This law pays the cost of war," said Tester, chairman of the Senate Veterans' Affairs Committee. "And the fact is it would not have passed the Senate, the House, and gotten to the president's desk without [MOAA's] leadership."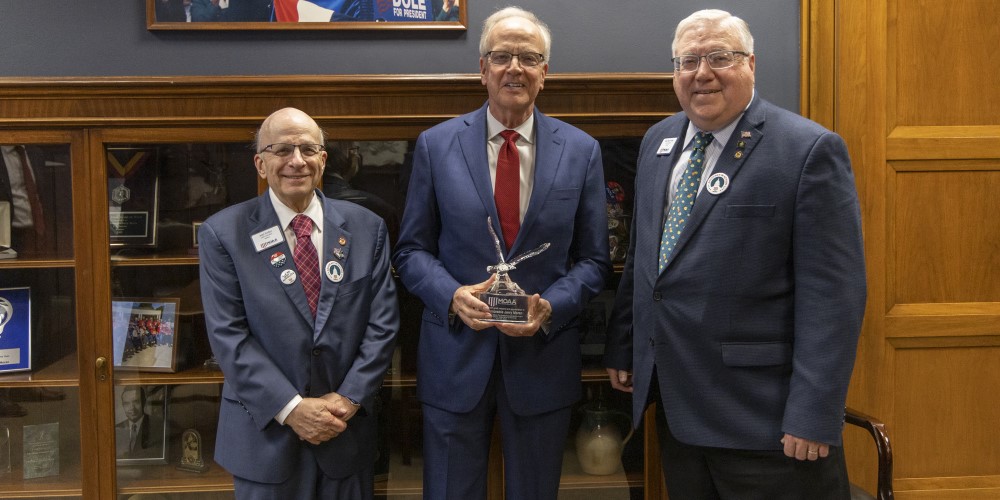 Sen. Jerry Moran (R-Kan.), center, receives his Arthur T. Marix Congressional Leadership Award from MOAA members Capt. Joel Feder, USN (Ret), and Col. Michael Kelly, USAF (Ret), in Moran's Washington, D.C., office on April 26. (Photo by Mike Morones/MOAA)
Also recognized at the ceremony were Marine Corps veteran and Senate staff member Sgt. Simon Coon and former Senate aide Lt. Col. Al Edwards, USAF (Ret), who were presented with the Colonel Paul W. Arcari Meritorious Service Award, given to congressional staff members who have made significant contributions to the uniformed services community.
Recently retired from the Senate Armed Services Committee, Edwards carried his award to the podium and joked with the crowd that this was his Oscar moment. Edwards helped develop an updated concept for the TRICARE Dental Program in the Fiscal Year 2023 National Defense Authorization Act that will increase competition among carriers, introduce beneficiary choice of plans and retain out-of-pocket cost protections for junior enlisted families, said Karen Ruedisueli, MOAA's director of Government Relations for Health Affairs.
[RELATED: More About MOAA's 2023 Honorees]
"[Edwards'] leadership on military health care issues contributed to improvements for TRICARE beneficiaries that will impact lives for years to come," Ruedisueli said.
A staff member for the Senate Veterans' Affairs Committee, Coon was dedicated to the passage of the PACT Act, working with committee leadership and members to address compromises while managing amendments throughout the process and keeping in touch with advocates seeking support from the committee.
During his acceptance speech, Coon spoke fondly of his experience marking up the bill at Tester's farmhouse in Montana over last Memorial Day weekend.
"I really appreciate MOAA for acknowledging this special moment in my life," Coon said. "It's a huge compliment."
[RELATED: MOAA Joins Other Veterans Groups to Review PACT Act Implementation]
Finally, MOAA recognized veterans service organization (VSO) Tragedy Assistance Program for Survivors (TAPS) and the Arizona Coalition for Military Families with MOAA's Distinguished Service Award. TAPS worked with MOAA to help secure the passage of the PACT Act and is a staunch advocate for veterans and survivors. TAPS was also recognized for its peer mentoring network, in which survivors and family members provide case management assistance, in-person care through group settings, and online support.
"This is tremendously humbling because there isn't a person in this room who hasn't been a champion in this effort," said TAPS founder Maj. Bonnie Carroll, USAFR (Ret).
The Arizona Coalition for Military Families partnered with MOAA's Arizona Council and its 10 chapters to expand both organizations' services and support for Arizona servicemembers, veterans, and their families with programs to address employment, financial, mental health, medical housing, and benefits-related challenges. The coalition's flagship program, "Be Connected," was also nationally recognized, and the impact of the coalition was recognized in a White House executive order and congressional policy.
"The awards presented tonight represent the highest caliber of leadership, dedication, and love of country," said MOAA President and CEO Lt. Gen. Brian T. Kelly, USAF (Ret). "Their steadfast support for the uniformed men and women make a strong national defense a reality."
MOAA Fights for You
Get involved and make sure your interests are addressed.