Cmdr. Frank "Walleye" Weisser, USN (Ret), transformed himself from a teenage aspiring SEAL at the U.S. Naval Academy in Annapolis, Md., into a world-class stunt pilot who flew Tom Cruise's fighter jet in the 2022 blockbuster Top Gun: Maverick.
Now a real estate agent with his wife and a corporate pilot, Weisser would like to see servicemembers take their own chances when they transition into the civilian world.
On Feb. 9, Weisser will be the featured speaker at a MOAA-sponsored webinar where he will:
Present footage of his days flying with the Navy Flight Demonstration Squadron, better known as the Blue Angels.
Offer a behind-the-scenes look at the wildly popular sequel to Top Gun.
Share lessons he's learned during his time in service and his transition to civilian life.
[REGISTER NOW: Behind the Scenes With the REAL 'Top Gun']
"When you've had that stability of a guaranteed paycheck for 20 years, to go out on your own is a bit of a daunting process," said Weisser, who retired in 2021. "You're willing to risk your life in an airplane or on a ship or in the field of fire, but you're not willing to risk missing a paycheck by starting a new business that might be something you've always wanted to do. I think there's an aspect of going back to the courage that you were required to have when you served your country and then just taking this courage and applying it in a different way and applying it to what you do after the military."
MOAA caught up with Weisser to ask him why he chose to serve in the Navy and what it was like going supersonic with Hollywood elite.
Q. Why did you enroll in the U.S. Naval Academy?
A. I had a distant relation with an uncle who was career Army, but no one in my immediate family [had ties to the military]. I went to the academy to be a SEAL. I felt like college was sort of understood. So I went to the Naval Academy, or I applied there, just because it was the most logical way to get a free education.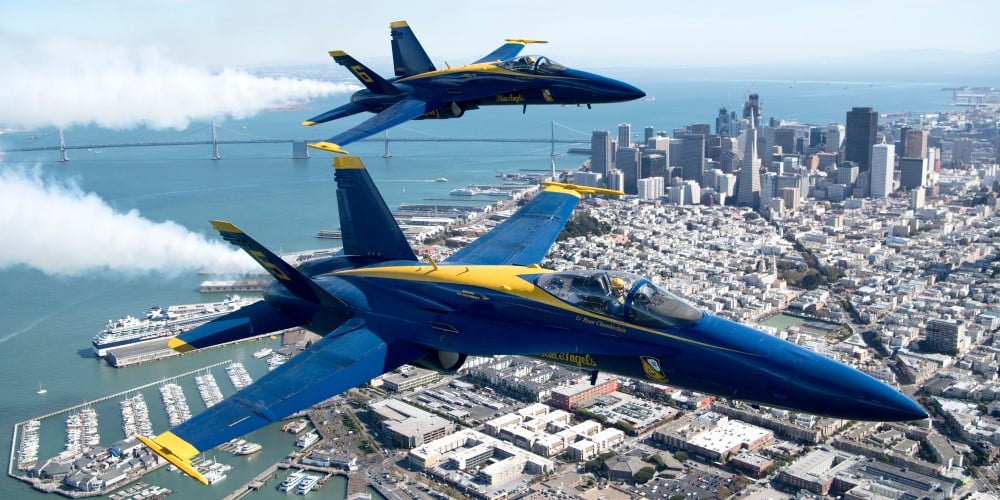 Lt. Ryan Chamberlain, USN, below, and Cmdr. Frank Weisser, USN, fly over San Francisco as part of a practice run with the Navy Flight Demonstration Squadron, better known as the Blue Angels, for Fleet Week on Oct. 6, 2016. (Photo by Josh Edelson/AFP via Getty Images)
Q. How did you become a pilot in the Navy?
A. I was … trying to set up a Naval Academy [skydiving] team, and so I flew with a lot of people who were classmates of mine who were very competent pilots. My gut was that we'd all go to flight school, and I would just be terrible and then they would all be flying fighters off aircraft carriers, and in large part most of them did it. It just so happened that there were enough spots that even dingbats like me were allowed to give it a shot.
Q. What was the flying experience like with Tom Cruise and other cast members?
A. I thought he was terrific. I definitely think it's different to be a military guy working with someone in the film industry than rather me being just someone clawing my way up to try to be an actor. I think they are probably harder on each other than us. They came off to me very grateful for our involvement and very respectful of our experience and respectful of our mindset on how we wanted to handle this.
There was never a point where I said, "I'm not doing this" – that I felt any pressure. I think it was kind of open dialogue the whole time. The difference with Tom as opposed to the other actors is he had flown so much before. He is so confident and comfortable in those airplanes that as I've said a handful of times, he didn't feel like a passenger to me. He was a crew member.
[RELATED: More Upcoming Events From MOAA]
Q. How did you get your call sign?
A. "Walleye" is from the [1991] movie Hot Shots, which is ironic to be then a part of Top Gun years later and to be nicknamed for my entire career off of a movie that basically made a mockery of the original Top Gun. The character in that movie had "walleye vision" and he couldn't see quite right. In my first squadron, I flew too close to other aircraft and the joke was that I had walleye vision or I wouldn't have been flying that close.
Want more from "Walleye"? Register to attend the Feb. 9 webinar. Can't make the event? Register and you'll receive a link to the recording.
Get More Financial and Benefits Advice From MOAA's Webinar Archive
PREMIUM and LIFE members enjoy unlimited access to MOAA's wealth of resources on finance, health care, transition, and benefits information.