More than 70 years after his daring aerial exploits against seven Soviet MiGs during the Korean War, Capt. Royce Williams, USN (Ret), was awarded the Navy Cross in front of family and friends on Jan. 20 in San Diego.
Secretary of the Navy Carlos Del Toro presented the Navy's second-highest honor to the 97-year-old MOAA member at a ceremony at the San Diego Air & Space Museum in Balboa Park.
"First, I was surprised [to receive the award]," Williams told MOAA on Jan. 23. "Once I got over that, I felt very lucky. I know the meaning of the Navy Cross, and I am honored to be a participant. It makes me feel jolly good."
The ceremony included speeches from a number of dignitaries, a video of Williams describing his harrowing experience, and a pre-recorded thank you message from Top Gun actor Tom Cruise.
A Secret Showdown
On Nov. 18, 1952, Williams shot down at least four of the seven Soviet MiGs he encountered after his team of F9F-5 Panthers had conducted a raid of the Hoeryong industrial complex near the Korea-Soviet Union border. Because of the secret nature of the mission, Williams' efforts were classified and went largely unrecognized until Russian author Igor Seidov chronicled the dogfight in his 2014 book Red Devils Over the Yalu.
According to Seidov's book, only one of the seven MiGs who surprised then-Lt. Williams and his wingman, then-Lt. j.g. Dave Rowlands, made it back to Russia.
Rowlands pursued one of the MiGs out of formation, leaving Williams to deal with the other six. As the MiGs buzzed by him, Williams was able to shoot down the trail plane before entering a high stakes cat-and-mouse game in blizzard-like conditions. The end result of a 35-minute dogfight: four downed MiGs, one damaged MiG, and Williams' badly beat-up Panther.
After his aerial heroics, Williams made a perfect landing on the USS Oriskany (CVA-34) despite having to navigate his bullet-riddled plane through snow squalls and even some friendly fire.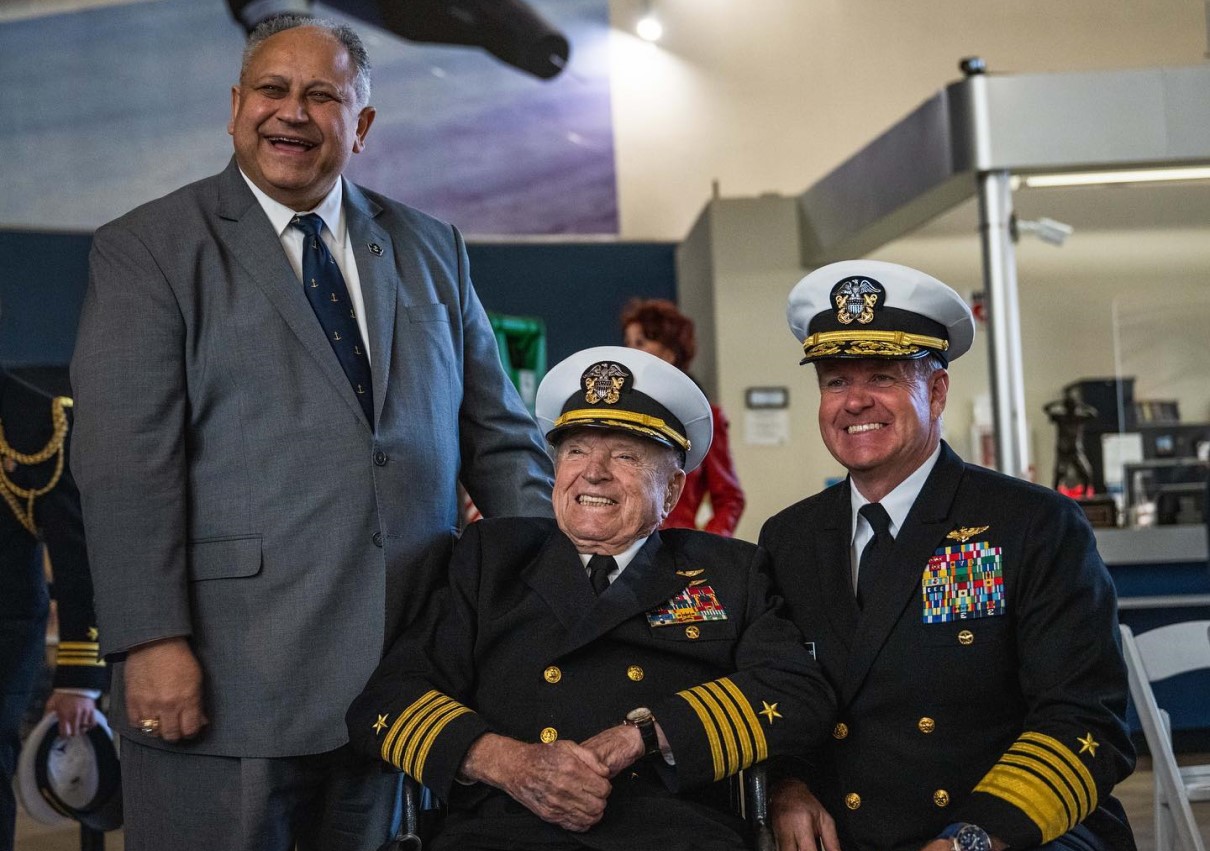 From left, Secretary of the Navy Carlos Del Toro, Navy Cross recipient Capt. Royce Williams, and Adm. Sam Paparo, commander of U.S. Pacific Fleet, pose as part of Williams' award ceremony Jan. 20 in San Diego.
He received a Silver Star and credit for one downed plane and one damaged plane, but he did not speak of that day until Korean War documents were declassified five decades later.
"Your actions that day kept you free, it kept your shipmates free … indeed it kept all of us free," Del Toro told the San Diego crowd. "I pray your example continues to shine brightly, as an inspiration to all our currently serving men and women in uniform as well as the thousands of those we need to join our ranks today so that we never forget that freedom must always be defended."
A Hidden Story
Williams' son Bruce, who was just 4 years old at the time of dad's mission, considers his father a hero no matter how many planes he shot down. He had an inkling of his father's exploits at a young age thanks to a little snooping in the garage when he was in middle school.
In 1962, Bruce discovered a now-defunct men's lifestyle magazine in his family's garage called True that talked about a daring aerial exploit during the Korean War.
"I think it was a racy magazine at the time, not meant for my eyes," Bruce said. "But it had a story about the dogfight. I don't recall the details, but I remember being surprised to read about that. I knew that he had been in one, but here was something in a national magazine at the time. But in terms of him against the seven MiGs, I didn't learn about that until much later. … Hearing about and reading about the minute-by-minute action is like a super video game."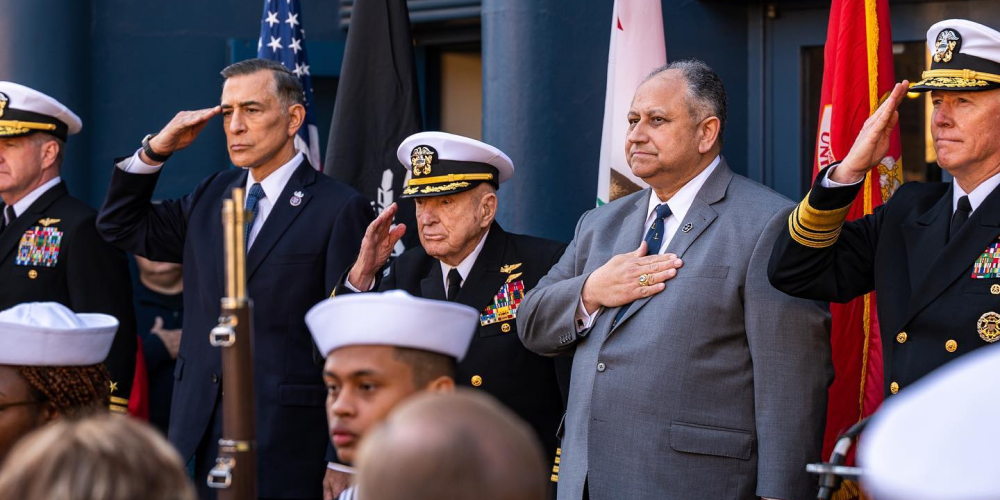 Capt. Royce Williams, center, offers a salute during his Navy Cross award ceremony Jan. 20 in San Diego.
A Higher Honor?
One advocate for Williams' recognition is hopeful the Navy Cross award will serve as the impetus for the aviation legend to receive the Medal of Honor.
Steve Lewandowski, a former Navy lieutenant and American Legion Post 416 commander, worked to secure that award via legislation – an amendment to the House version of the FY 2023 National Defense Authorization Act would have awarded Williams a Medal of Honor, but it was not included in the final version of the bill.
"I'm confident that we will be able to leverage that official recognition to the Medal of Honor, which he richly deserves," Lewandowski said. "As was stated at the awards ceremony, 'He flew what was perhaps the single greatest combat mission ever.'"
A MOAA Premium Membership Comes With Many Benefits. Are You Taking Advantage of Them?
Visit our Member Value web page to see just how many benefits are waiting for you.
Then start using them.