(This article by Hope Hodge Seck originally appeared in the July 2022 issue of Military Officer, a magazine available to all MOAA Premium and Life members. Learn more about the magazine here; learn more about joining MOAA here.)
As the U.S. military surged to evacuate Americans and Afghan allies in August 2021 after Kabul fell to the Taliban, the Pentagon's E-Ring called for timely and accurate data on all aspects of ground operations. Space Force, the U.S. military's newest and least-understood service, produced the solution: Warp Core, a data processing and analysis platform that centralized everything from passenger manifests to aircraft maintenance logs.
Capt. Kim Panagsagan, a 31-year-old developmental engineer with Space Systems Command who serves as Warp Core's program manager, marveled at how quickly the military was able to implement the new Space Force capability in response to the crisis.
"Because we had already got that data, we were able to release that to the [Chairman of the Joint Chiefs of Staff 's] common operating picture," Panagsagan told Military Officer. "And then that gave him the full story of, oh, this is truly everything that is at my disposal. And this is the best way that we can evacuate people."
In the Ukraine conflict, space has also played a pivotal role in U.S. response: U.S. intelligence agencies harnessed imagery from at least 200 commercial satellites to provide an accurate ground picture as Russia prepared to invade in late March, and Space Force officials have acknowledged they have been monitoring acts of Russian aggression including GPS signal jamming.
Service Song: The Space Force Unveils 'Semper Supra'


[RELATED: Member's Nonprofit Aiding Ukrainian Refugees, Troops]
Space's Span
Far from the punch line it's played for on the Netflix show of the same name, Space Force is now influencing every part of military operations. As it continues to grow and develop in its third year of existence, its leaders often emphasize that space dominance is not only critical to national security, but also an urgent concern.
"It is not hyperbole to say the joint force cannot prevail without space," Gen. John "Jay" Raymond, chief of Space Operations, said in prepared remarks to the House and Senate Armed Services Committees in April. "The United States also cannot allow potential adversaries to gain an unchallenged ability to conduct space-enabled attacks on our joint forces and terrestrial interests."
Raymond and the other architects of Space Force are also challenging the norms of how to build and operate a military service. The service is far more reliant on commercial partnerships than its military predecessors due to the complex ecosystem of satellites that connects the world. It's also taking an iconoclastic approach to hardware.
In May 2021, the service released its Vision for a Digital Service, a roadmap for an immersive virtual world in which highly skilled Guardians are empowered to "plug in" from almost anywhere and direct military operations happening far above their heads. Space Force leaders predict other military services will soon follow their lead in the digital space, but they also acknowledge the stakes for missing the mark are high.
"Both China and Russia are building and testing weapons that are designed to disrupt and destroy U.S. satellite systems. Both countries already have ground-based missiles, or anti-satellite systems, that they can launch right now at our satellites in low-Earth orbit," Lt. Gen. Nina Armagno, Space Force's chief of staff, said. " … Space Force has to get it right. We know this, and we will get it right."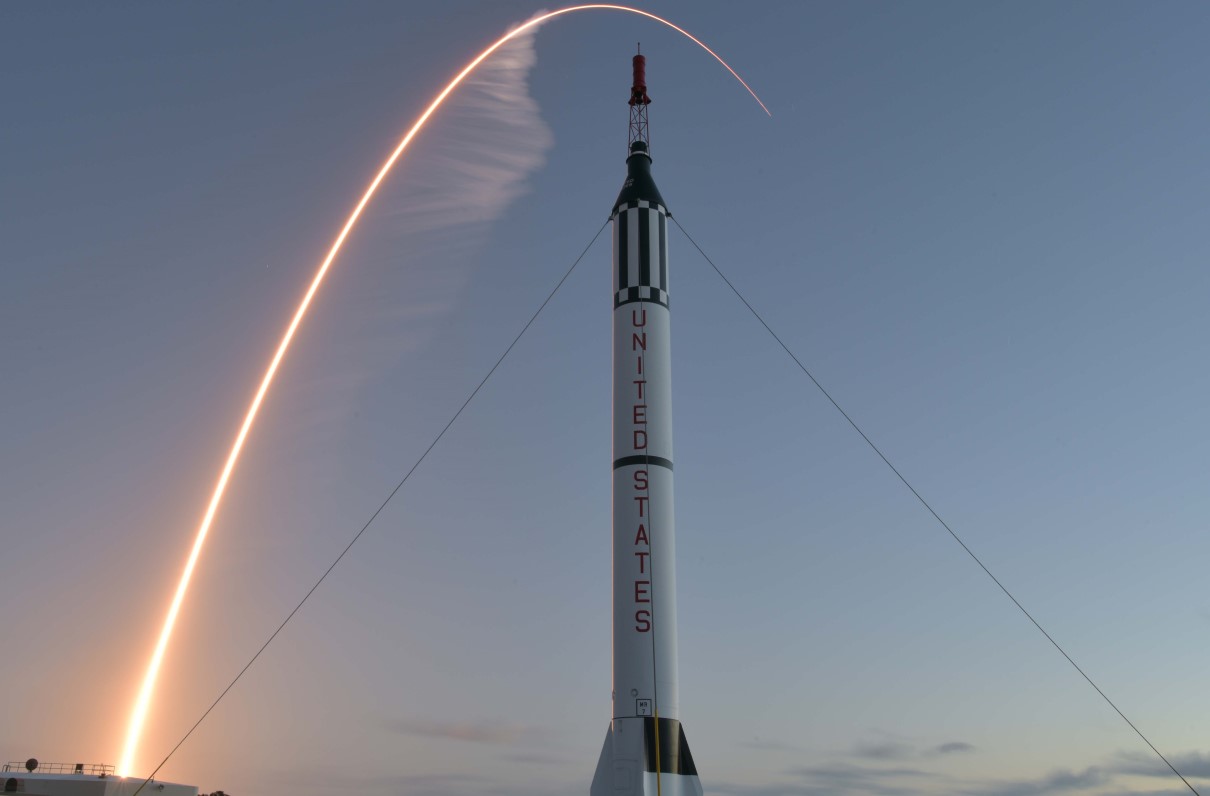 An Atlas V CST-100 Starliner rocket successfully launches over a Redstone rocket at Cape Canaveral Air Force Station, Fla., on Dec. 20, 2019 -- the same day the U.S. Space Force was founded. (Photo by Senior Airman Dalton Williams/Air Force)
Into the SpaceVerse
The envisioned "SpaceVerse" (a term already trademarked by the Department of the Air Force) will be similar to the civilian "Metaverse," with a rich virtual and augmented reality world where Guardians can collaborate and interact with digital twins of the systems they operate, said Col. Charles Galbreath, Space Force's deputy chief technology and information officer.
One aim of the transformation, he said, is to create an environment appealing to digital-native Guardians who grew up gaming and engaging in virtual reality experiences. The other military services also have acknowledged this to some extent, turning to esports as a recruiting tool.
"If we say that we're a digital service, and we're attracting these folks that grew up and matured in this type of environment, and we can't give them a comparable experience, they're going to quickly become disillusioned with what the Space Force is," Galbreath said. "We really need to be at that cutting edge of capability."
But beyond improving Guardians' experience, he said, the SpaceVerse will make the service more effective. Within the digital environment, the goal is to arrive at a common set of interfaces that will operate all military satellites and protect all networks.
A Space Force vignette describes a scenario in which intelligence from an artificial intelligence (AI) engine identifies a threat and instantly notifies key planners and operators. Within five minutes, a virtual conference has been scheduled and analysts are developing response models; within two hours, a course of action has been set. In the vignette, new software and digital modeling take just days to develop.
"In many cases, an operator will have to have multiple streams of data coming in to them to understand all of the things that are going on, and then they have to synthesize that information in their head," Galbreath said. "So anything we can do to virtualize that information so it is easier for the operator to understand is going to help them make quicker and better decisions … so that we can preserve our ability to provide combat support from space."
New Technology
Now in the fact-finding phase, Space Force will next conduct a series of pilot efforts, each with a permanent "leave-behind" capability, that will create stepping stones to the immersive world service leaders want to build. Those efforts have already begun, and they will hit their full stride by 2024, Galbreath said.
On top of planning to support a record 90 rocket launches from industry collaborators like SpaceX in 2022, Space Force is developing technologies and tools to address some of the biggest challenges of the domain. Through the "Orbital Prime" program launched last November, service innovation arm SpaceWerx is investing in the emerging markets sector for on-orbit satellite maintenance and manufacture, offering businesses partnered with academia or nonprofits a chance to get contracts worth $1.5 million for development projects. Officials want to see a real-world tech demonstration within three years.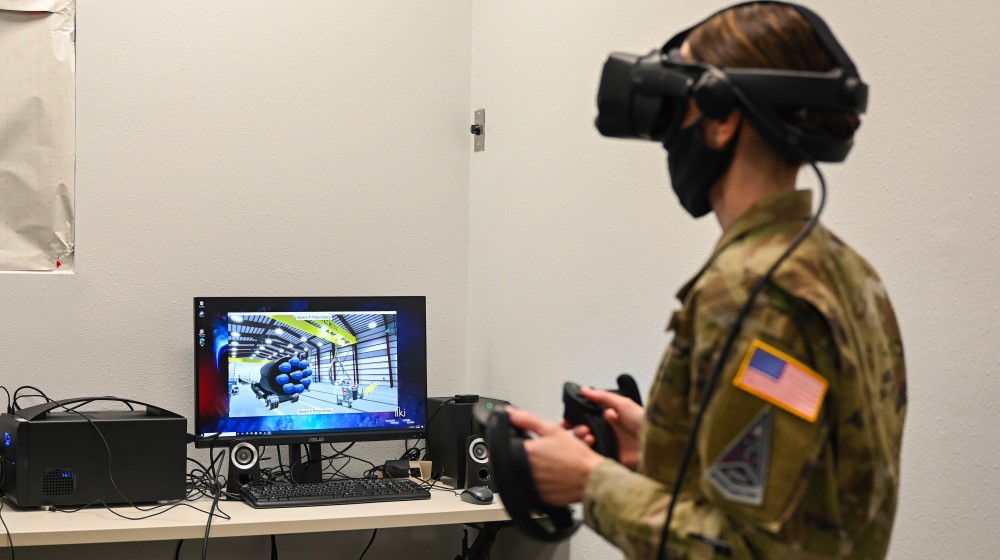 Chief Master Sgt. April Brittain, USSF, experiences a virtual simulation at Cape Canaveral Space Force Station, Fla., on April 20, 2021. (Photo by Airman 1st Class Thomas Sjoberg/DoD)
"If something catastrophic happens to [a] satellite, or it simply gets old and ends up losing battery life, or has expended too much fuel and can no longer operate, there's no 1,000-mile screwdriver that can go up and fix it," Armagno said. " … But in the future, they could be serviced on orbit, refueled on orbit, and basically fixed. And that could very well extend the life of the satellite."
Upcoming later this year is the launch of XVI, a satellite that will deliver a Link 16 military tactical data link transponder to low-earth orbit, said Col. Eric Felt, director of the Space Vehicles Directorate at the Air Force Research Lab. The experimental effort aims to strengthen the network used by U.S. and NATO aircraft, adding beyond-line-of-sight comms.
"That's really just the start — a lot of other ground radios that we use every day can be improved with space-based transponders," Felt said.
The Few
Current plans keep Space Force miniscule compared to the other services. With just under 14,000 personnel as of early May, the service plans to grow to its projected cap of 18,000 by next fiscal year.
Finding interested candidates hasn't been a problem — Armagno said 500 Guardians recently were selected from a pool of 4,200 recruiting leads. But promoting the specialized knowledge base needed to excel is another challenge.
Space Force is building an elite element of up to 400 "Supra Coders" who will get specialized training and then be dispatched to units around the world that can take advantage of their software expertise. The first "boot camp" class of about two dozen coders graduated early last year.
[RELATED: Space Force Won't Take as Many Transfers From Other Branches This Year]
For everyone else, particularly those who transferred to Space Force from other services and specialties, the service offers a growing library of 23,000 online courses intended to build "digital fluency," including about 10 hours of training strongly recommended for every Guardian. The courses aren't mandatory at this point. But leaders are planning to intensify this educational push as the digital service takes shape.
"We don't want people spending their time wondering if artificial intelligence is important to them," Galbreath said. "We want them to understand what AI can offer, and maybe have a plan."
From the outset, Space Force leaders made clear they were breaking the mold on military service development from a personnel perspective as well as a technical one. Just as the "SpaceVerse" is being designed to engage today's troops and prospective servicemembers as much as it is to streamline national defense and space superiority, manpower policy is being crafted to account for career aspirations and work-life balance needs, with an eye to ditching obscure or irrelevant restrictions.
One example of this fresh approach is a proposed "Space Component" that would merge active and Reserve Guardians into a single element, a departure from prior service organizational concepts that Raymond called on Congress to support in his April testimony, saying it would make a more modern and resilient force.
"The Space Force … needs a force structure and resourcing approach capable of adapting to changing circumstances, quickly and effectively scaling on-demand to meet mission requirements," he said. "With Congressional support, creating a Space Component with full- to parttime fluidity for all uniformed members will give the Space Force the unique opportunity to achieve those objectives."
Capt. Ricci Emahiser, 27, a crew commander with 6th Space Warning Squadron in Sagamore, Mass., said the needs of Space Force and how it should diverge from its predecessors are part of a continuous conversation within the service.
"Now that we're our own Space Force, and we're focused on space, do those same rules apply?" she said, alluding to the Air Force operations documents that often serve as reference points. "We're not being compared to pilots anymore; what does sitting down and operating a radar mean to us?"
Emahiser, who transferred to Space Force in 2020 after three years in the Air Force, serves in a dual role. Her primary task is missile warning and missile defense, coordinated with 18th Space Defense Squadron out of Vandenberg Space Force Base, Calif., but more of her time is focused on collision avoidance — trying to provide vital information to deconflict the paths of satellites now filling space at an explosive rate. Now, she said, her unit tracks 7,500-8,000 objects per day.
Panagsagan, the Space Systems Command officer, was an Air Force cyber officer before transferring to Space Force. She said she has been excited to see the real-world impact of her work and the mark she has made on the service.
"My biggest fear is being bored," she said. "I knew there's no way I'm going to be bored in space."
Hope Hodge Seck is a defense journalist based in the Washington, D.C., area.
Military Officer

Magazine
Discover more interesting stories in MOAA's award-winning magazine.