(This article by reporter Stephen Losey originally appeared in the May 2022 issue of Military Officer, a magazine available to all MOAA Premium and Life members. Learn more about the magazine here; learn more about joining MOAA here.)
They were the real-life Maverick, Goose, and Iceman — among the most skilled pilots of their day, who became the first Top Guns when they won the Air Force's inaugural Fighter Gunnery Meet in 1949. But for decades, this team of trailblazing aviation heroes — part of the legendary Tuskegee Airmen of the 332nd Fighter Group, the U.S. military's first Black fighter pilots — saw their achievement go unheralded and become forgotten in Air Force history.
The results of the match were listed for years as "unknown." Even their victory trophy was lost for more than half a century.
Now, the Air Force has brought these pilots' accomplishments back into the light to give them their proper place in the service's lore. On Jan. 11, Air Combat Command head Gen. Mark Kelly helped unveil a plaque at Nellis AFB, Nev., honoring their victory, in a ceremony attended by Lt. Col. James Harvey III, USAF (Ret), one of two surviving team members.
"Finally, we're getting the recognition we deserve, after 70-some years," Harvey, 98, said in an interview.
[RELATED: 'Top Gun: Maverick' Puts Audience Back in the Cockpit … for Real]
For 10 days in May 1949, members of the team — leader Capt. Alva Temple, then-1st Lts. Harvey and Harry Stewart, and team alternate 1st Lt. Halbert Alexander — squared off against other pilots on aerial gunnery at 12,000 and 20,000 feet, skip bombing, rocket firing, strafing, and dive bombing. They dominated the competition and held first place all the way from the first day.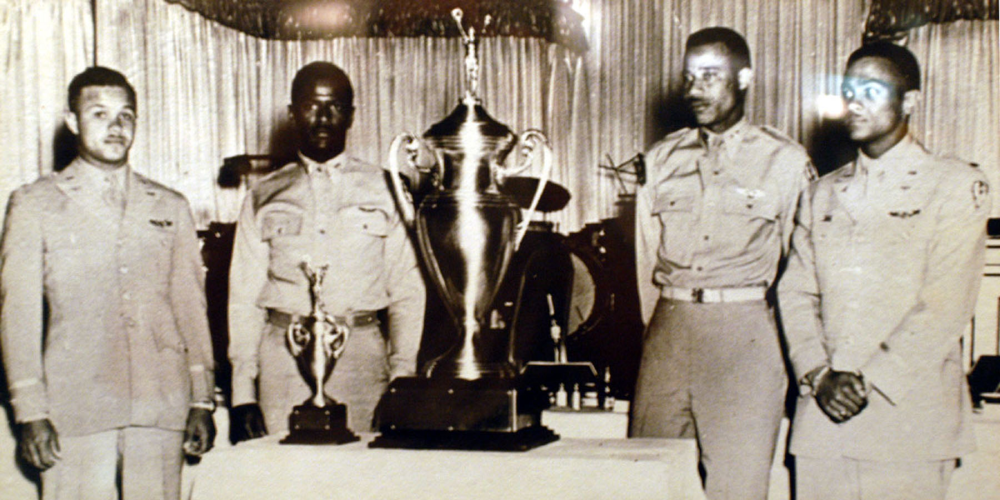 Air Force Capt. Alva Temple, 1st Lt. James Harvey III, 1st Lt. Harry Stewart and 1st Lt. Halbert Alexander pose with their 1949 Weapons Meet trophy in May 1949 at the Flamingo Hotel in Las Vegas. The trophy went missing for 55 years, but is now displayed at the National Museum of the U.S. Air Force at Wright Patterson AFB, Ohio. (Air Force photo)
But getting there was a long journey, Harvey and Stewart, who also retired as a lieutenant colonel and is now 97, told Military Officer. Stewart and Harvey, both MOAA members, each dreamed of flying since they were young — Stewart as he built model aircraft as a boy in Queens, N.Y., and watched airplanes take off and land at North Beach Airport (now LaGuardia), and Harvey from the day he saw a formation of P-40s fly over his home in Nuangola Station, Pa. Both excelled when they entered the military in 1943 and went to aviation cadet training at Tuskegee Army Air Field in Alabama, where the first aspiring Black military pilots trained.
Stewart said he knew by his very presence there, he was representing something bigger — and hoped he was paving the way for major changes.
"I felt the onus on me to go ahead and prove myself as showing that I had the ability of not only training, but absorbing the training just as well as anybody else there," Stewart said. He and his fellow trainees hoped "this would bestow credit upon the African Americans … and also lead the way to someday integrating the Air Corps."
In 1944, they earned their wings, and Stewart shipped out for Europe to join the all-Black 332nd Fighter Group, flying P-51 fighters on missions escorting B-24 and B-17 bombers. Harvey's preparations to deploy were scuttled as the end of the war in Europe loomed.
"Hitler … knew I was coming, so he threw in the towel," Harvey said with a chuckle. He saw combat flying F-80s in the Korean War, and he was the first Black jet fighter pilot in that conflict.
Stewart received the Distinguished Flying Cross for a bomber escort mission over Austria, where he notched three aerial victories in one day. He shot down two German FW-190D fighters in rapid succession, and then found a third German on his tail. Dodging fire, Stewart dove sharply toward the ground and pulled up just in time; the German wasn't so quick and crashed.
After the Air Force was made its own branch of the military, it had its best pilots square off against one another in the first Fighter Gunnery Meet in 1949. The competition took place over Frenchman Flat, a test range in Nevada near Las Vegas AFB, now known as Nellis.
Lt. Col. James Harvey III, USAF (Ret), admires The 332nd Fighter Group's commissioned plaque for winning the Air Force's inaugural 1949 Fighter Gunnery Meet "Top Gun." (Photo by Airman 1st Class Zachary Rufus/Air Force)
Stewart and Harvey's team — the only Black pilots there — flew propeller-driven Republic F-47N fighters. Their opponents flew F-51s and F-82s, which had greater firepower than the F-47s, but their additional guns were disabled to make the competition fair.
Stewart said some White pilots were friendly with his team and others "standoffish." When the team's maintenance officer met with the competition's rules committee, Harvey said "they didn't want to hear anything he had to say." The snub angered and motivated the team, Harvey said.
"The only thing left for us to do was to go out and win this thing," Harvey said.
During the aerial gunnery events, the first two of the competition, A-20s flying between 170 and 200 miles per hour would tow large targets behind them. The fighters fired at the targets at wide angles to avoid hitting the tow planes.
When the aerial gunnery results were announced, the Tuskegee team was on top, and they stayed on target.
Skip bombing was a thrilling event, Stewart and Harvey said — but also hair-raising. The pilots came in almost skimming the ground — Stewart thinks his propeller was six to 10 feet off the ground — and released an inert bomb, so low it didn't have time to turn nose down. It skipped off the ground like a stone on a lake, to hit the small structure that was the target.
The team notched perfect scores, but they said it could be dangerous. Temple even clipped a post on the wooden target structure while pulling out after releasing the bomb, and it ripped a hole in his plane.
Harvey said there was tension at the award ceremony, held at gangster Bugsy Siegel's Flamingo Hotel in Las Vegas, and he felt the other pilots "didn't feel too happy" to see Black pilots win.
The team was presented with their victory trophy and photographed with it. But from there, the trophy vanished and its whereabouts became a mystery. A controversy started to grow.
The Air Force Association's annual almanac for years listed the winners of the 1949 Top Gun competition as "unknown." But in the 1990s, the records of the meet were uncovered at Nellis, and the 332nd Fighter Group's victory was officially acknowledged.
The trophy was found in 2004 after 55 years. Zellie Rainey Orr, historian and president of the Atlanta chapter of Tuskegee Airmen Inc., uncovered it in a storage area at Wright Patterson AFB in Ohio. It's now on display at the museum there.
Stewart and Harvey believe their victory pushed the Air Force to act faster on integrating fighter squadrons. They said they feel pride when they see the heights Black aviators have reached.
"The [Black] pilots who have come after us … say, 'We climbed up, and we soared on the backs of you guys that were there in the beginning,' " Stewart said. "It gives you a very warm feeling."
Military Officer

Magazine
Discover more interesting stories in MOAA's award-winning magazine.