By Judy Christie
On the 74th anniversary of the official integration of U.S. armed forces, Romay Catherine Johnson Davis, 102, a member of the iconic World War II "Six Triple Eight" battalion, was honored in a Congressional Gold Medal ceremony with numerous reminders of what the 6888th did to advance equality.
Throughout an emotional program in Montgomery, Ala., on July 26, the former Army private first class was praised again and again by members of the military and civilian leaders for protecting U.S. freedom overseas, paving the way for equality in the military and furthering civil rights back home.
Davis, whose unit helped sort a backlog of 17 million pieces of mail and who drove a truck and cars in the battalion's motor pool, is one of 855 women who served in the pioneering 6888th Central Postal Directory Battalion, better known as the Six Triple Eight — the only all-African American Women's Army Corps battalion to serve overseas in World War II. The veterans were awarded the Gold Medal through bipartisan legislation signed into law March 14 by President Joe Biden.
While the official medal will take about a year to mint, Davis, the oldest of six living members of the 6888th, was presented a framed copy of the legislation and surprised with a World War II locker, an Army uniform, and a replica of medals to replace those stolen from her upon her return from war.
"I don't believe it. I don't believe it," she said, clearly stunned. "I felt my heart move when I saw the footlocker. … I wish I could stand up and hug everyone."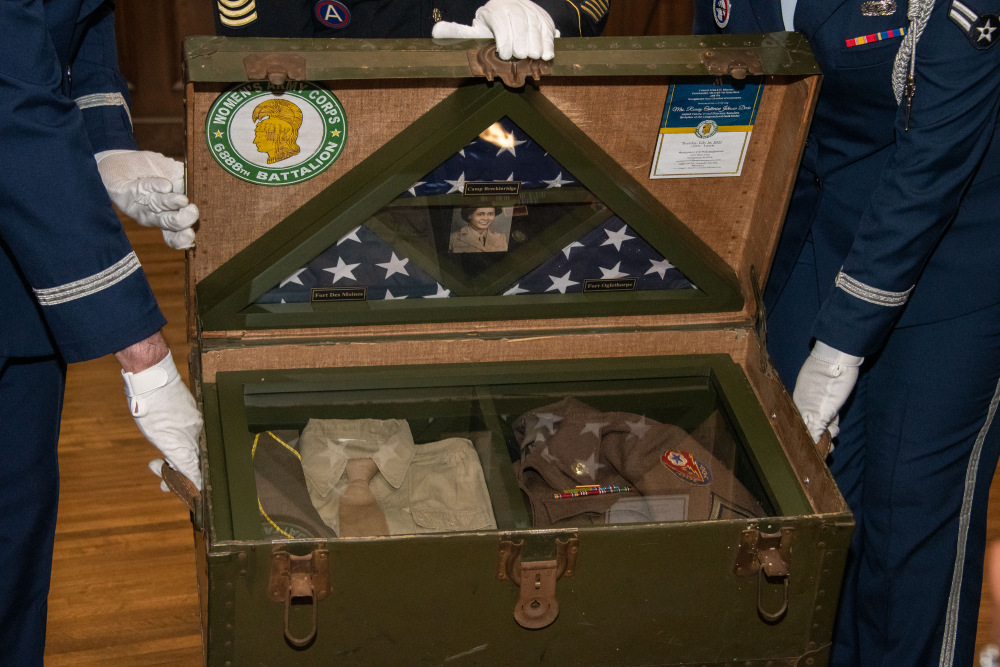 Col. Eries Mentzer, commander of the 42nd Air Base Wing; Chief Master Sgt. Lee Hoover, the wing's command chief master sergeant; and Air Force and Alabama National Guard Honor Guard representatives present a shadowbox to Congressional Gold Medal recipient Romay Catherine Johnson Davis at Montgomery City Hall on July 26. (Photo by Melanie Rodgers Cox/Air Force)
The ceremony, on the anniversary of President Truman signing Executive Order 9981, the "Freedom to Serve" order, was hosted by Col. Eries L.G. Mentzer, commander of Maxwell Air Force Base, who praised Davis for a lifetime of persistence, positivity, and public service. Mentzer choked up with emotion when thanking Davis for paving the way for equal opportunity and civil rights. "You opened the door for me," Mentzer said. "I humbly follow in your path."
Davis, in a blue suit, watched the ceremony from a seat near the front and received a standing ovation after a series of tributes from officials ranging from county commissioners to members of Congress to active duty servicemembers. Many of those who spoke credited Davis and other members of the Six Triple Eight with making it possible for women and African Americans to serve.
[RELATED: Trailblazing WWII 'Six Triple Eight' Unit to Receive Congressional Gold Medal]
In a video message, Gen. C.Q. Brown Jr., Air Force Chief of Staff, praised Davis for being a pioneer. "She persevered through incredibly trying times, changing the face of our military," he said.
She was also honored in video comments from Coast Guard Commandant Adm. Linda Fagan, the first woman to lead that service.
"During the time you served, not only were our freedoms threatened by the evils of tyranny abroad, but civil rights were also denied to women and African Americans at home," Fagan said. "Your contributions in spite of immense adversity paved the way for the freedom to serve today without limits to race, gender, religion or national origin."
[VIDEO TRIBUTE: Romay Catherine Johnson Davis]
"I never, never, never thought this would happen to me," Davis said. "Never."
She spoke of what a blessing the honor was and emphasized the medal is for "all of us, those who've gone and those who remain."
After two years and four months in the military, Davis returned home to become a fashion designer for 30 years. She said her time in the military was the most extraordinary of her life.
Active throughout the years, in her 70s, she earned a second-degree black belt in taekwondo and in her 80s went to work for Winn-Dixie grocery stores, where a diversity grant was named in her honor.
Among those cited for bringing long overdue recognition to Six Triple Eight was Col. Edna W. Cummings, USA (Ret), who pushed the Gold Medal effort in Congress and produced a documentary on the battalion. Cummings, a Life Member of MOAA, helped obtain authentic signed copies of the legislation for each of the living veterans and praised Davis.
[MOAA CHANGEMAKERS: Col. Edna W. Cummings, USA (Ret)]
"Your legacy has changed the face of American history and American military history," she said.
Signed and framed copies of the bill have also been given to 6888th veterans Gladys Blount of Fla.; Crescencia Garcia of New York; Lena King of Nevada; Maj. Fannie McClendon, USAF (Ret), of Arizona; and Anna M. Robertson of Wisconsin.
Judy Christie is an author based in Colorado.
A MOAA Premium Membership Comes With Many Benefits. Are You Taking Advantage of Them?
Visit our Member Value web page to see just how many benefits are waiting for you.
Then start using them.