By MOAA Staff
Hours before a Senate hearing on a bill offering long-sought comprehensive toxic exposure reform, MOAA joined several lawmakers and other supporters of the legislation at a March 29 press conference stressing the importance of the bill's passage.
[TAKE ACTION: Ask Your Senators to Pass the Honoring Our PACT Act]
The Honoring Our PACT Act "cares for those who are still sacrificing for our nation and fundamentally changes how our nation responds to toxic exposures," said Cory Titus, MOAA's director of government relations for veteran benefits and Guard/Reserve affairs. "This bill offers the health care and the process reforms, and recognizes the presumptive illnesses that MOAA and every other veterans' group are asking for."
MOAA signed a letter to House leadership alongside over 40 other veterans groups who backed the Honoring Our PACT Act. The bill passed that chamber March 3 with bipartisan support.
Senate Majority Leader Chuck Schumer (D-N.Y.), Sen. Kirsten Gillibrand (D-N.Y.), and Rep. Raul Ruiz (D-Calif.), took part in the press event alongside representatives from other veterans service organizations and advocates including comedian Jon Stewart. During his remarks, Schumer turned his back to the cameras and faced the ill veterans, survivors, and veterans advocates to make a promise: The Honoring Our PACT Act will get a vote in this session of Congress.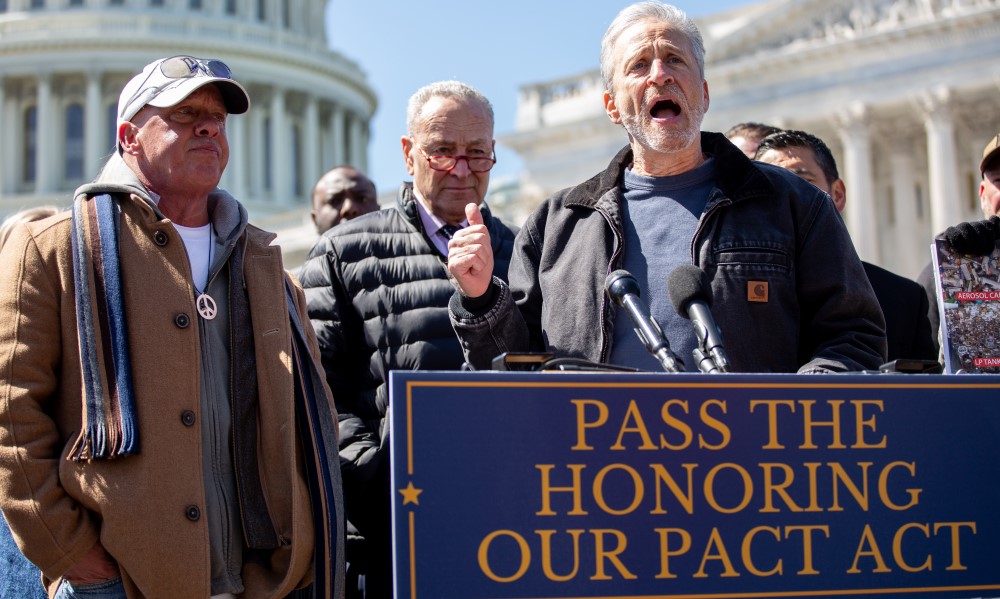 Jon Stewart speaks at a press conference in support of the Honoring Our PACT Act on Capitol Hill in Washington, D.C., on March 29. (Photo by Mike Morones/MOAA)
[WATCH THE PRESS CONFERENCE: MOAA's Cory Titus | Full Event]
Sen. Marco Rubio (R-Fla.) praised the Honoring our PACT Act in a March 29 statement, saying "it is horrific that veterans are suffering from debilitating illnesses and dying because they cannot get the care they earned. No more baby steps. No more half measures. No more excuses. We need to get this done, now."
Implementation Concerns
The March 29 Senate Veterans' Affairs Committee (SVAC) hearing included testimony from Secretary of Veterans Affairs Denis McDonough who was followed by representatives of the Disabled American Veterans, Veterans of Foreign Wars, and the Fleet Reserve Association.
It put the House-passed bill under scrutiny in a productive discussion focused on improving the bill even further. Sen. Jerry Moran (R-Kan.), the committee's ranking member, opened with his implementation concerns about the bill, saying his focus was on "how to create a law that will withstand the test of time while mitigating disruptions in the VA's work for caring for all of our veterans."
This is an important line of questioning, and the scope of the challenge was further illustrated by McDonough when he shared a VA estimate that as many as 2.5 million claims would be generated in the next three years if the Honoring Our PACT Act is passed as written.
While the VA tends to estimate the highest possible figures, this number of claims is staggering in the size of the workload – and in the recognition of how many veterans are not receiving their care and benefits under the present system.
Even with the workload concerns, McDonough said, "We support the bill for many reasons, the first of which is that it helps the VA accomplish a priority goal: getting veterans into VA care."
"Addressing toxic exposure is also a top priority for this [presidential] administration," McDonough added.
As the SVAC considers changes to the legislation based on the testimony, constituent outreach is crucial in the coming months to grow support. While the Honoring Our PACT Act will receive a vote, it must still reach the 60-vote threshold to pass the Senate. Write your senators and ask for them to support this legislation: We must make clear that a comprehensive solution is vital and must be passed in this session of Congress.
More Members Mean More Influence Over Our Health Care
Get involved and make sure your interests are addressed. Because the larger our voice is, the greater our impact will be.