(This article by Fredericksburg, Va.-based writer Kristin Davis originally appeared in the June 2022 issue of Military Officer, a magazine available to all MOAA Premium and Life members. Learn more about the magazine here; learn more about joining MOAA here.)
The six recipients of MOAA's annual awards are working to improve the lives of servicemembers and veterans and their families. Here are their stories.
Sen. Thom Tillis
Before his election to the U.S. Senate in 2015, Sen. Thom Tillis (R-N.C.) spent two terms in the North Carolina House of Representatives. In that role, Tillis learned about the unique challenges servicemembers and their families face.
And it is no wonder: The state has the fifth-largest military presence in the nation and is home to Fort Bragg, the world's largest military base. Tillis also has a personal connection: His father served in the Army, and his grandfather was a World War II veteran.
As ranking member of the Senate Armed Services Committee Subcommittee on Personnel, Tillis supported the FY 2022 National Defense Authorization Act (NDAA), which included 2.7% pay raises to match the Employment Cost Index; extended paid parental leave up to 12 weeks; bereavement leave; and expansion of an in-home child care pilot program.
In addition, Tillis is an original co-sponsor of the Jobs and Childcare for Military Families Act of 2021, providing work opportunity tax credit for military spouses and flexible spending arrangements. Military spouse unemployment worsened during the COVID-19 pandemic and is currently about four times that of the general population.A tax credit incentivizes businesses to hire military spouses.
[RELATED: MOAA-Backed Legislation Targets Spouse Jobs, Child Care]
Another unique challenge military spouses face is finding affordable, quality child care when they do enter the workforce. Families face long waiting lists, high costs, and difficulty finding providers that offer flexible hours.
"If you've got someone deployed downrange, and they are having problems at home, it becomes a readiness issue," Tillis said. "When you're deployed, you shouldn't have anything to worry about except your assignment."
Tillis also sponsored the PAWS for Veterans Therapy Act in the Senate. Signed into law in August 2021, the PAWS Act makes it easier for veterans with post-traumatic stress to access a service dog.
[RELATED: VA Pilot Program Will Provide Service Dogs to Veterans With PTSD]
In addition, he was actively engaged on barracks and family housing concerns regarding mold at Fort Bragg and other facilities across the state and nation.
Prior to the pandemic, about 60% of the thousands of cases Tillis' office handled every year were focused on veterans. Although that dipped over the past two years, he expects a rebound.
He has a message for the military families and veterans he represents: "Be absolutely certain after your first contact with a federal agency that didn't result in a reasonable outcome to call our office. We can open cases and act on their behalf. ... We love helping veterans. It recharges our battery."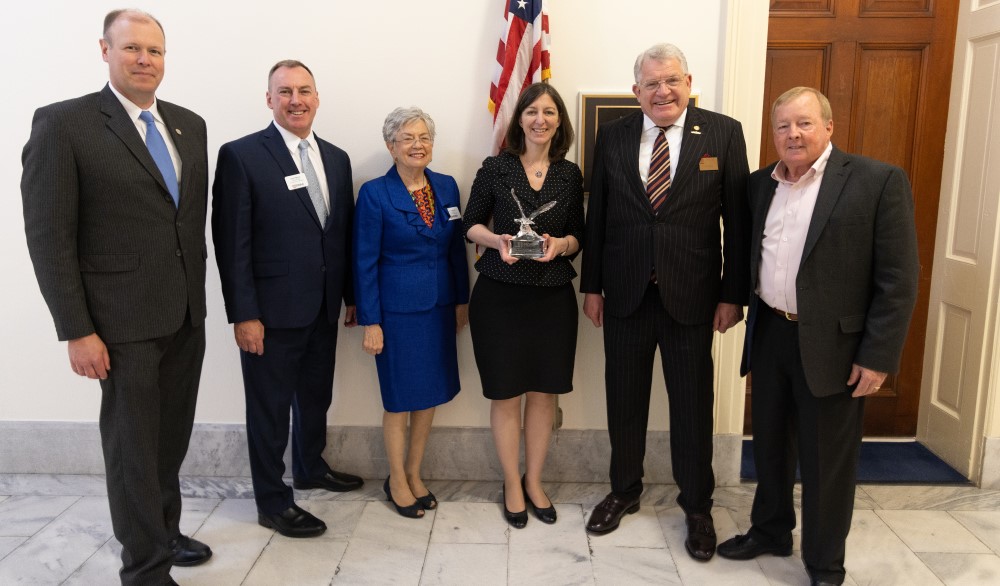 Rep. Elaine Luria (D-Va.), center, receives the 2022 Arthur T. Marix Congressional Leadership Award from MOAA representatives (from left) Lt. Col. Mark Belinsky, USA (Ret); director of currently serving and retired affairs; Col. Dan Merry, USAF (Ret), vice president of government relations; board member Col. Jeri Graham, USA (Ret); Cmdr. Linc Smith, USNR (Ret), president of the Virginia Council of Chapters; and MOAA President and CEO Lt. Gen. Dana T. Atkins, USAF (Ret)
Rep. Elaine Luria
At her first town hall meeting after taking office, Rep. Elaine Luria (D-Va.) heard from the wife of a Vietnam veteran who was dying from an illness caused by Agent Orange exposure.
"With tears in her eyes, she asked me … to make sure Congress did not forget her husband's service and what he sacrificed for our country," Luria later recalled on the House floor in support of the Blue Water Navy Vietnam Veterans Act of 2019. The bill, which Luria co-sponsored, extended disability benefits to about 90,000 veterans who served off Vietnam's coast during the war.
[RELATED: President Trump Signs Blue Water Navy Benefits Bill]
In 2021, Luria, vice chair of the House Armed Services Committee, introduced landmark legislation to help ensure a new generation of servicemembers does not have to wait decades for benefits they earned. From 2007-21, more than 13,900 veterans filed a disability benefit claim for a burn pit-related condition. Fewer than 4,000 were granted as due to burn pits. This March, the House passed the Honoring Our PACT Act that will expedite health care and disability coverage for millions of veterans exposed to toxins.
[TAKE ACTION: Ask Your Senators to Pass the Honoring Our PACT Act]
For Luria, working on behalf of veterans and servicemembers and their families is deeply personal. She serves the 2nd Congressional District of Virginia, where one out of every five constituents falls into one of these categories. She is also a Navy veteran, having served two decades, and a Navy spouse.
"Through my time in the military, I learned it was as much about the people and making sure all of those people in our command could succeed and complete the mission and provide for our national defense," Luria said.
In addition to leading the way on toxic exposure reform, Luria was instrumental in securing support for service members and their families in the FY 2022 NDAA.
She sponsored the Health Care Fairness for Military Families Act of 2021. Though the bill was not included in the NDAA, Luria made a case to the House Rules Committee for continued support along with co-sponsor Rep. Michael Waltz (R-Fla.) and 134 co-sponsors. Luria was also a co-sponsor of the Veterans Compensation Cost-of-Living Adjustment Act of 2021, which was signed into law.
[RELATED FROM 2021: TRICARE Young Adult Parity Fight Continues After NDAA Setback]
"As a veteran myself, it's an honor to serve other veterans in the community and make sure I can be a strong voice for all of our veterans," Luria said.
Lt. Col. Joshua Koncar, USAR
After watching his brother become a Marine, Joshua Koncar knew he, too, wanted to serve his country. He enlisted in the Army Reserve on Aug. 14, 2001. Less than one month later, the U.S. was attacked.
Koncar was at basic training when he learned about the four hijacked airliners on 9/11. By March 2003, he was in Iraq, where he spent the next 13 months. Though he had planned to serve just one enlisted tour, Koncar received a direct appointment to second lieutenant in 2007.
After more than two decades of service, "I wouldn't change it for anything," said Koncar, who in 2021 was assigned as a defense fellow to Sen. Tammy Duckworth (D-Ill.), a former Army helicopter pilot injured in Iraq.
In that role, Koncar has worked relentlessly to support servicemembers and military families, including helping to build co-sponsorship of the Military Hunger Prevention Act, which MOAA supported as standalone legislation. Koncar's coordination and cooperation with House staffers and multiple nonprofit organizations led to a modified version of the bill being included in the FY 2022 NDAA that requires DoD to create a basic needs allowance for military families facing food insecurity.
[RELATED: The NDAA Moves Toward Ending Hunger in the Ranks, But More Needs Done]
Because of the way the Department of Agriculture defines the military's Basic Allowance for Housing in its income calculations, many military families do not qualify for food stamps. That left some — particularly junior enlisted military families with two or three dependents — relying on food banks and fearing the stigma of asking for help.
The problem only worsened during the pandemic, as military spouses faced unemployment and limited child care options. Now, families who qualify could receive about $400 a month.
"Taking care of people is the Army's top priority," Koncar said. "The opportunity to assist in enacting legislation that helps servicemembers and their families meant a lot to me personally."
Additionally, Koncar was instrumental in laying the groundwork required to secure incentive pay parity, which ensures each service pays its Guard and Reserve members the same monthly incentive pay for maintaining critical skills and taking on hazardous duty as those in the active component.
He also helped to educate fellow staffers on the importance of military voting rights and improvements that could be made with the bipartisan Reducing Barriers for Military Voters Act. The bill would create a secure electronic voting system for active duty servicemembers stationed in hazardous duty zones or rotational deployments.
[RELATED: MOAA Supports Legislation to Make Voting Easier for Deployed Servicemembers]
"Many of the initiatives I was privileged to advance were ones Senator Duckworth fought for, for many years. All the credit goes to the senator and her amazing staff," Koncar said.
Danielle Branz
Both of Danielle Branz's parents served in the Air Force. Growing up, she spent afternoons and summers hanging out in the recreation room at the VA in Michigan where her mother worked, playing cards and drinking coffee with veterans and listening to their stories.
Those experiences sparked a passion for helping veterans and servicemembers. Her first job after college was as veterans services special assistant for then-U.S. Rep. Dan Benishek (R-Mich.), helping veterans access their benefits. Later, as chief of staff and legislative director for Michigan Rep. Beau LaFave, she continued to work on veteran issues.
Since 2021, Branz has served as legislative assistant for Rep. Lisa McClain (R-Mich.), working across the aisle with staffers from other House Armed Services Committee members to support servicemembers, veterans, and military members.
She authored report language that communicated concern for those who would be forced to change burial plans to somewhere other than Arlington National Cemetery.
"MOAA brought this concern to us last year," Branz said. "We didn't want to see veterans lose their benefits, especially women who have not been in combat roles until recent years. We know Arlington is running out of space. One goal is to get a new location selected so that once Arlington does run out of space, we can continue to provide those benefits."
[TAKE ACTION: Ask Congress to Preserve Arlington National Cemetery Eligibility]
Branz also successfully led legislation championing a Congressional Gold Medal for the 13 servicemembers killed at Hamid Karzai International Airport in Kabul during a suicide bombing Aug. 26, 2021. The medals will be posthumously awarded to the fallen servicemembers and then donated to the Smithsonian Institution for display.
"There is no way to repay those who lost their lives in Afghanistan during the withdrawal or repay those who lost their lives throughout the 20-year war," Branz said. "Congresswoman McClain believes Congressional Gold Medals recognize significant moments in time. That was a significant moment in our history, and we really should pay tribute to those men and women."
Additionally, Branz helped lead the Patient Tracker Act, which McClain introduced in October 2021 and requires the Office of Patient Advocacy within the Veterans Health Administration to create an information technology system that allows veterans to electronically file a complaint with a patient advocate and review its status.
"Although I never served in our armed forces, I consider it a great honor to be able to be in a position to advocate for and help our nation's servicemembers and veterans," Branz said. "They have given so much to our country, and my hope is to be able to help them in whatever capacity I am able."
Col. DJ Reyes, USA (Ret)
Nearly a decade has passed since Col. DJ Reyes, USA (Ret), helped stand up a Veterans Treatment Court (VTC) in Tampa, Fla. Despite its humble beginnings — no budget, no staff, and no veteran mentors — the VTC would grow to more than 140 mentors serving 250 veterans at its peak. It would also serve as a national model for similar courts to provide early intervention and treatment for veterans with mental health and substance abuse issues often related to their service.
[MOAA CHANGEMAKERS: Col. DJ Reyes, USA (Ret)]
To date, nearly 1,000 veterans have graduated from the Tampa VTC.
"Most of the veterans we serve have honorable service," Reyes said. "Our attitude is that you had a blip, a misstep. We're not here to judge you. We're here to get you better."
He also helped establish the Mentors for Hillsborough County Veterans, a nonprofit that helps to fill the gap on many veteran requirements not offered by the court, local government, or local community services.
"Instead of going to jail where they are just serving time and receiving no rehab or treatment, veterans in the VTC participate in community service, go to school, get a job," Reyes said. "We help connect them with the VA to receive treatments. We're trying to make them resilient and prepare them for reintegration into the community."
And it works: 85% to 90% of those who enter the Tampa VTC are successful, Reyes said.
His work didn't stop in Tampa. In 2019, Reyes traveled to Washington, D.C., to advocate for federal legislation supporting veterans courts nationwide.
[RELATED FROM 2019: MOAA Members Seek Expanded Federal Support for Veterans Treatment Courts]
The Veterans Treatment Coordination Act, which became law in 2020, directs the Department of Justice to provide grants and assistance to local, state, and tribal governments to create and maintain VTCs.
"The VTC has provided me with a platform to address other issues facing veterans," Reyes said. "After nine years, we've noted five major themes or deficiency areas that exist for veterans who come into our court: affordable, secure housing; employment; education; transportation; and food security. I've seen veterans with any combination of these or all five."
Reyes currently is taking on veterans housing, working with an organization to help lay the groundwork to help address the lack of low-cost, affordable housing in Tampa and the rest of Florida.
Earlier this year, Reyes spoke in support of the Honoring Our PACT Act for veterans exposed to toxic substances in a testimonial video for U.S. Rep. Kathy Castor (D-Fla.) that was shown before the House vote on the bill.
"I'm one of the folks who got afflicted with continuous toxic exposure," Reyes said. "Prior to going to Iraq, I was an ultramarathoner. I'm to the point now where I can't even run to the end of my street. I get lightheaded, my chest hurts. At first, I started thinking it's in my head. Then I started seeing people die. Then I knew. This is real. These are people who are ill or dying."
Veterans Airlift Command - Former Army CW2 Walt Fricke, Chairman, CEO, and Founder
Former CW2 Walt Fricke, USA, made his first solo flight on his 16th birthday; a year later, he received his pilot's license. He was on course to get a commercial license when he enlisted in the Army in 1966, just out of high school.
Fricke left for Vietnam in 1968, flying combat assault helicopters with the 68th Assault Helicopter Company. Eight months later, a rocket exploded outside the helicopter he was flying. Fricke was medevaced back to the U.S. where he spent six months recovering in the hospital.
Though he hoped to return to flight status, the Army wouldn't allow it. Fricke took a medical retirement and went on to hold several senior-level executive positions at GMAC-RFC and serve as founding president and executive director of the Homeownership Preservation Foundation, supporting the nation's largest mortgage lenders to address the growing national foreclosure problem.
His efforts included working with DoD to help deployed servicemembers who got behind on their mortgages. But it was Fricke's experience in Vietnam that would plant the seed for Veterans Airlift Command, which he founded in 2006 to provide free air transportation to post-9/11 combat wounded and their families for medical and other compassionate purposes through a network of aircraft owners and volunteer pilots.
"I had an airplane," he said. "My goal was to fly those who needed it. I went to the VA and told them I was looking for people who needed rides home on weekends or for convalescence," Fricke said.
After talking to a friend, he realized "it was too good of an idea to keep to myself. So I stood up a national organization. Hospitals were starting to fill up from the wars in Iraq and Afghanistan. It was selfish of me to do this by myself."
One of the first passengers served by Veterans Airlift Command was a badly injured Marine who had used donated frequent-flier miles to get from Florida to Camp Lejeune, N.C., for a ceremony to receive his combat medals. The trip had four legs and took 13 hours. He was so exhausted by the time he arrived that he didn't think he would make the ceremony.
The Marine's father thought there must be a better way to get him back home. Thanks to Veterans Airlift Command, there was.
"I hadn't recruited one pilot yet," Fricke said, but he emailed eight pilots in Florida and Georgia anyway. Five of them volunteered to fly the Marine home.
"I knew then we had something that would work, and that people wanted to do this."
Sixteen years later, Veterans Airlift Command has 2,600 volunteer aircraft that have served 19,000 passengers with more than $42.15 million of in-kind value provided in support of the mission. The organization does not advertise or spend any money on direct fundraising in order to keep management and fundraising costs to a minimum.
"It's not just about transportation but the relationships that come out of it," Fricke said. "Some pilots have started foundations building homes for guys they flew on a trip. We have pilots who have flown over 100 missions. They are so moved by the experience."
Military Officer

Magazine
Discover more interesting stories in MOAA's award-winning magazine.