JUNE 16 UPDATE: 'Total Team Effort': Toxic Exposure Reform Bill Passes Senate, Heads Back to House
Decades of grassroots work to reform the VA's practices regarding toxic exposure benefits, months of bipartisan negotiation, and a flurry of late advocacy efforts by MOAA and dozens of other groups have resulted in the largest step forward yet on the path to helping millions of underserved veterans.
The Senate voted 86-12 on June 7 to invoke cloture on the Sergeant First Class Heath Robinson Honoring Our Promise to Address Comprehensive Toxics (PACT) Act of 2022, a procedural move allowing for a full Senate vote expected in the coming days. If a majority of senators back the bill in that vote, it will return to the House, where an earlier version passed 256-174 in March.
[TAKE ACTION: Ask Your Senators to Vote for the Honoring Our PACT Act | Call Your Senators Today]
"This is historic legislation," said Sen. Jon Tester (D-Mont.), chair of the Senate Committee on Veterans' Affairs (SVAC), at a June 7 press event prior to the vote attended by MOAA representatives, other veterans advocates including comedian Jon Stewart, and family members of the bill's namesake, who died in 2020 from illnesses connected to toxic exposure while serving in Iraq. "This is long-overdue legislation, because quite honestly, it's burn pits today, and yesterday it was Agent Orange."
Many of those advocates took to the halls of the Senate the day before, with MOAA staffers visiting 80 offices to secure support prior to the cloture vote. These advocacy efforts came on the heels of an extensive phone call and letter-writing campaign which saw more than 4,000 MOAA members and others reach out to their senators.
"This is a day for us to express gratitude to all of you who have lobbied us, who have informed us, who have encouraged us," said Sen. Jerry Moran (R-Kan.), SVAC ranking member, at the press event. "And I would just ask you to continue to do that over the next few days."
While the cloture vote marks a major step, MOAA will remain engaged with the process until the bill is signed by the president. Visit MOAA's Legislative Action Center for updated details on how you can ensure your legislators do the same.
What the Bill Will Do
With input from dozens of veterans groups, legislative staffers, and others across the veteran community, the bill addresses not just the care of those exposed to burn pits during service in Iraq in Afghanistan, but of those exposed to toxins during previous conflicts and how the VA will treat such exposure in future military actions.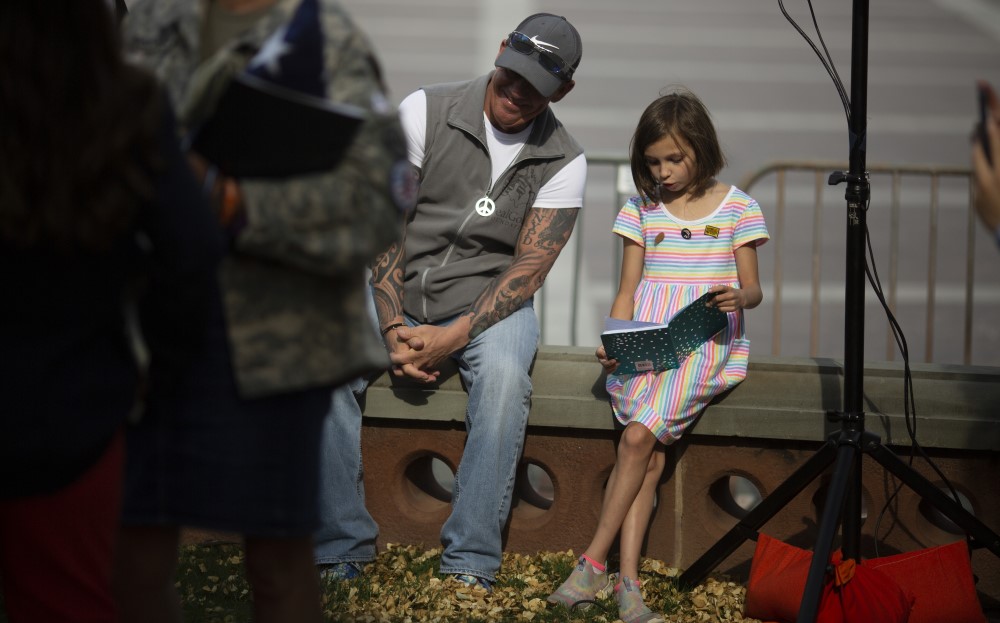 Veterans advocate John Feal, left, sits with Brielle Robinson, daughter of the namesake of the Sergeant First Class Heath Robinson Honoring Our Promise to Address Comprehensive Toxics (PACT) Act of 2022, during the June 7 press event. (Mike Morones/MOAA)
Among the improvements:
Expands VA care to more than 3.5 million post-9/11 veterans exposed to toxins.
Adds 23 conditions to VA's presumption list for toxic exposure.
Provides toxic exposure screenings to all veterans at VA medical appointments and boosts training and education for VA personnel on illnesses connected to toxins.
Establishes 31 new VA facilities and invests in VA claims processing.
Expands the list of locations with presumed exposure to Agent Orange to include Thailand, Cambodia, Laos, Guam, American Samoa, and Johnston Atoll, covering Vietnam War-era service in most instances and extending past the war's end for some locations.
Require a series of research projects, studies, and surveys tracking toxic exposure-related health care concerns, ranging from cancer rates to mental health issues to overall VA treatment.
Tester put the overall cost of the measure at roughly $278 billion over 10 years.
"We have an all-volunteer military in this country, and if we're going to send a message to the next generation of soldiers we have out there, this bill has to pass. … This is the time to pay the full cost of wars. Our nation's veterans are counting on it, their families are counting on it, and we simply cannot fail."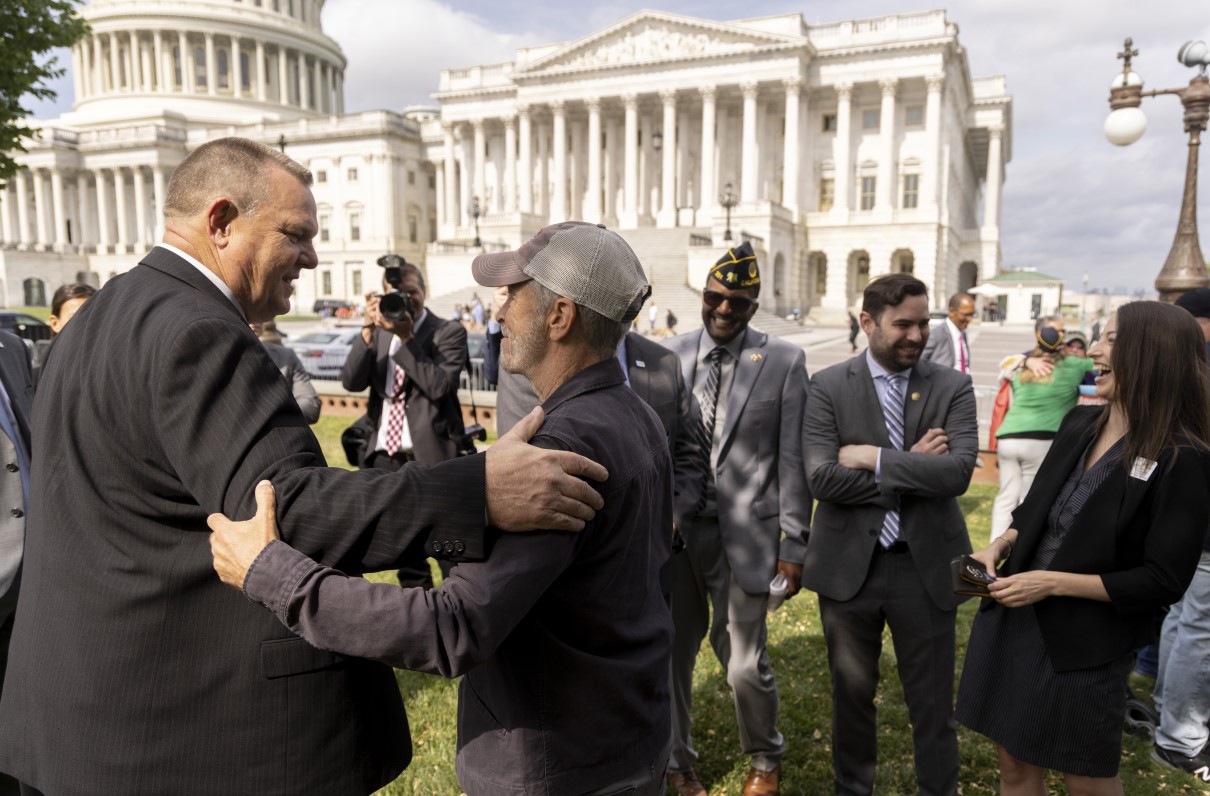 Sen. Jon Tester (D-Mont.) and veterans advocate Jon Stewart joined MOAA and other veterans groups, a bipartisan group of lawmakers, and other supporters at a June 7 press even supporting comprehensive toxic exposure reform. (Mike Morones/MOAA)
Stewart praised the community of advocates who joined to support the measure.
"All these groups are responding to a real problem within the constituents they represent," he said. "They saw that the consequence of the heroism and the sacrifice that our military men and women made were horrible diseases and horrible disabilities that were not being addressed. … They joined together in the manner in which they actually served this country – they took the lessons of their service and they unified toward one common goal. And they became unstoppable."
More Members Mean More Influence Over Our Health Care
Get involved and make sure your interests are addressed. Because the larger our voice is, the greater our impact will be.