By Contributing Editor Blair Drake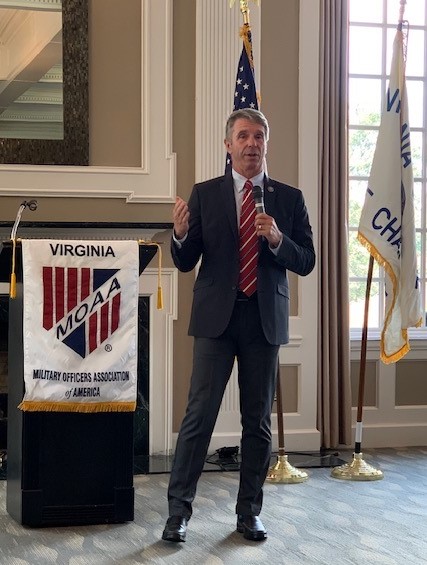 The Virginia Council of Chapters (VCOC) held its annual appreciation luncheon for members of the Virginia delegation Oct. 5 in Williamsburg, Va. Several lawmakers attended the event, including Reps. Rob Wittman and Elaine Luria and state Sen. Jennifer Kiggans, as well as numerous staff members. Among them, Sandy Canada, a former aide to the late-Sen. John Warner, who received in 2007 the VCOC's Legislative Award in appreciation of his lifetime of support of the uniformed services.
Lawmakers offered remarks to members of the VCOC and national MOAA leaders at the luncheon. Sens. Mark Warner and Tim Kaine were unable to attend the event, but they highlighted their relationship with the VCOC through a video and letter, respectively.
During the event, the VCOC presented Luria with its Legislator of the Year award. The award recognizes members of Congress for exemplary support of the national security of the U.S. and the current and past members of the uniformed services and their families.
Luria (D-Va.) and Rep. Michael Waltz (R-Fla.) championed the Health Care Fairness for Military Families Act to bring TRICARE in line with commercial insurance plans by automatically covering young adult dependents up to age 26 under their parents' plan. This coverage gap was one of topics national MOAA addressed during its annual Advocacy in Action event and an issue the association continues to urge members of Congress to address.
[TAKE ACTION: Urge Your Elected Officials to Fix the TRICARE Young Adult Coverage Gap]
"I am humbled to receive this award and proud to stand with the servicemembers, veterans, and military families of Hampton Roads," Luria said. "I look forward to working closely with the VCOC to pass the Health Care Fairness for Military Families Act so the children of servicemembers can stay on their parent's TRICARE plan until the age of 26 at no additional cost. I will continue to advocate for a strong national defense and improving our veterans' quality of life."
Cmdr. Linc Smith, USNR (Ret), VCOC president, said the strong relationship the council has built with the Virginia delegation was evident.
"This personal relationship stood out in their remarks," said Smith. "We can go to them, and they trust us. We have a mutual respect. They might wear a different uniform, but they're here for veterans."
Additionally, the VCOC presented Col. Dan Merry, USAF (Ret), national MOAA vice president of Government Relations, with its Minuteman Award for his outstanding support of the council of chapters. Merry as well as MOAA President and CEO Lt. Gen. Dana T. Atkins, USAF (Ret), and Capt. Jim Carman, USN (Ret), MOAA vice president of Council/Chapter and Member Support, attended the event.
The VCOC has typically held its Congressional Appreciation Luncheon each April on Capitol Hill. With in-person events put on hold because of COVID-19 over the past almost two years, the council combined the luncheon with several other of its events and presented leadership and outstanding service awards to chapter leaders throughout the state, held a memorial service honoring council of chapter members who have died, and installed new council officers.
"It's been a tough almost two years," said Smith. "The luncheon was so many things for so many reasons. It recognized months of hard work in a virtual world where we kept it going."
Blair Drake is a contributing editor for MOAA and lives in Souderton, Pa. She previously served on the editorial team of Military Officer magazine for nine years.
Want to Help Servicemembers in Your Community?
Learn how you can make a difference with your local chapter.