By Contributing Editor Blair Drake
Through a community outreach partnership, the Tucson (Ariz.) Chapter is helping veterans and their families in need. For several years, the chapter has worked with Esperanza en Escalante (EEE), a nonprofit that provides housing and transitional social services to homeless and low-income veterans and their families. The chapter donates household items, provides funds quarterly to EEE's food pantry, and participates in EEE's annual golf tournament.
When the COVID-19 pandemic began in 2020 and schools shifted to remote learning, EEE realized many of its families now faced another challenge.
"Having to revert to online instruction, many of these children could not afford the instructional tools — PCs, tablets, and internet access," said Col. William A. Wojciechowski, USAF (Ret), chapter president. "And some parents and children didn't know how to use these tools."
So the Tucson Chapter worked with EEE to create the Teacher Connect Program, with the goal of supporting parents struggling to help their children by providing needed technology and access to a certified tutor.
The chapter applied for and received a grant from The MOAA Foundation to help fund the program.
[GIVE TODAY: MOAA.org/Donate]
"The grant money goes to hire tutors and to provide the devices the children need," said Wojciechowski.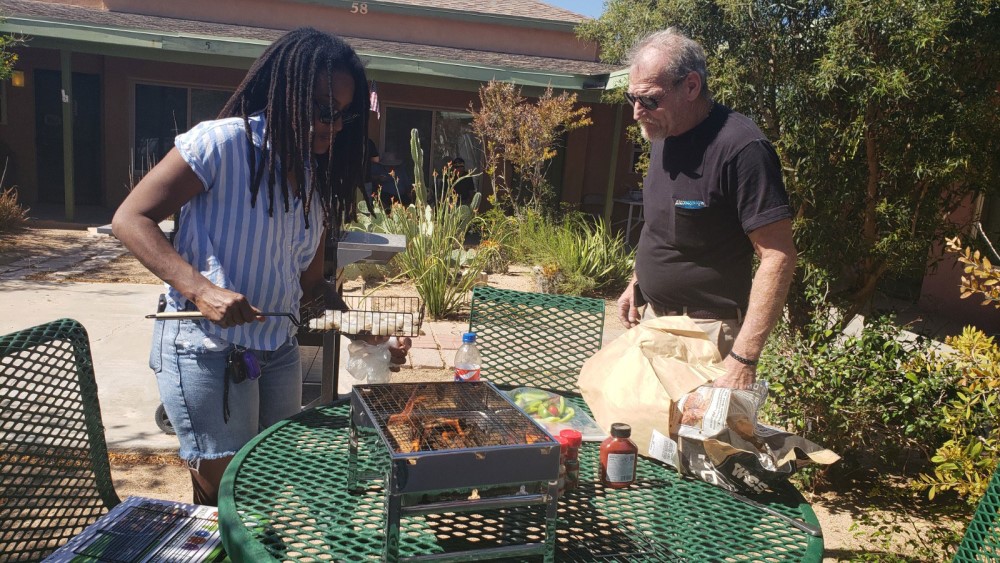 Residents of Esperanza en Escalante prepare food during a barbecue at the housing facility. Donations from the Tucson Chapter were used to purchase supplies for the event. (Courtesy photo)
He pointed out the tutoring goes beyond just the school subjects. "It helps both the students and their parents to use the technology. Plus, it helps the family connect."
Though some schools have now returned to full-time in-person learning, Wojciechowski said some remain on a rotational schedule and require doing some work virtually, so the children at EEE continue to benefit from the program.
Members of the chapter are happy to support this effort and the partnership with EEE. "One of the things we cover a lot at our meetings is our chapter's mission, which includes philanthropic services to veterans in need," said Wojciechowski. "Our members want to get involved and want to help, and we see that EEE really provides a great service to veterans and their families."
In addition to this effort, the Tucson Chapter awards scholarships to deserving ROTC cadets at the University of Arizona and recognizes distinguished students in Junior ROTC units at local high schools.
Blair Drake is a contributing editor for MOAA and lives in Souderton, Pa. She previously served on the editorial team of Military Officer magazine for nine years.
Want to Help Servicemembers in Your Community?
Learn how you can make a difference with your local chapter.