(This article by Marilyn Pribus originally appeared in the January 2021 issue of Military Officer, a magazine available to all MOAA Premium and Life members. Learn more about the magazine here; learn more about joining MOAA here.)
Finding time to exercise can be difficult for everyone. But PCS moves and other challenges — including the COVID-19 health crisis — may make it especially tough for military families to help their children develop and maintain healthy habits.
Setting a positive example and offering options may motivate children to stay active. The Marine Corps has a reputation of being the toughest military service. For some Marines, dedication to fitness carries over into family life.
Here are some ideas from Marine spouses on encouraging a culture of family fitness, no matter your service and no matter your location.
Example, Expectation
Exercise was always a part of Jolinda Fisher's childhood. That didn't change when she married Josh Fisher, a recently retired Marine Corps captain.
"I played sports in school and college and racquet sports as an adult," said Jolinda Fisher. "Josh has always been active."
So it's no surprise this energetic couple started encouraging their children to exercise early in life.
"We began with age-appropriate gymnastics at 2 or 3," she said. "When we weren't living on base, we aimed to live in kid-safe communities where they can be outside with bikes and friends."
Often, she said, parents must take an extra step of encouragement. Fisher recalled one PCS where there was a prohibitively long wait list for a soccer league.
"I volunteered to coach so our son would have a team although I didn't know anything about soccer," she said. "Or coaching."
Frequent moves can be difficult, she said, because the popularity of various sports differs from one base to the next.
"Along the way, Austin didn't do baseball for a couple years, then found himself behind," Fisher said. Now, "we encourage him to try everything and expect him to stick with things for at least one season," she said. "This includes individual sports. ... In Bluffton, [S.C.] soccer was big, but he didn't care for it. Instead, he fell in love with lacrosse."
On the other hand, Austin's younger sister, Aubrey, isn't team-sports minded, preferring dance and gymnastics. Still, both those pursuits are active and require concentration and discipline.
"Both my husband and I are setting fitness examples with our own regimens," Fisher said. "We always expect our kids to give various activities a fair chance."
While military kids are resilient, they are also susceptible to emotional upsets and even depression because of frequent moves and family separations. Exercise can play an important role in addressing such issues.
"Working out has a proven track record of relieving stress and calming the mind," Fisher said. "When our children are feeling stressed or overwhelmed, we are very aware that physical activities put them in a better mood. Attitudes and focus improve drastically."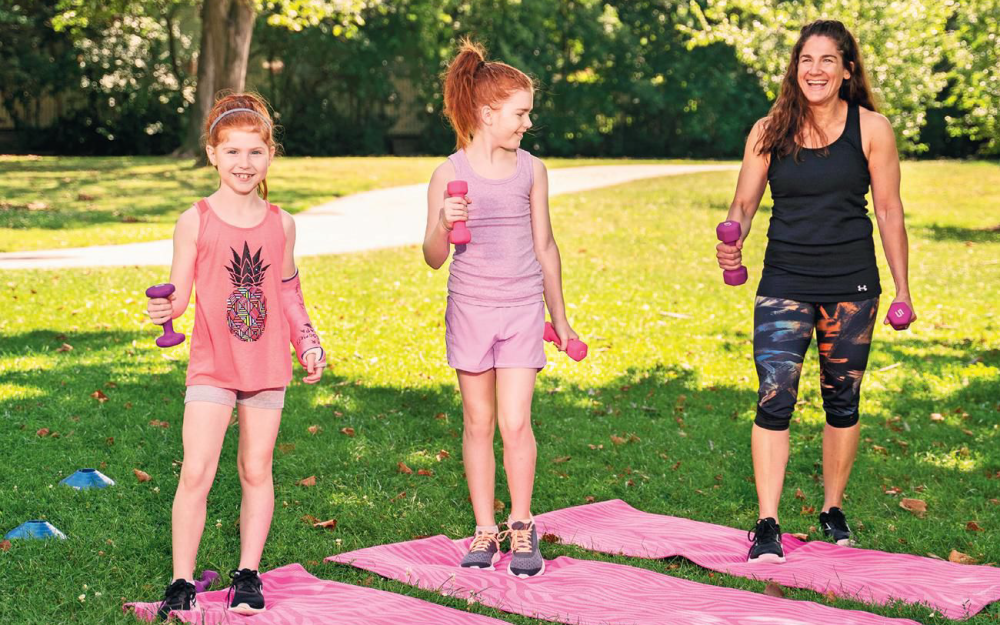 Mixing in new activities with sure bets, like family bicycle rides, can help keep workouts fresh while having a degree of continuity, said Christina Actis, right. (Photo via Inman Productions LLC)
Online Exercise Inspiration
Christina Actis and Maj. Jason Actis, USMC, have two daughters: Alexy, 12, and Amelia, 8. Actis works as a credentialed health and physical education teacher and is also a certified group fitness instructor and personal trainer.
"I've always been active," she said. "At [Camp] Pendleton, Alexy would watch me working out from her playpen, and she'd try to imitate me. She was the best workout partner, sitting happily in a running stroller for miles and miles."
Even when they were little, both girls could see Actis loved exercising.
"I started them out on little baby barbells, being careful they didn't have too heavy a weight."
Every PCS presents challenges, she said. "We try new activities but also aim to keep things consistent, such as bicycling as a family."
One of the first things Actis does at a new assignment is check on available activities at the girls' new schools, hoping to find something they'll enjoy.
"They like different things, but they also do things together. Our previous assignment was [Naval Station] Great Lakes, and they both did competitive Irish dancing, which was new to them," Actis said. "I always want them to be doing something they love."
The Actis family now lives in Ohio, and Christina Actis said she tries to reinvent herself a bit with every new move. A spur-of-the-moment reinvention occurred last March in response to the COVID-19 pandemic closing schools, which marooned Actis and the girls at home. Actis promptly created CoreValues Fitness, an exercise-related Facebook group.
Her posts explain activities for adults and ideas on keeping kids active. Within a week, the group had more than 100 members.
"It's fun, and I get a lot of positive feedback," she said.
Actis suggests Facebook, Instagram, and YouTube for examples of exercising such as free guided workout sessions in a variety of disciplines. Many are aimed at youngsters.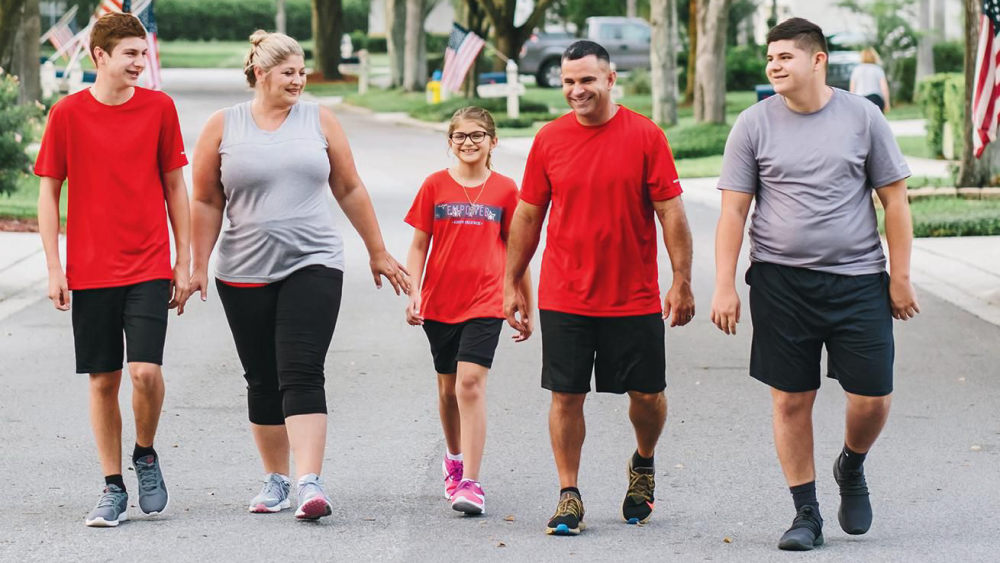 Walking together is a go-to activity for the Vega family. Lt. Col. Javier Vega, USMC, second from right, is currently stationed at Marine Corps Recruit Depot Parris Island, S.C. (Photo via Marissa Moss Photography)
Resources for Families
Walking is an activity that unites the Vega family, said military spouse Holly Vega. In terms of other exercise pursuits, she and her husband, Lt. Col. Javier Vega, USMC, aim to make what works for the kids be fun for the entire family, especially because everyone has different preferences.
"My husband is all about running," Holly Vega said. "I've exercised with a physical trainer friend. Diego, 16, plays football and is in junior ROTC. Alex, 15, is in a running club and FFA [Future Farmers of America], and Nellie, 9, is a softball player."
While Vega is a long-time volunteer for military-related causes, perhaps her deepest involvement is with the American Heart Association through her own initiative called Military Hearts Matter (MHM). Stunned by her 40-year-old
brother's non-fatal heart attack several years ago, she began MHM to raise awareness of the stresses of military life and their relation to heart health.
"MHM offers all sorts of resources for those serving and their families," Vega said. "Healthy food choices, events for kids about healthy options, and exercise for all ages. We also participate with the local communities wherever we are stationed."
In 2019, for example, she rounded up 23 military families for the Tampa Bay Heart Walk with thousands of local residents.
Vega said facing a PCS is difficult, but both adults and children have a military connection even when not living on base. In fact, Vega and Audrey Meininger, an Air Force spouse, created a club for military youngsters at the Tampa elementary school their children attend.
"It's called Purple Up! from all the services blended," Vega said. "The students created their own goals and voted to be open to anyone who wanted to join. They do crafts, have healthy snacks, and exercise together in activities such as a mini boot camp."
Vega said you can't do everything when you move often; however, you can pick up similar activities from one base to the next.
"Sports are a great way for children to find friends when you PCS to a new place."
Keeping exercise fun and encouraging children's interests is a good way to keep them engaged in physical activity through the years, said Elizabeth FitzPatrick. (Photo via Lynn Fern Photography)
Praise Progress
Running is a big part of Elizabeth FitzPatrick's life, but it was among her least favorite activities until she was in her mid-20s.
"I love the training more than the actual racing," she said. "Committing to a several-months-long training plan is very rewarding."
Running and coaching eventually became FitzPatrick's profession. She's a certified long-distance running coach, and she finds one-on-one clients through social media and the running community where she lives in Poughkeepsie, N.Y.
She and her husband, Maj. Daniel FitzPatrick, USMCR, encourage their children, Delaney, 11, and Silas, 9, to pursue physical activity.
"Our kids have always been very active with Little League and other group sports. As a family, we ride bikes and take hikes. They know I enjoy training and coaching other athletes, and that sets a good example."
A couple of years ago, FitzPatrick discovered a national nonprofit program called Healthy Kids Running Series (HKRS) and quickly became involved as a local community coordinator. The five-week program for ages 2-14 helps children feel accomplished and lays the foundation for a healthy lifestyle.
"Our first season was 2019, and it was a huge success," she said. "The HKRS races are for five age groups. There's a 50-yard dash for kids aged 2 to 3, then up to a mile run for grades 4 through 8."
Both FitzPatrick children participate in the series, though recent races were suspended due to the COVID-19 health crisis.
"While team activities don't appeal to every child, many kids like the racing," FitzPatrick said. "They just want to get out and run."
An encouraging feature, she said, is that during the five consecutive weeks children are able to experience personal progress.
"So many of the youth runners were proud to see their improvement week after week and felt a big sense of accomplishment for completing five races," she said.
FitzPatrick emphasized catering to children's individual needs when it comes to sports and fitness.
"Not every child has a competitive streak, so keep things fun," she said.
Consistently encouraging a child's interests — with regular doses of praise as they improve — is essential for a long-term active lifestyle.
"Whether your child runs, plays on a team, or rides horses," she said, "the sense of personal progress is key in developing confidence and motivation."
The bottom line? Whatever tactics parents deploy in encouraging youngsters to exercise, the benefits in terms of their physical and emotional wellbeing will likely be rewarding — especially as children face the added challenges of life in a military family.

Marilyn Pribus and her retired Air Force husband exercise in Charlottesville, Va.
MOAA Knows Why You Serve
We understand the needs and concerns of military families – and we're here to help you meet life's challenges along the way. Join MOAA now and get the support you need.