(This article by Cory Titus and Amanda Dolasinski originally appeared in the May 2021 issue of Military Officer, a magazine available to all MOAA Premium and Life members. Learn more about the magazine here; learn more about joining MOAA here.)
For Army combat engineer Sgt. Mike Geib, the symptoms of Gulf War illness were immediate.
Before he deployed, he was healthy and excelling on his physical fitness tests. But just 10 years later, he was medically discharged at 28 years old with a 10% disability rating for asthma.
"I couldn't run. I was turning blue," Geib said, describing how serious his respiratory issues had become. "I knew in my heart — I knew it was from exposure."
Although veterans have been exposed to burn pits and environmental hazards distinct from their generational wars, they are united in their fight to receive care and benefits from the VA.
[TAKE ACTION: Ask Your Lawmaker to Support Comprehensive Toxic Exposure Reform]
MOAA is urging Congress to pass comprehensive reforms on toxic exposure that would concede exposure for servicemembers deployed to Southwest Asia, expand health care to veterans exposed to airborne toxins and burn pits in that region, and increase transparency and reporting for presumptive claims. "Presumptive" indicates the VA presumes specific illnesses diagnosed in certain veterans are caused as a result of their military service.
The reforms are in a race against time as new conditions emerge and aging veterans become ill and suffer from diseases, some of them terminal.
Comprehensive reforms on toxic exposure are part of MOAA's annual advocacy campaign, Advocacy in Action. MOAA is calling for its members to reach out to legislators to support this effort.
[LEARN MORE: MOAA's Advocacy in Action]
"We cannot approach this next generation of toxic exposures the same way we treated our Vietnam veterans," said Lt. Gen. Dana T. Atkins, USAF (Ret), MOAA president and CEO. "We urge Congress to act swiftly to address these reforms in a comprehensive way before we run out of time. MOAA is committed to fighting for our country's veterans to get these reforms passed."
Past and Present Exposure
Veterans have routinely reported illnesses and disabilities long after they return home from deployments, triggering a battle with the VA for health care and financial benefits. As many as 2.6 million veterans of the Vietnam War were exposed to Agent Orange, a tactical herbicide sprayed to destroy thick vegetation, according to ProPublica. The toxin has been recognized by the VA as a cause of certain presumptive diseases — a status that eliminates the burden of proof of servicemembers as they file claims for benefits — but studies linking other diseases have yet to be recognized.
During the Gulf War, as many as 250,000 veterans were exposed to a variety of hazardous materials and toxins, according to the scientific journal Cortex. The VA has recognized some, but not all, diseases likely linked to service in this theater.
Most recently, veterans exposed to open-air burn pits and other environmental dangers during deployments in support of the war on terrorism are eligible to register their service with the VA. However, researchers, including VA staff, have not completed studies on hazards related to burn pits and other military environmental exposures, according to the VA.
[ISSUE PAPER: Understanding Toxic Exposure Reform]
While the VA has conceded some toxic exposure, MOAA is pushing for the VA to expand concession from veterans exposed to Agent Orange during the Vietnam War to veterans exposed to toxins in Southwest Asia during the Gulf War and global war on terrorism.
It's especially important for veterans exposed to burn pits during recent wars. According to testimony from the Veterans Benefits Administration, nearly 80% of the claims of burn pit exposure filed by veterans from June 2007 to July 2020 were denied by the VA.
The Veterans Burn Pits Exposure Recognition Act would support veterans' claims by identifying countries, time periods of service, and airborne and toxic substances veterans say they were exposed to. Additionally, the bill would require the VA to provide a medical exam to determine links between medical conditions and burn pit exposure.
Sky Filled With Smoke
During the Gulf War, Geib's unit traveled through Saudi Arabia, Iraq, and Kuwait, where he worked in close proximity to the oil well fires that filled the sky with black smoke. When the unit returned to the U.S., he stayed behind to clean and paint equipment from desert sand colors back to green with a paint that was later determined to contain cancer-causing carcinogens.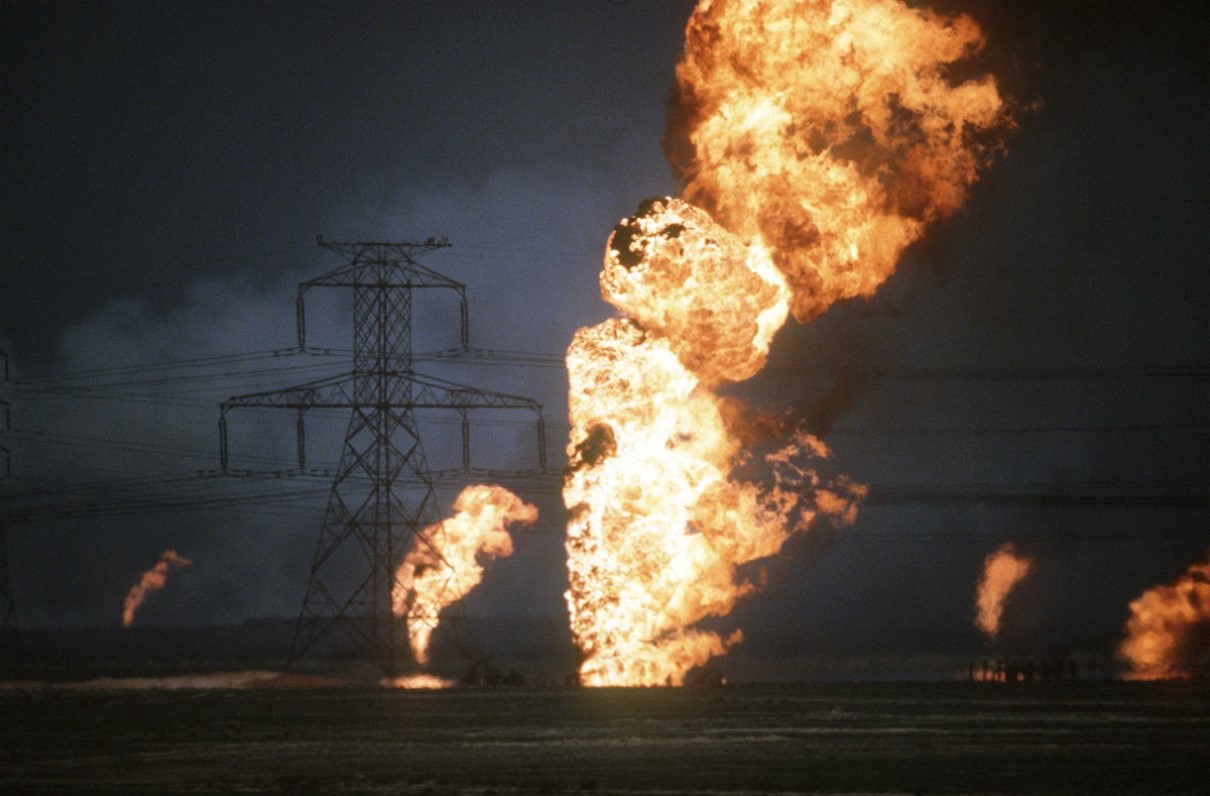 Oil well fires blaze out of control outside Kuwait City. (Army photo)
The men knew the conditions weren't healthy, Geib said, noting they tried their best to shield their faces with T-shirts or rags. But in the thick of war, inhaling smoke paled in comparison to missile attacks.
When Geib returned home, his leaders noticed he was lagging on physical training. They knew something was wrong and helped him through the medical retirement process.
In the 27 years since he was discharged, Geib's health has suffered, and diagnoses of fibromyalgia, irritable bowel syndrome, memory loss, migraines, and respiratory issues have increased his disability rating to 100%.
It was a long, drawn-out battle for assistance, Geib said. He encourages veterans to work with an advocacy group to get help and never give up. He also has a message for Congress and the VA.
"Believe us," he said. "We were there. We were the boots on the ground."
Calling for Better Care
Related to the presumptive process, MOAA is urging Congress to pass the Toxic Exposure in the American Military (TEAM) Act. The bill would expand health care enrollment and benefits to veterans exposed to airborne toxins and burn pits in Southwest Asia.
[RELATED: MOAA Joins With Lawmakers, Advocates Seeking Improved Toxic Exposure Care]
It would also require the VA to respond to scientific evidence regarding diseases associated with toxic exposure within an established time frame and develop a questionnaire for primary care appointments to determine whether a veteran may have been exposed to toxic substances during service.
"I wholeheartedly believe I fall into that [Gulf War Illness] category," said former Army Spc. David Young, who deployed to Saudi Arabia during the Gulf War.
Young said he was exposed to a variety of toxins in theater, including kerosene used in the tents and fuel sprayed on the roads to keep dust down. He experienced migraines and bowel problems that have continued for 30 years, he said. He has not filed a claim with the VA because it's difficult to find a doctor within driving distance from his home in Georgia to receive the diagnosis, he said.
MOAA is also calling on Congress to require the VA to provide public, quarterly reports on veteran claims for presumptive conditions or "special interest conditions." The enhanced transparency would help improve the process, testing, and training to support veterans.
Data collected over two decades indicates faults with the VA's handling of Gulf War illness claims that has led to a denial rate of 56%, according to a report from the Government Accountability Office.
[RELATED: More Advocacy News From MOAA]
In addition, MOAA is pushing Congress to create an advisory committee that would improve the presumptive process and expand health care enrollment for servicemembers exposed to airborne hazards and burn pits in Southwest Asia.
An advisory committee's review of toxic exposures and recommendations for additions to the VA's presumptive exposure list could benefit thousands of veterans. Currently, diseases are added only by federal law passed by Congress or through a regulation authored by the VA secretary.
Another recommended improvement is the requirement that the VA should respond to all reports related to toxic exposure. It is not uncommon for studies linking disease to exposure to remain unanswered, leaving ill veterans in limbo for health care. For example, research is emerging that dementia may be linked to Agent Orange exposure. Under current law, however, the VA is not required to respond or act to support veterans.
'He's Paying the Price'
When Col. Donald Siebenaler, USA (Ret), was diagnosed with Alzheimer's disease, he and his wife, Rita, reflected on what could have led to the disease — and wondered if it was related to his service in Vietnam.
"He did it joyfully," Rita Siebenaler said of her husband's service. "He's paying the price for it now. And all things in life are not fair. I really would like this investigated further because Alzheimer's takes such a toll on individual families."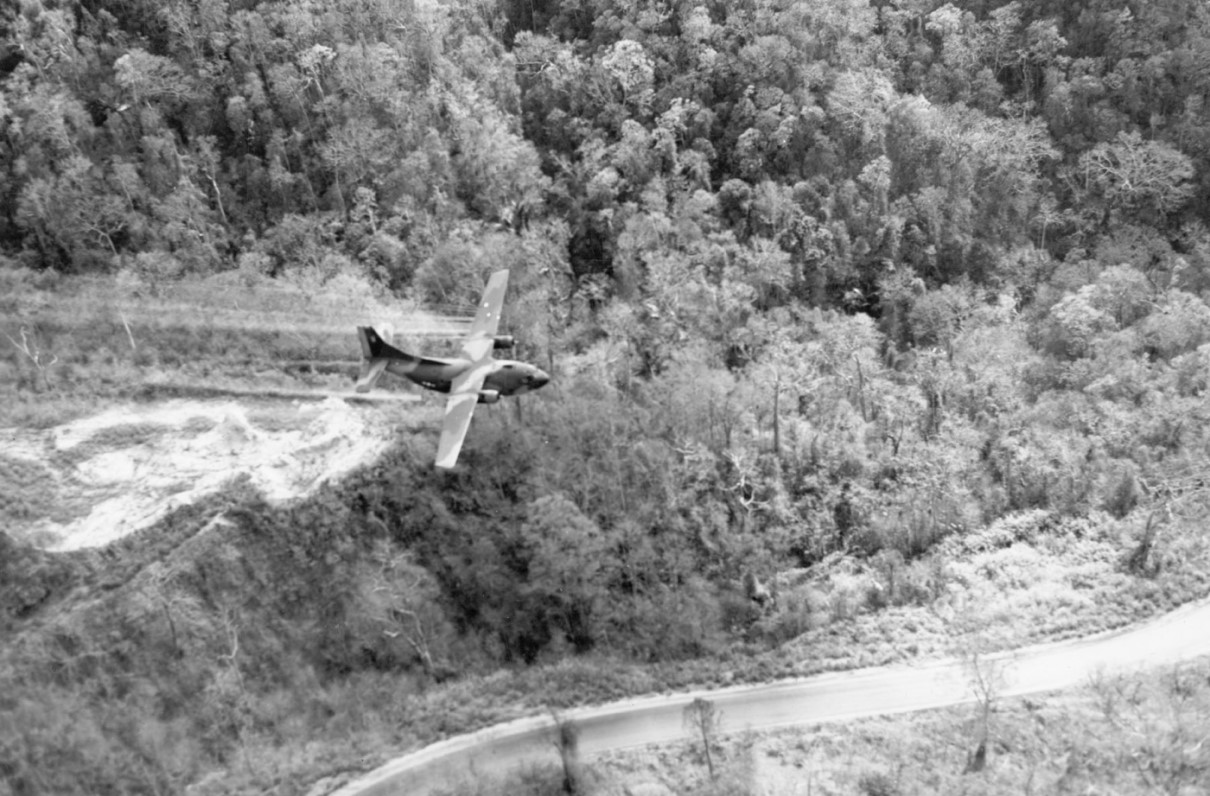 A UC-123 takes part in Operation Ranch Hand over South Vietnam in 1966. (Air Force photo)
In 1965, Siebenaler served as a company commander in Vietnam, leading missions to build a mobile Army surgical hospital and maintain Route 19. The Agent Orange was so potent that trees were "bare naked" in the photographs her husband mailed to her, Rita Siebenaler recalled.
Donald Siebenaler, a graduate of the U.S. Military Academy at West Point and Yale University, maintained his intellectual vocabulary, but Rita Siebenaler said she began to notice her husband struggle with memory and staying steady on his feet. He participated in a grant-funded study at Georgetown University, where a neurologist diagnosed him with Alzheimer's after a positron emission tomography scan of his brain.
Rita Siebenaler was her husband's full-time caregiver for almost three years. In November, he moved to a memory care facility near the apartment the couple shared. During the initial phase of the COVID-19 lockdown, the couple's interaction was limited to phone calls and the occasional video call.
Because Alzheimer's disease is not part of the VA's presumptive list, the family does not receive financial assistance for Siebenaler's health care. Rita Siebenaler said her family is paying exorbitant out-of-pocket expenses but knows other military families would have to go without care.
"I think now they need to aggressively determine whether Agent Orange causes dementia as these veterans who served are aging," Rita Siebenaler said. "It could make a tremendous difference for the families. It would make a difference for the veterans to know on some level that the military hadn't forgotten them and could mean economic survival for their families."
Cory Titus is MOAA's director of Veteran and Guard/Reserve Affairs, Government Relations, and Amanda Dolasinski is MOAA's staff writer.
MOAA Looks Out For You
MOAA is committed to protecting the rights of servicemembers and their families. Lend your voice and support these efforts today. Because the larger our voice is, the greater our impact will be.