By Contributing Editor Blair Drake
"I'm going to ask you to be comfortable being uncomfortable. That's a phrase I've heard frequently now from the active duty force in light of what we face as a nation for a national defense and a nation security strategy," Adm. James Foggo III, USN (Ret), said to MOAA council and chapter leaders April 30.
The retired admiral spoke to the nearly 100 attendees of the association's Virtual Leaders' Regional Workshop about where the nation might be headed regarding national defense and its use of technology.
Foggo highlighted the technological revolutions he has seen during his naval career, which included serving as commander, U.S. Naval Forces Europe; commander, U.S. Naval Forces Africa; and commander, Allied Joint Force Command-Naples. He also cautioned about moving too quickly with new battlefield systems and weapons, using an analogy from Gen. Richard Myers, USAF (Ret), former chairman of the Joint Chiefs of Staff, who said transformation is like wing-walking in the flying circus: "Before you let go of that strut … you better make sure you have a strong grip on the next strut because that wing walker isn't wearing a parachute. There are no second chances."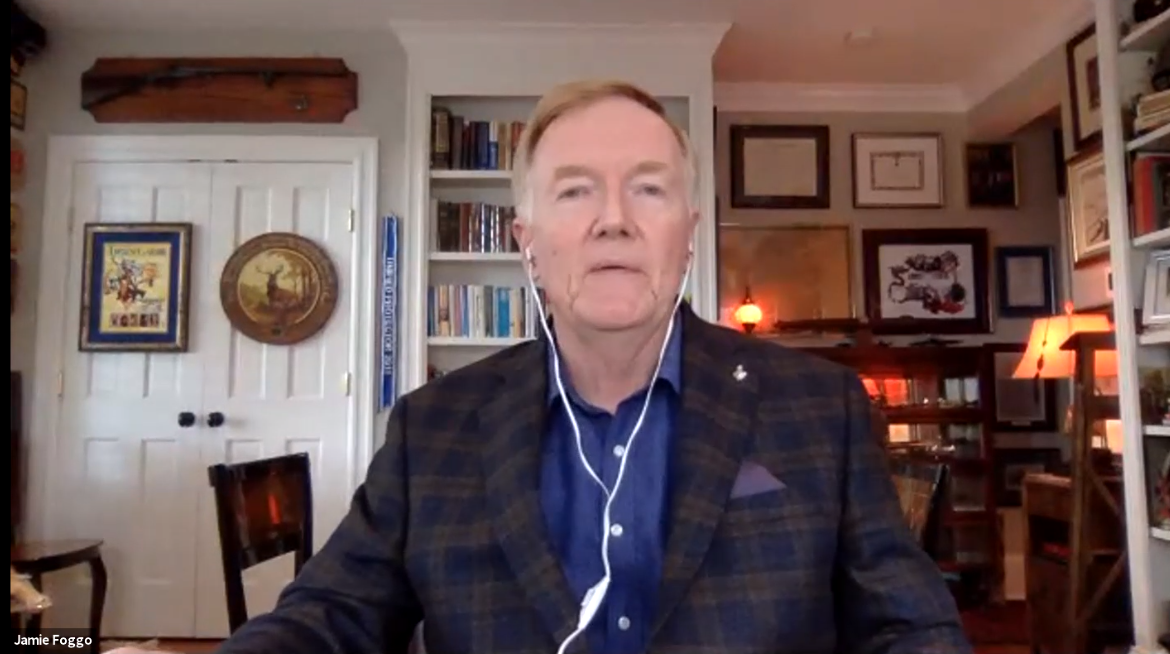 Adm. James Foggo III, USN (Ret), speaks to MOAA members as part of a Virtual Leaders' Regional Workshop. (Video screengrab)
"If you apply that to the technological revolutions that we've gone through in the military," Foggo said, "I think we need to be very careful that [they] are sufficiently tested before we risk not only our national security, but the lives of the young men and women who are fighting out there today."
He also discussed the success of Exercise Trident Juncture, which he commanded when he was commander, U.S. Naval Forces Europe, emphasizing the importance of training in the environment you're going to fight in. The NATO exercise, held in Norway in October and November 2018, included 50,000 soldiers, sailors, airmen, and Marines, among them 18,500 American servicemembers, as well as 70 warships at sea.
While the enemy was fictitious, Foggo pointed out the exercise was about Russia.
"We needed [the environment] like the High North," he said. "From strike group commander all the way down, none of them had been up there before. We can't allow those skills to atrophy. We tested it out and learned a lot."
The Limits of AI
Foggo said the latest strategy idea is JADC2 (Joint All-Domain Command and Control), which the Congressional Research Service compares to Uber and the platform's ability to identify a passenger and then send a nearby car to that passenger.
Foggo said that while this concept is not entirely new to the military, the difference is the inclusion of artificial intelligence (AI).
"The battlefield is so crowded with information that our [servicemembers] are overwhelmed with their ability, or inability, to do PED (processing, evaluation, and dissemination of information)," he explained. "What is the real target? … The rest of the signals and the stuff that we have, you can just shed. But that bona fide targeting information is then applied to a weapon system … manned or unmanned, and you deliver the ordnance."
His concern is having AI, rather than a servicemember, making these decisions.
"The decision to drop a weapon usually goes to the first flag officer in the chain of the command. There's a brain function … concern for collateral damage, he said. "Now we are suggesting a machine do this. … Who will be responsible if a machine makes this decision? Will someone in the chain of command be responsible? I think there is a lot we need to work out on this before we let go of that last strut. … Hence the term, 'Get comfortable being uncomfortable.'"
[RELATED: More Chapters News From MOAA]
Foggo closed by expressing his confidence in the future of national defense.
"We have the right tools and minds," he said. "I'm confident we will continue to defend this great nation of the United States of America, and with [MOAA's] help taking care of the policies that look after the families, taking care of their retirement and making sure we can get the best and the brightest people to join the service because there will be something for them after a 20- or 30-year career, and moving forward with the speed to be able to compete with the pacing threats out there."
Chapter Leaders Attend Training Workshop
Foggo's remarks came at the conclusion of the first day of the Virtual Leaders' Regional Workshop, which brought together council and chapter leaders from the Northeast to hear briefings from MOAA leaders and staff and to participate in chapter-management training.
Attendees heard from Gen. Walter L. "Skip" Sharp, USA (Ret), MOAA's chairman of the board, who discussed MOAA's upcoming Advocacy in Action event, revisions to the association's strategic plan, and membership challenges and initiatives. He also thanked the chapter leaders for what they do.
"I really appreciate what you all, and those who work with you, do to help MOAA accomplish our mission," Sharp said.
Other presentations included an overview of MOAA and its six strategic focus areas, a briefing about key legal issues and resources for councils and chapters, a membership and marketing brief, and a surviving spouse update.
Council and chapter leaders reconvened Saturday afternoon for role-specific breakout sessions on chapter management, legislative, and surviving spouse training.
Blair Drake is a contributing editor for MOAA and lives in Souderton, Pa. She previously served on the editorial team of Military Officer magazine for nine years.
Want to Help Servicemembers in Your Community?
Learn how you can make a difference with your local chapter.