On the battlefield, the two officer-brothers who make up the "Palicia Militia" represent the best of the Army and Air Force. But recently, they stepped into a different arena to challenge one another – an athletic competition on NBC hosted by Dwayne "The Rock" Johnson.
Lt. Col. Eric Palicia, USA, deputy chief of staff for Engineering at U.S. Army Europe Headquarters, and his brother, Capt. Noah Palicia, USAF, a flight instructor for the 36th Airlift Squadron at Yokota Air Base, Japan, squared off in season two of The Titan Games; their episode aired June 15. Later this season, 1st Lt. Haley Johnson, USA, a registered nurse at Fort Benning Ga., will appear on the show.
Here's a look at the first competition between the Palicia brothers on the show, which runs contestants through obstacles similar to American Ninja Warrior: (Spoiler Alert: Show results follow):
Older brother Eric, 40, earned a Round 1 win, but Noah, 30, took the second round and a tiebreaker round to advance to the main "Mount Olympus" obstacle course against the defending "Titan" – former NFL wide receiver Victor Cruz. Cruz was no match for the officer, who will advance to compete in future shows.
"Eric, Noah, this challenge may push the limits of your strength and ability, but you got this," The Rock said on the June 15 show. "You're servicemen and you're brothers. And remember, whoever wins gets one step closer to becoming a Titan and receiving mom's undying love. I'm joking. She loves me a lot more than the both of you."
A Sibling Fitness Rivalry
"It was a humbling disbelief," said Eric, recalling the brothers' selection for the show.
The brothers, both of whom commissioned from their respective service's academy, are longtime fitness enthusiasts. Last year, they each were named top athletes by their services and competed against each other in the Defense Department's Alpha Warrior Competition in San Antonio. Noah edged out his brother by 1 minute, 24 seconds to win the competition.
Their athletic talents caught the eye of Titan Games producers on social media, who reached out to invite them to the combine in Los Angeles. Eric said he thought it was prank – until they received airplane tickets from their overseas duty stations.
Eric hopes his frequent training and fitness commitment has rubbed off the soldiers he leads, he said.
"In the U.S. military, you win by preparing and being stronger than your adversary," he said. "A cornerstone of that is fitness. It builds confidence, unit cohesion and everything else can flow from that."
The brothers said the experience was special because they had a chance to bond – something they missed out on because of their age difference and service at duty stations usually in different parts of the world.
"It was really cool for us as brothers to bond with those positive characters surrounding us," Noah said. "Eric and I were the smallest competitors in the competition. We like to think we're the most patient and intellectual. We really analyzed anything before we got to it."
The brothers were more focused on setting positive examples and hoping to inspire others to serve in the military.
"I really hope I can motivate somebody to try a little harder," Noah said. "And I'm really busy. We work long days and I can still find time and energy to get a workout in. It's really just taking care of yourself, then you can take care of your airmen better."
'How Did Someone Even Think of This?'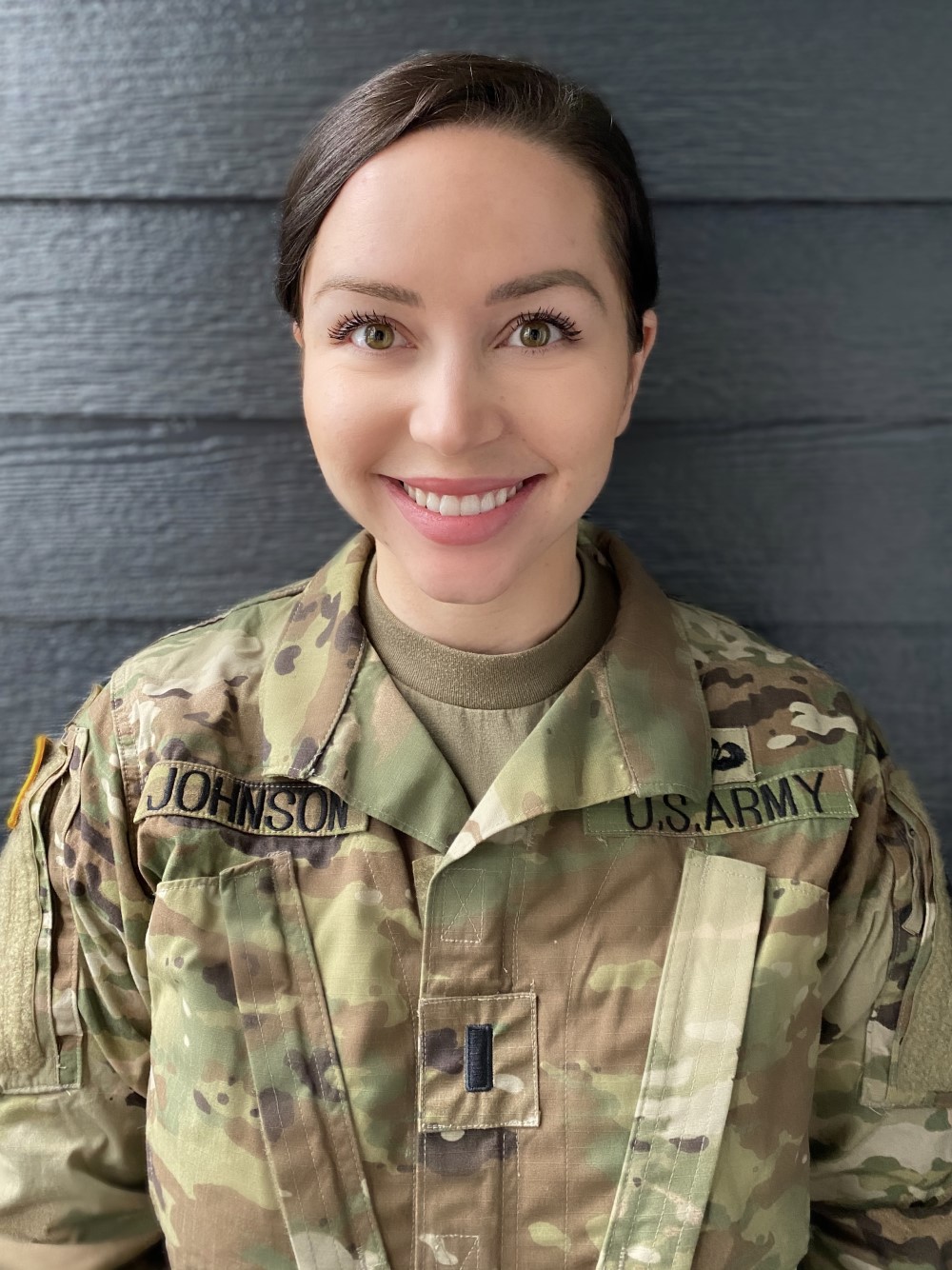 Haley Johnson, pictured, a nurse in a mother-baby postpartum unit at Fort Benning, will make her appearance on the show in July. While she couldn't give away her finish, she told MOAA "it was a pretty crazy experience."
An athlete in high school, the nurse said she became serious about fitness when she began lifting weights in college. She continued to follow a healthy lifestyle when she joined the Army.
As an officer, she knows soldiers look up to her, so she said she strives to set an example of eating healthy and making time for physical fitness.
After hearing about The Titan Games from a friend who competed on the first season, she knew she wanted a chance to compete. Challenges are nothing new to her – she was the only woman to compete on a Ranger Challenge team during her ROTC program in college.
She applied for the show and was invited to the combine in Los Angeles, where candidates competed in strength and agility tests.
Haley Johnson said she prepared by practicing the obstacle course at Fort Benning, but even that paled in comparison to the obstacles on the show.
"How did someone even think of this?" she said, chuckling as she remembered the events.
Haley said she hopes her appearance will inspire people to consider joining the Army.
"Especially since I'm coming from the health care field, I think just showing someone – no matter what branch or specialty – you can still do really cool things," she said. "(The Army) allows you the opportunity to better yourself. I hope it inspires young people."
Dwayne Johnson is known for his outreach and philanthropic donations to veterans.
In 2018, he donated brand-new gym equipment to Joint Base Pearl Harbor-Hickam, Hawaii. The year before, he recorded a video message singing Happy Birthday to mark the 100th year of service of the 82nd Airborne Division at Fort Bragg, N.C., and recently was touched to learn the 1st Armored Division at Fort Bliss, Texas, named a tank after him.
Support The MOAA Foundation
Donate to help address emerging needs among currently serving and former uniformed servicemembers, retirees, and their families.