Editor's Note: This article by Capt. Alexander Whitaker, USN (Ret), is part of MOAA's 2021 Transition Guide. A version of the guide appeared in the December 2020 issue of Military Officer magazine.
It is no surprise that military officers aiming to start a new civilian career would consider one in higher education. After all, those we have led are largely the same ages as undergraduate and graduate students. We were in and out of military schoolhouses. Many of us went back to school during our service to earn civilian or military postgraduate degrees. We have seen firsthand the power of education.
We also likely have warm memories of our own years in college, from which many of us came directly into our lives as officers — so it seems natural to return to such a place. And perhaps the closest civilian analog to a base community is a campus community.
But there are significant differences. Understanding these will help one be realistic and avoid disappointment, in a job search and beyond.
I retired from a 25-year Navy career I loved for a new career in higher education, first at my undergraduate alma mater. I am now 14 years into that second career, which has taken me to the presidency at another college. Here is my (abbreviated) list of considerations for military officers contemplating a move from uniform to university.
1. Start early learning about the higher-ed world and market. The best way to do this is to become involved with your alma mater in a volunteer capacity or teach as an adjunct for a nearby college, if you have the credentials. Develop connections now who can serve as helpful references and be mentors and guides as you explore a higher-ed career.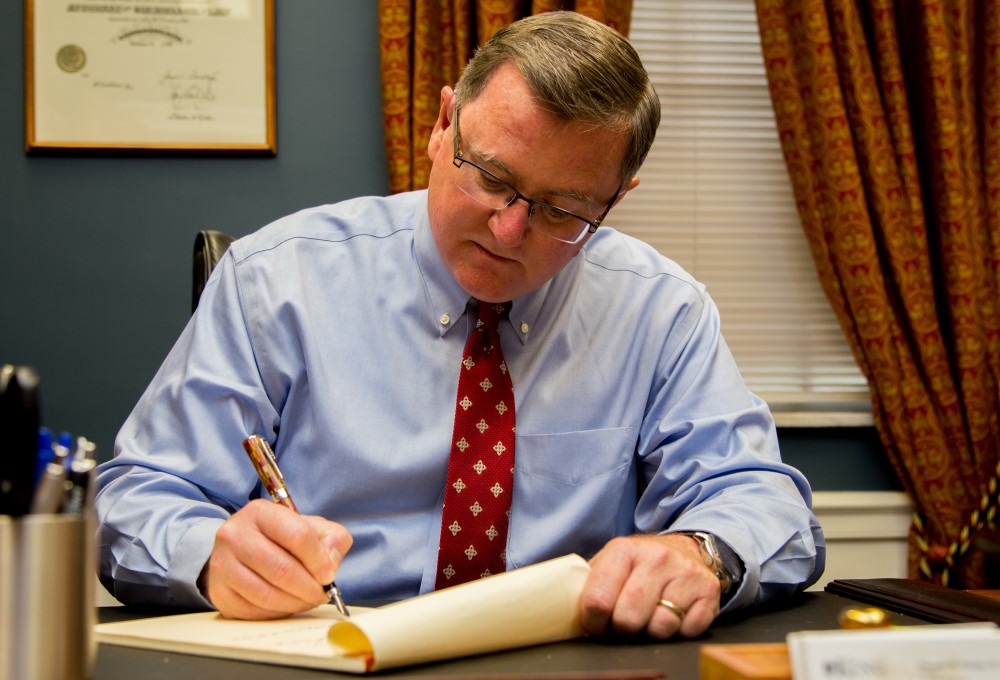 After a 25-year career in the Navy, Capt. Alexander Whitaker, USN (Ret), pursued a career in higher education. (Photo courtesy of Alexander Whitaker)

2. Use tuition assistance and the GI bill to burnish your credentials. Your military schools will not mean anything to a higher-ed employer, but relevant civilian degrees from schools that make an institution's "CV" look good do make you a more attractive candidate and underscore you are not
only a creature of the military.
3. Don't have unrealistic salary or job-security assumptions. You are unlikely to match your military salary, especially in your first job. And higher ed is an industry in turmoil, with private institutions especially vulnerable because of demographic and technological changes.
4. Present yourself as a civilian professional, not as a former military officer. Academics can be suspicious of military officers because military experience is other-worldly to many of them. You may have to overcome unfair stereotypes. Never be ashamed of your service, but avoid military jargon in your CV and communications with potential employers. Leverage any prejudices to your advantage by disproving those in how you present yourself.
[MORE TRANSITION GUIDE: Suited for Success]

5. Focus on administrative — not faculty — jobs. It takes about six years to get a Ph.D., and few officers have that time to prepare for a second career (and faculty jobs are not plentiful). Unless you already have an impressive terminal degree, it makes more sense to seek out an administrative job, which will probably also pay better. (If qualified, you may be able to teach occasional courses once you have established yourself at a school.)
6. Be willing to take a position that might not at first seem like the perfect fit. Getting the first job is the most difficult; it is easier to move within higher education once you have a reputation established. My first job was one I had never considered: doing major-gift fundraising. But it suited me and then opened other doors that ultimately led to my current position.
7. Don't have an idyllic view of higher ed. Chances are your view of higher ed is rooted in your positive student experience. But you likely did not see all that went into making that possible, including what any complex organization contends with: bureaucracy, personnel issues, financial pressures, legal and compliance matters, constituent relations, and more. Done well, higher ed work is most rewarding — but it is no leisurely vocation. I still work shipboard hours.
[MORE TRANSITION GUIDE: Networking Online]
8. Don't sell yourself short. Higher education could use more former military officers in its ranks. Successful officers usually bring a solid work ethic, proven teambuilding and leadership abilities, a reflex for leading change, highly professional demeanors and deportment, and a deep commitment to the development of young people. In an industry facing upheaval and questions about its value proposition, we need those attributes now.

Capt. Alexander Whitaker, USN (Ret), is in his fifth year as president of King University in Bristol, Tenn. He is a MOAA Life Member.
Support The MOAA Foundation
Donate to help address emerging needs among currently serving and former uniformed servicemembers, retirees, and their families.