(A version of this article originally appeared in the October 2020 issue of Military Officer, a magazine available to all MOAA Premium and Life members. Learn more about the magazine here; learn more about joining MOAA here.)
During his time aboard Navy guided-missile cruisers and destroyers, former Lt. Billy Hurley III, USN, learned to overcome the challenges that threatened any mission.
His perseverance didn't just help him reach the rank of lieutenant over his five years of service, but also with each swing of his golf club on the most prestigious courses in the country, against the world's best players.
"Being mentally tough and being able to get knocked down and get back up," Hurley said, describing how the Navy prepared him for civilian life. "Sometimes shot-to-shot can feel like that. Hitting a bad shot and getting back up to go hit the next one and not compound errors ... . So mental toughness was a huge piece of the Naval Academy and Navy."
Hurley grew up in northern Virginia and graduated in 2004 from from the U.S. Naval Academy in Annapolis, Md. He was hooked on the school when he toured the campus as a high school freshman and played a round of golf on the academy's course.
Hurley turned pro in 2006 and played his rookie year on the PGA Tour in 2012. As of mid-August, he'd racked up more than $5.1 million in 179 PGA Tour events. The high point: A 2016 victory at the Quicken Loans National, held at the Congressional Country Club in Bethesda, Md., where Hurley defeated runner-up Vijay Singh by three strokes.
Hurley spoke to MOAA about his experience in the Navy and on the golf course.
Q. Is there a part of your time in the Navy that sticks out to you?
A. My last ship, USS Chung-Hoon (DDG-93), was really special. ... I had the opportunity to serve under a number of great COs, but that kind of ship, for whatever reason, had a tight-knit group of junior officers, a number of whom I'm still good friends with today. … And so, spending 46 days straight in the northern Arabian Gulf defending oil platforms up there, having that be coupled with another almost 20 days at sea — I think we were out to sea for 63 or 64 straight days, which is a lot in the destroyer Navy. Just those experiences and having the level of friendship that existed on that ship was special.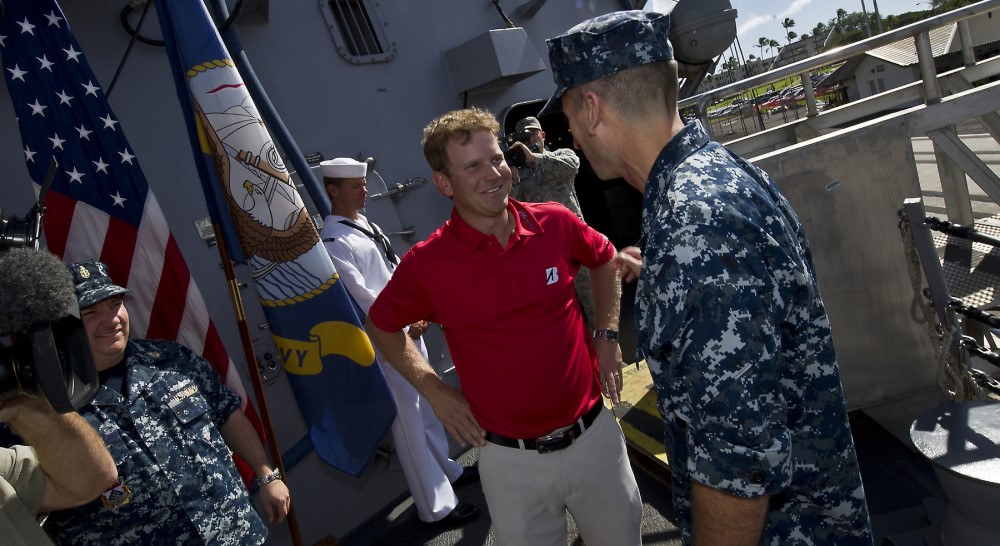 Billy Hurley III is welcomed aboard USS Chung-Hoon by Cmdr. Justin Orlich, the ship's commanding officer, during a 2012 visit at Joint Base Pearl Harbor-Hickam. (Photo by Tech. Sgt. Michael Holzworth/Air Force)
Q. Tell me about life on a ship.
A. The northern Arabian Gulf was Groundhog Day. We did the same thing over and over and over again. You lost track of what day it is. You're just kind of doing the mission up there. … It's not fun in the moment. It's exhausting, and you don't get a whole lot of sleep, and it's kind of a daily battle to get up and go stand watch again. But looking back at it, you realize you were doing the mission and something bigger than yourself, and doing it with some great people. [The people are] probably what I miss the most about the Navy.
Q. When in your Navy career did you feel like you were really making a difference?
A. I had a second class petty officer who I butted heads with. We didn't see eye-to-eye on much, and he was frustrated with me probably more than he wanted to be frustrated with anybody ever in his life. And because I held him to a high standard and he held himself to the same high standard, he just didn't want someone to tell him what to do — I never saw this coming — but as he was leaving, he asked to chat with me. He thanked me for just being that much a part of his life and for the leadership. It kind of shocked me. It was one of the moments where it kind of validated the work of leading these great young men and women was worth it.
Q. Your job is so many people's retirement goal. Do you ever pause to reflect on that? Is it still exciting for you to know that you get to do this every day?
A. I have to step back and look at it that way because every day in and day out, you don't look at it that way. My brother ... was saying, "You guys never use the word 'golf' or the word 'playing.' You use the word 'work' — 'I'm going to work.' " And it really is.
That's the thing you don't see. You see the guy on Sunday who's winning the golf tournament and who's hitting every shot perfectly ... . You don't see the guys that are grinding away and trying to figure out how to get to that point. ... If I look back, the first five years or seven years of doing this versus the last three, I definitely didn't really look at it or appreciate in those first five to seven years. It has been more in the looking back at it. And I think that has a lot to do with just all of us are extremely competitive.
So maybe when you're forced to take a hiatus like I have (for surgery), you gain a little bit more appreciation for it. I used to tell people the first couple of times I've played at Pebble Beach [in California], I didn't know it was pretty because I was so focused on playing golf. And now, the last couple of times I've been back there to play tournaments, I think, "Oh wow, this is pretty amazing, actually."
Billy's Best Places
Thinking about a trip to tackle one of golf's great courses? We asked Hurley what courses stand out as great places to play:
Harbour Town Golf Links:

The Hilton, Head, S.C., offering "is a great golf course," said Hurley. It hosts the PGA Tour's RBC Heritage event.

TPC Sawgrass:

The Stadium Course in Ponte Vedra Beach, Fla., "is terrific from a competitive standpoint," Hurley said, "and the other course at TPC, Dye's Valley Course, is just as good."

TPC Deere Run:

Home of the John Deere Classic in Silvis, Ill., Hurley called it "one of the easier courses ... but it's a fun golf course with a good variety of holes and a lot of elevation change."

Innisbrook:

The Copperhead Course at the Tampa, Fla., resort "is one of the best courses we play on tour," Hurley said. "It's very difficult, very demanding, but fair."
MOAA Knows Why You Serve
We understand the needs and concerns of military families – and we're here to help you meet life's challenges along the way. Join MOAA now and get the support you need.