Elvis Presley, Humphrey Bogart, Dr. Seuss, John F. Kennedy, and Gen. George Patton all have something in common, but perhaps not what you may expect.
All public figures, each individual has a record of military service that can be viewed online, for free, through the National Personnel Records Center (NPRC).
You may have contacted the NPRC to get a copy of your military separation papers, otherwise known as Form DD-214. The NPRC also may have assisted you in providing documentation for replacement medals. But did you know about the wealth of historic information that you may access through the organization?
[RELATED: How to Track Down Your Military Records]
Archival Records
History buffs and military aficionados alike can take advantage of archival records. The NPRC grants access to certain files for the general public to view.
Service records are open to the public 62 years after an individual leaves the military. Any open record may be ordered by the general public for a copying fee.
Records of Persons of Exceptional Prominence (PEP) are available to the public for research purposes before the 62 years have passed. These include records for former presidents, members of congress, famous military leaders, celebrities, entertainers, and cultural figures.
Some files are free to view online; the ever-changing list includes Presley, Bogart, Seuss (also known as Maj. Theodor Geisel, USA), Kennedy, and Patton. Records of other individuals of note – from muralist Thomas Hart Benton to crooner Dean Martin to professional wrestling icon Lou Thesz, and nearly all points in between – can be viewed at the Archival Research Room or requested via email from the NPRC, for a fee. The full list of available records, including links to online offerings and instructions to requests other records, is available here.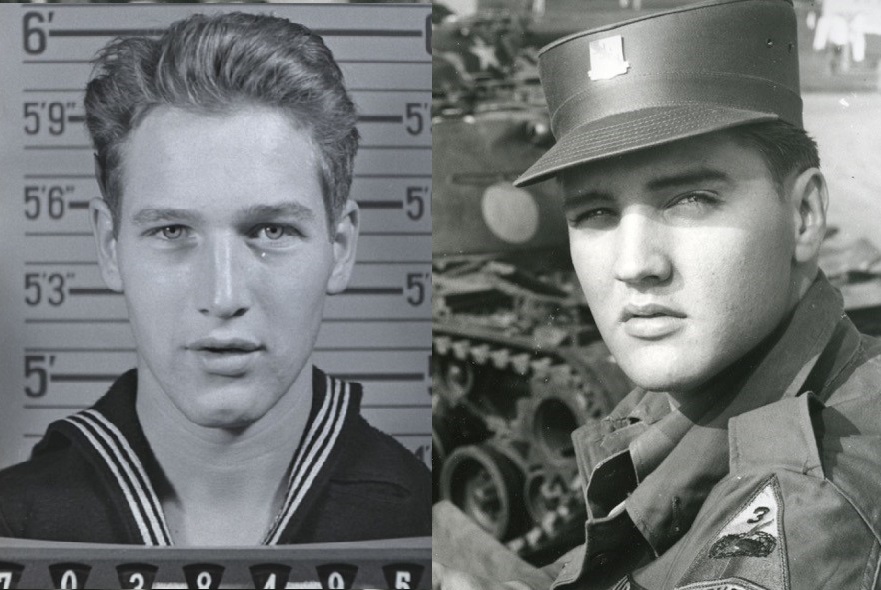 Records for Navy veteran Paul Newman, left, and Army veteran Elvis Presley, right, are viewable online via the National Personnel Records Center. (National Archives photos)
Additional National Archives Resources
You may also use the National Archives website, where NPRC is encompassed, to gain access to an array of exciting resources. Whether you are an educator or a lifelong learner, you may find thousands of first hand sources from America's founding documents, to the Civil War, to well-preserved World War II photos. Regardless of what you are searching for, the National Archives Catalog is a good place to get started, as well as DOCSTeach.
Planning a Visit
If you want to view any PEP record for free, you can schedule an appointment and visit the research rooms at 1 Archives Drive in St. Louis. You may also go to a Regional Archives Center to access other historical information firsthand.