Col. Paul Arcari, USAF (Ret), the galvanizing voice who helped move the military from the draft to the all-volunteer force while crusading for proper pay raises and health care after service, died Dec. 1. He was 88.
Arcari, a relentless force for troops on Capitol Hill, was genuinely modest and equally respected by those who agreed with and opposed him, friends said. He devoted his life to serving others through the Air Force and The Retired Officers Association (TROA), which became MOAA after a 2003 name change.
"He was the champion of doing the right thing by military people – even when it wasn't the popular thing to do, even when there were budget constraints," said Col. Steve Strobridge, USAF (Ret), a friend and former colleague of Arcari who took over as director of government relations for TROA when Arcari retired in 2001, fighting for troops, officer and enlisted, across every branch of the uniformed services. "Paul – in both his professional and private life – devoted himself to others."
Arcari is survived by his wife, Terry, and was a devoted family man, Strobridge said.
"MOAA is deeply saddened by the passing of Colonel Arcari, and we offer our support to his family at this difficult time," said Lt. Gen. Dana Atkins, USAF (Ret), MOAA president and CEO. "We can best honor his legacy by continuing his work to preserve the earned benefits of those who have served this nation. We hope to serve MOAA members and the wider military community with the same passion and effectiveness he showed during his decades of work on their behalf."
Arcari began his career in 1955 when he was commissioned into the Air Force from Trinity College in Hartford, Conn. As a command navigator, he amassed more than 5,800 flying hours, including 418 combat missions in a C-130 over South Vietnam and other areas in theater from 1967 to 1968. His decorations include the Distguished Flying Cross.
His next assignments revolved around researching and developing military pay and benefits for consideration by Congress. His research on troop pay is attributed to the decision to eliminate the draft and make possible the all-volunteer force.
Arcari capped his 30-year military career with an assignment as the chief of the Air Force's entitlements division. In that role, he was responsible for policy on all matters involving pay and entitlements, including the military retirement system and the Civilian Health and Medical Program for Uniformed Services (CHAMPUS), which was revamped and renamed TRICARE in 1993.
Arcari continued public service after he left the military. That's when he joined TROA as its government relations director.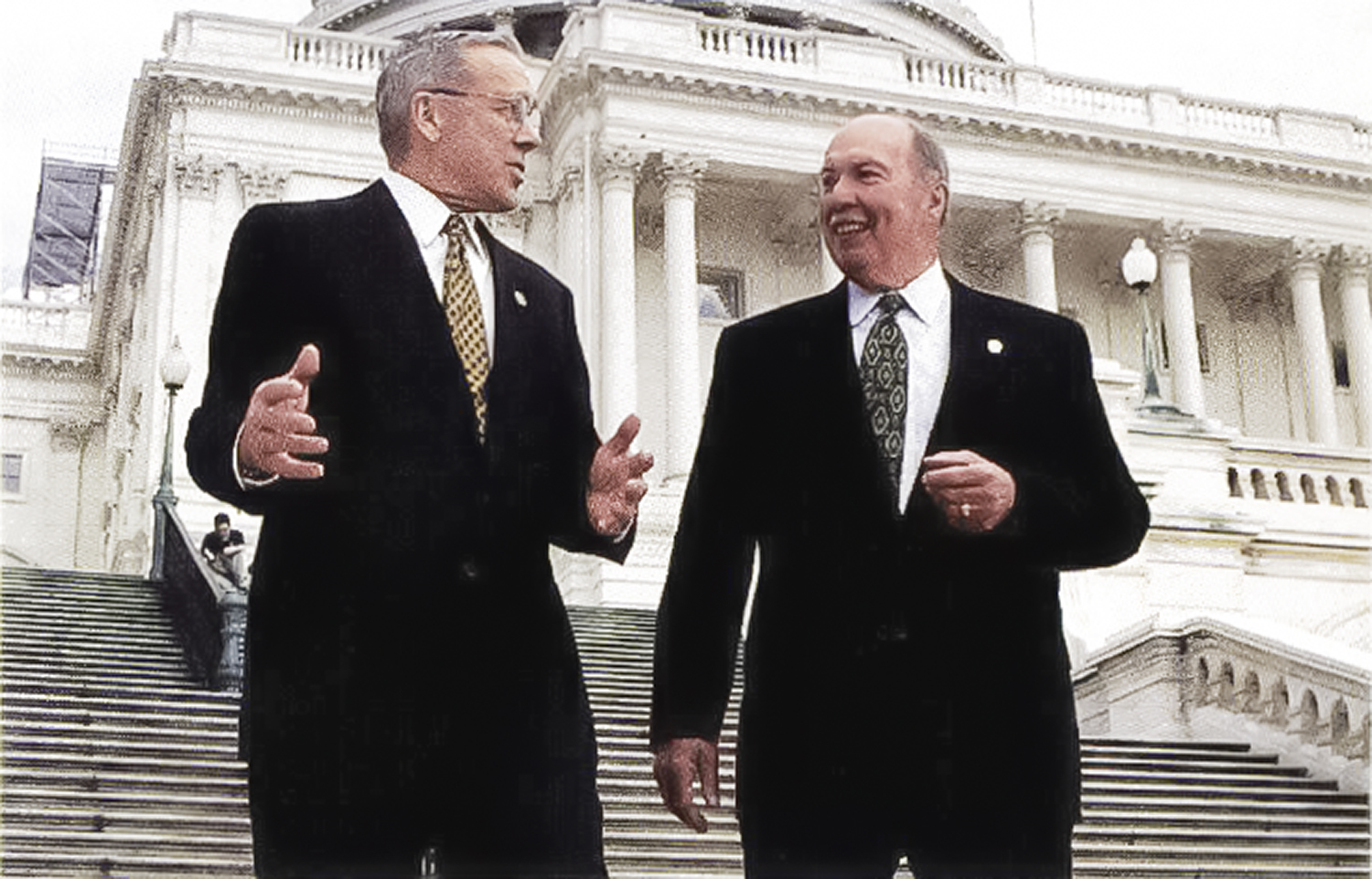 Col. Paul Arcari, USAF, right, speaks with then-TROA President Lt. Gen. Mike Nelson, USAF (Ret), in Washington, D.C. (Steve Barrett for MOAA)
Understanding the strength of unified voices, he worked to gather together several veteran service organizations to help create The Military Coalition. Decades later, the coalition continues to advocate for veterans on the Hill, representing the voices of a combined 5.5 million past and present servicemembers, their families, and survivors.
Arcari's work was transformative, Strobridge said.
In the 1970s, the military was undergoing an erosion of benefits that would lead to a retention and readiness crisis. Arcari's research helped Congress develop initiatives alluring to career military members, including pay raises, health benefits, and changes in housing allowances.
"There was a range of things Paul got involved in that aren't necessarily paycheck issues," Strobridge said. "It was how you treat people in housing, how you treat people in the health care system, how you decide the principles by which you're going to compensate the career force. Paul was the leader and the champion for troops and families in all of those battles over several decades."
But his work didn't stop there. Arcari wanted to establish principles that would ensure quality of life for troops in the future.
In an insightful move, Aracari and the coalition pushed for principles that would track military pay and show its correlation to retention. That way, when retention failed, it could be traced back to pay caps that fell below recommendations on the Employment Cost Index (ECI), forcing Congress and service leaders to acknowledge their decision to limit pay raises.

No matter how long it took, Arcari refused to give up on legislation until it was passed. Taking care of troops drove all of his efforts, said Lt. Gen. Michael Nelson, USAF (Ret), a friend and former TROA president.
"Once he was on the case, he wasn't going to stop," Nelson said. "He wasn't rude about it or loud and noisy, he just kept going. He was a long-term warrior advocate."
Nelson called working with Arcari a privilege. Arcari was trusted with numerous projects not just because of his influence and team-building skills on the Hill, Nelson said, but because of his sheer intelligence.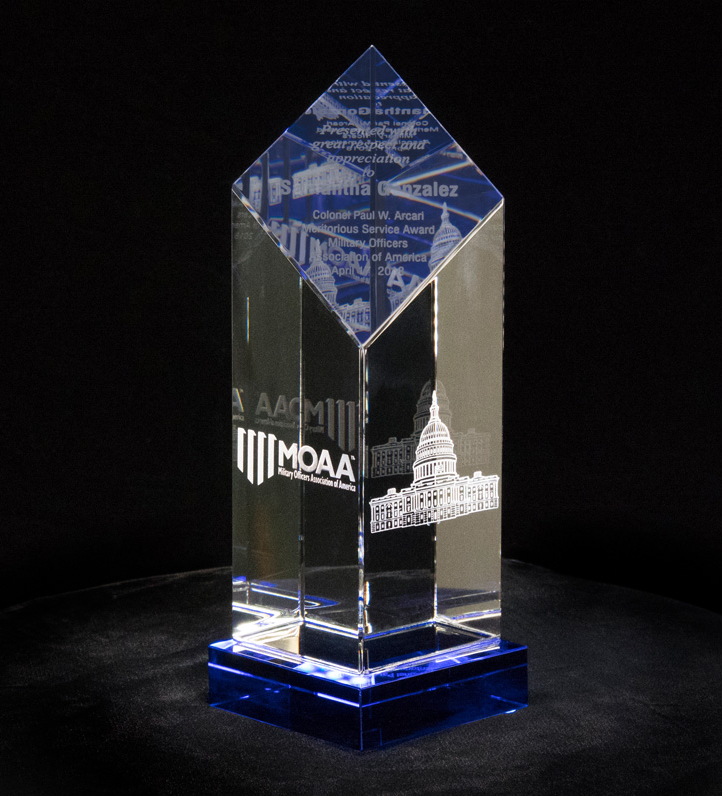 MOAA established an award in his honor: The Colonel Paul W. Arcari Meritorious Service Award, which was first awarded in 2000 and took Arcari's name after his retirement from TROA, recognizes congressional staff members who have made significant contributions to the uniformed services community.
"Colonel Arcari set an extremely high standard of excellence and hard work across all pay and benefits and entitlements," said Lt. Gen. John Regni, USAF (Ret), a member of MOAA's board of directors. "It is not mere coincidence MOAA years ago named their annual congressional staffer award the Colonel Paul Arcari Award—he was the groundbreaker and simply led the way."
Arcari's legacy is still felt by troops today, Nelson said.
"There is one thing he should be remembered for and that's TRICARE For Life," Nelson said. "Every time I go see a doctor, I think to myself, 'Bless Paul Arcari because I'm going to see this doctor and I'm not going to pay anything.' Most of the things he was interested in did not lead to more airplanes or bigger guns or tanks or whatever … he was taking care of the people."
MOAA Knows Why You Serve
We understand the needs and concerns of military families – and we're here to help you meet life's challenges along the way. Join MOAA now and get the support you need.