After receiving a grant from The MOAA Foundation, members of the Arizona MOAA Chapter are making a big difference in their community and at large.
The grant, designed to help a chapter deliver direct assistance to military families in their local communities, allowed them to collaborate with local nonprofits to complete their philanthropic mission.

The chapter worked with Youth for Troops and Project Veterans Pride-James Walton Home program to help troops serving abroad and homeless veterans in their local community. While observing social distancing protocols, the chapter worked with the organizations in small groups to construct sleeping mats out of plastic bags and to fill boxes with food and hygiene products.


Capt. Bruce Kosaveach, USN (Ret), got positive feedback from his chapter on the initiative.
"Every member that I spoke to, whether they participated in our events or not, was very exhilarated by our chapter helping not only local Arizona veterans but also deployed troops," he said. "Our connection and collaborative involvement with the nonprofit organizations has added pride with our chapter members, knowing that we are dedicating time, talent, and personnel to this cause."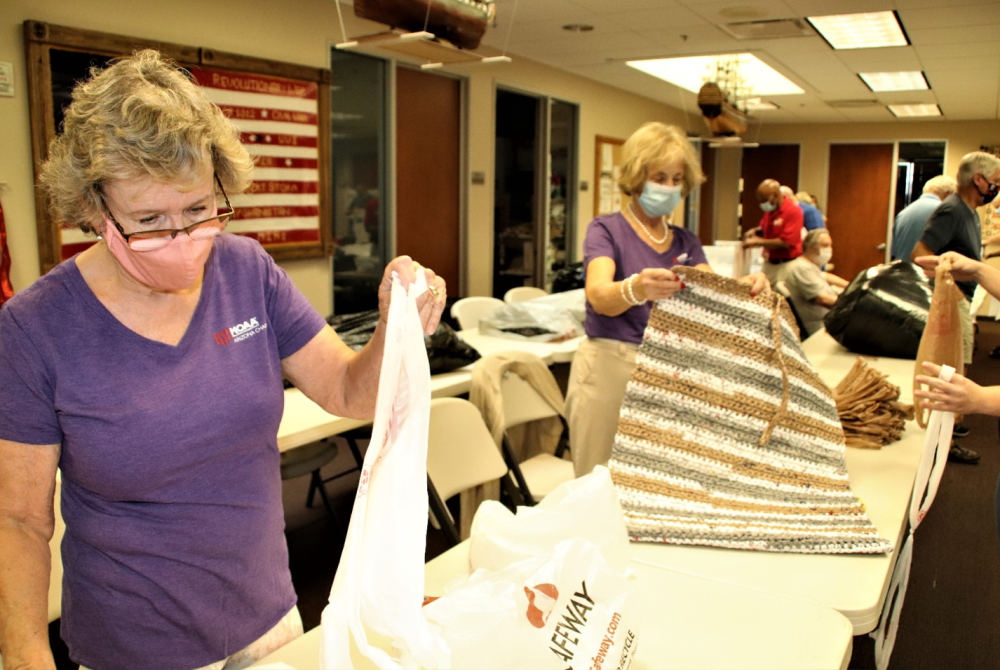 Chapter members make mats out of plastic bags. The mats were distributed to homeless veterans. (Photo courtesy of the Arizona Chapter of MOAA)


The chapter "has been very supportive of us, and we are blessed to have their support," said Lt. Col. Christeen Verchot, USAF (Ret), Director of the James Walton Home program. "It is military helping military, and we have each other's back."
The boxes were taken to the post office and sent on their way to servicemembers, adorned with colorful greetings. Mats were given to those in need. The Arizona Chapter was recognized by local media in the greater Phoenix area for coordinating the charity efforts.


Kosaveach cited the MOAA Chapter Grant as paramount in allowing chapter members to help the community, calling it "perfect for the collaborative programs that our chapter wanted to organize for our veterans."


"This was our first experience utilizing the great funding provided by the MOAA Foundation Community Outreach Program," he added, "and we look forward to many years of providing a positive impact to our deserving veterans."


You and your chapter can also make a difference in your community and at large. Apply for a 2021 MOAA Chapter Grant from The MOAA Foundation. Applications will open in December.
Support The MOAA Foundation
Donate to help address emerging needs among currently serving and former uniformed servicemembers, retirees, and their families.