Second Lady Karen Pence commended businesses that have contributed to the national momentum growing to hire military spouses – a population that faces an unemployment rate four times higher than the national average.
"The right thing for us to do is come alongside and help them work in their career," Pence said Oct. 22 during the Military Spouse Employment Partnership's annual meeting and new partner induction ceremony. "Employers who hire these spouses benefit from their tremendous talent and breadth of experience."
[MOAA INTERVIEW: Second Lady Karen Pence on Helping Military Spouses Succeed]
Pence spoke to a packed room of military spouses, servicemembers, and senior leaders from across government and private-sector businesses during the partnership's eighth-annual meeting and new partner induction. More than 40 businesses and organizations were inducted into the partnership, which aims to break barriers by creating solutions for employment for military spouses, such as offering child care and remote work options.
"We know that we still have a lot of work to do, but we want to keep improving employment opportunities for military spouses," she said. "I'm grateful for all the work and collaboration underway."
The DoD program has grown to more than 400 partner companies and helped more than 139,000 military spouses find employment since its establishment in 2011; corporate partners include Google, LinkedIn, and Raytheon. MOAA has been a sponsor of the partnership – one of many efforts on behalf of military spouses and families.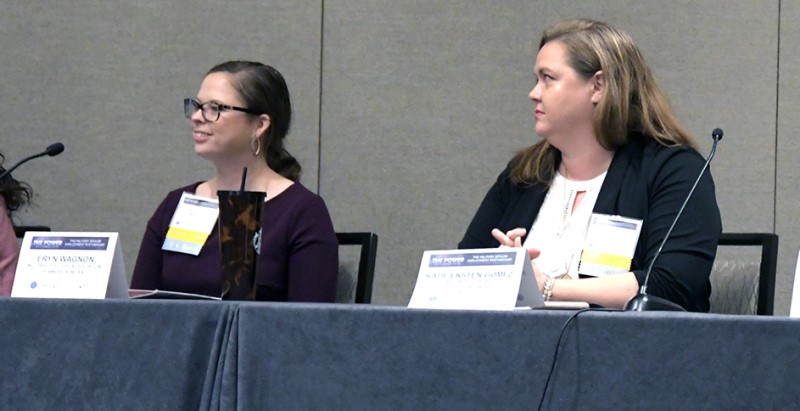 Eryn Wagnon, MOAA's director of government relations for military family policy, left, speaks during a panel discussion at the Military Spouse Employment Partnership's annual meeting and new partner induction ceremony Oct. 22. (Photo by Amanda Dolasinski/MOAA Staff)
Eryn Wagnon, MOAA's director of government relations for military family policy, spoke during the meeting about her advocacy efforts, including the expansion of licensing reimbursement and employment opportunities.
Wagnon said the top issues military spouses ask for help on are child care assistance and being able to retain a job once they've moved to a new duty station. Businesses that offer child care options as part of a compensation package and businesses that allow military spouses to work remotely are desirable, she said.
[RELATED: Visit MOAA's Military Spouse Page]
"If you finally get a job, the first thing I'm worrying about is, what are we going to do in three years when we have to move, and that's a consideration," Wagnon told the audience of business leaders. "And, of course, a consideration for companies. You invest a lot in training and the knowledge that that person has in the company. But if you have remote work options available and you're able to provide that, it's so beneficial – not just for military spouses, but your company as well. I would really encourage doing that, not just for the military spouse's sake, but for your own bottom line as well."
This year, MOAA launched a pilot program to provide telework kits for spouses working at small to midsize businesses that would allow the spouse to remain employed after relocating to a new duty station. Though the application process has closed, interested spouses can learn more about the program (and stay tuned for future updates) here.
Along with the problems spouse unemployment creates for military families, the issue has a readiness aspect: Senior military leaders have noted it can influence a servicemember's decision to leave duty, making it a challenge to keep the all-volunteer force ready and lethal.
Steps taken by DoD to ease the burden on military spouse unemployment include offering reimbursement up to $500 for re-licensing fees and asking the Council of Governors to provide assistance in supporting military families.