(Editor's note: This article will appear in an upcoming edition of Military Officer, a magazine available to all MOAA Premium and Life members. Learn more about the magazine here; learn more about joining MOAA here.)
Second lady Karen Pence calls military spouses the backbone of military readiness. Pence, the wife of Vice President Mike Pence and mother of a Marine Corps pilot, spent 25 years as an elementary school teacher before becoming the first lady of Indiana in 2013. As second lady of the United States, she works to raise awareness and educate the public about the mental health profession of art therapy, as well as to educate and elevate military families.
Pence says she has never pretended to know what issues are important to military spouses. Instead, she stepped into her role and took off on a tour of military installations to find out from the source what issues are important to spouses that her office could take on. Pence sat down with Military Officer magazine recently to discuss how she believes she can work to assist spouses.
Q. Your son is in the Marine Corps. Tell me how your perspective of the military changed when you became a military mom.

I don't know if it really changed a lot, it just became more personal. When I was a teacher out in Virginia for 12 years when Mike was in Congress, I had the opportunity to work with a lot of military spouses, and that was my first exposure to some of the difficulties and some of the benefits and exciting things about being a military spouse. But I think once it became my son, I think it alerted me a little more. I paid a little more attention.
Q. How does that perspective color your work when you're talking with troops?
I'm always very careful when I'm talking to military spouses. I want them to know, I know that I'm not a military spouse, and I don't live that life that they live, so I don't want to pretend that I have lived their experiences. But it does help me, just from watching my son and his wife, to know there are a lot of sacrifices, just little everyday sacrifices, that are important to keep in mind when we talk about our military and our military readiness.
We want these spouses to be happy because we want them to be happy, we want them to be fulfilled - but it is [also] part of our military readiness. If a spouse says, "That's it. When your tour is up, we're done. This is it, I can't do it again because the moves are too difficult and I can't find employment," then our military will be depleted.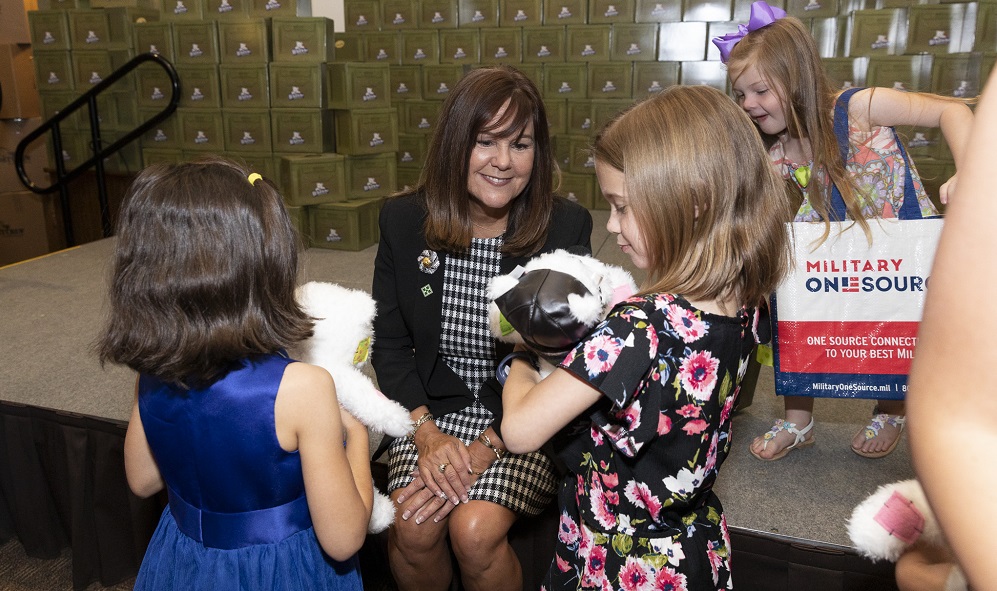 Second Lady Karen Pence distributes 500 care packages for children of soldiers stationed at Fort Carson, Colo., designed to help recipients deal with parental deployments. (Courtesy of the Office of the Second Lady)
Q. You've been traveling to different installations to talk to spouses. Tell me how you plan to continue with your campaign and what you can do for spouses going into the next year?

We decided when we launched the campaign, before we did anything, we decided we needed to spend several months having listening sessions. We would go around these listening sessions and say, "Give us your main thing, something you think we might be able to affect." There might be several issues that are important to spouses, but they might not be anything that we can do something about in our office.
One of the issues that kept coming up was employment: employment, licensing, security clearance. …
There are a lot of things that go into helping a military spouse with licensing. There is the opportunity for them to get reimbursed up to, I believe it's $500, for any licensing fees they pay or for education. For some professions, that doesn't even touch the surface of the fee they have to pay, but we're trying to come alongside for licensing.
Another issue is just people being willing to employ military spouses. Because a business says, "Oh, well, you're only going to be here two years, by the time I get you trained, you're going to be gone." The president actually signed an executive order for federal agencies to come up with ways to hire military spouses so that they could keep their job as they move, doing telecommuting. That's one thing the administration is doing. But we're also hearing that a lot of businesses are starting to realize this is an issue, and they're starting to come up with ways that we can hire military spouses so they don't have to change their job or lose their job when they move. …
Our military spouses are amazing men and women who are willing to sacrifice for our country because they make sacrifices just as well as the military member, willing to move and take their profession wherever they go. … We want businesses and organizations, nonprofits, we want people to understand, these military spouses are worth looking at.
Q. What got you excited about helping military families?
I felt like this is a group that maybe gets overlooked, and they make such sacrifices, and they're amazing people, and there are things we can do to make their life a little bit easier.
Amanda Dolasinski is MOAA's staff writer. She can be reached at amandad@moaa.org. Follow her on Twitter @AmandaMOAA.