Gen. Paul X. Kelley, the 28th Marine Corps commandant whose 37-year career included two combat tours in Vietnam, has died. He was 91.
"From his service in Vietnam, to leading our Corps through the Beirut bombing aftermath, Gen. Kelley served with honor and distinction," said Gen. David Berger, commandant of the Marine Corps.
Kelley, a Life Member of MOAA, was truly "a Marine's Marine," said MOAA Board Member Lt. Gen. Edward Hanlon, Jr., USMC (Ret).
"He looked, spoke, acted, fought, and lived his life as a Marine," Hanlon said. "When he entered a room, you felt his charismatic presence. I suspect a generation of Marines, myself included, saw him as the ultimate role model. His career was wide-ranging and impactful."
Kelley commissioned into the Marine Corps in 1950 after graduating from Villanova University. He served 37 years in the Marine Corps, including assignments commanding reconnaissance Marines, serving as the exchange officer with the British Royal Marines, and working as the Combat Intelligence Officer for the 3rd Marine Amphibious Force during his first tour in Vietnam.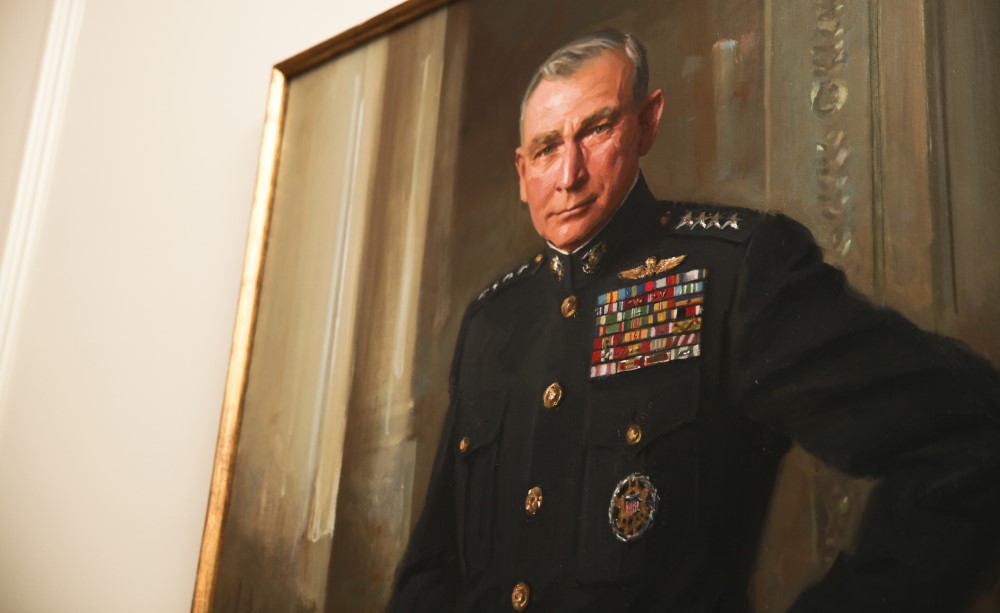 A portrait of Gen Paul X. Kelley, 28th Commandant of the Marine Corps, hangs at the Home of the Commandants at Marine Barracks Washington in 2014. (Photo by Cpl. Michael C. Guinto/Marine Corps)
He then took command of 2nd Battalion, 4th Marine Regiment, earning a Silver Star Medal, Legion of Merit with Combat "V" and two awards of the Bronze Star Medal with Combat "V" during his time with the unit.
Kelley returned to the U.S. and attended the Air War College at Maxwell AFB, Ala. He was assigned to Headquarters Marine Corps and worked as the military assistant to the assistant commandant.
Kelley then returned to Vietnam, where he commanded the 1st Marine Regiment, 1st Marine Division, the last Marine ground combat unit to leave Vietnam. During his second tour, Kelley was awarded a second Legion of Merit with Combat "V."
Our 28th Commandant, General P.X. Kelley, passed away yesterday. We should honor Gen Kelley's lifetime of service to the Corps and to the nation. From his service in Vietnam, to leading our Corps through the Beirut bombing aftermath, Gen Kelley served with honor and distinction. pic.twitter.com/bJFWz8wzrd

— David H. Berger (@CMC_MarineCorps) December 30, 2019
Over the next 10 years, Kelley earned promotions and served in leadership positions shaping plans, policy, and programs. In 1980, President Jimmy Carter promoted Kelley to lieutenant general and appointed him as the first commander of the Rapid Deployment Joint Task Force, the four-service force now known as U.S. Central Command.
Kelley was serving as the 28th commandant of the Marine Corps in 1983 when a car bombing of the Marine Corps barracks in Beirut killed 241 Marines, sailors, and soldiers.
The attack took only six seconds from the time a 5-ton truck carrying 5,000 pounds of explosives left an adjacent parking lot until it slammed into the building, Kelley told the Senate Armed Services Committee. It remains the single deadliest attack on Americans on foreign soil.
Kelley, who served as commandant from 1983 until his retirement in 1987, welcomed home survivors of the attack at Camp Lejeune, N.C.
"When I met the first flight of your fallen comrades as they arrived at Dover, Delaware, after the mass murder of Oct. 23, I asked the question, Lord, where do we get such men?" Kelley said at Camp Lejeune. "As you stand here today I ask the same question. Where do we get such men of courage, such men of dedication, such men of patriotism, such men of pride? The simple answer is that we get them from every clime and place, from every race, from every creed, and from every color."