(Editor's note: MOAA is supporting H.R. 3138, the "Six Triple Eight" Congressional Gold Medal Act of 2019. Read MOAA's letter of support here.)

By Judy Christie

When Indiana Hunt picked up a magazine at a drugstore in upstate New York during World War II, an article about women in the Army Corps caught her eye. At the age of 22, she learned that African American women were being recruited from around the country.
Hunt, who would later become Indiana Hunt Martin, enlisted—not knowing she would be making history.
Within months the Army private who had rarely left her hometown of Niagara Falls and had never been outside the state of New York, was on a boat headed to Europe, chased by German submarines and later greeted in England by Buzz Bombs.

Martin turned 97 on May 30 and is one of the members of the historic 6888 Central Postal Battalion, also known as the Six Triple Eight. The unit is the only African American Women's Army Corps Battalion in the U.S. Army to serve overseas during World War II. The surviving members of the 6888, in addition to Martin, are Anna Mae Wilson Robertson, of Milwaukee, Wis.; Delores L. Ruddock, of Mt. Rainer, Md.; Lena Derrieott Bell King, of Las Vegas, Nev.; Elizabeth Bernice Barker Johnson, of Hickory, N.C.; Maybelle Rutland Tanner Campbell, of Alexandria, Va.; and Fannie Mae McClendon, of Ariz.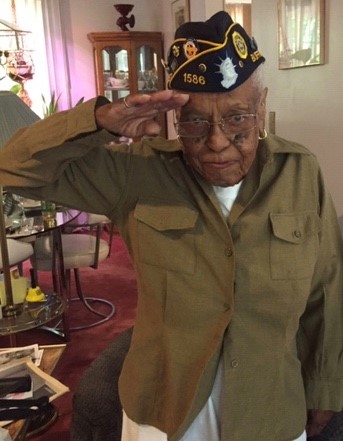 Indiana Hunt Martin, now 97, shown preparing for a 2019 Memorial Day parade


The Six Triple Eight was deployed in 1945 to help clear a massive backlog of mail to service members, U.S. government officials, and Red Cross workers. Before the days of email and cell phone calls, overseas personnel depended on the postal service for news from home. However, the warehouses storing the mail were filled with disheveled letters, often poorly addressed, and opened packages with rats eating items intended for those serving their country.
"Mail was piling up over there," Martin said in an interview from her Maryland home, her memories of her extraordinary experiences clear after all these years. "We worked day and night until we got through that mail. They told us we were chosen because of [civil rights leader] Mary McLeod Bethune and [first lady] Eleanor Roosevelt."
With the motto "No Mail, Low Morale," the Six Triple Eight cleared about 18 million pieces of mail for Americans in the European Theater of Operations in less than six months, serving first in England and then France during WWII. The women worked in austere, wartime conditions, often during bombings in London. "You never knew what was going to happen," Martin said.
They rose above racism and sexism, enlisting in a time when Jim Crow laws in the military caused discrimination and hardship. "In England and France, they were nice to us," she said. "They treated us a lot better than where we came from."
Despite not being allowed to sleep, shower or eat with white personnel or soldiers, Martin felt fortunate to serve her country. "During the wartime, it just seemed like something we needed to do," she said. "I never dreamt I'd be lucky enough to go overseas."
Inspired by the heroic efforts of the unit, MOAA member and retired Army Col. Edna W. Cummings, is working to see the Six Triple Eight recognized and has turned to organizations such as MOAA to help preserve the unit's place in history.
"Can you imagine a warehouse full of mail sitting for two years?" Cummings asked. "These women rose above the stereotypes. They exhibited resilience and resolve with bombs all around. That is a lesson in leadership for any race or gender."
Cummings efforts began with a donation to build a monument to the unit in the Buffalo Soldier Military Park at Fort Leavenworth, Kan., and she has gone on to serve as a producer on a new documentary on the Six Triple Eight.
She is working with bipartisan members of Congress to provide a Congressional Gold Medal for Six Triple Eight, with Senate and House legislation introduced this year. On February 20, 2019, the Secretary of the Army awarded the 6888th the Meritorious Unit Commendation.
In May, Cummings visited Great Britain for a ceremony in which the U.S. Ambassador to the United Kingdom, Robert "Woody" Johnson, dedicated a plaque to mark the location where the Six Triple Eight women worked. She also visited the cemetery at Normandy, where three members of the battalion were buried after being killed in a Jeep accident in France. They are among the only four women buried in the historic cemetery.
"This is just a great lesson in leadership, yet they were never formally recognized," she said. "They were unsung heroes who made it possible for me to wear the uniform."