At a gathering in the West Wing of the White House on Tuesday afternoon, MOAA joined a number of other veteran stakeholder groups to witness President Donald Trump sign an executive order aimed at putting an end to the tragic rise in veteran suicides.
"MOAA is pleased to see President Trump elevate the issue of veterans' suicide to a national level by creating a public health strategy both the public and private sector can get behind," Lt. Gen. Dana T. Atkins, USAF (Ret), MOAA president and CEO, said in response to the executive order.
"The executive order, PREVENTS, which stands for the President's Roadmap to Empower Veterans and End a National Tragedy of Suicide, will serve as a national call to action, helping to coordinate, prioritize and align resources at the federal, state, and local levels," Atkins said. "MOAA looks forward to working with the administration, other federal agencies, and stakeholders in establishing the national task force and in developing the roadmap for the national call to action."
[MORE MOAA PRIORITIES: Visit MOAA's Legislative Action Center]
The project has been in the works for over a year as part of efforts to eradicate suicides among the veteran population. An estimated 20 veterans a day take their own lives, with 70 percent of them having no contact at all with the veterans' health system. These statistics provide a compelling reason for the national call to action, which will require a public health response.
Over the next year, the VA and other federal departments such as Defense, Homeland Security, Labor, Energy, Health and Human Services, and Housing and Urban Development, are required to establish a roadmap with input from states, communities, academia, veteran service organizations, and a host of other groups. This will serve as a public-private engagement model for aggressively preventing veteran suicides.
"Our mission is to mobilize every level of American society to save the lives of our great veterans and support our heroes in need," President Trump said during Tuesday's gathering. "Today we can end this tragedy. To every veteran I want you to know you have an entire nation of over 300 million people behind you. You will never, ever be forgotten - we are with you all the way."
The task force roadmap will include a national research strategy to help better understand the underlying factors that lead to suicide. This would allow earlier detection and intervention.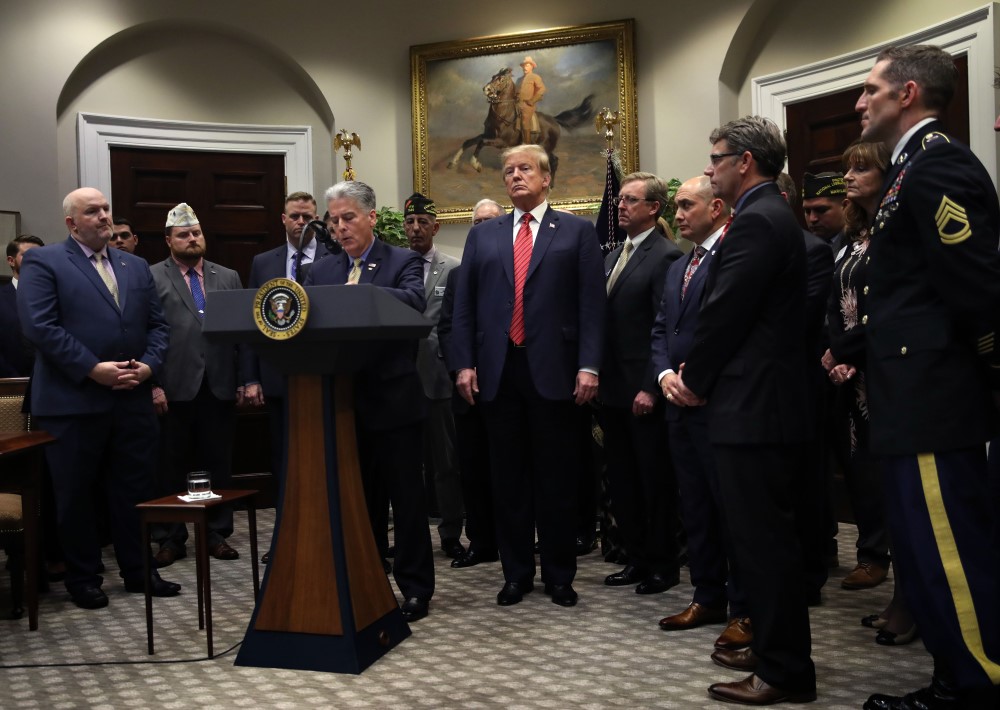 Representatives from military and veteran service organizations, including MOAA, took part in Tuesday's signing ceremony at the White House. (Win McNamee/Getty Images)
The roadmap also will include a proposal for state and local communities to employ a variety of resources and tools - such as outreach grants, similar to the HUD-VASH (Housing and Urban Development-VA Supportive Housing) voucher program - to help assist and empower these communities to expand existing programs and develop new ones. This model can be replicated across the country at the local and federal levels.
For nearly four years, MOAA has partnered with the United Health Foundation (UHF) with the goal of determining how the unique demands of military service could affect long-term health so research and public policy can be directed toward understanding and improving these factors and conditions.
Last year's America's Health Rankings Health of Those Who Have Served Report captures trends over six years, comparing recently available 2015-2016 data to a baseline of 2011-2012 data. The report revealed those who have served are more likely to describe their health as "good" or "excellent," than their civilian counterparts, but they're also more likely to suffer from a litany of chronic diseases and to engage in unhealthy behaviors.
It also showed some troubling trends, particularly among women who've served: Their rates of suicidal thoughts more than tripled, for example, from 1.8 percent in 2011-12 to 7 percent in 2015-16.
[RELATED: Read the Full Report]
These trends from the UHF-MOAA studies and other reports are concerning and highlight the need for a greater national engagement strategy to address these frightening statistics.
The president's national call to action and roadmap for addressing veteran and servicemember suicides and health issues align with MOAA's work with UHF. This is one of the many areas the association will be highlighting at a joint Senate and House Veterans' Affairs Committee hearing March 12, as part of an outline of MOAA's legislative priorities for the year.