Everplans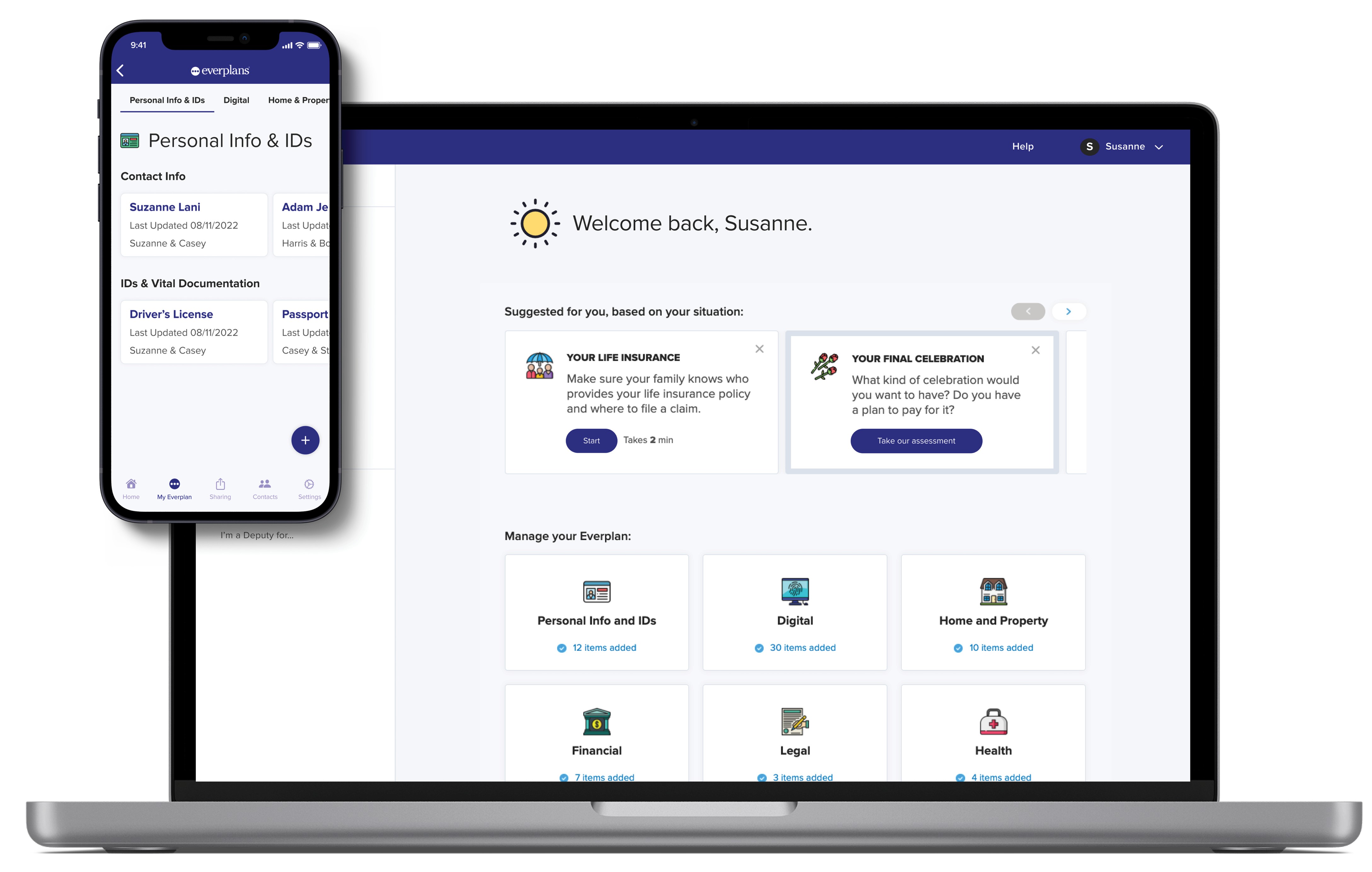 MOAA Members have access to Everplans Premium at exclusive discounts, starting at 30% off for BASIC members.
Click on one of the links below to access your Everplans benefit; if you're not already logged into MOAA.org, you'll be prompted for your username and password. All members have access to this benefit, but your discount depends on your membership type.
Note: Be sure to click on the link that corresponds to your member type – otherwise you may be asked to upgrade your membership, even if an upgrade isn't necessary. Unsure about your member details, have questions or problems with logging in, or seeking information about a membership upgrade? Contact MOAA's Member Support Center at msc@moaa.org or (800) 234-6622.
Not a member? Join MOAA today to access your benefit. NOTE: After joining, return to this page (MOAA.org/Everplans) to access your benefit using your MOAA username/password.
Your Life. Organized With Everplans.
No more sticky notes, dusty binders, and outdated files
What is Everplans?
The Everplans digital vault is designed to securely organize and store your vital information, and its smart sharing capabilities are engineered to give you and your loved ones easy access when needed. Everplans' expert guidance will help ensure you stay one step ahead in your planning and organization.
Keeping Your Data Secure
Everplans is serious about your security and realize that you are trusting them with the most important information and documents in your life. Your information is encrypted and protected with industry-leading technology and security.
Everplans is compliant under the Health Insurance Portability and Accountability Act of 1996 (HIPAA), which means they manage the privacy and security of your information in accordance with the extremely rigorous requirements of HIPAA (which is a compliance framework designed to protect sensitive personal and health information, especially any information held electronically).
Everplans has undergone a Type II Service Organization Control 2 (SOC 2) examination, resulting in an independent CPA's report and certification. A SOC 2 Type II report assures you that Everplans has established and continues to follow strict information security policies and procedures, and provides independent, third-party verification that Everplans' operations meet or exceed defined levels of processes and controls for the security of customer data.
You can find a detailed security overview at Everplans.com.