Everplans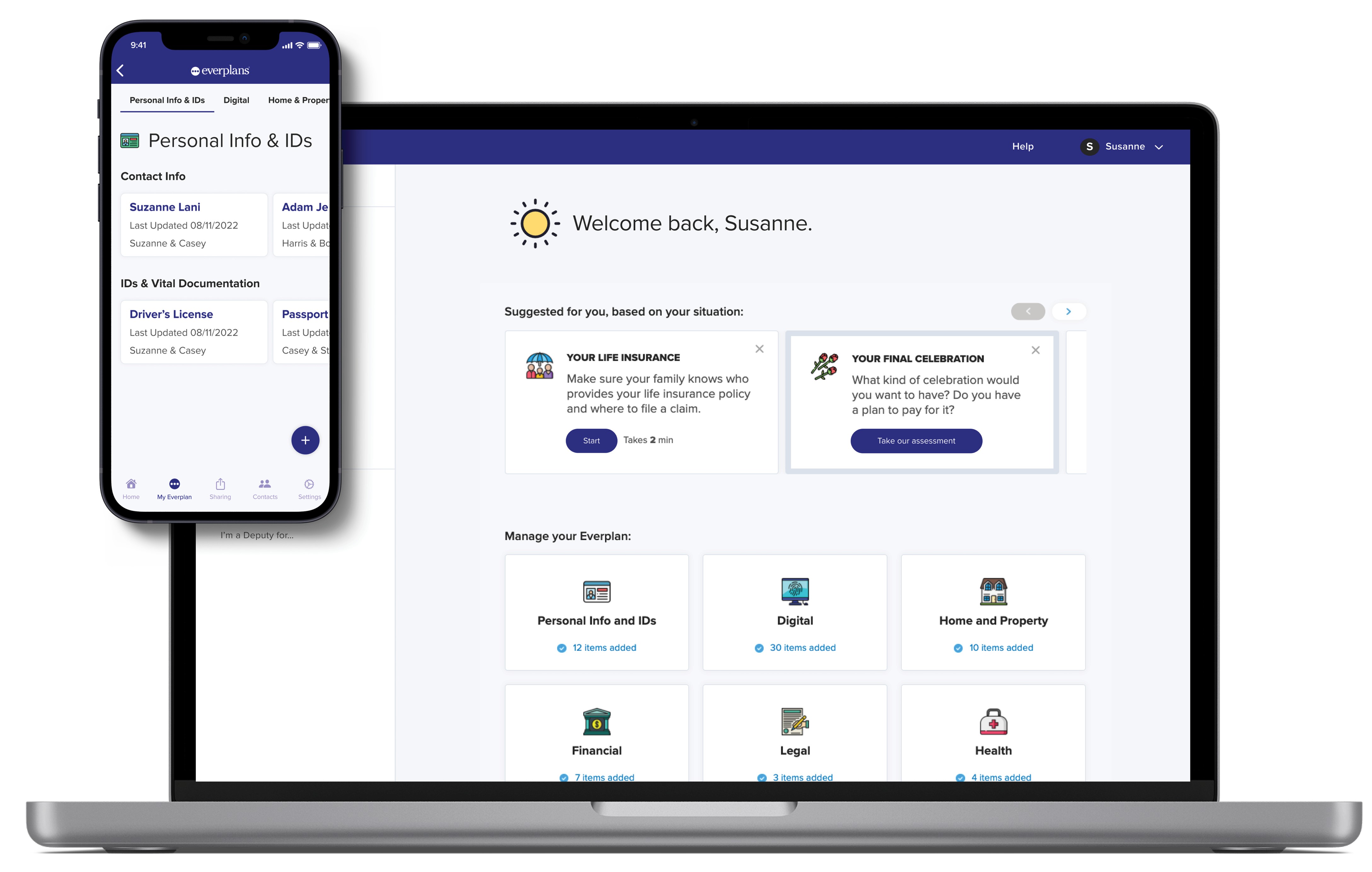 MOAA Members have access to Everplans Premium at exclusive discounts, starting at 30% off for BASIC members.
Upcoming Webinar
Do you have what you need for an organized transition out of military service? Join MOAA and Everplans experts Oct. 25 at 2 p.m. Eastern for a look at how Everplans can keep your ever-growing stack of documents and important information safe and accessible during this critical time. Click here for more information or to register.
[FEBRUARY WEBINAR RECORDING: Simplify and Organize Your Life With Everplans]
Save With Everplans
Click on one of the links below to access your Everplans benefit; if you're not already logged into MOAA.org, you'll be prompted for your username and password. All members have access to this benefit, but your discount depends on your membership type.
Note: Be sure to click on the link that corresponds to your member type – otherwise you may be asked to upgrade your membership, even if an upgrade isn't necessary. Unsure about your member details, have questions or problems with logging in, or seeking information about a membership upgrade? Contact MOAA's Member Support Center at msc@moaa.org or (800) 234-6622.
Not a member? Join MOAA today to access your benefit. NOTE: After joining, return to this page (MOAA.org/Everplans) to access your benefit using your MOAA username/password.
Your Life. Organized With Everplans.
No more sticky notes, dusty binders, and outdated files
Ask yourself these five questions to find out how prepared your loved ones are in the event that you're not around.
1. Does your family know what types of insurance (and how much coverage) you have?
Billions of dollars in insurance payments go unclaimed each year. Are all of your coverage details consolidated in one place, so your family doesn't suffer the same fate? Do you have Servicemembers Group Life Insurance or Veterans' Group Life Insurance? Would your family know who to contact?
2. How easy would it be for your family to navigate the maze of end-of-life planning?
Does your family know how to access your end-of-life plans and wishes? Have you consolidated and shared where you keep your medical directives, Will, funeral plans, and burial arrangements? Are they aware of any charitable organizations where you'd like donations to be made in your name?
3. Does your family know about all the benefits, financial accounts, investments, and other assets you've worked so hard for throughout your life?
This includes your military benefits, disability benefits, and military retirement payments as well as your checking, savings, retirement accounts, pension, stock options, and other valuable investments and assets. Do they know the names of the financial institutions or who to contact to access these assets and benefits?
4. You know about your doctors, specialists, medicines, and allergies, but does your family?
This information is often needed in the most inopportune times and having it easily accessible during the time of a medical emergency can be critical. Have you organized your military service records, claims, and general VA contact information for questions your family may have?
5. What happens to all of those memories that have shaped your life and you hold so dear?
You are the only person alive with all this information. If you don't share it, who will? This is the story of your life—personal lessons, tips, and knowledge you'd like to pass on. Think of your military history—awards, recognition, assignments, campaigns, and other memorable stories you'd like to pass on.
What Exactly Is an Everplan?
An Everplan is a smart digital vault with everything your loved ones need. It's a plan with all the important details and information about your life and legacy—from legal, financial, and healthcare information, to account numbers and passwords, and even information about cherished items like family photos and secret recipes.
What Are Deputies?
Deputies are important people in your life whom you trust enough to provide access to some or all of your Everplan. When you designate Deputies for your account, Everplans will invite them via email to log in and set a password for their own free basic account. From that point forward, they will be able to see the parts of your Everplan that you have explicitly invited them to view. You have full control over which items in your Everplan can be seen by each Deputy.
Is My Information Secure With Everplans?
Everplans encrypts and protects your personal information using the same industry-leading technology that banks use. Everplans is compliant under the Health Insurance Portability and Accountability Act of 1996 (HIPAA) and has undergone a Type II Service Organization Control 2 (SOC 2) examination, resulting in an independent CPA's report and certification. Plus, their solution features two-step verification whenever you log into your account via a new device. If you'd like more details about both Everplans' operational practices and commitment to security, please visit www.everplans.com/security.