Nov. 11, 1918, marked the armistice that ended World War I - dubbed at the time "the war to end all wars." Twenty years later, on the eve of the next world war, Veterans Day would become a legal holiday in the U.S. In honor of Veterans Day, and inspired by the 100th anniversary of the first Armistice Day, MOAA has compiled this chronological list of 100 veterans our members should know.
You could fill multiple lists with Medal of Honor recipients or four-star generals; we've highlighted these 100 veterans not solely on the basis of valor nor leadership, but also to paint a picture of the last 100 years of service. You'll find plenty of famous names here as well as interesting stories of some less-well-known servicemembers.

[RELATED: Beyond 100 Veterans: More Stories of Duty and Determination]
We hope you enjoy this walk through the past 100 years and take it as an opportunity to reflect, enjoy, and absorb the contributions of servicemembers past and present.
To help easily identify each veteran on the list by categories we thought were important, we've added a "1st" for firsts in their field, an "MOH" for Medal of Honor recipients, and we've noted those on our list who are MOAA members.
1. Gen. John J. "Black Jack" Pershing

ARMY | MOH | 1st
Pershing was the supreme commander of U.S. forces in France in World War I, and the nation's only military leader other than George Washington to hold the rank of General of the Armies of the United States. A survivor of the flu pandemic that killed millions between 1918 and 1920, Pershing's military experiences - aside from World War I - included the Indian Wars, the Spanish-American War, the Philippine-American War, the Moro Rebellion, the Russo-Japanese War, the Mexican Revolution and the Pancho Villa Expedition. Generals mentored by Pershing included George S. Patton, George Marshall, Dwight D. Eisenhower, Omar Bradley, Lesley J. McNair, and Douglas MacArthur.
2. Lt. Eugene Bullard
AIR FORCE | 1st
The son of a former slave, Bullard left his unhappy home in Georgia at age 11. By the time Bullard settled in France in 1913, Europe - and the world - was on the brink of war. Bullard enlisted in the French army and ultimately earned his wings, flying combat missions with the Lafayette Flying Corps, where he was known as the "black swallow of death." Bullard tried to join the U.S. Air Service in 1917 but was rejected because of his race. He remained a hero in France for the rest of his life. In 1994, he was posthumously appointed a second lieutenant in the U.S. Air Force, becoming America's first African American military pilot.
3. Lt. William T. Fitzsimons
ARMY | 1st
Fitzsimons was the first American officer to die from enemy fire during World War I. An officer in the Medical Reserve Corps, he was killed Sept. 7, 1917, during a German air attack against Base Hospital No. 5 near Dannes-Camiers in Pas-de-Calais, France. In 1920, Army Hospital No. 21 in Aurora, Colo., was renamed Fitzsimons Army Hospital in Fitzsimons' honor.
4. Sgt. Henry Johnson
ARMY | MOH
A member of the 369th Infantry Regiment, an all-black unit lent to the French Fourth Army, Johnson was manning a sentry outpost with Pvt. Needham Roberts May 14, 1918, when they were attacked by a German raiding party. Needham was badly wounded, leaving Johnson to fight off the enemy first with grenades, then bullets. When his gun jammed, he used it as a club. When his gun splintered, he used his bolo knife to slash at the enemy as they tried to take Roberts prisoner. The Germans finally retreated at the sound of advancing American and French forces.
Johnson killed four Germans and wounded nearly 20, receiving 21 wounds in the hand-to-hand fighting. He received the Croix du Guerre with Gold Palm, France's highest military honor, and posthumously was awarded the Medal of Honor in 2015. In his book Rank and File: True Stories of the Great War, President Theodore Roosevelt said, "Sgt. Henry Johnson [was] one of the five bravest American soldiers in the war."
5. Pvt. Opha May Johnson

MARINE CORPS | 1st
With men shipping off to Europe during World War I, the Marine Corps needed people to perform administrative tasks. In 1918, the commandant created the Marine Corps Women's Reserve, and 39-year-old Johnson was the first to volunteer. She rose to the rank of sergeant while serving in the office of the quartermaster general of the Marine Corps.
Top Marine leaders recently attended a dedication ceremony for a new memorial in her honor. Her commitment to the Corps led the way for all female warriors, said Sgt. Maj. of the Marine Corps Ronald Green.
6. Capt. Eddie Rickenbacker

ARMY | MOH
A race car driver in his youth, Rickenbacker volunteered for the Army when America joined the war in 1917. He attended flight school and was assigned to the 94th Aero Squadron, based near Toul, France.
Rickenbacker became the most accomplished Army Air Corps pilot of World War I. By war's end, he had downed 22 German planes and four observation balloons, earning the title "America's Ace of Aces."
For his military service, Rickenbacker received the Medal of Honor, numerous Army Distinguished Service Crosses, the World War I Victory Medal, the Croix de Guerre with two bronze palms, and other honors.
7. Sgt. Alvin York
ARMY | MOH
A devout Christian who tried to get out of military service by claiming conscientious object status (which was denied), York went on to become one of the most celebrated American heroes of World War I.
York's battalion was set upon by German soldiers Oct. 8, 1918, during the Meuse-Argonne offensive in France, at the cost of nine lives. York assumed command and led his men against the much larger German force, dispatching the enemy with such unerring accuracy that the Germans finally surrendered, convinced they had underestimated their opponent's numbers. York reportedly killed more than 20 German soldiers and captured a total of 132, for which he was awarded the Medal of Honor. York died Sept. 2, 1964.
York's great-great-nephew, Sgt. Jacob York, currently serves with the 82nd Airborne.

8. Brig. Gen. Billy Mitchell
ARMY | MOH
Fourteen years after the Wright Brothers pioneered flight at Kitty Hawk, N.C., Mitchell foresaw that the airplane could break the stalemate of trench warfare and revolutionize the way battles are fought.
"He was absolutely correct," said aerospace historian Richard Hallion. "Mitchell learned to fly. When America entered World War I, he became air combat commander on the western front."
Mitchell also became an outspoken, unceasing advocate of an independent air service. He would not live to see it, and Mitchell's tactics cost him his career. "But he had raised and trained a coterie of followers who were very influential. He became a martyr to military aviation."
9. Capt. Joseph W. Schereschewsky
PUBLIC HEALTH SERVICE
Schereschewsky was born in China to missionary parents; his father was a noted Episcopal bishop. Schereschewsky was one of six assistant surgeons-general with the U.S. Public Health Service. In 1922, Schereschewsky's success with and expertise in cancer research led to him heading a research laboratory at Harvard University. Schereschewsky continued to serve with the Public Health Service, becoming medical director in 1930, a position he held until his death in 1940.
Schereschewsky's son, John, continued the family tradition of service, skippering a Navy LCI(L) landing craft that placed 200 troops with the First Division on Omaha Beach June 6, 1944. The younger Schereschewsky was awarded a Bronze Star with a Combat V for his service that day.
10. Capt. Roscoe R. Spencer

PUBLIC HEALTH SERVICE | 1st
In 1922, Spencer began work on a vaccine for Rocky Mountain spotted fever, a virulent disease responsible for countless deaths. When a lack of test subjects threatened to derail the progress being made in the battle against the disease, Spencer rolled up his own sleeve. On May 19, 1924, he received the first injection of an experimental vaccine made from infected ticks and carbolic acid. The vaccine proved to be safe and effective. Spencer downplayed the risk he had taken, but others saw his self-experimentation for the courageous act it was.

11. Maj. Gen. Fox Conner
ARMY
While Conner had a distinguished career as a major general - he served as operations officer for the American Expeditionary Force during World War I - perhaps his most lasting legacy is as a mentor to George Marshall, George Patton, and Dwight Eisenhower, who considered him to be the greatest soldier he ever knew. The three principles of war Conner shared with Marshall and Eisenhower were "Never fight unless you have to; never fight alone; and never fight for long."
12. Brig. Gen. Benjamin O. Davis Sr.
ARMY | 1st
Davis gave 50 years to the Army, retiring in 1948 as the first African American to hold the rank of general in the U.S. armed forces. Over the course of his career, Davis served in the Philippines and Liberia, among many other duty stations, and taught military science and tactics at Wilberforce University in Ohio, and the Tuskeegee Institute in Alabama. He also was influential in the eventual desegregation of the U.S. military. For his exemplary service, Davis was awarded the Bronze Star and the Distinguished Service Medal.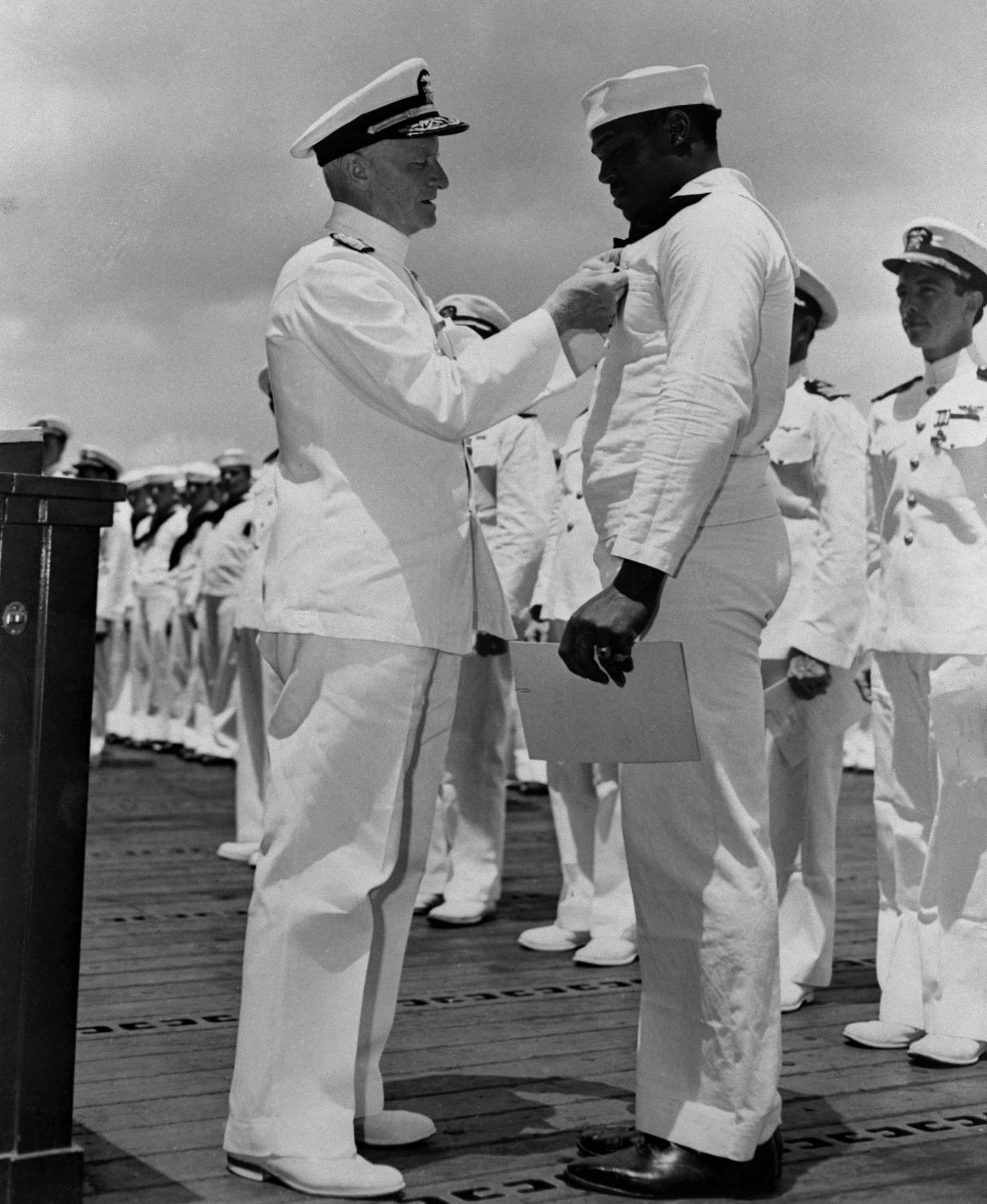 13. Petty Officer 3rd Class Dorie Miller

NAVY | 1st
The first African American to be awarded the Navy Cross, Miller served bravely on one of America's darkest days - Dec. 7, 1941 - embodying the notion of going "above and beyond the call of duty." After torpedoes ripped through the hull of USS West Virginia, Miller first carried his badly injured captain to safety before manning anti-aircraft guns and leading fellow soldiers through oil and water to safety. Though he was killed in action two years later, Miller went on to become an icon for black Americans during World War II and an inspiration to servicemen for decades to come.
14. Sgt. Maj. Gilbert "Hashmark" Johnson
MARINE CORPS | 1st
Johnson served six years in the Army and eight in the Navy before becoming one of the first African Americans to join the Marine Corps, a Montford Point Marine. He gave up his rank, starting out as a private. But he kept his service stripes, earning him the "Hashmark" nickname he carried from boot camp on.
Johnson later became a drill instructor and Montford Point's top enlisted leader. In Guam during World War II, he challenged his commanding officer to allow black Marines to go on combat patrols. Johnson also served in Korea and Japan and retired after 39 years across the services.
15. Brig. Gen. William Darby
ARMY | 1st
Darby was killed in combat two days before German forces surrendered in Italy, but his untimely death wouldn't sabotage his work of the previous three years - planning, organizing, creating, and leading the Army's first Ranger infantry battalions. "He was the bravest man I ever knew," Gen. George S. Patton said of Darby, according to the USO. A member of the West Point Class of 1933, Darby earned two Distinguished Service Crosses, a Silver Star, and the French Croix de Guerre. Fort Smith, Ark., has never forgotten their hometown hero: In 2016, officials dedicated a memorial to Darby, featuring a sculpture of the Ranger atop a motorcycle. "Onward we stagger, and if the tanks come, may God help the tanks," reads a Darby quote on the monument.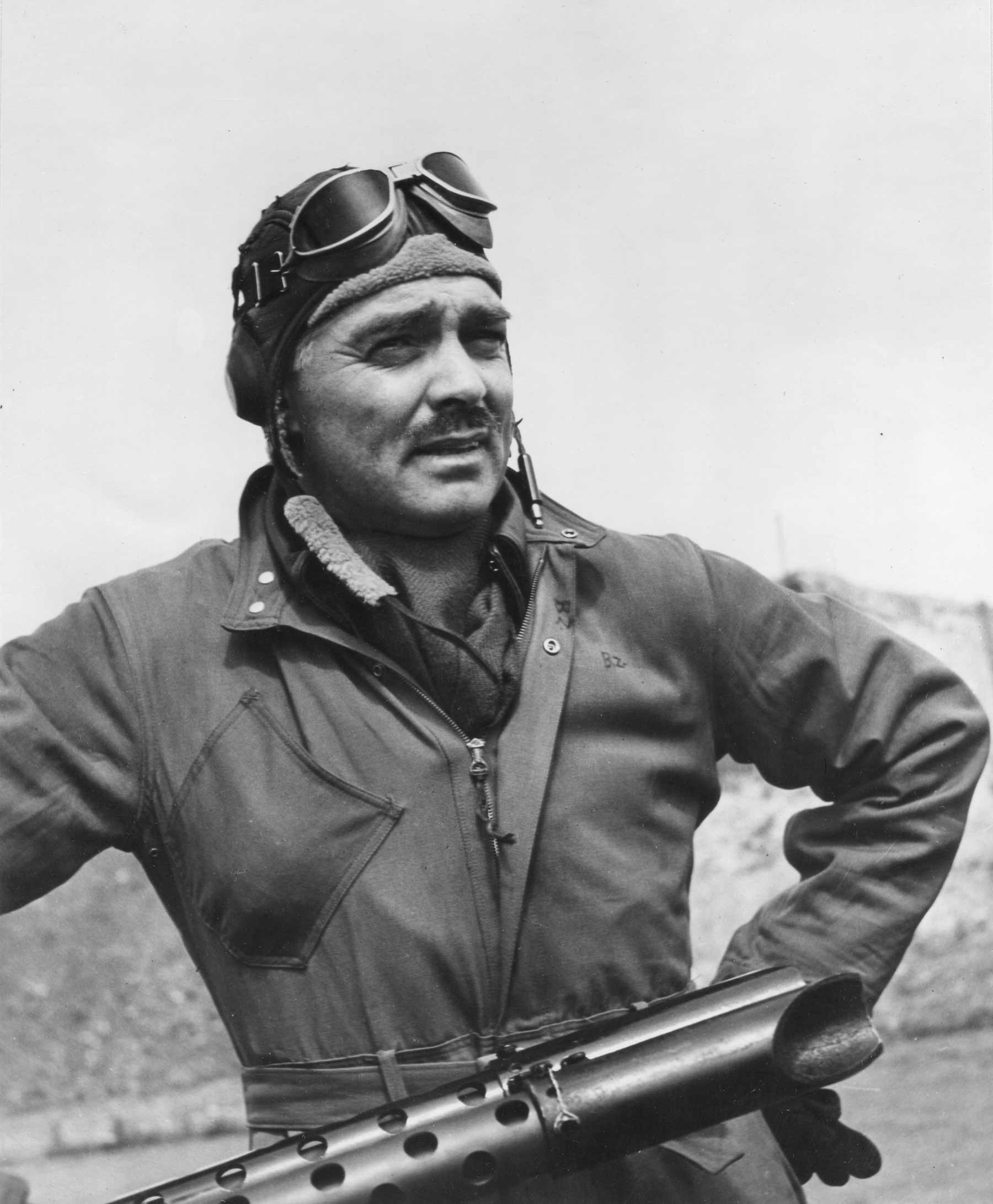 16. Maj. Clark Gable
ARMY
Gable was already an Academy Award-winning box office star by the time he enlisted in the Army Air Forces in 1942, which may explain why his combat duties primarily consisted of making a recruiting film at the behest of the military. But Gable saw real action in 1943 while serving in England, flying five combat missions, including a raid on Germany where flak narrowly missed his head. Hollywood was reluctant to lose Gable in combat, so he resigned his commission four years later - but not before Hitler, who favored the actor, offered a handsome reward to anyone who captured him unscathed.
17. Gen. Merritt A. "Red Mike" Edson
MARINE CORPS | MOH
Edson fought in France and Germany during World War I, and later, as a colonel, led the 1st Marine Raider Battalion, known as "Edson's Raiders," in battle through caves on Tulagi and villages and beaches at Guadalcanal. Their hard-won successes were a turning point in World War II. He later battled Congress to keep the Marine Corps when lawmakers tried to disband it after the war.
He earned the Medal of Honor, two Navy Crosses, a Silver Star, and two Legions of Merit with combat distinguishing device over his impressive career.

18. Petty Officer 1st Class Douglas Munro
COAST GUARD | MOH | 1st
Munro holds the distinction of being the first (and only, thus far) member of the Coast Guard to receive the Medal of Honor. On Sept. 27, 1942, during the Battle of Guadalcanal, Munro delivered a group of Marines to a beachhead, only to learn when he returned to the rallying point that the Marines needed immediate evacuation. Munro volunteered and directed five small craft to the beach, where they faced withering machine gun fire. Seeing other craft struggling, Munro maneuvered his own boat between the beachhead and the others, providing effective cover. Hundreds of Marines were rescued that day, but Munro was killed by enemy fire. Unconcerned about his own wounds, Munro's last words were, "Did they get off?" In addition to receiving the Medal of Honor, Munro has been celebrated with two Coast Guard cutters named after him.

19. Maj. Joseph Foss
MARINE CORPS | MOH
Foss dreamed of flying while working on his family's South Dakota farm.
He eventually put himself through college and earned his commission. Months after earning his wings, Foss was flying combat missions over Guadalcanal. He and his team shot down more than 70 Japanese aircraft - 26 of which were credited to Foss. He was awarded the Medal of Honor for his remarkable flying skills and inspiring leadership.
Foss later retired from the South Dakota National Guard as a brigadier general. He served in his state government and was commissioner of the American Football League.
20. Carpenter's Mate Edward Sylvester Clapp
NAVY
Clapp received the Navy Cross for "extraordinary heroism" Oct. 15, 1942, while serving aboard the USS Enterprise. Clapp bravely ran into a raging fire on the gun gallery to throw hot unexploded shells and powder charges overboard, preventing further loss of life and damage to the ship. Disregarding his personal safety in order to eliminate the threat of damage to the ship and help contain the fire, Clapp demonstrated conduct in keeping with the highest traditions of the naval service.
21. Capt. David Whipp
NOAA
Whipp was World War II's most highly decorated member of the U.S. Coast and Geodetic Survey. Whipp earned the Silver Star medal for gallantry in action while serving with the 1st Field Observation Battalion during the March 1943 attack on El Guettar, Tunisia, where he proceeded two days ahead of the attack to establish survey control for artillery, despite heavy enemy shell fire.
The following month his performance near Korian, Tunisia, establishing survey control of a forward Flash Ranging Observation Post under enemy fire also earned recognition. He also received the Legion of Merit and the French Croix de Guerre with Gold Star for providing essential information for counterbattery work in 1944 at Monna Casale and Monna Acquafondata.

22. Capt. Louis Zamperini
ARMY
World War II bombardier Zamperini survived shark attacks, strafing, and near-starvation adrift for 47 days in the Pacific after his plane crashed during a search mission in May 1943. He spent the remainder of the war enduring unimaginable torture as a Japanese POW. Years later, he met with many of his captors, whom he forgave.
"He is a man who offers a lesson in how broad the horizons are in terms of our ability to endure and overcome hardship," says Laura Hillenbrand, author of Unbroken: A World War II Story of Survival, Resilience, and Redemption. "It is possible to recover from even the most harrowing ordeal."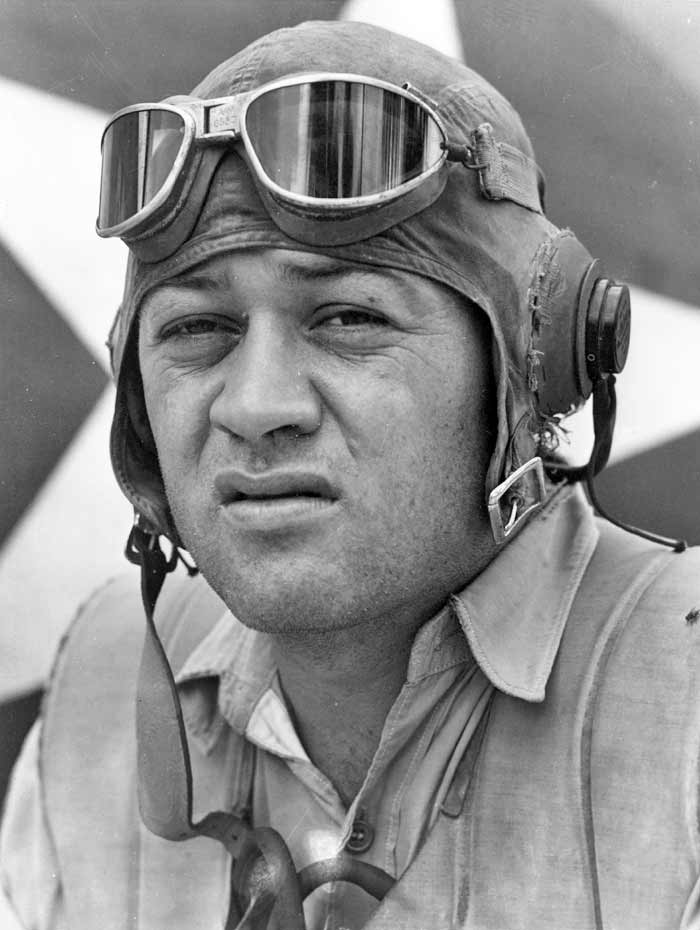 23. Col. Gregory "Pappy" Boyington
MARINE CORPS | MOH
About six years into his career as a Marine Corps pilot and flight instructor, Boyington resigned his commission. The aviator and father of three found it was taking too long to pick up rank, and he needed more money. He took a gig with the First American Volunteer Group, which defended Chinese aircraft from Japanese forces.
After rejoining the service as a major, Boyington eventually was named commanding officer of Marine Attack Squadron 214. It was with that squadron that Boyington would earn the Medal of Honor for his actions during several hazardous missions against the Japanese in 1943 and 1944.
24. Gen. Benjamin O. Davis Jr.
AIR FORCE | 1st
This apple didn't fall far from the tree: Following in his father's footsteps, Davis Jr. joined the military in 1932 and rose to become the first African American general in the Air Force. After becoming a pilot and transferring to the Army Air Corps in 1942, he commanded several fighter squadrons and later served in Korea and multiple other duty stations around the world. For his service, he was awarded the Air Force Distinguished Service Medal, Army Distinguished Service Medal, Silver Star, Legion of Merit with two oak leaf clusters, and many others. Davis died July 4, 2002.
25. Command Sgt. Maj. Kenneth "Rock" Merritt
ARMY
Merritt is one of the last living World War II paratroopers of the famed 508th Parachute Infantry Regiment, which jumped as part of Operation Market Garden and fought in the Battle of the Bulge. Merritt can still be found on occasion on Fort Bragg, participating in ceremonies and sharing stories with currently serving paratroopers.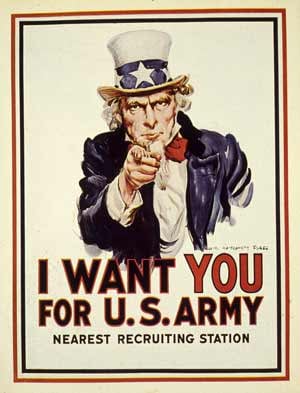 26. Sgt. Maj. James Schmidt
ARMY, NAVY
Schmidt was only 14 years old when he jumped into Italy with the 82nd Airborne's 504th Parachute Infantry Regiment. He was kicked out of the Army shortly thereafter, when his age was discovered. He promptly joined the Navy - which kicked him out a few months later for the same reason. Schmidt finally enlisted legally after he turned 18; he served 22 years in the Army, including stints in Korea and Vietnam, before retiring in 1965. His awards include the Silver and Bronze Stars, Purple Heart, Air Medal, and World War II Victory Medal.
27. Adm. Joseph James "Jocko" Clark
NAVY | 1st
Clark hailed from Oklahoma and was the first American Indian (Cherokee) to graduate from the U.S. Naval Academy at Annapolis. His commands from World War I to the Korean War included USS Suwannee, USS Yorktown, Task Forces 58.1 and 38.1, Fast Carrier Task Force 77, and the 7th Fleet; he "performed brilliantly" during the Marianas campaign, according to the website of Arlington National Cemetery, where he rests today. The second Oliver Hazard Perry class frigate was commissioned USS Clark in his memory.
28. Sgt. Curtis G. Culin
ARMY
Inspired by "a Tennessee hillbilly named Roberts," Culin invented a hedge-breaching device that helped Allied armored vehicles navigate unforgiving terrain during the Battle of Normandy. Working with scrap steel from a German roadblock, Culin fashioned the makeshift plow to the front of his tank to help protect its thinly armored underside from attack, keeping himself and his fellow soldiers safe as they moved inland after the D-Day landings. Within weeks, almost 60 percent of First Army tanks were outfitted with his invention, accelerating the U.S, advance during the pivotal offensive Operation Cobra.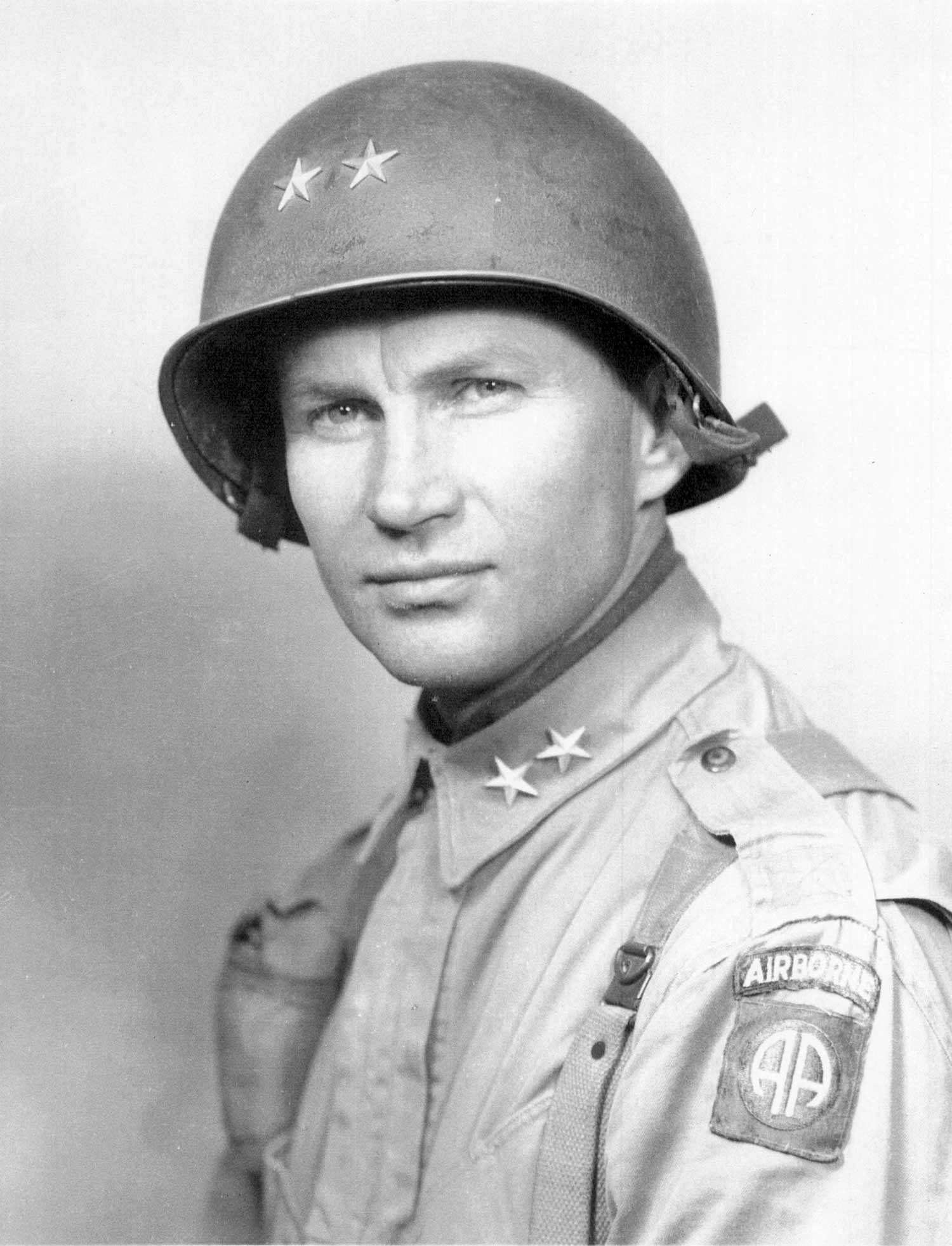 29. Lt. Gen. James Gavin
ARMY
Gavin's most notable accomplishment might have been achieving his status as the youngest major general to command an American division in the war, but he didn't receive his two Distinguished Service Crosses sitting behind a desk. He earned a reputation for being a leader in touch with his men, known for carrying an M1 Garand rifle - the weapon carried by most enlisted men. He was also integral in the early fight against segregation in the Army.
30. Maj. Richard Bong
ARMY | MOH
Bong downed 40 enemy planes in the Pacific theater, including eight as a gunnery instructor, for which he received the Medal of Honor at age 24.
"Everybody who flew with him say he may have had as many as double the number of victories that he claimed. He was more interested in making certain everybody in his unit did well and were safe and competent," said aerospace historian Richard Hallion. "He was a true fighter leader."
Bong died while test-flying the first Lockheed fighter jet Aug. 6, 1945, the same day the atomic bomb fell on Hiroshima.
31. Thomas McGuire
ARMY | MOH
America's second-highest-scoring ace of World War II, McGuire trailed Bong by just two kills - a gap McGuire was eager to close. Over the Philippines in January 1945, he successfully drew an attacking plane away from his wingman. During subsequent maneuvers, McGuire's P-38 crashed on Negros Island. Only 25 years old at the time of his death, he was posthumously awarded the Medal of Honor; McGuire AFB, N.J., is named for him.
32. Maj. Audie Murphy
ARMY | MOH
One of America's most decorated servicemembers, Murphy began his military career in 1941, after his sister helped him falsify his birthdate to meet the minimum age requirement for enlistment. He fought in Casablanca, Algeria, Sicily, and the Colmar Pocket, where he famously held off an entire company of German soldiers for an hour before leading a counterattack while wounded and out of ammunition.
From 1949 to 1969, Murphy enjoyed a successful career as an actor, using that platform to campaign on behalf of veterans (like himself) coping with post-traumatic stress.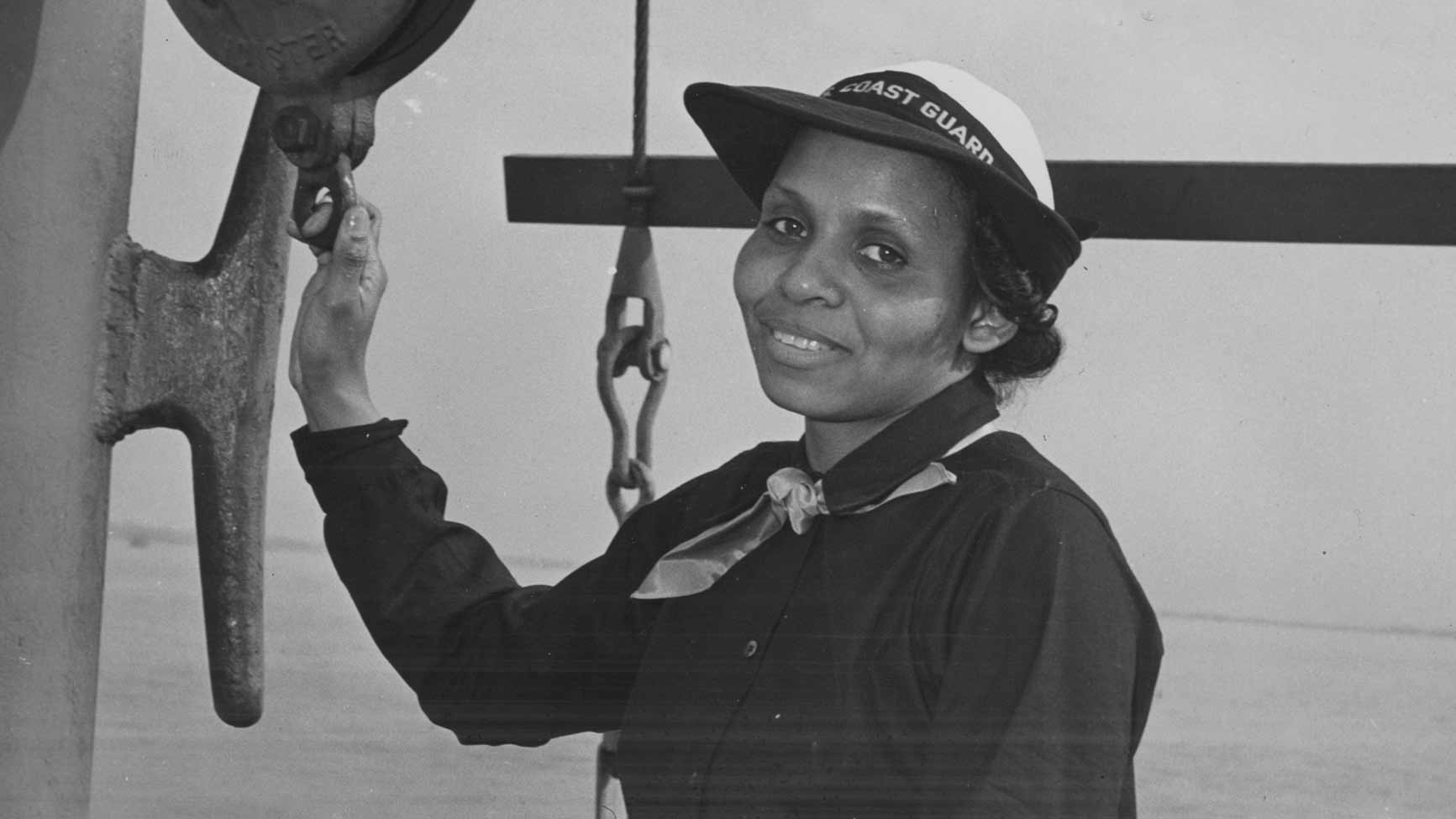 33. Yeoman 2nd Class Olivia Hooker
COAST GUARD | 1st
The last living survivor of the 1921 Tulsa Race Riots, Hooker also served as the first African-American woman in the Coast Guard. A leader in the field of intellectual and developmental disabilities, Hooker taught psychology at Fordham University for more than 20 years - and, until just a few years ago, volunteered with the Coast Guard Auxiliary.
34. Gunnery Sgt. John Basilone
MARINE CORPS | MOH
Basilone received the Medal of Honor after leading a fight against thousands of Japanese troops in the jungles of Guadalcanal. He refused a commission and a stateside assignment, opting to continue fighting.
Back in the Pacific, his unit was tasked with storming Iwo Jima on Feb. 19, 1945. Basilone repeatedly braved enemy fire to guide a tank trapped in a mine field to safety. He was later killed in action and posthumously received the Navy Cross.
35. 1st Lt. Vernon J. Baker
ARMY | MOH
Initially turned away because of his race, Baker persisted, joining the Army in June 1941 and distinguishing himself by destroying a machine gun position, two observation posts, two bunkers, and a network of German telephone lines while leading his heavy weapons platoon through German defenses. Baker was one of seven black World War II veterans belatedly awarded the Medal of Honor in 1997; his combat record provides an important memoriam to all African-Americans who served in World War II, in spite of the considerable opposition they faced, both abroad and at home.
36. Capt. Daniel Inouye
ARMY | MOH
Tormented for his Japanese heritage following the attack on Pearl Harbor, Hawaii-born Inouye vowed to prove his patriotism by serving his country. He was finally given the chance as a member of the 442nd Regimental Combat Team, an Army unit composed almost entirely of second-generation Japanese Americans. Inouye was severely wounded in Italy, and lost his right arm as a result. He received the Distinguished Service Cross and other honors for his military service, and in 2000 was awarded the Medal of Honor.
"I will always remember the men I had the privilege and honor of serving with as men who unselfishly stood in harm's way, even knowing they would be killed, if only to maintain their honor," Inouye told Military Officer in 2012. "It was a very special outfit." Inouye entered politics in 1954, eventually serving in both the U.S. House of Representatives and the U.S. Senate.
37. Cpl. Desmond Doss
ARMY | MOH
His faith prevented him from carrying a weapon, but Doss wanted to serve his country during World War II - as a medic. He proved his valor in several Pacific campaigns, including the Battle of Okinawa. On May 5, 1945, during the bloody push to take the Maeda Escarpment, also known as Hacksaw Ridge, Doss singlehandedly saved at least 75 American lives. His thoughts during that harrowing experience boiled down to five words: "Please God, just one more." Doss's bravery made him the only conscientious objector to receive a Medal of Honor during World War II.
38. Capt. William F. Deane
NOAA
Deane was transferred from the Coast and Geodetic Survey to the Army in 1944 and sent to Germany. On a reconnaissance mission there, Deane "was fired upon by snipers. After clearing the source of the fire, he received fire from another building. Under heavy enemy fire, he … forced fifty enemy soldiers to surrender," according to his Silver Star citation. Deane transferred back to the Coast and Geodetic Survey in 1956 and retired in 1968, after serving more than 37 years.
39. Brig. Gen. Chuck Yeager
AIR FORCE | 1st | LIFE MEMBER
Yeager distinguished himself as an Army Air Force fighter pilot during World War II and became a test pilot at the war's end. While testing the experimental Bell X-1 Oct. 14, 1947, Yeager became the first pilot to break the sound barrier.In the years that followed, Yeager commanded fighter squadrons in Germany, and in Southeast Asia during the Vietnam War. As a result of his performance, he was promoted to brigadier general. In 1973, Yeager was inducted into the National Aviation Hall of Fame.
Of his military service, Yeager once commented, "The one word you use in military flying is duty. It's your duty. You have no control over outcome, no control over pick-and-choose. It's duty."
40. Col. Gail Halvorsen
AIR FORCE
"I'd rather feed them than kill them," Halvorsen decided, of his role flying supplies to his former enemy as part of the Berlin Airlift in 1948. Halvorsen began surreptitiously dropping gum and candy bars, tied to tiny parachutes, to German children from his C-54. Word got around. Hundreds of airmen donated their rations. Candy companies joined in. When the blockade ended after 11 months, Operation Little Vittles had rained down more than 20 tons of candy.
41. ENS. JESSE L. BROWN
NAVY | 1st
The Navy's first African American pilot, Brown received his wings Oct. 21, 1948, and flew numerous missions over Korea. On Dec. 4, 1950, while providing air support to Marines fighting near the Chosin Reservoir, Brown's Corsair was shot down and he was pinned in the wreckage. A rescue attempt was unsuccessful, and Brown perished at the site. He posthumously received the Distinguished Flying Cross, and the frigate USS Jesse L. Brown (DE/FF/FFT-1089) was named in his honor.
42. Cpl. Tibor Rubin
ARMY | MOH
"When I came to America, it was the first time I was free," Rubin said in an Army release when he received the Medal of Honor in 2005. Born in Hungary, Rubin was imprisoned in a concentration camp during World War II and liberated by American troops. "It was one of the reasons I joined the U.S. Army, because I wanted to show my appreciation."
In 1950, as his unit retreated to Pusan, Rubin stayed behind to keep open the vital Taegu-Pusan Road link. He "inflicted a staggering number of casualties on the attacking force during his personal 24-hour battle, single-handedly slowing the enemy advance," according to his Medal of Honor citation. Rubin later was captured by the Chinese and broke into enemy food storehouses and gardens seeking food and medical supplies for fellow prisoners. "His brave, selfless efforts … [saved] the lives of as many as forty of his fellow prisoners," his citation reads.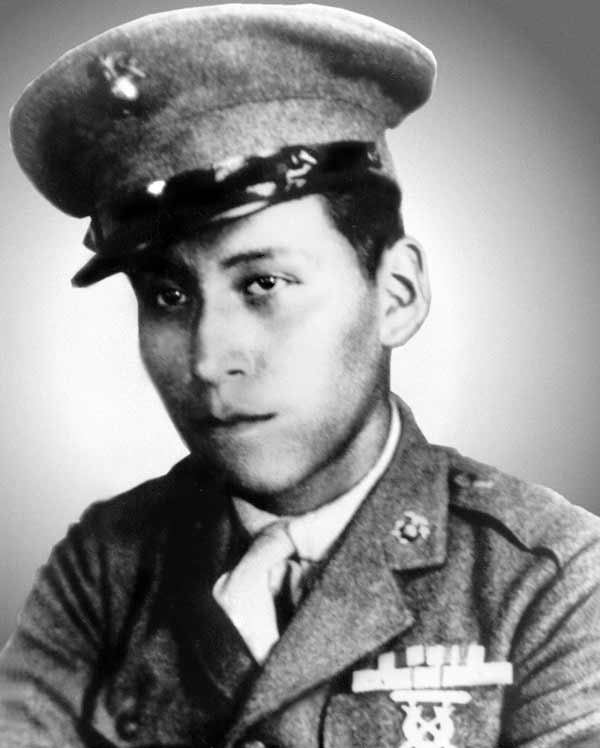 43. Cpl. Mitchell Red Cloud Jr.
ARMY | MOH
Red Cloud was manning a listening post near Chonghyon, North Korea, Nov. 5, 1950, when Chinese forces attacked. "With utter fearlessness he maintained his firing position until severely wounded by enemy fire," reads the citation for his Medal of Honor. "Refusing assistance he pulled himself to his feet and wrapping his arm around a tree continued his deadly fire again, until he was fatally wounded."
44. Lt. Gen. Lewis Burwell "Chesty" Puller
MARINE CORPS
"Good night, Chesty, wherever you are." Nearly 50 years after Puller's death, Marines still invoke his name regularly. He served nearly four decades, earning five Navy Crosses, an Army Distinguished Service Cross, a Silver Star, a pair of Legions of Merit medals with combat distinguishing devices, a Bronze Star with "V," and a Purple Heart through some of the most famous World War II battles, including Peleliu, and at Inchon and the Chosin Reservoir in Korea. One of the Navy's newest warships, which allows Marines to stage gear afloat, bears his name.
Puller's son, 1st Lt. Lewis B. Puller Jr., was severely wounded in Vietnam, losing his right leg at the hip, his left leg below the knee, his entire left hand, and part of his right. He later wrote a Pulitzer Prize-winning autobiography, Fortunate Son (Grove Weidenfeld, 1991). After years battling depression and alcohol abuse, he took his own life in 1994.
45. Col. Dean Hess
AIR FORCE
Before being played by Rock Hudson in Battle Hymn, a film based on his exploits, Hess distinguished himself as one of the key architects of what came to be known as the "Kiddy Car Airlift," an operation to rescue 950 orphans and 80 orphanage staff members in the path of the Chinese armies during the Korean War. During his tour, he additionally participated in charity organizations for children orphaned in the war zone, reportedly even opening his airfield to them.
46. Col. Lewis Millett
ARMY | MOH
Even among war heroes, Millett's stories stand out: He hitchhiked to Canada to join the fight in World War II, and he received a Silver Star for jumping into a burning ammunition truck to drive it away from a group of soldiers before it blew up. Thanks to his military prowess, he was recruited into the CIA-led Phoenix Program during the Vietnam War. But he might be most well-known for leading the last bayonet charge in American military history, for which he received a Medal of Honor.
47. Adm. Hyman Rickover
NAVY
With a total 63 years of active duty service, Rickover's tenure alone is impressive. But his pioneering work to advance the use of water reactor propulsion for submarines, combined with safety standards that remain in place (and unbroken) after more than 70 years, earned him not only dozens of commendations and medals, but also the nickname "father of the nuclear Navy."
48. Adm. Arleigh Burke
NAVY
Burke distinguished himself in World War II and the Korean War and later served an unprecedented three terms as chief of naval operations during the Eisenhower and Kennedy administrations. USS Arleigh Burke (DDG-51), the lead ship of its class of Aegis-equipped guided missile destroyers, was commissioned in 1991.
49. Rear Adm. Grace Hopper
NAVY | MOH | 1st
Hopper was 35, an assistant professor at Vassar College with a Ph.D. from Yale, when World War II changed the trajectory of her life: After joining the Navy Reserve, she was assigned to the Navy's computing project at Harvard, working on the Mark I, America's first digital computer. At a time when computer programs were written anew for each machine, Hopper invented reusable subroutines and wrote a program called a compiler to chain subroutines together; she later developed a computer language that was the basis for COBOL. She retired from the Navy for the third, and final, time in 1986 but continued to advocate for the field of computing, handing out "nanoseconds" - wires cut to the length light travels in a nanosecond.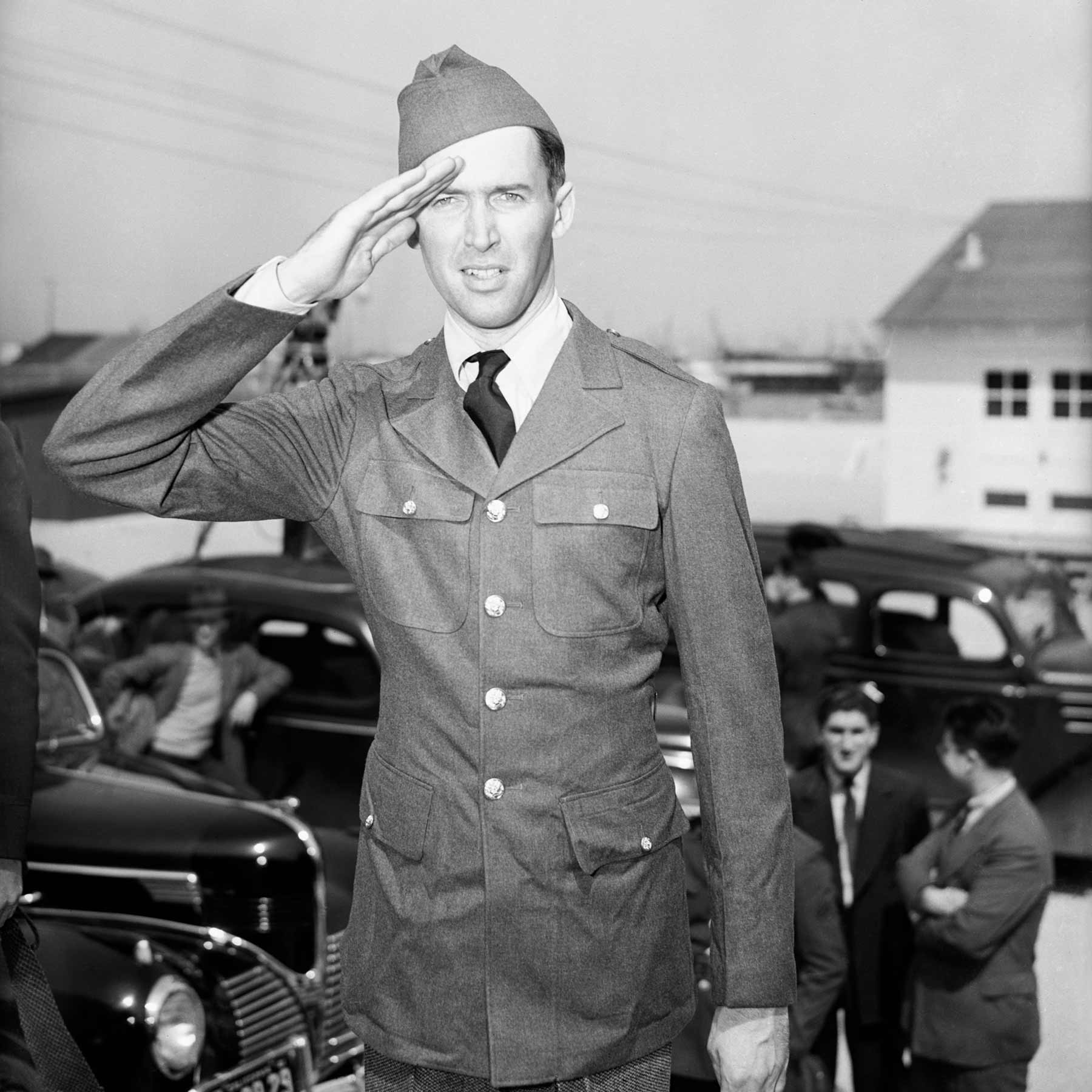 50. Maj. Gen. Jimmy Stewart
AIR FORCE
Already a Hollywood luminary at the start of World War II, Stewart was inducted into the Army in 1942 and eventually became a bomber pilot and squadron leader in the European Theater. In September 1945, he returned to his civilian career as an actor, but he continued to serve as a reservist, retiring from the Air Force in 1986. Among his decorations were the Distinguished Flying Cross, the Air Medal with Oak Cluster, the Croix de Guerre with Palm, and seven Battle stars.
51. Gen. Harold K. Johnson
ARMY
Captured by the Japanese in 1942, Johnson survived the Bataan Death March and subsequent captivity. He later served in Korea, where he was promoted to colonel. Johnson made brigadier general in 1956, and a year later was named chief of staff of the U.S. Seventh Army. In 1966, Johnson became the youngest man since Douglas MacArthur to become chief of staff of the Army.
52. Gen. Creighton Abrams
ARMY
Abrams, a 1936 graduate of the U.S. Military Academy at West Point, fought from World War II to the Vietnam War. Eulogized in the New York Times as "a tough, swearing, cigar-chomping, hell-for-leather battlefield commander," he was praised by Patton and went on to become Army chief of staff. At the height of his career, he oversaw Army operations in Vietnam, managed the drawdown of forces there from more than 500,000 to less than a tenth that amount, began the Army's transition to an all-volunteer force, and established the branch's first Ranger battalions. Today, however, he is probably best known for the U.S. Army's Abrams battle tank.
Abrams' three sons rose to general officer rank; his three daughters all married Army officers.
53. Sgt. 1st Class Lawrence Joel
ARMY | MOH
Nursing two bullet wounds and dangerously low on medical supplies, Army medic Joel continued administering first aid during a November 1965 ambush by the Viet Cong, saving the lives of his fellow soldiers - and becoming the first living black American to receive the Medal of Honor since the Spanish-American War in 1898.
54. Maj. Bruce Crandall
ARMY | MOH | LIFE MEMBER
55. Capt. Ed "Too Tall" Freeman
ARMY | MOH
Crandall and Freeman received the Medal of Honor (Freeman in 2001 and Crandall in 2007) for heroism in action Nov. 14, 1965. Crandall, commander of a 16-helicopter flight moving troops on a search-and-destroy mission to a landing zone in the la Drang Valley, and Freeman, flight leader and second-in-command of the flight, flew repeated missions to supply beleaguered soldiers and evacuate critically wounded personnel despite relentless, intense, and accurate enemy fire.
56. Staff Sgt. William H. Pitsenbarger
AIR FORCE | MOH | 1st
Pitsenbarger was tending wounded soldiers in Vietnam April 11, 1966, when two helicopters returning for a load of casualties were barraged by small-arms fire. Pitsenbarger stayed with 20 troops under enemy attack for the next hour and a half, tening to injuries and redistributing ammunition from the dead to the living. When his body was recovered, he was still holding a rifle and medical kit; nine men survived because of his courage.
57. Chief Master Sgt. of the Air Force Paul W. Airey
AIR FORCE | 1st
A veteran of World War II, during which he spent almost a year in a German POW camp, and the Korean War, Airey also was the first chief master sergeant of the Air Force, an advisory position he assumed in April 1967. His commendations include the Legion of Merit with oak leaf cluster, Meritorious Service Medal, and POW Medal.
58. Brig. Gen. George "Bud" Day
AIR FORCE | MOH
From World War II through Korea and in Vietnam, Day served in the Marine Corps, the Army, and as an Air Force pilot. After more than 100 combat missions in Vietnam, Day was shot down and captured. Despite a broken arm and other injuries, he escaped but was recaptured 15 days later, receiving further gunshot wounds in the leg and hand. Tortured and starved over the next 5? years as a POW, he shared a cell with John McCain, who later called Day "the toughest man I ever knew." Day received both the Air Force Cross and the Medal of Honor for his actions and leadership in escaping capture and resisting torture.
In retirement, Day initiated a class-action lawsuit on behalf of military retirees denied long-promised military health care. An initial victory was overturned by the U.S. Court of Appeals in 2002, but the publicity helped win enactment of TRICARE For Life.
59. Brig. Gen. Robin Olds
AIR FORCE
Air Force triple ace Olds downed 12 enemy pilots in World War II and four in the Vietnam War. In the public mind, he might be a flamboyant air warrior with a wild handlebar moustache borne on the shoulders of his adoring squadron mates after his final air battle. But to the hundreds of men who served under him in two wars and at the Air Force Academy, he was the ultimate and best example of a natural-born leader. An All-American linebacker, married to a glamorous actress, he rose to the rank of brigadier general.
"He brought with him a larger-than-life, storied reputation," recalls Lt. Gen. Stephen Croker, USAF (Ret), a MOAA member who flew backseat with Olds in a memorable May 1967 mission with two MiG kills, and later rose to command the Eighth Air Force. "We quickly learned it was not bluster. Robin Olds was a superb airman."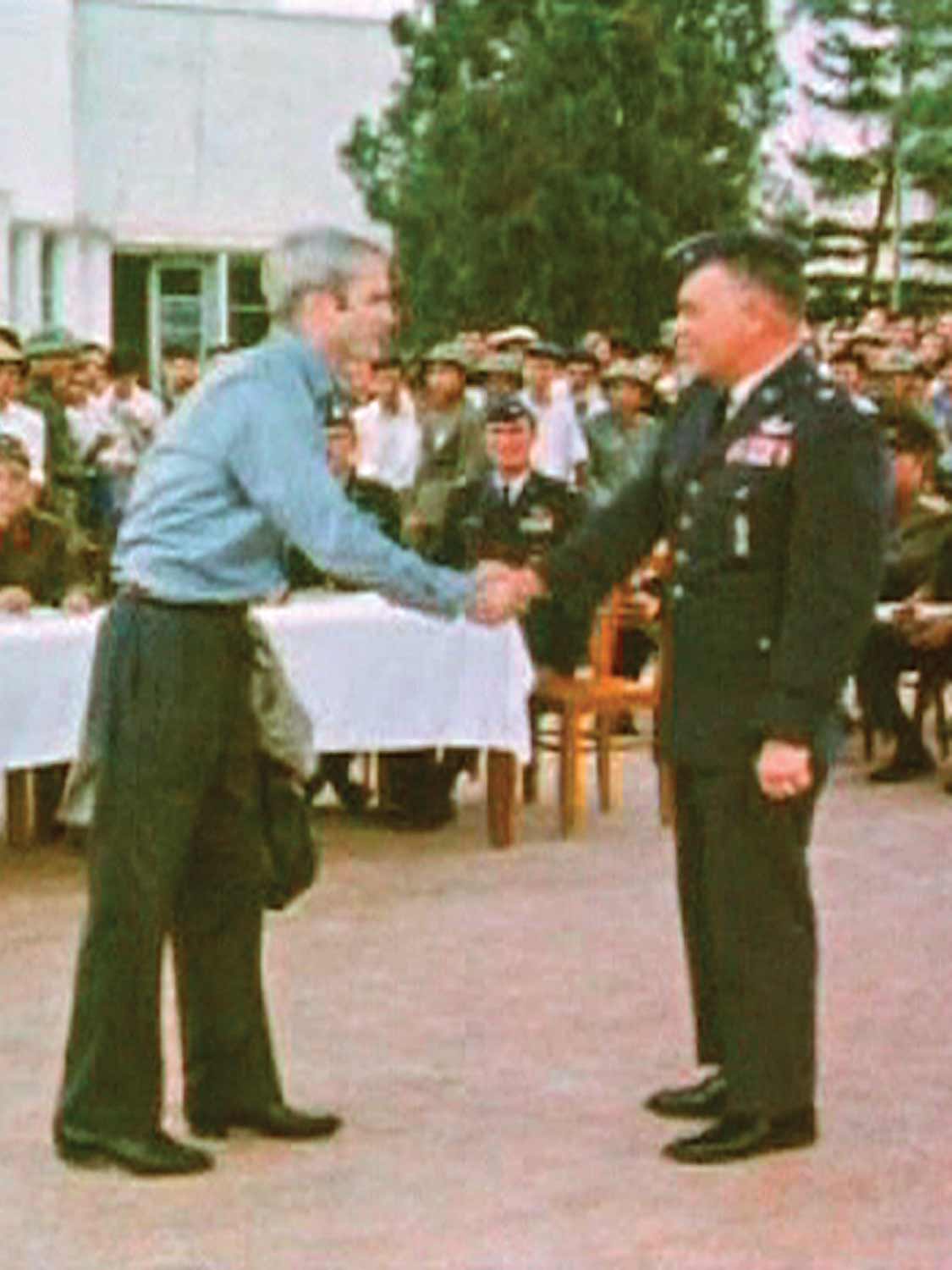 60. Capt. John McCain
NAVY
McCain spent nearly six years as a POW after his plane was shot down over Vietnam Oct. 26, 1967. Though beaten and tortured, he refused to be released ahead of those who'd been held longer and spent two years in solitary confinement. He later received the Silver Star and became a U.S. senator, chairing the Armed Services Committee. In 2004, MOAA recognized his public service with its Arthur T. Marix Congressional Leadership Award.
61. Capt. Lance Sijan
AIR FORCE | MOH
When the Viet Cong captured Sijan Christmas Day 1967, the downed fighter pilot already had spent 46 days pulling his crippled, starving body across the jungle floor. Tortured, beaten, and interrogated, he clung to life for a month. He posthumously was awarded the Medal of Honor for extraordinary heroism and courage.
"I am a witness to a thousand acts of compassion, sacrifice and endurance. But of all the men whose dignity humbles me, one name is revered among all others," McCain wrote in 2016. "Though they took his life, they could not take his dignity. Lance Sijan prevailed."
62. CWO Frederick Ferguson
ARMY | MOH | LIFE MEMBER
Ferguson risked his life to rescue the crew of a downed helicopter under heavy attack in Hue, South Vietnam, Jan. 31, 1968. He managed to land his helicopter under heavy mortar and small-arms fire, load the wounded, then fly the heavily damaged craft back to friendly control in the face of withering ground fire. For his heroism, he received the Medal of Honor, the first awarded to an Army aviator in Vietnam.
63. Master Sgt. Roy Benavidez
ARMY | MOH
When a call came from a team in need of extraction in Vietnam May 2, 1968, Benavidez volunteered. He was wounded upon arrival but ran forward, dragging several survivors to a helicopter only to see the pilot shot and the helicopter crash. Benavidez retrieved the survivors, then coordinated return fire, called in air strikes, tended the wounded, and recovered classified documents. He was wounded time and again, including being bayoneted by a North Vietnamese soldier, whom he dispatched with his knife.
"The real heroes are the ones who gave their lives for their country," Benavidez said later. "I don't like to be called a hero. I just did what I was trained to do." He received the Distinguished Service Cross in 1968 and the Medal of Honor in 1981.
64. Capt. Frederick W. Smith
MARINE CORPS
During two tours in Vietnam, Smith dutifully observed military procurement and delivery procedures; in 1971, he used that knowledge to start Federal Express, which would become one of the most successful delivery companies in the world.
"When people ask what principles have guided me since I started the FedEx Corporation …," Smith wrote in the U.S. Naval Institute's Proceedings in 2008, "my answer often startles them: It's the leadership tenets that I learned in the U.S. Marine Corps during my service in Vietnam."
65. Sgt. John L. Levitow
AIR FORCE | MOH
Levitow was filling in for the regular loadmaster on an armed gunship Feb. 24, 1969, when a North Vietnamese mortar shell exploded inside, wounding everyone on board. Levitow spotted a loose, lit flare rolling near cans containing 19,000 rounds of live ammunition. Unable to stand, he crawled to the flare, hugged it to his body, dragged himself to the rear of the cabin, and pushed it through the cargo door right before it ignited, saving the aircraft and its crew. For his actions, Levitow became the lowest-ranked airman to receive the Medal of Honor.
66. CWO Michael Novosel
ARMY | MOH
Novosel joined the Army Air Corps in 1941, 10 months before Pearl Harbor. He talked his way through his first flight physical, despite being half an inch under the minimum height, then flew his first combat mission as a B-29 Superfortress pilot in World War II. On Oct. 2, 1969, after transitioning to the Army, Novosel piloted a medevac helicopter in and out of heavily fortified hostile territory in Vietnam a total of 15 times, saving the lives of 29 soldiers, despite taking a tremendous amount of direct hostile fire. His bravery was later recognized with the Medal of Honor.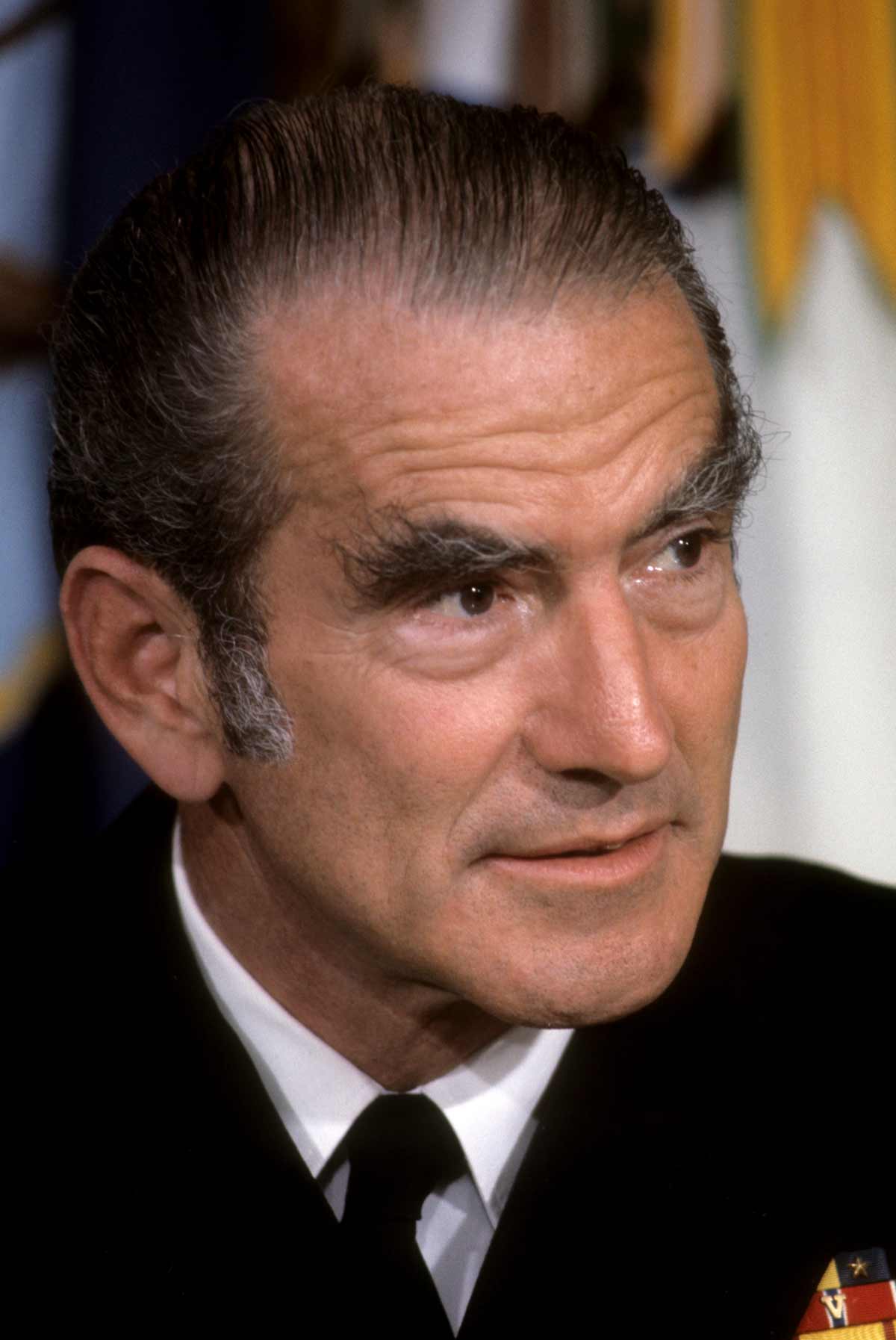 67. Adm. Elmo Zumwalt
NAVY | 1st
Zumwalt spent 37 years in the Navy, serving in three wars and achieving numerous firsts, including becoming the Navy's youngest chief of naval operations. Zumwalt improved living conditions within the Navy, promoted the first female and first African American officers to flag rank, and authorized women to become naval aviators. In 1970, TIME magazine called him "the Navy's most popular leader since World War II."
Zumwalt's son, Elmo Zumwalt III, served on a patrol boat in Vietnam, where he was exposed to Agent Orange; he later died of cancer.
68. Brig. Gen. Dale Stovall
AIR FORCE | LIFE MEMBER
After weapons officer Roger Locher ejected into enemy territory some 40 miles from Hanoi, Stovall piloted an HH-53 rescue helicopter to retrieve him, despite being unsure it was him until the jungle penetrator lifted Locher from the jungle canopy. Stovall received the Air Force Cross for his action, which described how "he willingly returned to this high threat area, braving intense ground fire, to recover the downed airman."
69. Lt. Cmdr. Michael E. Thornton
NAVY | MOH | LIFE MEMBER
One of only 16 students to graduate from his 1968 SEAL Training class of 129, Thornton showed tenacity and resilience early in his military career. He vividly demonstrated those qualities when he rescued Thomas R. Norris in 1972, after they and three South Vietnamese Special Forces soldiers faced off against as many as 150 enemy combatants during a reconnaissance mission in North Vietnam. Thornton suffered a grenade injury and Norris a severe head wound, but both men survived and received Medals of Honor for their valor.
70. Gen. Daniel "Chappie" James Jr.
AIR FORCE | 1st
Among the obstacles all future pilots face to earn their wings, James had a seemingly insurmountable one: He was black, and it was the 1930s. But James graduated from Tuskegee University in 1942 and learned to fly. After enlisting in the Army Air Forces' Aviation Cadet Program, he was commissioned a second lieutenant in 1943. James flew 179 combat missions in Korea and Vietnam and earned the Distinguished Flying Cross for rescuing a fellow pilot during a flameout. Numerous command billets later, he was promoted to general in 1975, the first African American to attain the rank.
71. Col. John Boyd
AIR FORCE
America has dominated the skies for more than a generation thanks to Boyd, said biographer Robert Coram: "He was the father of the F-15. His ideas were behind our victory in the Gulf War." A Korean War pilot and brilliant mathematician, Boyd, who died in 1997, developed the OODA Loop (observe, orient, decide, and act) as well as the model of aircraft performance called the Energy-Maneuverability Theory.
"It enabled fighter pilots to evaluate their energy potential at any altitude and any maneuver and, perhaps more importantly, the energy potential of the adversary," Coram wrote. "It changed forever the way aircraft are fought in combat."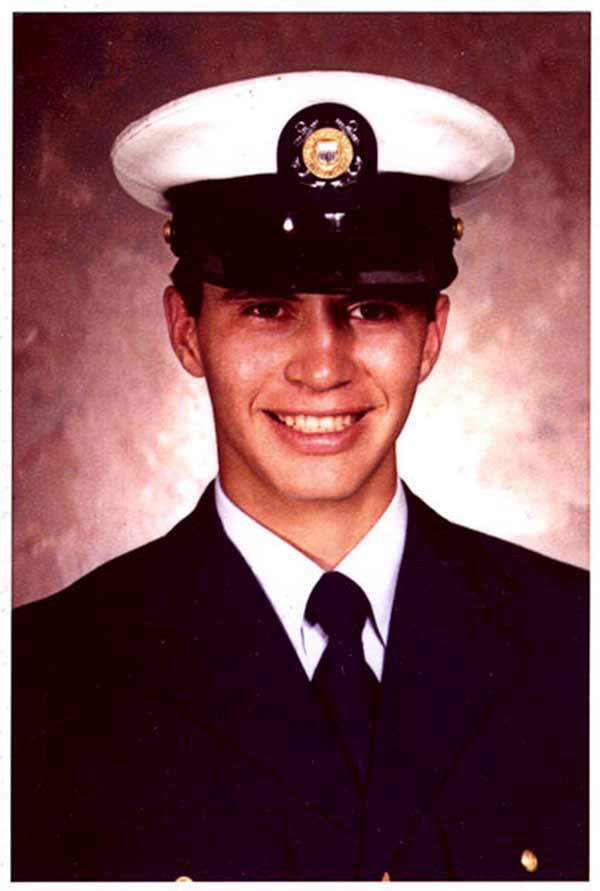 72. Seaman Apprentice William Flores
COAST GUARD
When the USCGC Blackthorn capsized Jan. 28, 1980, after a collision with a tanker, 18-year-old Flores gave his life to save 23 of his crewmates. Making his way to a lifejacket locker as the ship sank, Flores and another crewmember started throwing jackets to crewmembers in the water; he then remained behind to hold the locker open - with his own belt - while assisting trapped or injured shipmates. Though the incident was described as the worst peacetime disaster in Coast Guard history, Flores' remarkable composure and disregard for his own safety earned him a posthumous Coast Guard Medal, as well as a Sentinel-class cutter bearing his name.
73. Gen. Roscoe Robinson Jr.
ARMY | 1st
Robinson graduated from the U.S. Military Academy at West Point in 1951, and in 1952 he headed to Korea. He later served as a battalion commander in Vietnam. Among the awards he earned over his 34-year military career were the Legion of Merit, the Distinguished Flying Cross, 11 Air Medals, a Bronze Star, and two Silver Stars. Not least among his accomplishments, he also became the first African-American four-star general in the U.S. Army, receiving his fourth star in 1982.
74. Col Guion S. Bluford
AIR FORCE | 1st
Bluford holds the distinction of being the first African American to go into space, aboard the space shuttle Challenger Aug. 30, 1983. He made a second voyage aboard Challenger two years later, as well as two trips aboard Discovery in 1991 and 1992. Before joining NASA, Bluford was a decorated Air Force pilot who flew 144 combat missions over Vietnam and received numerous commendations for his service. He was inducted into the International Space Hall of Fame in 1997 and the U.S. Astronaut Hall of Fame in 2010.
75. Gen. Colin Powell
ARMY | 1st | LIFE MEMBER
After discovering ROTC at City College of New York, Powell spent 35 years in the Army. He served two tours in the Vietnam War and later served as national security advisor under President Ronald Reagan, capping his career as chairman of the Joint Chiefs of Staff during the Gulf War. He was the first African-American to serve on the Joint Chiefs, and in his post-military career he became the first African-American to serve as Secretary of State.
76. Gen. Norman Schwarzkopf Jr.
ARMY
A highly decorated Army veteran who served in the Vietnam War, the Invasion of Grenada, and the Gulf War, Schwarzkopf, who retired from the Army in 1991, is remembered for planning and leading Operation Desert Storm after diplomatic relations broken down in 1991. The campaign defeated the Iraqi Army and liberated Kuwait.
77. Gen. Charles Horner
AIR FORCE
The lessons Gen. Charles Horner learned as a young airman in Vietnam helped him lead America to swift and decisive victory in the Gulf War.
"Chuck was the man who integrated the thousands of aircraft, U.S. and allied alike, into one integrated theater air campaign [that constituted] the most devastating employment of air power since the introduction of aircraft into warfare," Schwarzkopf wrote of Horner.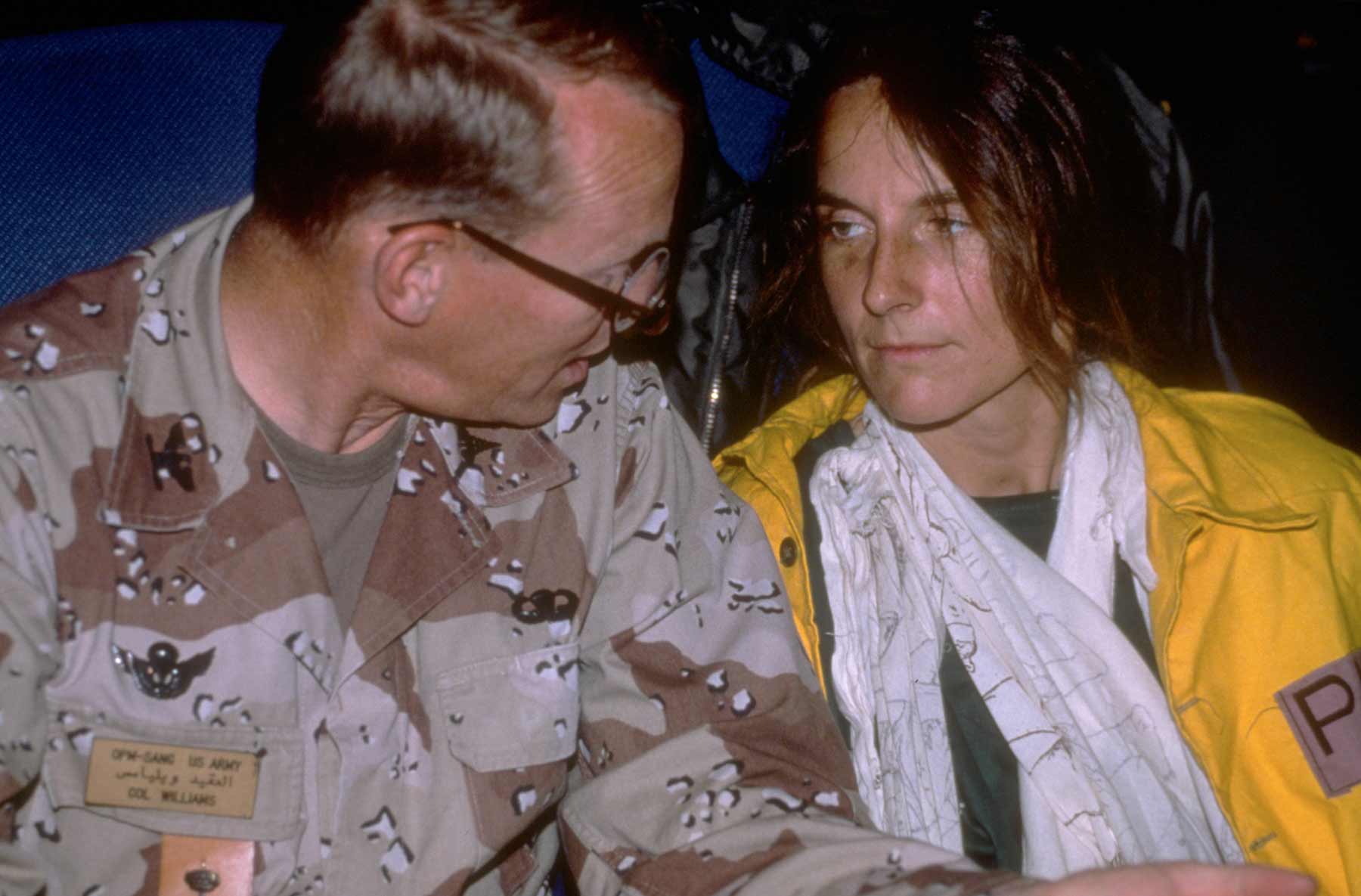 78. Brig. Gen. Rhonda Cornum
ARMY
Cornum was a major serving as a flight surgeon when the Black Hawk helicopter she was aboard was shot down Feb. 27, 1991, during the Gulf War. She was captured and held as a prisoner of war; her captors sexually assaulted her and subjected her and other prisoners to a mock execution. Upon returning to the U.S., Cornum resumed military service, retiring from the Army after 34 years of service.
79. Gen. Billy J. Boles
AIR FORCE | MOAA MEMBER
Boles began his career as an instructor in a basic personnel officer's course. He retired 35 years later as commander of Air Education and Training Command. Long after retirement, the service's only career personnel officer to achieve a four-star rank mentored new flight and squadron commanders with one-on-one counseling as well as career advice in the classroom.
"A leader's leader," says MOAA Vice President of Government Relations Col. Dan Merry, USAF (Ret), "He was painfully direct in a good way," telling a captain or field grader he'd rather they be uncomfortable in front of him now than with their wing commander later on.
80. Adm. Michelle J. Howard
NAVY | 1st
Howard's military career is filled with firsts: the first woman to become a four-star admiral in the Navy, and the first African American woman to captain a U.S. naval ship (in 1999).
"Michelle Howard's promotion to the rank of admiral is the result of a brilliant naval career," said Secretary of the Navy Ray Mabus during Howard's promotion ceremony in July 2014. "But it also is a historic first, an event to be celebrated as she becomes the first female to achieve that position. Her accomplishment is a direct example of a Navy that now, more than ever, reflects the nation it serves - a nation where success is not borne of race, gender, or religion, but of skill and ability."
81. Lt. Gen. Timothy J. Maude
ARMY
Maude enlisted in 1966 and spent his career serving soldiers around the world. He made his mark on the Army in a variety of ways, through one year as a lieutenant in Vietnam, where he received a Bronze Star, and steering the Army's anti-harassment efforts in the mid-1990s. When American Airlines Flight 77 hit the west side of the Pentagon on 9/11, taking the lives of over 180 Americans, Maude was the highest-ranking of the casualties.
82. Lt. Col. Randall Withrow
ARMY | LIFE MEMBER
Withrow started collecting military memorabilia when he was 10. As the founder and current director of the U.S. Veterans Memorial Museum in Huntsville, Ala., he now oversees a collection said to be second only to that of the Smithsonian. The museum, which is operated solely by volunteers, opened on Veterans Day 2010 and now features more than 30 military vehicles dating back to World War I as well as tableaus and artifacts stretching back to the Revolutionary War.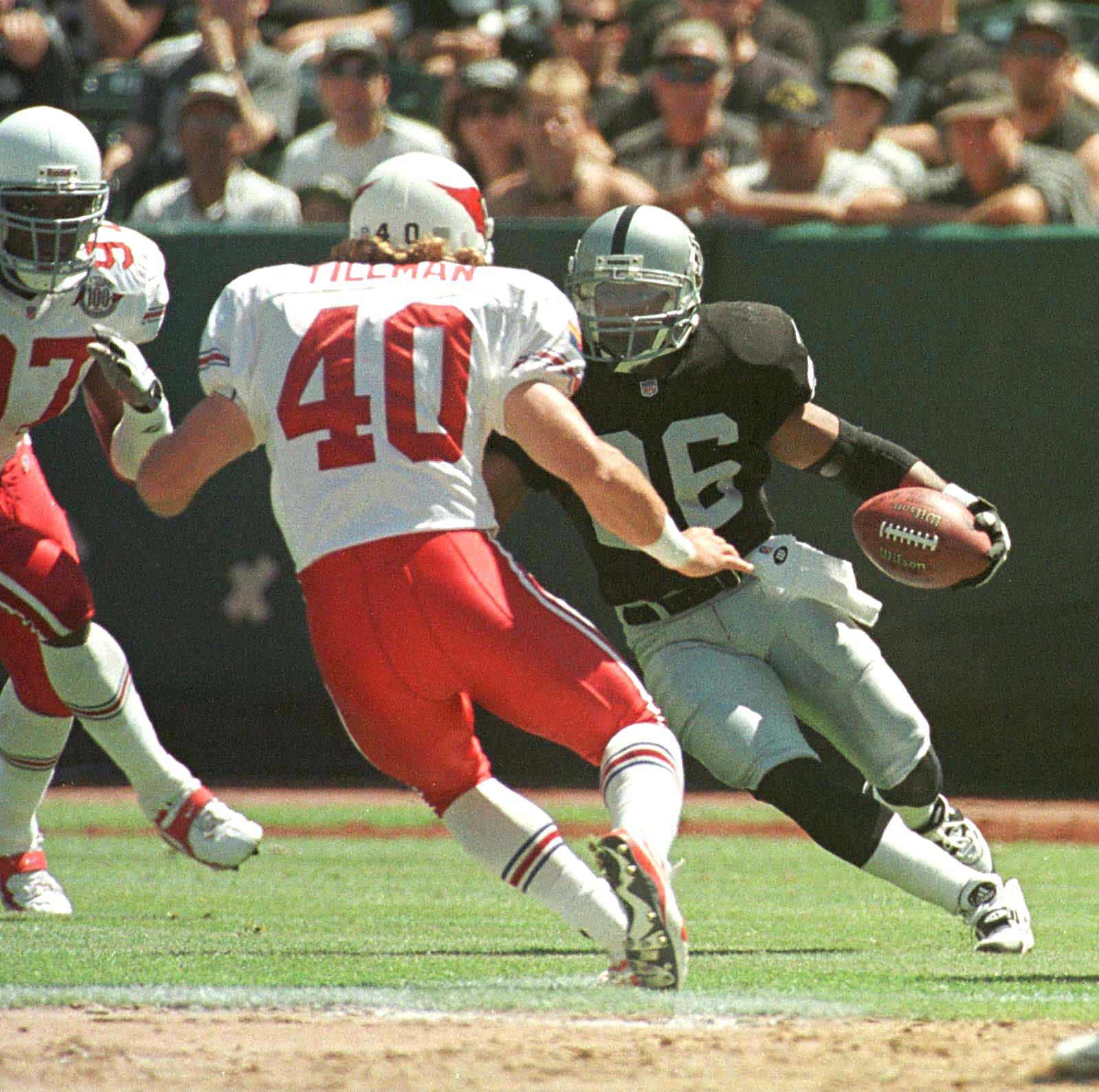 83. Cpl. Pat Tillman
ARMY
After 9/11, Tillman was inspired to leave a career in the National Football League to enlist in the Army. He was killed in Afghanistan in 2004 when he was 27 years old. His death was initially reported as an enemy attack. However, the Pentagon later informed Tillman's family his death was the result of friendly fire. Critics allege the Pentagon strategically delayed details of the incident until after Tillman's memorial service.
84. Capt. Brian Chontosh
MARINE CORPS
Chontosh's platoon was ambushed in Iraq in 2003. Caught in a kill zone with mortars, rocket-propelled grenades, and automatic weapons fire raining down, he ordered his driver to advance toward the enemy. Once his machine gunner took out an insurgent, Chontosh got out to clear the trench. Using up the ammunition in his rifle and pistol, he continued his attack with two enemy rifles. When another Marine found an RPG launcher nearby, Chontosh used it to take out another group of enemy fighters, earning a Navy Cross.
85. Petty Officer 3rd Class Nathan Bruckenthal
COAST GUARD
On his second Persian Gulf tour, providing security for Iraqi oil terminals, Bruckenthal volunteered for a second watch April 24, 2004. His boarding team from USS Firebolt intercepted a threatening vessel, and the small boat exploded, killing Bruckenthal and two Navy sailors. The blast was part of a coordinated attack; U.S. forces destroyed two other boats before they reached their targets. Bruckenthal was the first - and to date, only - Coast Guardsman to die in Iraq or Afghanistan. The fast response cutter Nathan Bruckenthal was commissioned in his honor.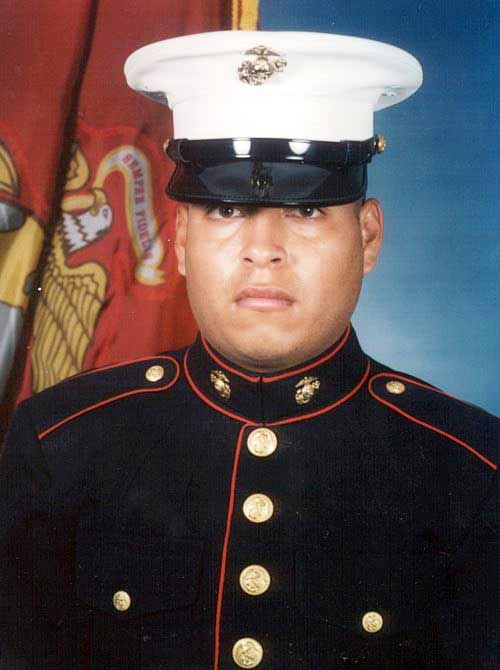 86. Sgt. Rafael Peralta
MARINE CORPS
Born in Mexico, Peralta became a U.S. citizen while serving in the military. He was 25 when he was shot by insurgents while clearing houses in Fallujah, Iraq, in 2004. As he fell to the floor, an insurgent threw a grenade. Wounded, but still conscious, Peralta pulled the grenade underneath his body, shielding his comrades from the blast. He was posthumously awarded the Navy Cross. He was initially nominated for the Medal of Honor, and several Marines have pushed for his Navy Cross to be upgraded. A Navy destroyer has been named for him.
87. Sgt. 1st Class Leigh Ann Hester
ARMY | 1st
As a child, Hester dreamed of wearing a uniform herself someday; in 2001, she joined the Army National Guard. Hester was team leader when Iraqi insurgents ambushed the convoy her squad was escorting March 20, 2005. As a result of her actions, she became the first woman to receive the Silver Star for valor as a result of direct combat. "A lot of people don't realize how much women actually participate, because this war is so different," she told an interviewer in 2012. "There is no front line … the fire or enemy can come at you from anywhere."
88. Gen. Pete Pace
MARINE CORPS | 1st | LIFE MEMBER
Pace graduated from the U.S. Naval Academy in 1967 and fought in the tail end of the battle for Hue City in Vietnam. He made history in 2005 when he became the first Marine to serve as chairman of the Joint Chiefs. He was committed to winning the war on terrorism and helped lead the military through the 2007 surge in Iraq. He retired later that year, after serving more than 40 years in uniform.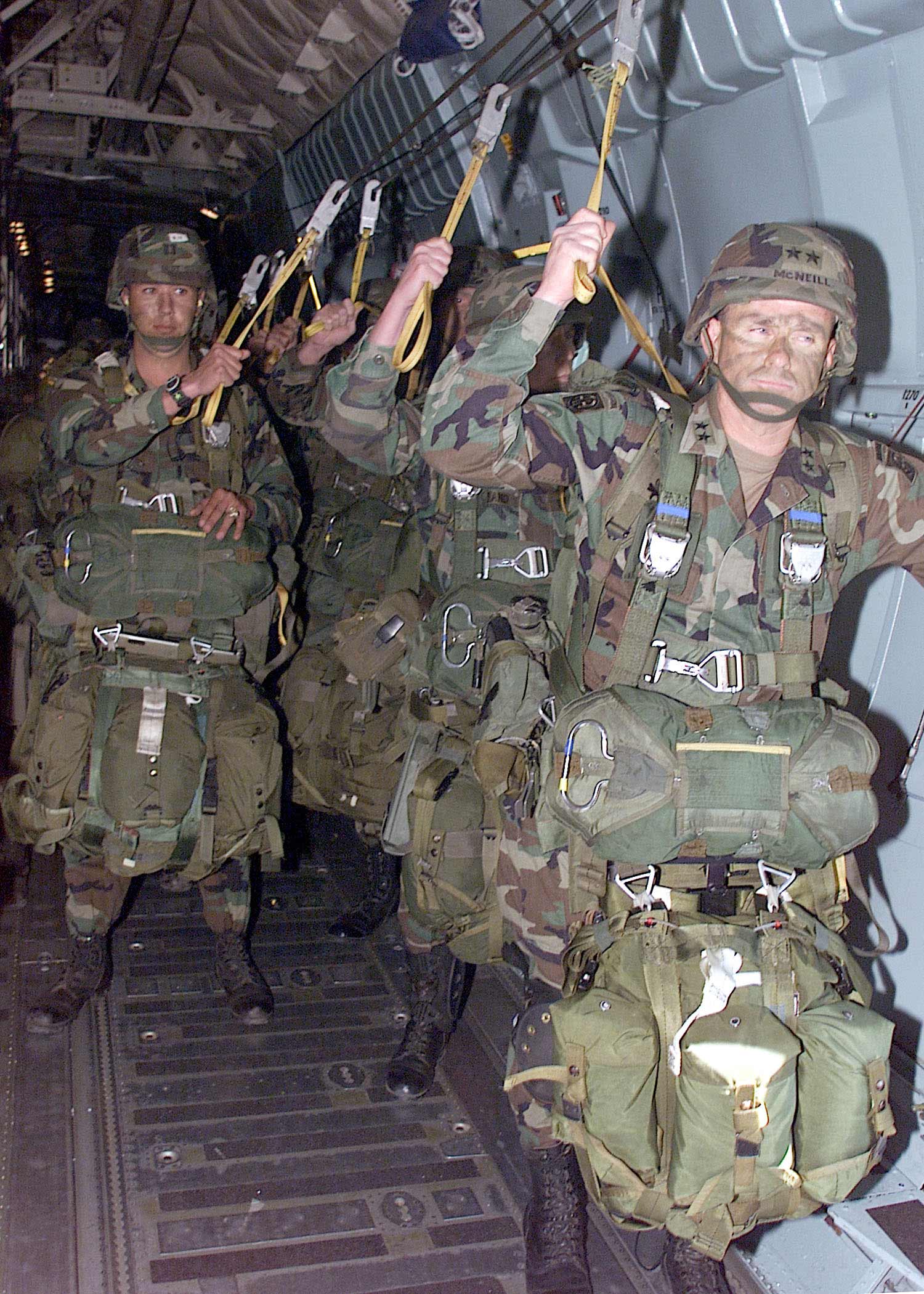 89. Gen. Dan McNeill
ARMY | MOAA MEMBER
McNeill is a four-star Army general who commanded units from posts across the country during his 40-year career. Among his notable assignments, he was the highest-ranking U.S. general in Afghanistan in 2002, serving as commander of the coalition forces. He took command of ISAF Feb. 4, 2007, and retired from military service in 2008.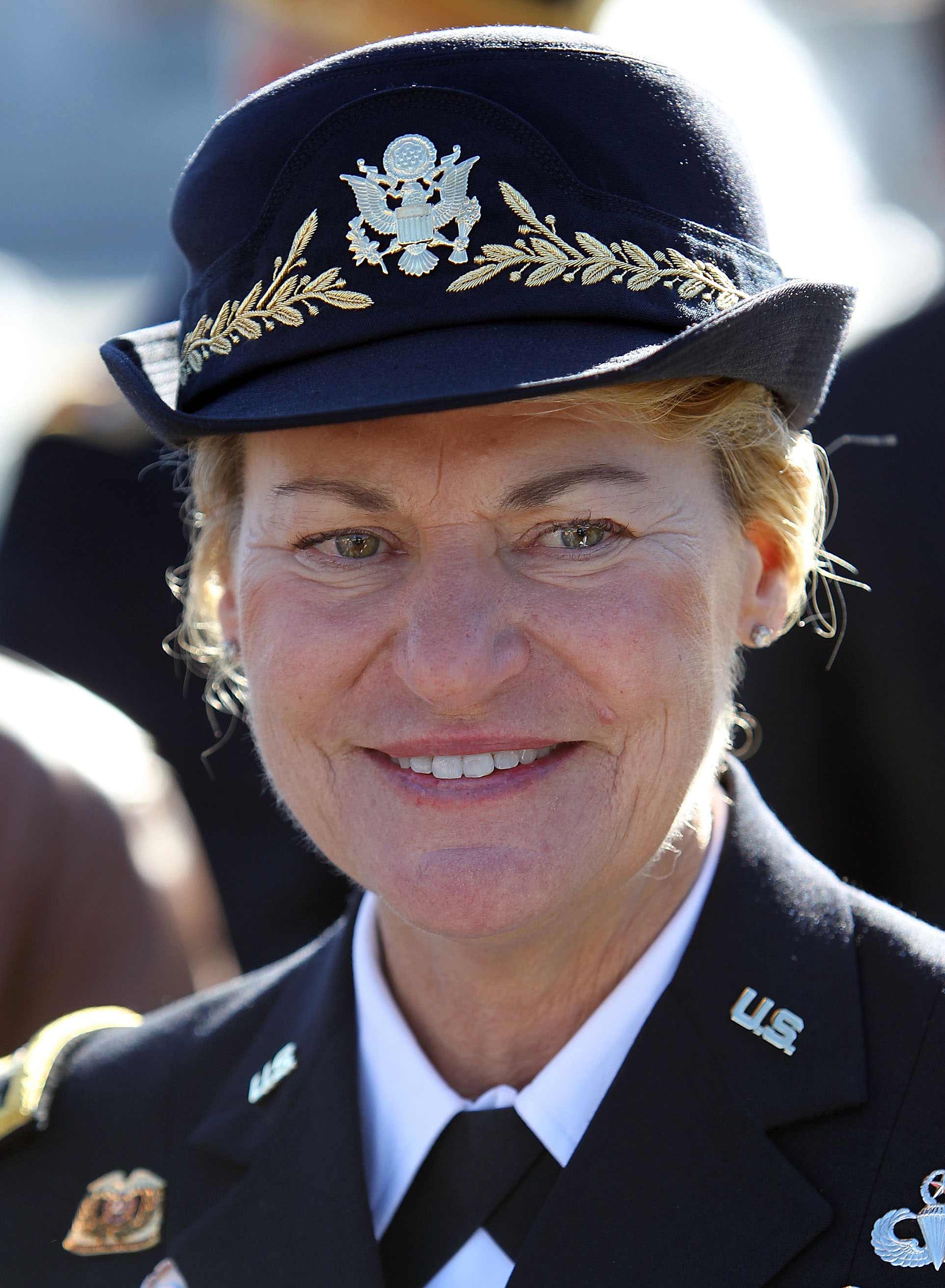 90. Gen. Ann Dunwoody
ARMY | 1st
Although she comes from a military family, Dunwoody initially planned only to serve for a two-year commitment in the corps after Vietnam. Within her first two years of service, women were being integrated into the regular Army, and she had an opportunity to attend airborne school.
Dunwoody served nearly four decades, and in 2008 became the first woman to rise to four-star general in the Army. She retired in 2012 as the commander of the Army Materiel Command.
91. Tech Sgt. John Chapman
AIR FORCE | MOH
The first airman to receive the Medal of Honor since Vietnam, Chapman charged up a mountain toward a group of al-Qaida fighters while trying to rescue a teammate who'd fallen from a helicopter during Operation Anaconda. He was shot but continued to fight. When another helicopter came in to assist, Chapman braved enemy fire to stop insurgents from attacking the aircraft.
He was killed but is believed to have saved the lives of those in the second helicopter. His family accepted his Medal of Honor in August.
92. Gen. Jim Mattis
MARINE CORPS
Appointed secretary of defense in 2016, Mattis might be the Marine Corps' most beloved general since Chesty Puller. He has earned a larger-than-life reputation with quotes such as, "I don't worry about stress; I create it," and telling Marines to be polite and professional - and have a plan to kill anyone they meet. An avid reader, Mattis also challenges troops to remain disciplined and thoughtful. He has inspired a generation of Marines serving in Iraq and Afghanistan with his straight talk and motivating messages.
"Engage your brain before you engage your weapon," he told members of 1st Marine Division in a letter a day before they would lead an assault into Iraq. "Demonstrate to the world there is no better friend, no worse enemy than a U.S. Marine."
Mattis served more than four decades in uniform, leading an infantry battalion in Iraq in 1991, an expeditionary brigade in Afghanistan in 2001, and a Marine division in Iraq in 2003. Before retiring in 2013, he was named the head of U.S. Central Command, where he oversaw all military operations and more than 200,000 U.S. and allied troops operating in the Middle East.
93. Maj. Gen. Alfred K. Flowers
AIR FORCE | MOAA MEMBER
When he retired in 2011, Flowers had served 46 years, longer than any other active duty member in Air Force history - and longer than any other African-American in the history of DoD. When he enlisted in 1965 at age 17, his grandmother signed for him. He soon found himself in Vietnam, carrying American casualties from the jungle. He earned his college degree, rose to the rank of master sergeant and commissioned in 1978, ultimately overseeing a $119 billion Air Force budget as a general officer.
Flowers' son, Col. Alfred K. Flowers Jr., commands the 99th Medical Group at Nellis AFB, Nev.
94. Gen. Janet Wolfenbarger
AIR FORCE | 1st
The first woman to achieve the rank of four-star general in the Air Force, Wolfenbarger served for over 35 years. In addition to her various duty assignments, she earned multiple degrees, including a Master of Science in science and aeronautics in 1985 and another in national resource strategy in 1994. She was additionally decorated with the Legion of Merit and the Meritorious Service Medal.
95. Capt. Florent Groberg
ARMY | MOH
In 8 Seconds of Courage (Simon and Schuster, 2017), Medal of Honor recipient and former University of Maryland distance runner Groberg describes the moments between spotting a suspicious Afghani and reaching him - just before his suicide bomb vest detonated: "Each of the eight seconds it took to reach him felt like a silent eternity," Groberg said.
Four Americans died in the 2012 attack, and Groberg and several others were severely wounded. But the blast concussion caused a second suicide bomber's device to detonate prematurely, preventing the deaths of other soldiers, including four brigade and battalion commanders. The French-born Groberg became a U.S. citizen in 2001 and received the Medal of Honor in 2015.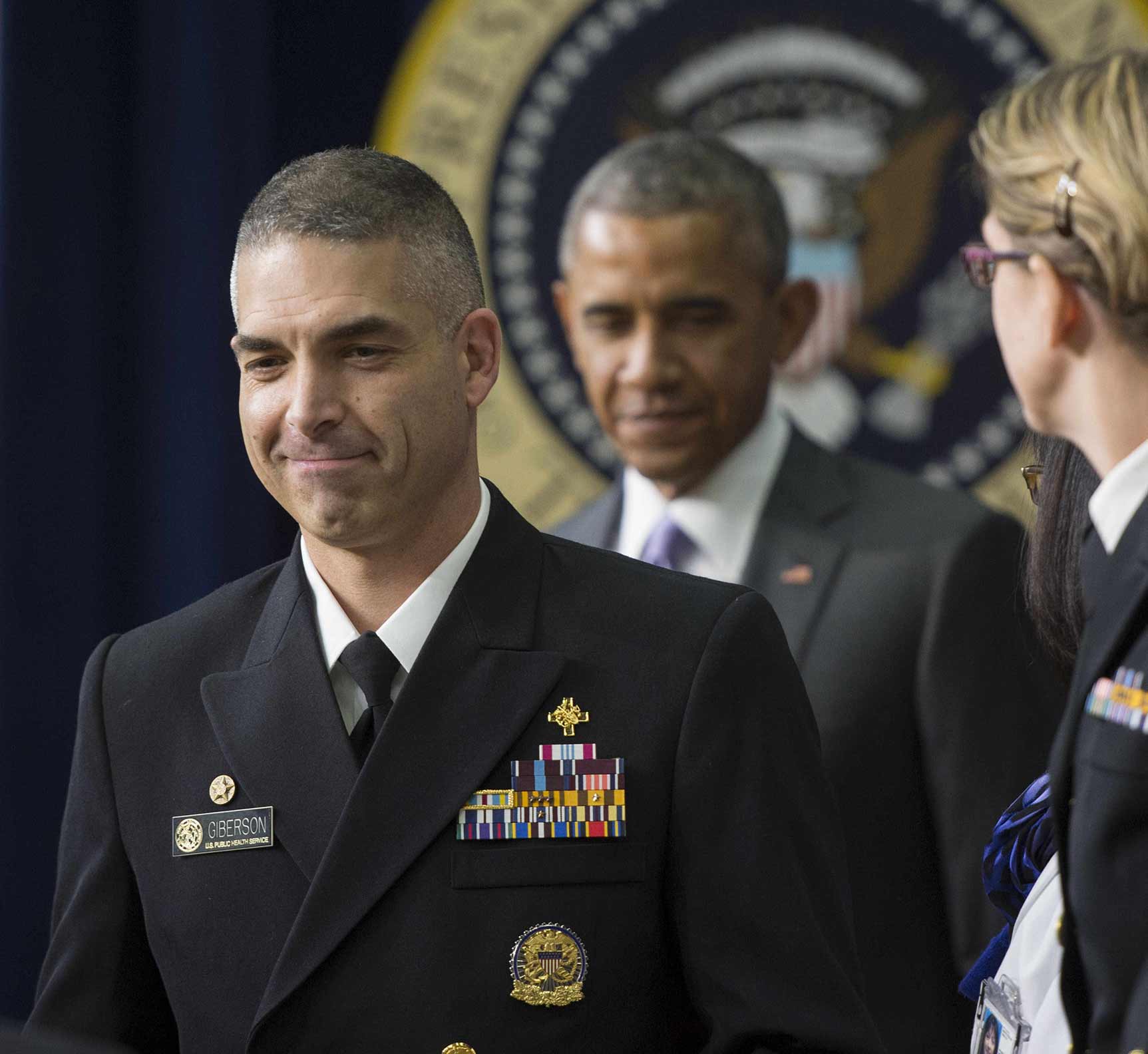 96. Rear Adm. Scott Giberson
PUBLIC HEALTH SERVICE
In November 2014, acting deputy Surgeon Gen. Giberson found himself in Monrovia, Liberia, opening a 25-bed hospital to treat health care workers facing the Ebola epidemic. For the pharmacist and health care administrator, it was a chance to provide a safe environment for those on the outbreak's frontlines.
"The selflessness that these health care workers have shown, in [recovering] and continuing to care for those impacted by the disease, defines the altruism that will ultimately lead to the resolution of this crisis," Giberson said at the time. Staffed around the clock for six months, the facility treated 42 patients, 18 of whom were diagnosed with Ebola. Of those 18, nine lived.
97. Capt. Kristen Griest
ARMY
98. Capt. Shaye Haver
ARMY
In 2015, Griest and Haver became the Army's first women to graduate from the grueling Ranger school. The class started with 400 soldiers, including 19 women, but graduated just Griest, Haver, and 94 men.
"I felt some internal pressure," said Griest. "I was thinking really of future generations of women, that I would like them to have that opportunity. So I had that pressure on myself."
99. Lt. Gen. Nadja West
ARMY | 1st
The first female African-American three-star general in the Army, West graduated from the U.S. Military Academy at West Point and earned a doctorate from the George Washington University School of Medicine. When she was promoted to two-star general in 2013, she was just the second African-American woman to achieve that rank. At the time, she said she didn't realize the promotion's historic impact.
"I never really thought about that part," West said. "My parents taught me to work hard and be the best I can be and things will work out. I'm just really honored. … We all want to see people who look like us doing certain things to give us inspiration. Hopefully, I can inspire someone to be able to say, 'I can do that.' "
100. Lt. Gen. H.R. McMaster
ARMY | MOAA MEMBER
A retired Army officer who served in 2017 as national security advisor and in 2014 made TIME magazine's list of the 100 most influential people in the world, McMaster has led a distinguished career as a leader, an iconoclast, and an embodiment of American ideals, unafraid to clash with colleagues and even superiors as he both fiercely enforced and astutely challenged essential matters of military procedure, policy, and philosophy over the course of almost 35 years of public service.
Photo credit for Hero Image:
TOP ROW FROM LEFT: USA; USCG; Army Signal Corps Collection/NARA; Imperial War Museum; Marvin Joseph/The Washington Post/Getty Images; NARA

MIDDLE ROW FROM LEFT: USA; DOD; USAF; USN; USMC; Staff Sgt. Steve Cortez, USA

BOTTOM ROW FROM LEFT: USAF; USCG; Kurt Miller; Kenn Mann/USAF; USA; Sr. Airman Kayla Newman, USAF
Logo By Jason Carne
Photo credits in order of appearance in list: Bettmann/Getty; Bettmann/Getty; MPI/Getty; Marine Corps History Division; Rocky Mountain Laboratories/Montana Memory Project; National Postal Museum; Bettmann/Getty; Army/Photoquest/Getty; USCG; Bettmann/Getty courtesy USMC; Bettman/Getty; Hulton Archive/Getty Images; USAF; MPI/Getty Images; Army; USMC; Smith Collection/Gado/Getty; USMC; Army; Keystone-France/Gamma-Rapho/Getty; Underwood Archives/Getty; Army/Interim Archives/Getty; Army; Betmann/Getty; NARA; Bettmann/Getty; Army; USAF; Associated Press; Army; David Hume Kennerly/Getty; Senior Airman Erin Trower, USAF; USCG; Thierry Orban/Sygma/Getty; Corbis/Getty; Monica M. Davey/AFP; Alex Wong/Getty; USMC; ; Kenn Mann/USAF; Chris Kleponis/AFP/Getty; Getty Images; Marvin Joseph/The Washington Post/Getty; Sgt. 1st class Clydell Kinchen, USA; Jim Watson/AFP/Getty; Jessica McGowan/Getty; Sgt. 1st class Clydell Kinchen, USA; Jessica McGowan/Getty; Jim Watson/AFP/Getty; Marvin Joseph/The Washington Post/Getty.