(This article by freelance writer Kathie Rowell originally appeared in the June 2021 issue of Military Officer, a magazine available to all MOAA Premium and Life members. Learn more about the magazine here; learn more about joining MOAA here.)
Texas packs a lot of fun in its more than 268,000 square miles.
Travelers who want to get away from it all can enjoy rugged Big Bend National Park along the Rio Grande in southwest Texas. The remote park includes the Chisos Mountains and a swath of the Chihuahua Desert. Visitors can float through the 1,500-foot-high cliffs of Santa Elena Canyon, take a desert hike or horseback ride, learn about the region's diverse history, or just gaze at the night sky in a place with the least light pollution of any national park in the lower 48.
For those who prefer sidewalks to desert under their feet, the Dallas/Fort Worth area is known for its abundance of art, culture, and history museums as well as high-end shopping. Houston, the fourth-largest city in the country, is a sprawling metropolitan area with international cuisine and a wealth of museums. San Antonio is known for its historic sites — remember the Alamo — and vibrant melding of Hispanic and Anglo cultures. Austin is famous for its indie music scene, food trucks, and craft beers, as well as cultural sites. Its unofficial motto: Keep Austin Weird.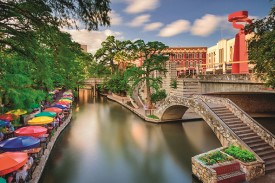 Sponsored Content: There is always something going on in San Antonio, also known as Military City, USA. Offering an appealing lifestyle, weather, and exciting events, it also offers a great opportunity for military officers and their families to retire. The Army Residence Community welcomes all officers, retired or honorably discharged from all branches of service, as well as retired senior-level (GS-14 and above) federal employees, to include spouses and surviving spouses. We offer a full continuum of care to include assisted living and health care. The Army Residence Community provides a carefree, active, and social lifestyle that is beyond compare! Come explore the Army Residence Community and San Antonio! Visit our website or call 1-800-890-2305 for more information.
Travelers with children will enjoy Six Flags Over Texas (Dallas), Six Flags Fiesta Texas (San Antonio), NASA Space Center (Houston), Moody Gardens (Galveston), the Dinosaur Science Museum (Keene, tours by appointment), the Fort Worth Stockyards (daily cattle drives!), or any number of dude ranches, zoos, and water parks.
Musts for regional food lovers include barbecue (it's everywhere, but the most famous spots are in the Texas Hill Country), chicken-fried steak (thin slices of beef that are battered, fried, and served with cream gravy) and Tex-Mex (a fusion of Mexican and American cuisine). Finish it off with a big slice of pecan pie.
TEXAS' MILITARY MUST-SEE: The National Museum of the Pacific War in Fredericksburg, the boyhood home of Fleet Adm. Chester W. Nimitz, is the only U.S. museum dedicated totally to World War II in the Asiatic-Pacific theater.
More State Resources
Check out other states that make up Live and Play 2021. Thinking about a long-term move? Visit MOAA's Military State Report Card and Tax Guide as part of your financial decision-making process.