Capt. Kathryn M. Beasley, USN (Ret), director of health affairs, MOAA Government Relations, third from left, was accompanied on her visited to ESI by representatives of other associations in The Military Coalition.

MOAA recently had the opportunity to visit the world headquarters of TRICARE's Pharmacy contractor, Express Scripts International (ESI), in St. Louis. It was an informative - and eye-opening - experience.
ESI hosted MOAA, along with several of our partners in The Military Coalition, for a day-long, agenda-packed meeting, which included a tour of their state-of-the-art medication packaging operations, complete with their proprietary automated manufacturing processes and advanced robotics.
Even though there was much to learn and observe, MOAA used this occasion to share vital customer feedback, gleaned directly from our membership. The ESI staff found this information particularly helpful, and it resulted in plans to continue making improvements and develop solutions to enhance the beneficiary experience and drive down the cost of pharmaceuticals. MOAA's input makes a difference.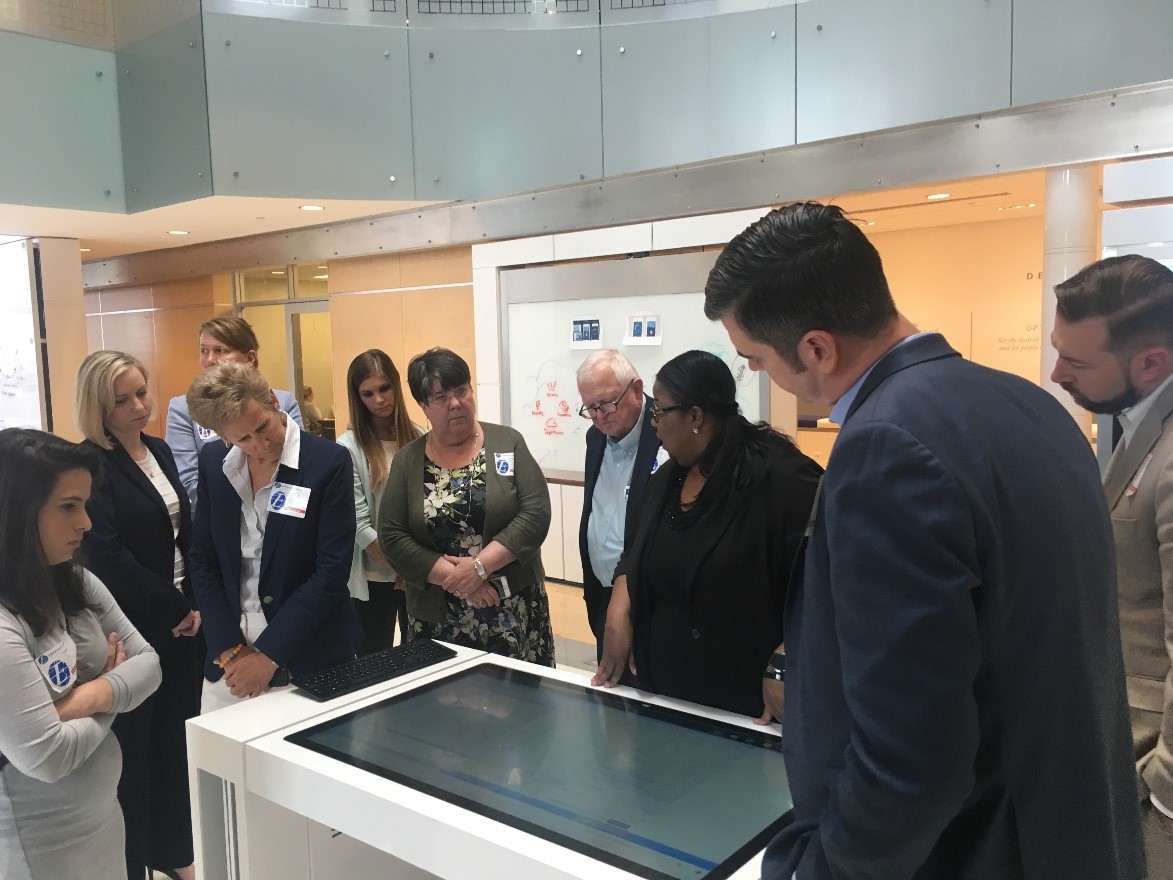 Beasley, third from left, examines Express Scripts International's powerful data analytics capabilities during a visit to the TRICARE Pharmacy contractor's world headquarters in St. Louis MO.
We observed key aspects of ESI's corporate culture, which places a great emphasis on innovation. This is where we interacted with their consumer behavior research team, housed in a lab-like environment known as the Innovation Center. ESI's use of data analytics to drive new products and services for both consumers and companies that sponsor health benefit plans for their employees (as DoD does through the TRICARE program) is impressive.
Among other innovations, ESI is considering a dispensing kiosk where TRICARE beneficiaries could conveniently obtain routine medications.
Of particular interest to TRICARE beneficiaries:
Inside Rx Pets is a pharmacy savings program, developed by ESI, to provide significant savings on human medications for veterinary use, including medications such as insulin and antibiotics that often are not covered by pet insurance. Consider these statistics: In the U.S., 68% of households own a pet; it is anticipated there will be 16-24 million prescriptions written for dogs and cats this year; millennials and empty-nesters spend approximately $2,000 on their pets annually; and 30 percent of pet owners cite the cost of medications as one of the biggest drawbacks of owning a pet.
An innovative medication-dispensing kiosk (pictured above, which could be placed in convenient locations for beneficiaries, currently is being considered by the TRICARE program for a potential demonstration project.
Get additional information on ESI's services and products and provide feedback on your experience as a TRICARE beneficiary.