By now, you should have heard about and taken the latest Arlington National Cemetery Eligibility Survey. The survey is focused on identifying a distinct qualifying level of service to the nation at which the general public is comfortable cutting off eligibility.
This survey is going to play a big role in any final recommendations the Advisory Committee on Arlington National Cemetery (ACANC) makes to the Secretary of the Army this year. That final recommendation has been recently given new gravitas. The first glimpse of the FY 2019 National Defense Authorization Act includes a directive that the Secretary of the Army, in consultation with the Secretary of Defense, to take steps to extend the life of Arlington as an active cemetery by revising interment criteria. The new criteria for in-ground burials must be established by Sept. 30, 2019.
The issue is gaining steam because of the limited remaining years for new burials. And according to the ACANC's initial survey, more than 9 out of 10 people would like to see the life of the cemetery extended. MOAA agrees. The sticking point, however, is "at what cost to the currently eligible population?"
Proponents of restricting eligibility think Arlington should be a place for only the most highly honored individuals. Supporters of maintaining current eligibility criteria - including the vast majority of MOAA members - believe expansion of the cemetery is the best way forward but also accept the reality that it will eventually be full.
Eligibility has changed before, to become both looser and stricter. Take a look at this timeline from the ACANC.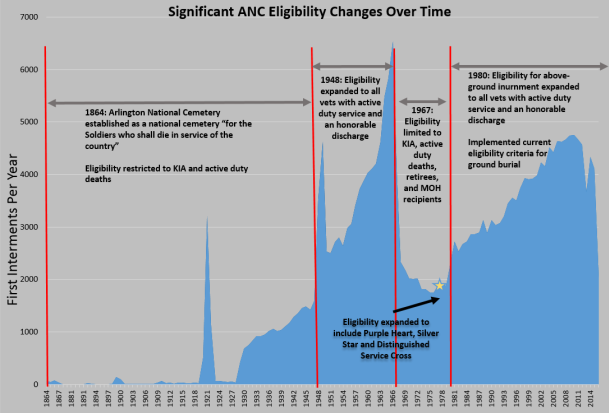 So who exactly is eligible now? Well, it depends. And it's not the same as national VA cemetery requirements. It's also different for in-ground interment or above-ground inurnment. And there are many different categories, so brace yourself.
The following video provides a good general overview of eligibility.
ACANC analysis suggests the only way for Arlington to remain open for new burials "well into the future" (meaning a century or more) is to make the retiree population ineligible for burial. Restricting other portions of the currently eligible population would not make a meaningful impact on the life of the cemetery based on the current usage rates.
MOAA has and will continue to expressly oppose a restriction on retirees. Many other veterans groups have echoed that sentiment as well. Expansion is still on the table, though distasteful for a tight budgeted Congress.
The eligibility survey and language in the defense bill hint that eligibility changes might be coming despite opposition. Whether changes include things like reserving a specific section of the current grounds for certain honorees, establishing a reservation system for the currently eligible, or reimagining burial practices are all to be seen. There are a lot of challenges looming if a decision is made, not the least of which is informing the millions of presently eligible individuals.
For those who want to take a deeper dive into the statutes defining eligibility, check out the following articles:
Eligibility for interment in Arlington National Cemetery
Eligibility for inurnment in Arlington National Cemetery
Eligibility for interment of cremated remains in the Arlington National Cemetery Unmarked Area