Updated: January 22, 2018
Current Budget Status: A continuing resolution will keep the government open until Feb. 8. MOAA will continue to keep our members posted as federal budget issues evolve.
Monday afternoon, the Senate and then the House passed a bill that, if signed by President Donald Trump, will fund federal government operations through Feb. 8. This is the fourth continuing resolution in as many months.
Also included in the deal is temporary suspension of some taxes imposed by the Affordable Care Act. As a practical matter, MOAA members largely are protected from any taxes or fees imposed by the Affordable Care Act.
The bill also included a reauthorization of the Children's Health Insurance Program (CHIP). Congressional Republicans allowed CHIP to expire at the end of September. They voted in December to provide temporary funding for the program, but money ran out Jan. 19.
Democrats were holding out for a bill that would include protections for unauthorized immigrants brought to the US as children but settled for a promise that the matter will come to a vote in mid-February. The controversial program, known as DACA, began as an executive order under the Obama administration. President Trump allowed the program to expire, leaving the work status of 800,000 immigrants in limbo.
To be clear, lawmakers could reauthorize either of these programs at any time. But because they wrapped these issues into a funding bill, the vote on the budget became something that wasn't a vote on the budget at all.
Congressional dysfunction has forced DoD to spend at least the first four months of the fiscal year under the previous year's funding levels, according to the nonpartisan Congressional Research Service.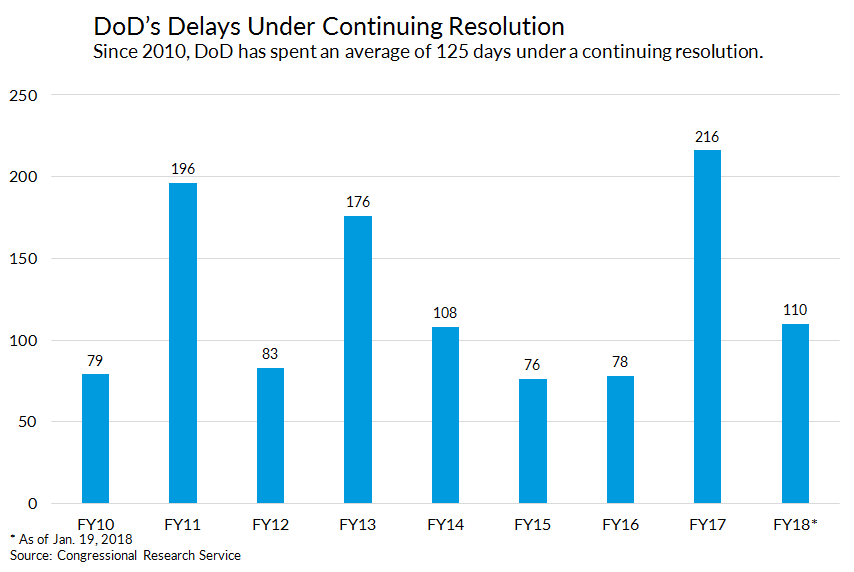 The dysfunction has become so routine that in 2016, Chief of Naval Operations Adm. John Richardson told lawmakers: "The services are essentially operating in the first three fiscal quarters per year now. Nobody schedules anything important in the first quarter."
For the services, that means delaying necessary things like training, deployments, and maintenance work because they don't expect money to be available.
Congress needs to put aside partisan differences, properly fund DoD, and return to regular order.