Sean Bowman survived an IED blast in Iraq in 2009. The medically retired Navy corpsman now suffers from hand tremors, migraines, and post-traumatic stress. But when he's out on the golf course, he finds himself at ease.
"The peace and quiet. There's nature. There's wildlife. I'm out getting exercise. I'm getting fresh air. I'm learning how to cope with anxiety and frustration," Bowman said, moments after competing in the MOAA Charities Golf Classic on the championship course of TPC Potomac at Avenel Farm in Maryland.
"Today was outstanding," he said. "The course is absolutely in pristine condition. I was warned ahead of time by a PGA pro about how tough the course was, and I was excited! It did not disappoint."
More than 100 golfers gathered May 22 for the tournament, which raised more than $220,000 for MOAA Charities, benefitting programs such as The MOAA Foundation's Crisis Relief program and the MOAA Scholarship Fund.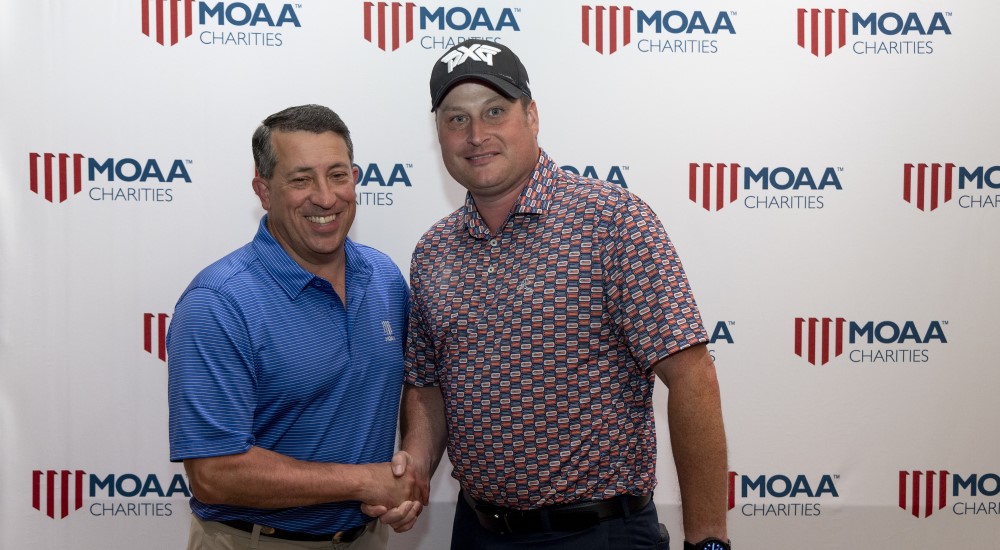 MOAA President and CEO Lt. Gen. Brian T. Kelly, USAF (Ret), left, poses with Sean Bowman, a volunteer with PGA HOPE (Helping Our Patriots Everywhere) at the MOAA Charities Golf Classic on May 22.
"Events like these help us to move forward with all aspects of our charitable work – we couldn't do what we do without them," said Amanda Centers, MOAA's vice president of Development. "It's a great way to get the word out, celebrate our donors and sponsors, and involve the wider uniformed services committee – we're already planning for next year."
The 20th Annual MOAA Charities Golf Classic will be held May 20, 2024, at TPC Potomac at Avenel Farm.
Bowman volunteers with PGA HOPE (Helping our Patriots Everywhere), a nonprofit that introduces golf to currently serving and veterans. He played in the tourney alongside MOAA President and CEO Lt. Gen. Brian T. Kelly, USAF (Ret), and Jong Wook Kim, a board member of the Korea Defense Veterans Association.
KDVA served as the Four-Star Presenting Sponsor for the tournament, along with KATUSA Veterans Association, A.C.E. Express, Blue Industry, and Shinsung Delta Tech. KDVA's mission is to enhance the Republic of Korea-United States Alliance and support our veterans.
"This is my first time joining this event, and I'm very proud to be connected," Kim said.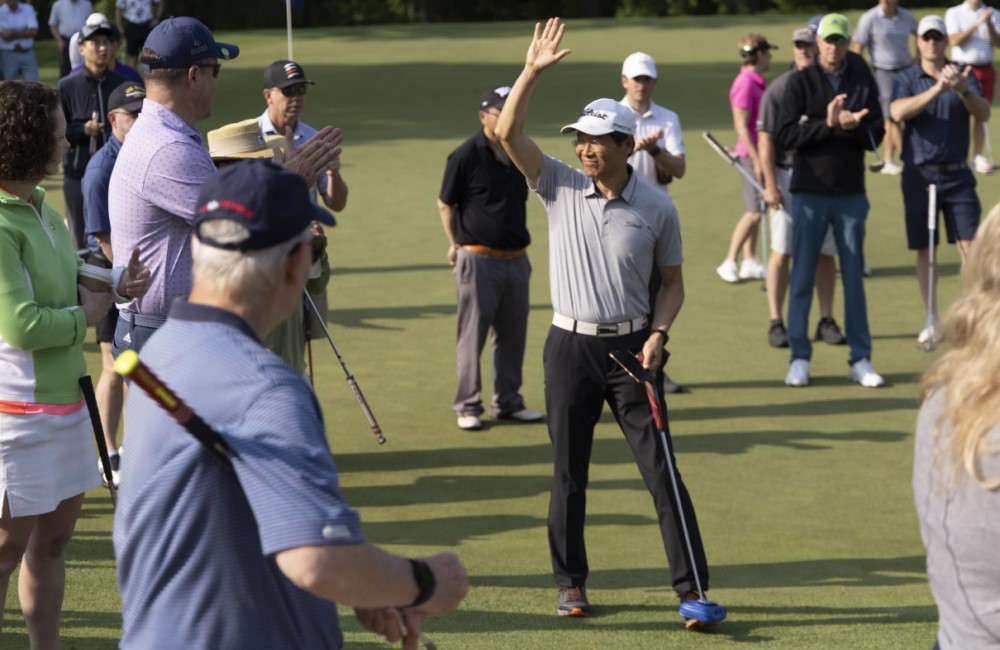 Jong Wook Kim, a board member of the Korea Defense Veterans Association (KDVA), takes part in the MOAA Charities Golf Classic on May 22. KDVA served as the event's Four-Star Presenting Sponsor.
Additional event sponsors included:
Association Member Benefits Advisors (AMBA), Premier Platinum Sponsor
Acushnet Company, Eagle Sponsor
VOYA Financial, Patriot Sponsor
Army & Air Force Exchange Service (AAFES), Express Scripts, Humana Military, United Concordia, The Hartford, James G. Elliott Co., Inc., HighRoad Solutions, Delta Dental, National Association of Federal Credit Unions, New England Center and Home for Veterans, State Street Global Advisors, Genesis, and The YGS Group.
In addition, Korean Air donated two free business-class roundtrip airfares to Korea, valued at $15,000.
"It's great to be able to bring together MOAA members and those who understand the importance of donating to such a great cause as the MOAA Charities," said Gen. Walter "Skip" Sharp, USA (Ret), a former MOAA chairman who led efforts to bring the tournament to TPC Potomac two years ago.
Graham Fuller, senior vice president of client relations at AMBA, said "Anytime you can get people out on a nice day like today, get them to have some fellowship and really raise this type of awareness, we look forward to supporting it."
Bowman was grateful to be there and make some memories.
"I don't remember every bad shot I make. I don't remember every ball that I put in the woods or in the water," he said. "But I do remember the shots that I put a couple feet from the pin."
Golf Tournament Winners
First-Place Team: Goldman Sachs (Brian Lubitz/Andrew Cote/Tim Odgen/David Cuthbert)
Second-Place Team: Tom Higgason/Steve Showalter/Dennis Helsel/Steve Napier
Third-Place Team: The Hartford (Bonny Russel/Lewis Plush/Phil Hennig/Samuel Diphilippo)
Closest to the Hole: Richard Lett from VOYA
Ladies' Long Drive: Margaret Lett from VOYA
Men's Long Drive: Andrew Cote from Goldman Sachs
Korean Air tickets Winner: Fred Hannett of Delta Dental
Support The MOAA Foundation
Donate to help address emerging needs among currently serving and former uniformed servicemembers, retirees, and their families.