For the past six years, individuals, lawmakers, and groups in Tennessee and across the country have been leading an effort to upgrade a veteran's Silver Star to the nation's highest military award for valor. That mission was completed Sept. 5, when President Joe Biden presented former Army Capt. Larry Taylor the Medal of Honor during a White House ceremony.
Taylor was joined by his wife, Toni, at the event. Several Medal of Honor recipients attended the ceremony as did Defense Secretary Lloyd Austin, VA Secretary Denis McDonough, and Sens. Marsha Blackburn and Bill Hagerty of Tennessee. MOAA President and CEO Lt. Gen. Brian T. Kelly, USAF (Ret), MOAA Vice President for Council/Chapter and Member Support Capt. Jim Carman, USN (Ret), and Capt. Frank Michael, USN (Ret), MOAA program director for Council and Chapter Affairs, also were there to honor Taylor, a member of MOAA.
Taylor, 81, grew up just south of Chattanooga. He attended the University of Tennessee in Knoxville, where he participated in the ROTC program. He attended the Army's Aviation School after receiving his commission and served as a helicopter pilot during the Vietnam War.
While assigned to the 1st Squadron, 4th U.S. Cavalry, 1st Infantry Division, Taylor flew over 2,000 combat missions in UH-1 and Cobra helicopters. He was engaged by enemy fire 340 times and was forced down five times.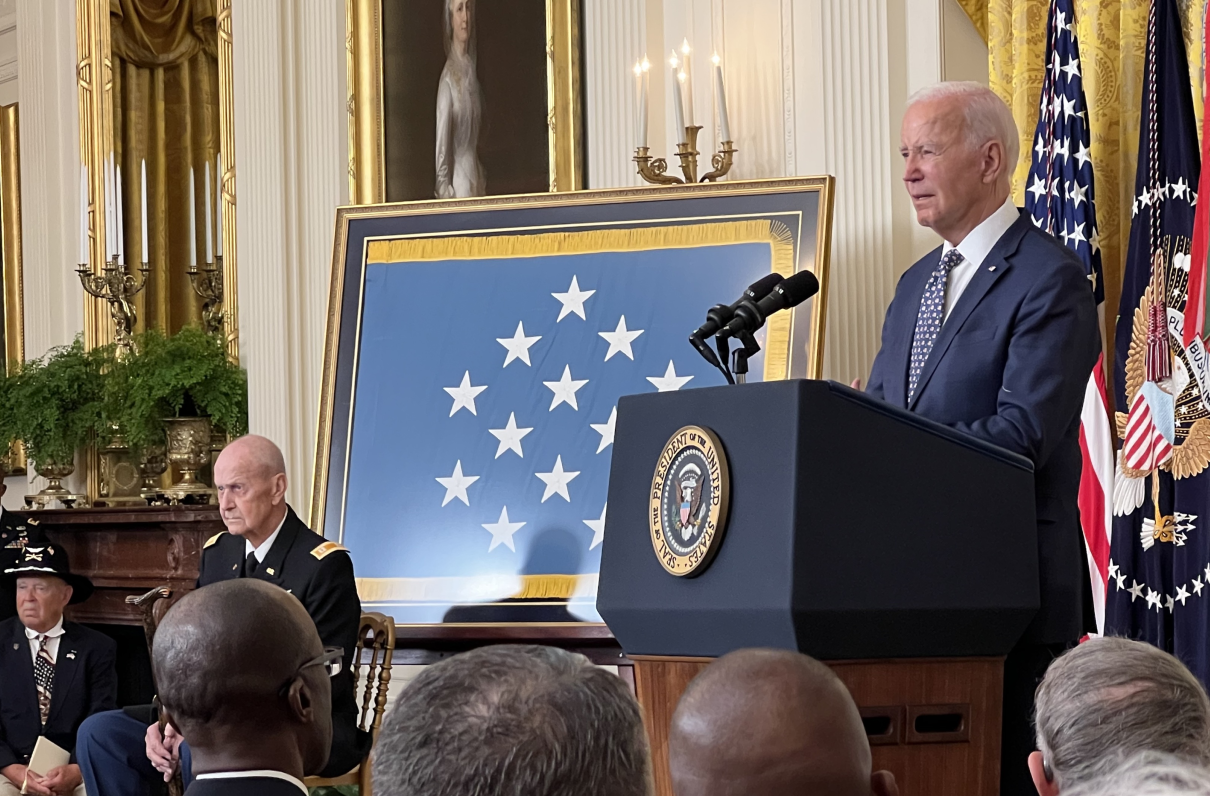 President Joe Biden speaks during the Sept. 5 Medal of Honor ceremony honoring former Army Capt. Larry Taylor at the White House. (Photo by Frank Michael/MOAA)
The Rescue
On June 18, 1968, Taylor rescued a four-man long-range reconnaissance patrol that had been surrounded by hostile forces near the village of Ap Go Cong. After using all his ammunition, Taylor landed his Cobra, and the four soldiers clung to the skids and rocket pods as Taylor flew them to safety.
[MORE ON THE MISSION: This Daring Vietnam Rescue Finally Results in Medal of Honor Award]
For his actions, Taylor was awarded the Silver Star — one of many decorations over the course of his career, including the Vietnamese Cross of Gallantry, two Bronze Stars, four Distinguished Flying Crosses, 44 Air Medals, among others.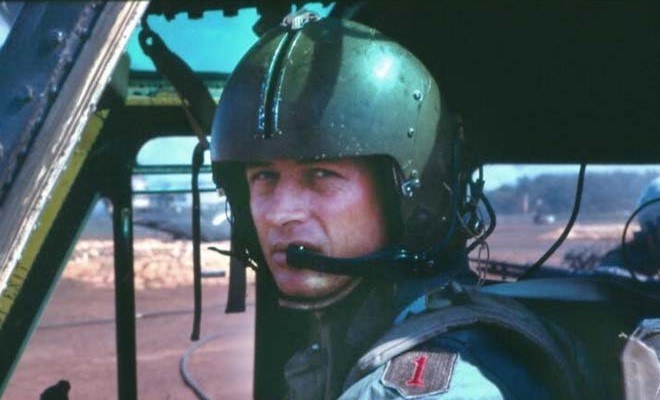 Then-1st Lt. Larry Taylor in his UH-1 "Huey" helicopter. Taylor served in Vietnam from 1967 to 1968, flying over 2,000 combat missions in UH-1 and Cobra helicopters. (Army photo via Lewis D. Ray.)
But those who knew Taylor's story from Vietnam thought he wasn't getting his due recognition. In 2017, the process to upgrade Taylor's Silver Star began, led by Chattanooga Chapter members Gen. B.B. Bell, USA (Ret), and Gen. Bill Raines, USAR (Ret), as well as Tennessee lawmakers.
"Once we learned through our members who are involved, [the chapter] jumped on it," said Lt. Col. Tony Crowder, USAF (Ret), second vice president of the Chattanooga Chapter. "We got super energized as to what we could do for Larry, and we started partnering with local organizations on the effort."
The secretary of defense approved the upgrade in April and sent it to the White House for approval by the president. On July 8, Biden called Taylor to congratulate him.
Shortly after, the Chattanooga Chapter began its own plans to honor Taylor. Chapter First Vice President Lt. Col. Ray Mitchell, USAR (Ret), took point on engaging the local veterans' community and organizing a dinner celebration, held Aug. 22 and attended by chapter members and friends, staffs of local legislators, and community members as well as Kelly and other senior MOAA staff.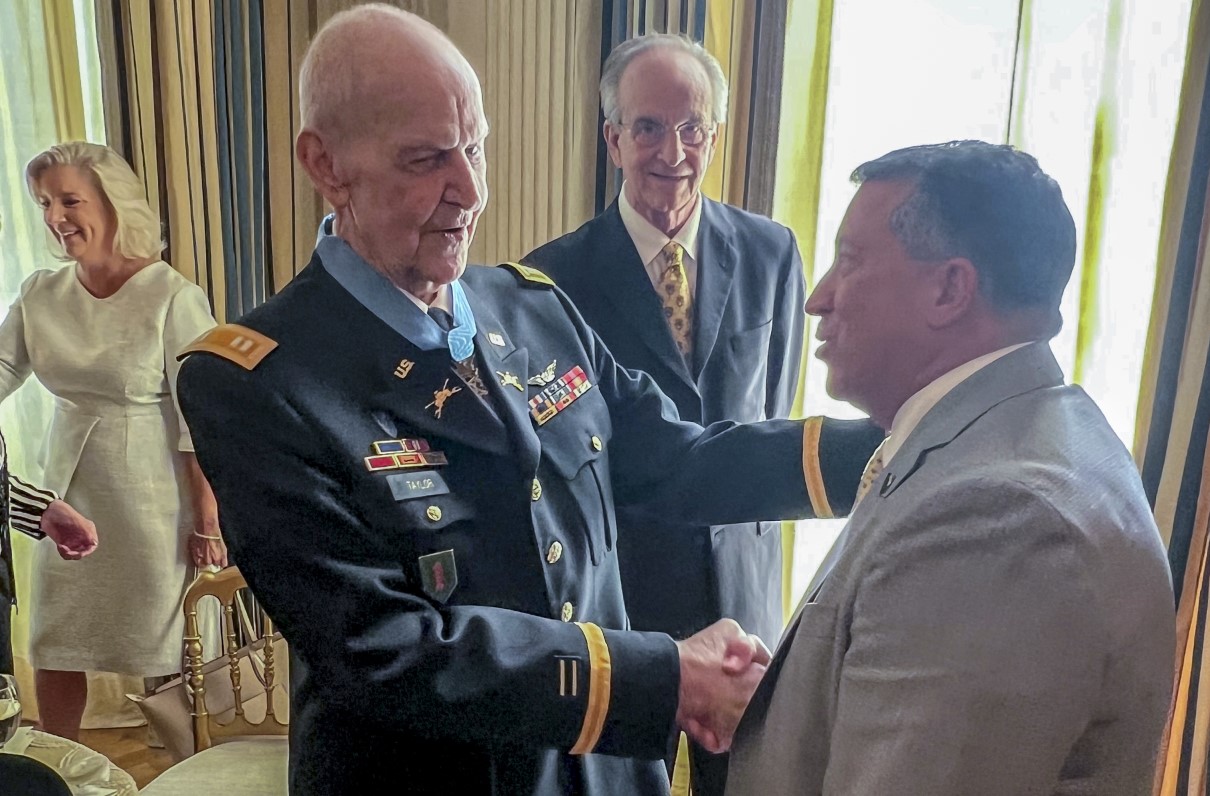 Former Army Capt. Larry Taylor shakes hands with MOAA President and CEO Brian T. Kelly, USAF (Ret), after a Sept. 5 ceremony at the White House (Photo by Frank Michael/MOAA)
The chapter also will participate in a Welcome Home Parade in Chattanooga for Taylor Sept. 11 at 11:30 a.m., followed by a public ceremony at 1 p.m. at the National Medal of Honor Heritage Center. Taylor will serve as grand marshal of the parade. Vietnam-era Cobra and modern-day Apache helicopters will perform a special flyover.


Crowder said the Chattanooga Chapter is proud to have been involved in this effort to honor Taylor.
"Everyone saw it as a righteous cause," he said. "It's rewarding to rally to righteousness and rally to acknowledge the service and sacrifice of another. It's part of the esprit de corps we can get out of our MOAA membership.
"Larry is a wonderful guy," Crowder continued. "He's absolutely grateful, thankful, and humble — everything you'd want in a hero. There's no pretention, and that makes it feel even more right because he wouldn't do this for himself."
[MORE COVERAGE: Military Times | Military.com | Army.mil]
Mitchell, who attended the Medal of Honor ceremony, said being there was a "fantastic opportunity."
"It was an honor to be part of this nation's history," Mitchell said. "And to shake the hand of a man with this much character and courage is life changing."
Want to Help Servicemembers in Your Community?
Learn how you can make a difference with your local chapter.