By Contributing Editor Blair Drake
Over the past nine years, the Northeastern Wisconsin Chapter has donated over $685,000 for local veterans' organizations. The chapter raises the funds through an annual golf tournament, which in 2022 generated more than $75,000 in donations and sponsorships from local businesses and donors.
"The community is very supportive of the tournament," said Lt. Col. Jim Lienau, USA (Ret), chapter president. "In addition to donating funds, members of the community and other organizations also volunteer at the event."
In fact, in 2020, when the tournament had to be canceled because of the pandemic, the chapter still raised and donated nearly $85,000 thanks to the generosity of the community.
"Our major donors still felt veterans would need financial assistance, especially during COVID," he said. "That says a lot for our chapter program and the donors who support it."
[GET INVOLVED: Find a MOAA Chapter | MOAA Virtual Chapters]
The chapter held its first Veterans Benefit Golf tournament in July 2014. Though the name of the event changed in 2022 to the Fred White Memorial Veterans Benefit Golf Outing — in honor of a late founding member of the tournament — the mission has remained the same.
"The goal has always been to generate financial resources for vetted, deserving area veteran nonprofit services organizations," Lienau said.
Each applicant organization provides a needs assessment and a projected use plan for any resources provided to them through the chapter grant application process, Lienau said. Entities who receive a grant are also required to provide a financial report at the end of the funding cycle which identifies the actual uses of grant funding.
Last year's grant recipients were Camp American Legion, the Northeastern Wisconsin Veterans Treatment Court, the Outagamie County Veterans Treatment Court, the Sheboygan Area Veterans Court, the 4th H.O.O.A.H Wisconsin, Old Glory Honor Flight, and the Disabled American Veterans of Wisconsin. Recipients received their grants during the chapter's annual Christmas dinner meeting in December.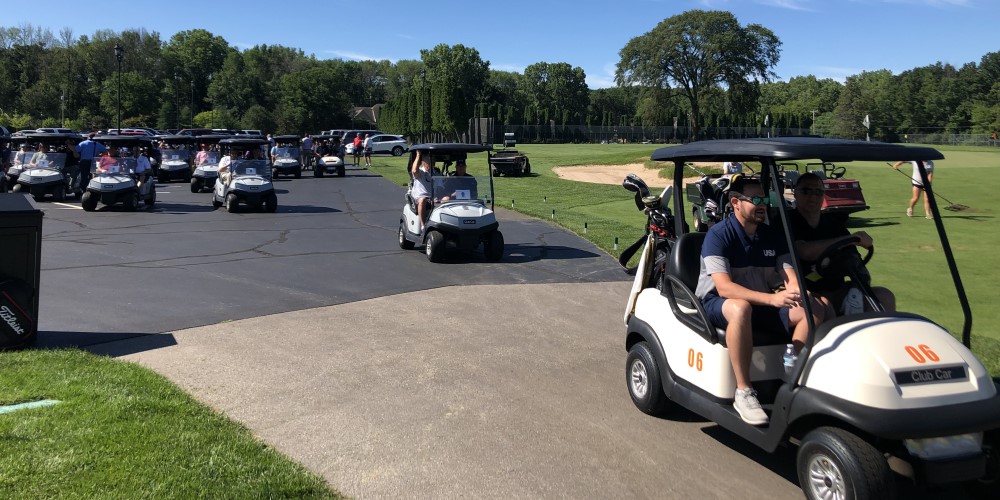 Golfers participate in the annual Fred White Memorial Veterans Benefit Golf Outing. (Courtesy photo)
"All of the recipient organizations have needs," Lienau said. "It's a fair amount of money given to each, so they're very excited, thankful, appreciative, and extremely happy."
This year's Fred White Memorial Veterans Benefit Golf Outing will be held July 24, and Lienau said the goal is to increase donations.
"Of the money donated, 100% goes to veterans in Northeastern Wisconsin," he said. "This is how our chapter supports veterans locally. It's been very successful from the beginning, and we hope to continue that success."
Blair Drake is a contributing editor for MOAA and lives in Souderton, Pa. She previously served on the editorial team of Military Officer magazine for nine years.
Want to Help Servicemembers in Your Community?
Learn how you can make a difference with your local chapter.