(This article appears in the July 2023 issue of Military Officer, a magazine available to all MOAA Premium and Life members. Learn more about the magazine here; learn more about joining MOAA here.)
The all-volunteer force is 50 years old as of July 1. It's been five decades without a draft. Five decades where our country has depended — and could rely — on that small fraction of our citizenry who chose service and all the positives and challenges that came with it.
It has been a busy 50 years, and our elected officials, military leaders, and media warn regularly of threats from China, Russia, North Korea, and Iran. The global war on terror might be over in name, but a war on terror continues.
"Unprecedented threats" were the words Rep. Mike Rogers (R-Ala.) used when he was named chairman of the House Armed Services Committee (HASC) in January, tasked with overseeing authorization of the defense budget.
"In order to deter these threats and remain the most feared force in the world, we must ensure that our military focuses on lethality and capability," he said. "Over the next two years, the House Armed Services Committee will provide our warfighters with the resources and weapons they need to deter and, if necessary, defeat any adversary anywhere in the world."
[TAKE ACTION: Sign Up With MOAA's Legislative Action Center]
Meanwhile, attracting new and quality recruits to fulfill this mission has increasingly become a challenge. About 77% of young people in the U.S. would not be able to join if they wanted to, with top reasons being obesity, lack of education, and criminal or drug abuse records, according to data from DoD and the Centers for Disease Control and Prevention.
Ensuring the nation's young men and women are fit to serve might ultimately be moot if they don't want to volunteer. A recent DoD marketing study found a scant 9% of American youth ages 16 to 21 expressed a willingness to serve.
Understanding our military cannot rely on hardware to win, Rogers introduced the creation of the HASC Servicemember Quality of Life Panel, with the task to examine the pay, benefits, and morale of troops to see whether improvements can be made and legislative solutions could be found to better entice new recruits and retain the ones we have.
The types of issues at hand — inflated housing costs, food insecurity, child care shortages, and spouse unemployment and underemployment — mirror many of MOAA's top legislative priorities. The legislator Rogers assigned to lead the HASC panel is MOAA Life Member Rep. Don Bacon (R-Neb.), a retired Air Force brigadier general with nearly 30 years of military experience who understands the stressors of service.
"If we want to maintain this 50-year experiment of an all-volunteer force, we need to get this right," Bacon said from his Capitol Hill office in April.
Quality of Life Panel Members
Members serving on the House Armed Services Committee Quality of Life Panel:
Rep. Don Bacon (R-Neb.), chairman

Rep.

Chrissy Houlahan (D-Pa.), ranking member

Rep. Mark Alford (R-Mo.)

Rep. Don Davis (D-N.C.)

Rep. Veronica Escobar (D-Texas)

Rep. Sara Jacobs (D-Wash.)

Rep. Jen Kiggans (R-Va.)

Rep. Morgan Luttrell (R-Texas)

Rep. Nancy Mace (R-S.C.)

Rep. James Moylan (R-Guam)

Rep. Marilyn Strickland (D-Wash.)

Rep. Jim Banks (R-Ind.), ex officio

Rep. Andy Kim (D-N.J.), ex officio
A day earlier, he had given an impassioned speech to approximately 170 MOAA members and staff in Washington, D.C., for the association's annual Advocacy in Action event. Front and center that week were issues such as restoring Basic Allowance for Housing (BAH) to 100% and reversing cuts to the TRICARE pharmacy network, issues that could improve quality of life for servicemembers, retirees, and families.
Bacon exudes positivity when describing his new quality-of-life mission and has already sought feedback from MOAA members and staff on how to best complete it.
"We've had the best defense and military in the world with an all-volunteer force because you have people who want to come in," said Bacon, who served as a commander five times, including twice as a wing commander and twice as a squadron commander, and is a veteran of the Iraq War. "If they don't think they have a quality of life for their family or the ability to retire with a pension and health care, you're going to lose a lot of that. If they think they are part of a team that isn't dedicated to winning … that undermines recruitment and retention."
MOAA President and CEO Lt. Gen. Brian T. Kelly, USAF (Ret), served alongside Bacon in the Air Force and saw firsthand the leadership he provided his troops.
"This panel has the potential to improve the lives of generations of servicemembers, and we are excited to see Rep. Bacon leading this effort," Kelly said. "His military service time allows him as an elected leader to bring a deep understanding and appreciation for the struggles servicemembers and their families face today."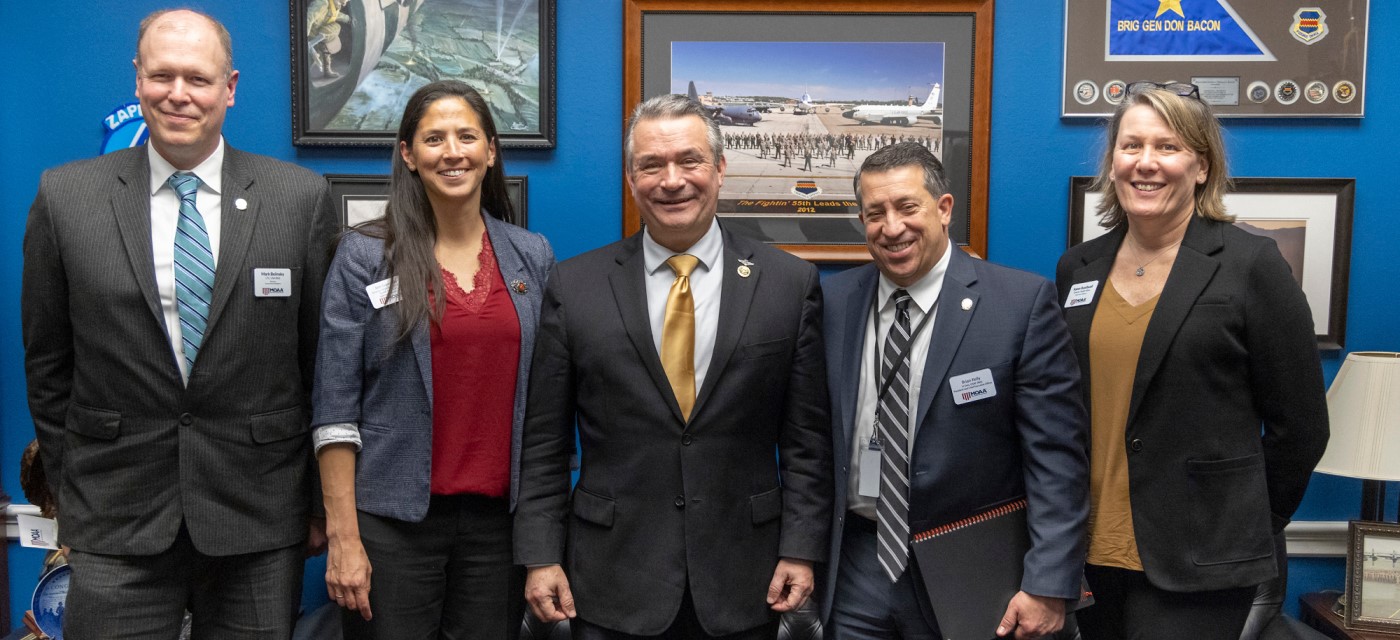 Rep. Don Bacon (R-Neb.), center, was joined in his Washington, D.C., office Jan. 25 by MOAA staffers. Also pictured, from left: MOAA Director of Government Relations for Currently Serving and Retired Affairs Lt. Col. Mark Belinsky, USA (Ret); MOAA Director of Government Relations for Military Family Policy and Spouse Programs Jen Goodale; MOAA President and CEO Lt. Gen. Brian T. Kelly, USAF (Ret); and MOAA Director of Government Relations for Health Affairs Karen Ruedisueli. (Photo by Mike Morones/MOAA)

The panel, which stood up officially in June, will conduct research for eight to nine months, Bacon said. He is seeking to confirm there is a problem, to quantify the extent of it, and to identify solutions. The goal is to present legislative recommendations in 2024 as lawmakers draft the FY 2025 National Defense Authorization Act (NDAA).
The panel will be bipartisan, and Bacon said in April he had already received strong interest from Democrats and other veterans serving in Congress.
Bacon, as a HASC member, will focus on concerns related to the active force and reservists and their families. If the effort yields information important to the veteran communities, he said he will share the findings with Rep. Mike Bost (R-Ill.), chairman of the House Veterans' Affairs Committee.
Kelly noted the all-volunteer force and veteran communities are connected.
"Protecting the all-volunteer force is core to MOAA's mission, and this panel will address critical challenges currently serving members and families face today," Kelly said. "MOAA also believes and will encourage the panel to understand that veteran quality of life and their treatment has a big impact on the viability of the all-volunteer force." About 83% of current recruits come from military families. A 2021 poll found fewer military families are willing to recommend service to others, according to the Military Family Advisory Network.
Troops on 'Food Stamps'
More than 25% of servicemembers have lived with food insecurity, according to a study by RAND Corp. released earlier this year. Food security, according to the U.S. Department of Agriculture, is having "enough food for an active, healthy life."
The RAND study found about 15.4% of active duty personnel experienced "low food security" as of 2018 and 10.4% noted "very low food security."
Out of this total population, about 14% reported using food assistance, such as the Supplemental Nutrition Assistance Program (SNAP), formerly known as "food stamps."
It was this fact that really got Bacon's attention.
"I thought that was unacceptable to have anybody in the military be in the stamp program," he said. "If we're not paying them enough, something's wrong."
[RELATED: Basic Needs Allowance Will Reach More Military Families This Summer, DoD Says]
DoD has made some improvements. A Basic Needs Allowance (BNA) was created, initially providing monthly assistance to families falling below 130% of the federal poverty guidelines. On the plus side, the FY 2023 NDAA increased that threshold to 150%. However, BAH can be factored into the eligibility calculation at DoD discretion, impacting how many servicemembers can take advantage of the BNA. MOAA is advocating for exclusion of BAH from all calculations.
Reps. Jimmy Panetta (D-Calif.) and Blake Moore (R-Utah) introduced the Military Food Security Act in March, which would eliminate BAH from eligibility calculations for the BNA. Bacon signed on as a supporter.
Panetta's office reported that in 2019, SNAP households included 22,000 active duty servicemembers, 213,000 members of the National Guard or Reserve, and 1.1 million veterans. A companion bill called the Military Family Nutrition Access Act would eliminate BAH from the SNAP calculation. This bill was also introduced in the Senate.
Cost of Housing
Following the Advocacy in Action rally in the spring, MOAA continues to build support for restoring BAH to 100%. MOAA's day on the Hill helped raise broad awareness and increase co-sponsors for this important issue that is top of mind for all servicemembers, especially junior enlisted.
[TAKE ACTION: Urge Your Legislators to Pay Full Housing Costs for Servicemembers]
From 2015-19, DoD chipped away at BAH by 1% a year, adding up to a 5% reduction and shifting a financial burden to servicemembers and their families. In the face of ballooning housing costs, MOAA has fought to reverse the reduction to their benefit. While MOAA supports the BAH Restoration Act (H.R. 2537), Bacon said the issue will also be considered by his panel, therefore for inclusion in the FY 2025 NDAA.
Bacon voiced support and noted he is already convinced.
"We only pay 95% of what a person's housing allowance should be," he said. "We've got to fix that. It's wrong."
Bacon moved his wife, Angie, 16 times during his career.
"I know what it is like to live in a house that barely meets standards," Bacon said. "Quality housing is important."
Serving Our Spouses
Bacon also said his 16 military moves helped him to understand the challenges of raising a family — issues like finding spouse employment and child care. Throughout his military career, Bacon and his wife raised three sons and a daughter.
"If you can't look your [spouse] in the eyes and say, 'We're going to be in good housing. We're going to have health care for you, and we're going to have a pension,' you're not going to keep these people in," Bacon said.
[RELATED: Military Spouse Resources From MOAA]
Among MOAA's top legislative priorities is providing support for currently serving spouses. MOAA notes the spouse unemployment rate has been between 22% and 24% for more than a decade. Solutions could mean better access to education and professional development for spouses or bet[1]ter incentives for businesses that hire and retain spouses who might have to move in a couple years.
About 39% of survey respondents cited concerns with spouse employment as a reason for leaving service, according to a 2021 White House report titled "Strengthening America's Military Families."
What's Next
Over the next eight months, Bacon intends to meet as a panel twice a week and host periodic focus groups with servicemembers and spouses to help gain a firmer grasp on the issues they face today.
In April, before the panel was formed, he traveled to Offutt AFB near his home in Nebraska and hosted a discussion with 40 airmen. He has pledged to move quickly, noting "there is not time to waste."
"I see this as being a team effort with MOAA," Bacon added. "MOAA is already on a lot of this. They're going to be great 'wingmen,' using Air Force talk."
Kelly said, "MOAA will support the panel's research in any way we can while also continuing to advocate aggressively for benefits supporting our currently serving and veteran community, including restoring BAH to 100%, ensuring we provide basic needs for our junior troops, ensuring access to affordable child care, and protecting the TRICARE pharmacy network and other earned benefits."
Jennifer Goodale, a Marine Corps veteran, military spouse, and MOAA's director of Government Relations for Military Family and Survivor Policy, said this panel has potential to usher in change.
"Lawmakers and staff working on this panel can make a real difference in legislation at a meaningful level," she said. "And MOAA looks forward to helping shape these bills in ways that benefit all those who serve and their families."
Bacon emphasized the tasks at hand are not only to benefit servicemembers and their families but also the entire nation.
"Americans value our freedom, the opportunity in this country to climb the ladder through hard work, and character," he said. "We're a nation of rule of law. We have to defend that."
How do you do that? With the right people.
"People want to be part of an elite force that wins, that is protecting the strongest country and best country in the world," Bacon said. "That's what they want to be a part of. So we have to protect that notion, and quality of life is a big part of that."
Support Military Spouses
Donate to The MOAA Foundation and support MOAA's efforts to help military spouses in their career journeys.