(This article originally appeared in the March 2022 issue of Military Officer, a magazine available to all MOAA Premium and Life members. Learn more about the magazine here; learn more about joining MOAA here.)
In 2010, former special operations K-9 trainer Mike Ritland had just launched his dog-training company, Trikos International, when he was approached about taking a couple of working dogs nearing the end of their careers. They had sustained wounds in combat in the Middle East and then been redeployed before exhibiting signs of aggression toward their handlers.
Ritland, who spent 12 years in the special operations community, asked what would happen to the dogs if no one could take them.
They would be euthanized.
"I said, 'Send them here,'" he told Military Officer. "I didn't have some grand plan."
Ritland founded the Warrior Dog Foundation (WDF) out of necessity, he said.
"When these warriors have served our country the way they have, to treat them as disposable is criminal," he said. "Like their human counterparts, they deserve to live out their lives in dignity and grace."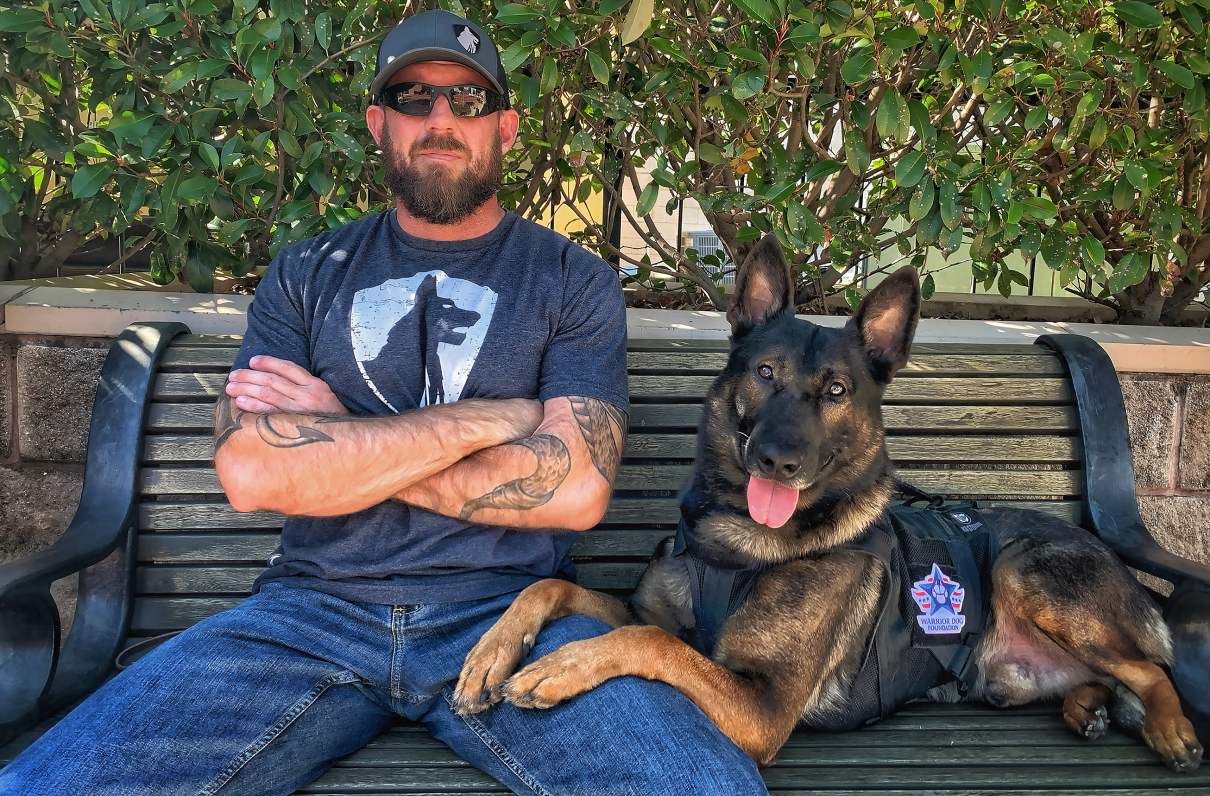 K-9 trainer Mike Ritland founded the Warrior Dog Foundation to prevent retired military working dogs from being euthanized. (Photo courtesy of the Warrior Dog Foundation)
Today, the WDF, located on a ranch outside Dallas, has rehabilitated and homed 200 retired working dogs who come from the U.S. military, police departments, and government agencies. It relies entirely on private donations.
The climate-controlled facility, which can hold 30 dogs, is surrounded by 2½ acres of security fence. Within that space, a roofed 60-by-60-foot kennel run has ample room for these veterans to Stretch their four legs.
War Dogs vs. 'Marshmallows'
The Belgian Malinois, German shepherd, and Dutch shepherd are the main military or police working dog breeds. Most are bred in Central and Eastern Europe, where they learn basic commands before being sent to a police or military unit to receive more specialized training. When considering the investment of handler and dog training, each dog costs $70,000-$100,000 over the course of their careers, said Laura Sellards, executive director of the WDF.
According to Bloomberg Government, military working dogs can detect scents 1,000-plus times better than humans or equipment, making them indispensable for patrols, finding bombs, and pursuing terrorists like Islamic State group leader Abu Bakr al-Baghdadi in October 2019.
However, every working dog will need to retire.
Like their human servicemember counterparts, a period of adjustment to civilian life follows.
"Every dog that retires with us is as individual as every snowflake out there," said Sellards, who oversees the initial adoption process. "Generally speaking, they have come to us because they have been too difficult for their current handler to handle. Whether they come to us with a physical injury, canine PTS, or because they've aged out of the program and their body is failing, they still have the same drive and desire to work. Every dog is going to have his own triggers and sensitivities."
"PTS [in dogs] manifests in a way similar to human beings," Ritland explained. "Either a dog shuts down and goes numb — thousand-yard stares, shivers, won't do anything — or it's the polar opposite: The dog gets very defensive, aggressive, and super reactive around the trigger stimuli."
People interested in adopting a retired working dog must objectively consider these dogs' purpose, training, and temperament.
"These are dogs that have been to war, whether that's overseas or on the streets of this country," said Ritland. "They've been in a lot of chaotic and stressful environments. … You need to do things that will build their trust."
[RELATED FROM 2019: Meet the Four-Legged Friends Memorialized on the New Forever Stamps]
Ideally, an adopter would have some K-9 handling experience, though it's not a prerequisite. Sellards emphasized that potential adopters must understand the ideal environment for a retired working dog. Some folks just want a "marshmallow," as she calls her golden retriever.
"Are you looking for that dog you can take to the farmers market and take into the dog park to play ball to get exercise? That would not be a good fit for most of these dogs," she said.
Ritland and his team carefully evaluate applicants to see whether they could be a potential match for any of the dogs on the ranch. Then they watch them interact.
"I can tell quickly if someone gets how to interact with a dog — gingerly and calculated, or if they're just oblivious and don't get it," said Ritland.
When these dogs find the perfect family, it can take several days to months for them to get to know and trust each other.
"Don't think you're [going to] take them home and have some popcorn with them on the couch with their head in your lap the first night," said Ritland. "You need to spend time being strategic and calculating in how you approach building trust and a bond with that dog."
Adoption Checklist
A potential adopter must possess the following qualities and things to be a good fit:
Pet-free. Retired working dogs cannot coexist with other pets. "Their drive and temper are usually so high, and they're usually accustomed to being the alpha dog," said Sellards.



No children in the home.

The dogs' tendency toward aggression and keen reaction ability help them excel at their jobs, but they're not practical family dogs. If a kid pushed on a dog's sore hip, for example, "That could be enough to have them redirect on a child. It's never worth the risk," said Sellards.


Tall-enough fencing to thwart all ball-chasing aspirations. "A candidate should have a completely fenced-in area. Most of these dogs can probably easily clear a 6-foot-tall fence. Ideally, it would be a privacy fence," said Sellards, so they won't see temptations like rabbits or soccer games.



Respectful understanding of the differences between domesticated dogs and working dogs.

"Because domesticated dogs are so far-removed from their working counterparts, people are used to doing things that are not trust-building or trust-conducive to strange dogs — running up to a dog they've never met, putting their hands on them, sticking their face in their face," said Ritland. Such behavior would not be received favorably by a retired working dog, to say the least.


Consistency. An owner must provide daily structured play, walks, and regular routines. "If you're simply letting them go out for necessary potty breaks, they're not going to be able to burn that energy off," said Sellards.


Exercise. New owners must give dogs the healthiest environment possible. "Some might need 100 reps with the chuck-it ball; some might need three, depending on their age and if their joints are sore," said Sellards.


Dedication to proper diet. At the ranch, each dog receives tailored dietary care based on its unique needs, and adopters should be prepared to continue providing the special diet. "They all get [at least] a little bit of raw food, but it depends on the dog," said Ritland. "The cleaner the diet and the better nutrition a dog has, the more likely it will be healthy, happy, and mentally stable."
(Kassandra Thomsen Photography)
Lt. Handsome Pants' Retirement
Lt. Col. Paul Smith, USAF (Ret), a MOAA member, recalls the first time he saw a Belgian breed. When he was stationed in Germany, Smith attended an open house and air show and met an Air Force security police K-9 handler and his dog.
As Smith recounted, the handler told him, "The cool thing about the Belgian breed is they know when to work — and when to play." He gave Smith approval to go ahead and pet the dog.
"I'm petting the dog, and then a bee flies by, and he bites the bee out of the air," said Smith. "I said, 'OK. That's the [breed] for me!'"
Although he was a pilot, not a K-9 handler, Smith and his spouse, Liz, have several decades of familiarity with the breed. Their knowledge included obedience training and awareness of the dogs' quirks, which stem from their sheepherding prowess. The Smiths' experience made them a natural fit for a Belgian Malinois, Jax, who spent his police career as a patrol and narcotics detection K-9.
In 2017, Jax helped capture a burglary suspect by tracking him through a residential area over hard surfaces for approximately a mile. The suspect was found hiding on a roof and taken into custody.
Jax spent 18 months at the WDF, relaxing and orienting to retirement before joining the Smiths. But the dog — whose collar identifies him as Lt. Handsome Pants — still is happiest when he has a mission.
"My wife once went to the neighbors' house 50 yards away. I took [Jax] out for a walk, and he used his nose to follow where ... she went: to the neighbor's gate. He's just always working."
In addition to these talents, worldly Jax responds to commands in Czech, German, and English, showing off his puppyhood training.
"I think he's brilliant, but I may be biased," said Smith.
Military Officer

Magazine
Discover more interesting stories in MOAA's award-winning magazine.