By Judy Christie
A bipartisan effort to honor a pioneering World War II Women's Army Corps unit with a Congressional Gold Medal has been approved by the Senate and could soon reach the House floor.
The "Six Triple Eight," officially named the 6888th Central Postal Directory Battalion, was the only all-African American Women's Army Corps battalion to serve overseas in World War II, clearing a backlog of millions of pieces of mail that had led to a drop in troop morale.
The bill to honor these veterans with a Congressional Gold Medal – which would be given to the Smithsonian Institution for display – is moving through Congress with support from legislators on both sides of the aisle, led by Sen. Jerry Moran (R-Kan.) and Rep. Gwen Moore (D-Wis.). Volunteers (including MOAA members) and communities around the country who sent these women overseas are also championing this cause, hoping for passage while six of the veterans are still alive.
The Senate passed S. 321, the "Six Triple Eight" Congressional Gold Medal Act of 2021, in April by unanimous consent. An identical House bill introduced by Moore, H.R. 1012, had 291 co-sponsors – more than half the House – as of Feb. 3.
Bills with at least 290 co-sponsors can be added to the House's Consensus Calendar; after 25 legislative working days, the House is supposed to consider at least one bill a week from the calendar for a floor vote. The bill did not appear on the calendar as of Feb. 3.
"The House must act quickly to recognize these women so we can honor those who are living and all the women who served in the Six Triple Eight," Moran said.
Maj. Fannie Mae "Fran" Griffin McClendon (Ret), 101, spent 26½ years in the Army and Air Force and is the only living officer from the Six Triple Eight. She won't make it to Washington, D.C., for a Congressional Gold Medal ceremony but looks forward to celebrating at the Arizona statehouse, near her home.
She stresses, however, that possible tributes did not bring about the battalion's success.
"We had a job to do, and we had the gals to do it," she said. "It never occurred to me that we'd be awarded this. … It was not a chore to do the job. That's what we were there for."
Col. Edna W. Cummings, USA (Ret), a MOAA member, has worked since 2018 to bring recognition to the Six Triple Eight. As a citizen advocate, she has raised funds for a monument, co-produced a documentary about the unit, and pushed the Congressional Gold Medal effort to secure the unit's legacy.
"I think we'll get there sooner rather than later," Cummings said. "This unit was a great military unit period, regardless of race or gender. They succeeded where others failed."
[RELATED: Tuskegee Airman Brig. Gen. Charles McGee Dies at 102]
Moran, speaking of his efforts for the bill in the Senate, said his father was deployed throughout Europe during World War II, his mother working back home in a store in Emporia.
"I never really thought about how they corresponded throughout the war – about the many pieces of mail and packages sent back and forth – until I learned of the work of these heroes," Moran said.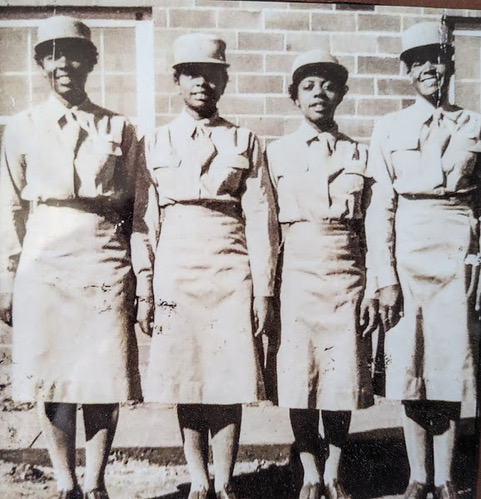 Maj. Fannie Mae "Fran" Griffin McClendon, left, poses with fellow members of the 6888th Central Postal Directory Battalion. (Courtesy photo)
He said Six Triple Eight contributions to the war effort cannot be overstated: "They worked tirelessly to clear a six-month backlog of mail by processing over 65,000 pieces of mail per shift to make certain that troop morale remained high at a pivotal point in the war."
Rep. Moore agrees, and her legislation is nearing a vote in the House.
"I have talked to leadership — and anyone who will listen, frankly — about these heroes and will continue to do so until we get this done," Moore said.
She sees these veterans as unsung heroes of World War II.
"Through their work, they boosted morale, which is vital in combat. They persevered through the tough conditions of a war zone, while battling sexism and racism to ensure our servicemembers received letters and packages from their loved ones back home," Moore said. "Unfortunately, when they returned home, they didn't receive any accolades for their hard work. With this legislation, we will help right this wrong and give these veterans their long overdue honors."
"I am honored to lead bipartisan efforts in the House to recognize these heroic veterans," Moore added. "It's truly been a team effort, starting with Sen. Moran and his team and Rep. Jake LaTurner (R-Kan.), Rep. Anthony Brown (D-Md.), outside advocates and, of course, the remaining women who have shared their story. We are so close to the finish line."
Judy Christie is an author based in Colorado.
PREMIUM Membership Comes With So Many Benefits. Are You Taking Full Advantage?
Find out just how many benefits are waiting for you, and start using them TODAY.