By Contributing Editor Blair Drake
On May 29, family, friends, members of MOAA's Northern New Jersey Chapter as well as other local military organizations, and representatives from Veteran's Last Patrol gathered in-person and virtually to celebrate the 105th birthday of Col. Francis "Bud" Newcomer Jr., USA (Ret).
Newcomer is the oldest living graduate of the U.S. Military Academy at West Point, N.Y.
He graduated from West Point in 1939, following in the footsteps of both his father and grandfather. His military career included duty in the Pacific in World War II as well as Korea, during which he served as battalion commander, 140th Antiaircraft Artillery Battalion, 40th Infantry Division. Other assignments included commanding officer, Niagara-Buffalo Army Air Defense in Fort Niagara, N.Y., and chief of plans analysis section, Headquarters, North American Air Defense in Colorado Springs, Colo.
He later served on the staff of the secretary of defense during Vietnam.
After he retired from the Army in 1967, Newcomer worked as a long-range planner for Warner Lambert and Mennen. He also worked as a realtor and continued to do so until he was nearly 100 years old.
During the birthday celebration, guests presented Newcomer with numerous gifts honoring his military service, including a certificate from the Northern New Jersey Chapter, of which Newcomer is a member; a MOAA coin; and letter from MOAA President and CEO Lt. Gen. Dana T. Atkins, USAF (Ret).
In the letter, Atkins thanked Newcomer for being an "active an engaged supporter of MOAA" and acknowledged he has been a member for more than half his life, joining in 1967.
"We couldn't be prouder to have you among our 355,000 members who truly Never Stop Serving," Atkins wrote.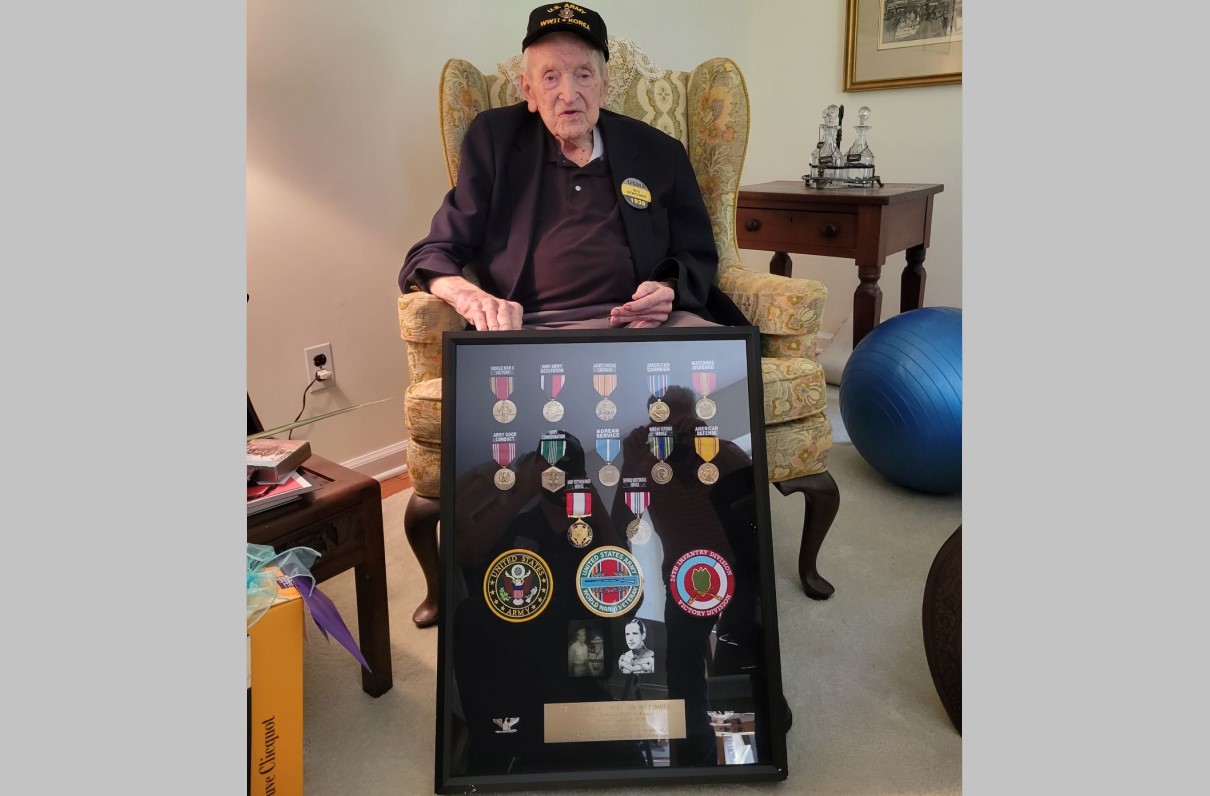 Col. Francis "Bud" Newcomer Jr., USA (Ret), poses with a display of his service medals. (Courtesy photo)
Col. Claude Schmid, USA (Ret), founder of Veteran's Last Patrol, helped organize the celebration. He traveled from South Carolina to attend and presented Newcomer with case displaying his service medals in addition to several other gifts.
"[He] is a very unique veteran with a very distinguished history," Schmid said. "We are pleased to honor [Newcomer], a friend to many, valiant patriot, and distinguished veteran."
Blair Drake is a contributing editor for MOAA and lives in Souderton, Pa. She previously served on the editorial team of Military Officer magazine for nine years.
Want to Help Servicemembers in Your Community?
Learn how you can make a difference with your local chapter.