An in-person networking event on Nov. 2 at the Army Navy Country Club in Arlington, Va., allowed members of the uniformed service community to meet potential employers, get expert advice on their résumé prep and overall career path, and connect with MOAA and fellow professionals.
The event was well-attended, drawing active and retired military as well as spouses, said Col. Brian Anderson, USAF (Ret), MOAA's senior director of transition and member services, adding that the event "provided another tool for our toolbox of relationship building in a face-to-face environment."
Leslie Mounts, a Navy spouse, said she was particularly impressed with the opportunity to receive a brand-new photo for her LinkedIn profile.
[RELATED: 10 Ways to Make Your LinkedIn Profile 'Pop']
"I have been wanting to take the time to get a professional headshot for years but kept putting it off," Mounts said. "I stepped out of my career for 13 years to be a full time Navy spouse with three kids, so it is great to be getting back into the second act of my life."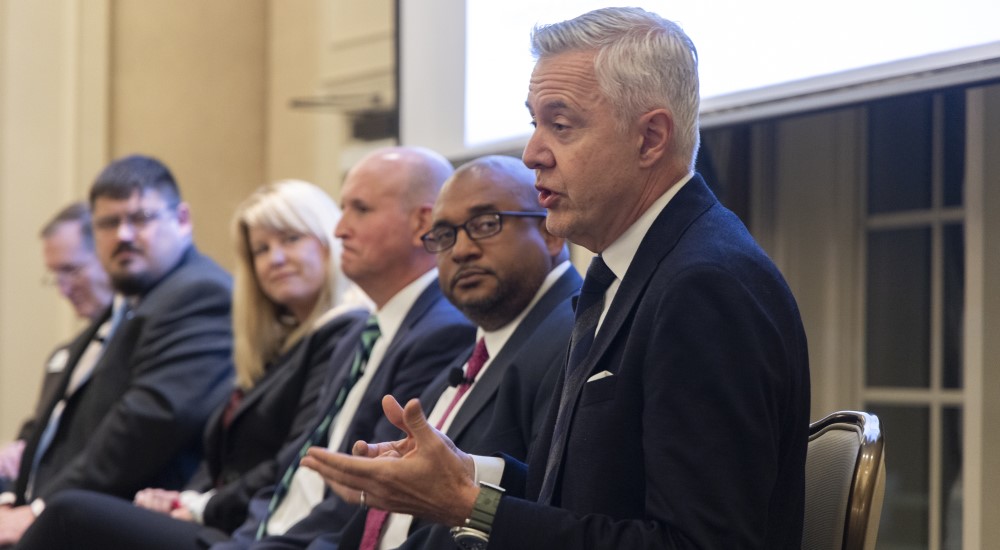 Brig. Gen. Kenneth Todorov, USAF (Ret), addresses the audience during a panel discussion on Nov. 2 at the Army Navy Country Club in Arlington, Va., (Photo by Mike Morones/MOAA)
Along with the profile photos – which were free to MOAA Premium and Life members –attendees took part in résumé reviews and one-on-one career coaching, and listened to a panel discussion on finding the right business sector.
Lt. Col. Stephen Bentz, USA (Ret), market director for Humana Military's East-Central Region, was part of the panel.
"When I transitioned out of the military seven years ago, I found networking events to be the most helpful avenue to my next career," Bentz said. "It never hurts to have a second set of eyes on your résumé."
[RELATED: Upcoming MOAA Transition and Career Events]
Col. Jimmy Blain, USA, attended the event as part of his preparation for retirement from the Army. He was particularly enthusiastic about the opportunity to meet other people in the same situation.
"The panel was a very helpful opportunity to learn what companies are looking to hire veterans," Blain said.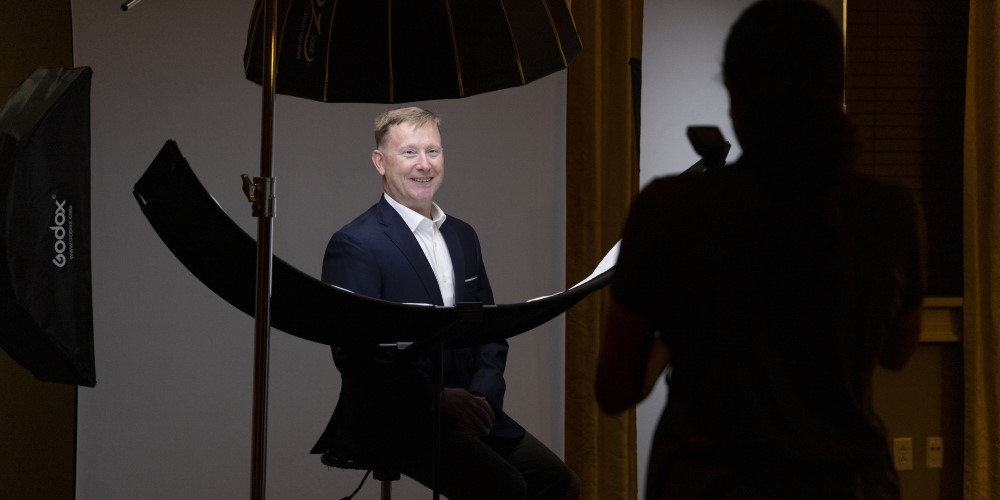 Col. Jimmy Blain, USA, receives a new headshot during MOAA's networking event at the Army Navy Country Club in Arlington, Va., (Photo by Mike Morones/MOAA)
Plans call for future MOAA in-person and virtual events to offer opportunities not only to transitioning servicemembers and military spouses, but also to employers, Anderson said.
"Our goal is to teach members and their spouses how to fish so they can learn how to make necessary connections and advance their career goals and aspirations," Anderson said.
MOAA Career Transition events – like this one – that are free and open to everyone in the military, veteran, and military spouse community are funded by The MOAA Foundation. To find out more and to register for events, visit charities.moaa.org/careertransition.
Support MOAA Charities
Donate to the MOAA Scholarship Fund and The MOAA Foundation at the link below.