(This article by Hope Hodge Seck originally appeared in the December 2022 issue of Military Officer, a magazine available to all MOAA Premium and Life members. Learn more about the magazine here; learn more about joining MOAA here.)
The United States' all-volunteer force has never struggled so much to bring qualified and willing recruits through the door. The aftermath of the COVID-19 pandemic, which forced the military branches to switch to remote recruiting methods, and the "Great Resignation" workplace trend that followed, driving civilian unemployment to record lows, hit services already anticipating a slow-building disaster
As military leaders testified at the end of September, only one in 11 eligible Americans aged 18 to 24 want to serve, and the pool of those who meet basic eligibility requirements is itself steadily shrinking. Multiple personnel experts described the convergence of all these realities as a "perfect storm" of bad news for the military.
At the close of the 2022 fiscal year, only the Marine Corps — the smallest Defense Department service except for the Space Force — met both active-duty and reserve recruiting goals. The Army, the largest of the services, was in the worst position: falling short by 15,000 active-duty troops, even after lowering its target by 9,000 troops.
And no one is expecting 2023 to bring better prospects for recruiting.
[RELATED: Here's Why Proposed Personnel Cuts Threaten the All-Volunteer Force]
"There is no sunlight on the horizon," Sen. Thom Tillis, R-N.C., said at a hearing on recruiting and retention on Sept. 21. "It's becoming clear the all-volunteer force that has served our country well for the last 50 years is at an inflection point. ... The truth of the matter is, unless we do things differently … I believe every service except for the Space Force is at risk of missing their recruiting mission over the next year, and we need to act."
In spite of the worsening odds, many military scholars and advocates believe the services have the tools they need to "turn the aircraft carrier" of recruiting and to rehab the volunteer force. For them, the greatest question is whether military leaders will take the radical steps necessary to recruit a generation with different qualities, needs, and desires — and whether Congress will provide the considerable resources necessary to do it.
A Marine Corps recruit participates in log drills at Marine Corps Recruit Depot San Diego on Nov. 22, 2021. Drill instructors motivated recruits to complete the exercises. (Photo by Lance Cpl. Julian Elliott-Drouin/Marine Corps
Here are five proposals to help save military recruiting:
1. Invest in Making Military Life Better
Advocates say the military needs to offer a bigger paycheck or better bonuses, particularly for troops working in high-demand fields with well-paying civilian equivalents, like cyber. But that's only a piece of the compensation and benefit puzzle that needs to be reexamined.
Lt. Col. Mark Belinsky, USA (Ret), director of Currently Serving and Retired Affairs at MOAA, told Military Officer that he had personally experienced a decline in military family housing and child care conditions during his 22-year Army career.
"I remember when growing up on a military installation was great," said Belinsky, who grew up an Army brat and retired from the service in 2019. "Unfortunately, a lot of that has eroded. And it's tough, because the job market is really good."
With child care shortages on and around many bases, and stories of mold and vermin infestations in military housing continuing to make headlines, there's plenty to contradict the narrative that the military cares for its people, Belinsky said.
The military has begun to announce efforts to provide more competitive pay in certain fields including cyber — the Navy announced new enlistment bonuses up to $50,000 and student loan repayment up to $65,000 in an August recruiting push — but Belinsky argues the whole system is simply not agile enough to stay competitive, particularly in a job-seeker's market like today's.
[RELATED: Housing Allowance Shouldn't Stop Troops From Getting Food Stamps]
"When the military community gets hit by inflation, it really means compensation is down," he said. "I would say that does impact recruiting, particularly when there's instances of food insecurity on installations."
And there's another aspect of pay that too often gets overlooked, Belinsky said: That afforded to recruiters, who often work under high-stress conditions with tough goals to meet and limited resources. Not only does the military need to provide better resources and incentives for recruiters, but it also needs to be more responsive to their feedback, he said, giving them tools to aid in finding prospective recruits and helping those recruits meet basic eligibility standards.
2. Go All In on Adapting to Gen Z
The prospect of a seven-month shipboard deployment with little or no access to high-speed internet or social media has never been appealing. But to today's junior enlisted troops, who live online to a greater extent than prior generations, it's almost unthinkable.
[RELATED AT MILITARY TIMES: Limiting Gen Z Marines' phone use hard but necessary, top Marine says]
Rear Adm. Robert Day Jr., USCG (Ret), a recent member of MOAA's board of directors and a board member of the military recruiting-focused organization Mission: Readiness, said he applauded efforts by Coast Guard Commandant Adm. Linda Fagan to invest in better "recreational internet" onboard cutters for long at-sea periods, just one example of how services can respond to the needs and wants of Generation Z, which includes troops aged 17-25.
"Will it make everybody want to go to sea? No, but it will help attract more than it would if we didn't have those programs in place," he said.
Nearly every service has adopted more lenient hair and tattoo policies to adapt to today's recruits, and the Army has taken steps to allow more Americans with a history of certain mental health issues to serve, but unnecessarily exclusive policies still exist, said Dr. Lindsay Cohn, an associate professor of National Security Affairs at the Naval War College.
For example, she said, the new MHS Genesis electronic health record system now creates an indelible record of conditions, like childhood asthma, that a recruiter previously might have opted to leave off an application. And rules saying recruits need to be off medication for conditions like attention-deficit/hyperactivity disorder (ADHD) for 15 months or more simply don't reflect a world in which both diagnosis and treatment of these conditions is much more prevalent than in the past.
[RELATED: New Study Finds Even More Young Americans Are Unfit to Serve]
"Honestly, younger people are just significantly more medicated now," Cohn said. The same sort of relook, she added, should be given to the prior drug use disqualifier, which often excludes potential enlistees because of minor past infractions.
As for the fitness and body fat standards that keep more than 20% of otherwise eligible young Americans out of uniform, Cohn suggested a truly radical adjustment: a system where servicemembers are selected for specific jobs, with different standards and requirements.
Infantry troops, for example, might be required to weigh less and run faster than information technology specialists. Cohn acknowledged this idea clashes with the American concept of the military generalist who is ready to pick up a weapon and head to the front lines in the event of a major conflict. But, she said, it doesn't reflect the reality of the future conflicts we're likely to face.
"This idea that we need the physical fitness test to make sure that everyone could become an infantry soldier, if necessary — it's just not true," she said.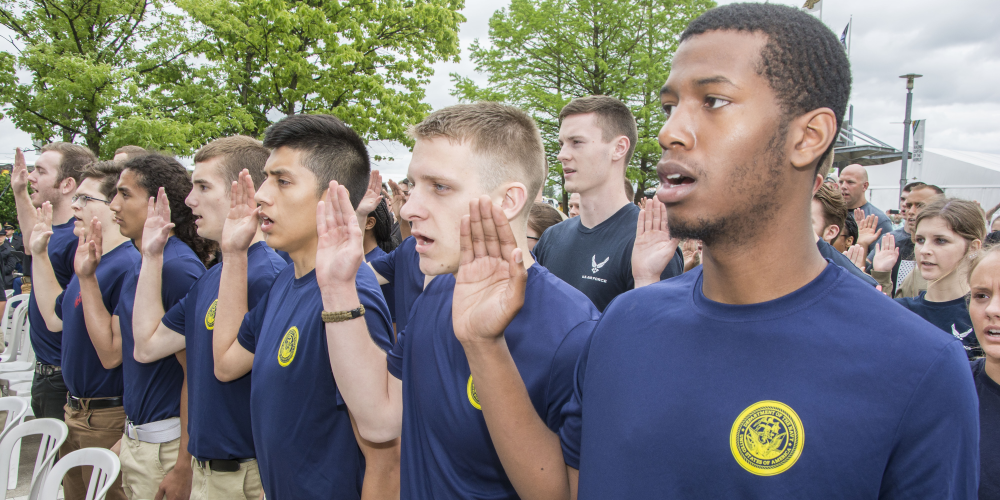 Future sailors from Navy Recruiting District (NRD) Michigan take the Oath of Enlistment during a 2019 joint service enlistment ceremony at Indianapolis Motor Speedway. (Photo by Mass Communication Specialist 1st Class Stephen D. Doyle II/Navy)
3. Make More Americans Eligible
An organization taking the opposite approach to Cohn's proposal is Mission: Readiness, an arm of the Council for a Strong America focused on developing healthier young people by lobbying for better nutrition in school meals and food assistance programs.
More than 800 retired generals and admirals now support Mission: Readiness by writing letters to lawmakers, advocating on Capitol Hill, and visiting schools to speak directly with children and educators.
These retired officers know they're playing the long game, but they argue no effort to address the military recruiting crisis promises a quick fix.
Day, who joined Mission: Readiness following his retirement from the Coast Guard in 2014, said the problems currently plaguing military recruitment were already becoming evident then.
"Folks were coming in just unable to perform at the levels required to get through boot camp," he said.
[RELATED: Service Academy Applications Plummet Amid Recruitment and Pandemic Woes]
Day said the pandemic, during which many American children were out of school and it became more difficult for at-risk students to access nutritious meals, was a fresh concern for the organization.
In late 2022, as take-home meal programs intended to support children in the absence of school lunches ended, Day worried it was yet another opportunity for kids to slip through the cracks.
For those already old enough to serve who don't meet fitness or education standards, the military is increasingly finding it worthwhile to take these candidates and work with them until they do.
This past summer, the Army rolled out the Future Soldier Preparatory Course, a three-week training program in fitness and academics at Fort Jackson, S.C., that can be repeated for up to 90 days, giving participants until the end of that window to meet minimum entry qualifications.
Katherine Kuzminski, director of the Military, Veterans, and Society Program at the Center for a New American Security, said the program is able to meet candidates where they are without lowering military standards.
"In some ways, it's easier to prepare someone who has a propensity to serve but is a little overweight than it is to get someone who's super fit and has no interest in military service to change their mind," she said.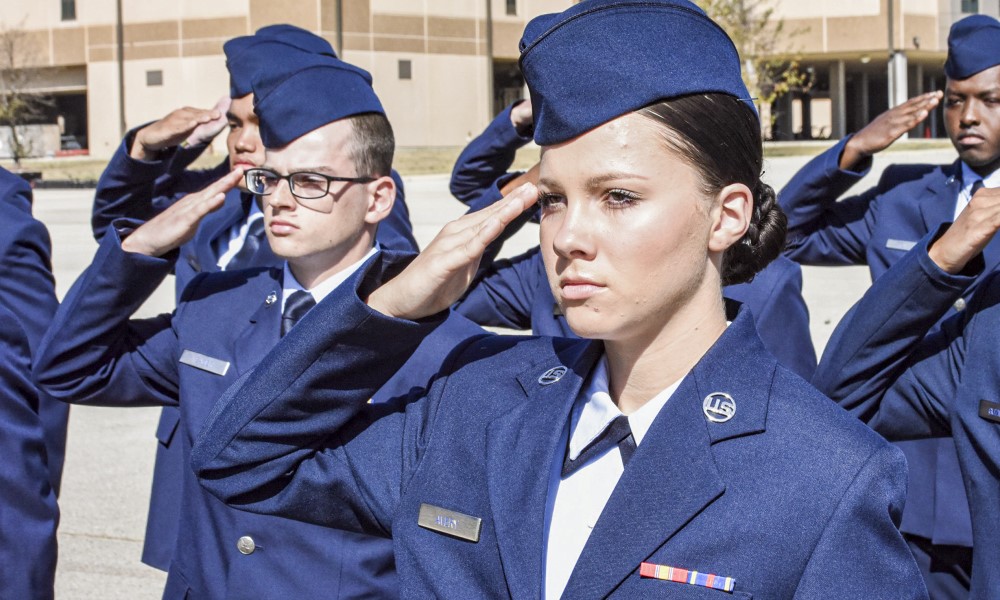 Airmen graduate from Basic Military Training at Joint Base San Antonio-Lackland, Texas. (Photo by Joseph Gangemi/Air Force)
4. Make Paths to Service More Visible
With less than 1% of the population now serving in the U.S. military and servicemembers disproportionately hailing from the southeastern U.S., there's a greater likelihood than ever that a young person could grow up without any contact with someone in uniform.
It doesn't have to be that way, said Debra Wada, former assistant secretary of Manpower and Reserve Affairs for the Army and a member of the National Commission on Military, National, and Public Service from 2018 to 2020.
While that commission received the most attention for recommending that women be required to register for the Selective Service, it also advised that all high school students take the Armed Services Vocational Aptitude Battery (ASVAB), a test that assists with military job placement and might make students aware of how they can fit into the armed services.
"That is potentially a win-win situation, where the individual child benefits from knowing themselves better, and their capabilities, and the military can use the ASVAB to get people to qualify into the services," Wada said.
[RELATED FROM TASK & PURPOSE: The Army Is Bringing the 'Be All You Can Be' Slogan Back]
While recruiters can now return to schools as pandemic restrictions lift, Wada also argued that they should be given better advertising resources and permitted to use the best candidate tracking and analytics tools.
Today's highly online potential recruits, she said, need to encounter the military on sites they spend the most time on, such as TikTok and YouTube.
The commission, which released its findings in spring 2020, also recommended that Congress pour more resources into existing hometown recruiting programs; allow the military services to make multi-year ad buys; reduce restrictions on recruiters' presence in high schools; and provide funding for the services to give limited tuition grants for pre-service education in exchange for an enlistment commitment. All these steps, it argued, would increase awareness, visibility, and appeal of military service for young people.
5. Diversify Outreach
The military services know they have a problem when it comes to ensuring a diverse and fully representative recruiting pool.
Not only does the American South supply roughly 40% of all military recruits, but around eight in 10 people who sign up to serve in the military also have a close family member who has worn the uniform.
With a 2021 poll finding fewer military families would recommend service to others, reasons not to rely on the same well-worn recruiting paths are increasing.
In acknowledgement of this reality, the Army announced in 2019 it would adjust recruiting efforts to focus more aggressively on 22 underrepresented metropolitan regions. Air Force and Space Force leaders also announced this year that diversity in recruiting is a key priority, releasing new demographic targets for future officer applicants in August that align with the U.S. population.
"[Recruiters] really need to cast that wider net," said Rear Adm. Thomas Jurkowsky, USN (Ret), a MOAA board member who has written publicly about the military's recruiting crisis. "The military should be representative of our entire society."
While the challenge of reversing the recruiting slump is daunting, those who spoke with Military Officer said they're optimistic the services can make the changes they need to keep the all-volunteer force healthy.
"It feels like the Department of Defense resists all and any change," said Belinsky, MOAA's director of Currently Serving and Retired Affairs. "When we meet with senior leaders, what is very apparent is that they're working on modern talent management efforts. They are working on the quality of life, they are working on all of those issues that we've discussed that do impact recruiting.
"And they know that … they're in a recruiting crisis, and sometimes it takes a crisis to change and make those tough decisions with the budget. And I'm very confident that the wheels are already moving."
Hope Hodge Seck is a defense journalist based in the Washington, D.C. area.
Military Officer

Magazine
Check out our award-winning monthly magazine. MOAA PREMIUM and LIFE members have access to all editions here.