Are you looking to serve in the Senior Executive Service (SES) for a federal agency, but are unsure of how to begin the process? Although the task may seem daunting, the end result can be a rewarding opportunity to continue to apply your leadership skills in the service of our country.
MOAA hosted a June 8 webinar covering all the questions you might have as you begin your job search. Guest speaker Ralph Charlip, a retired Air Force Medical Service Corps officer who served in the Department of Labor Veterans' Employment and Training Service, shared valuable insights regarding SES job postings, who can apply, and how to apply with our webinar attendees.
[WATCH THE WEBINAR (PREMIUM/LIFE MEMBER LOGIN REQUIRED) | MORE MOAA FEDERAL JOB RESOURCES]
The SES leads America's workforce and ensures that the executive management of the government is responsive to the needs of the nation. Therefore, the Qualifications Review Board assess applications based on clear communication of extensive leadership experience.
With leadership being the key requirement, SES positions are primarily available to personnel who have led large teams. Transitioning officers who've reached O-5 and above would meet this standard, Charlip said, as would some senior enlisted members who've established sufficient leadership experience. Other veterans as well as military spouses may be eligible if they've acquired similar experience in the civilian sector.
Check out the webinar for more information on eligibility, and read further about the SES at the U.S. Office Of Personnel Management SES page.
How to Apply
So you're eligible – what now? Charlip listed quick tips all applicants should know before applying:
Review the job posting: Can external applicants apply? Is it a Senior Executive position? Are you comfortable with the salary? Be sure to re-read specific application requirements.
Build your résumé: Do not use the USAJOBS résumé builder unless asked to, include your salary and hours for previous positions, and don't exceed any specified page limit.
Ditch the jargon: As the Review Board is represented by different agencies, its members may not understand the acronyms or technical terms you are used to. Use layman's terms so that anyone can understand your application.
Set aside time: This process may take 40 to 60 hours to complete. Allow yourself time to complete the application and proofread it.
The most critical part of your application will be how you respond to the Essential Core Competencies (ECQs). There are five ECQs to address: leading change, leading people, results driven, business acumen, and building coalitions. The webinar dives deep into how many examples you need to provide for each competency, but in total, you should have 25-26 unique examples of leadership addressing the ECQs.
Here are some ECQ tips you need to know:
Challenge, Context Action, Result (CCAR): Use this format while writing your leadership example. Charlip offered this visual aid: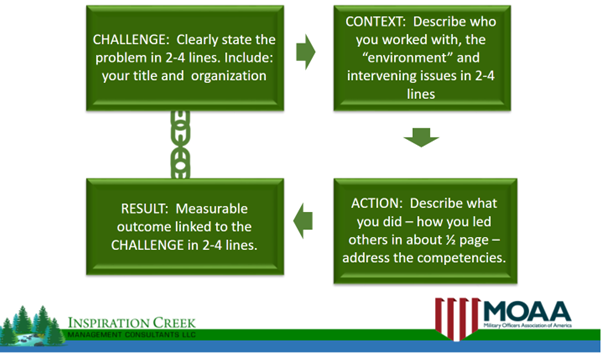 Consider contractors: If you hire a contractor to assist in writing the ECQs, ask them these two important questions – how many times have they served on a Qualifications Review Board, and what is their success rate?
No repeats: Each example of leadership must be different.
Fundamental competencies: These should be addressed (as relevant) throughout your examples.
Lead, don't manage: "Leading is about people and managing is about things," Charlip said during the webinar. "If you're talking about things and not people, that will come across in your writing"
If you would like to learn more about writing your SES application, be sure to watch the archived webinar at this link. Also, visit the U.S. Office of Personnel Management's Assessment and Selection page where you can download application guides.
For more information about federal jobs, including MOAA resources available to assist in the job search and application processes, visit MOAA.org/fedjobs.
Download

Marketing Yourself for a Second Career

Learn what you can do to prepare yourself for a successful transition from military career to civilian career. This handbook shows you how to create an attention-getting resume, cover letter, and more. Get tips on self-marketing, job search, interviews, and interviewing. (Available to Premium and Life members)