For 70 years, the battlefield grave of Army 1st Lt. Robert Styslinger lay underneath the changing vegetation of North Korea's Chosin Reservoir.
Each of his 11 siblings prayed for his return to the U.S., but the cruelty of time did not allow them to live to witness it. Fulfilling the military's promise to never leave a fallen comrade behind had been a prolonged journey, but, after nearly seven decades, it was finally achieved.
"It's always possible," said Cecelia Sheridan, Styslinger's niece, reflecting on how the family grappled with her uncle's absence and possible return over the years.
From her home in Michigan, Sheridan rifled through Army documents until she found the thick, spiralbound book titled "Forensic Report." Inside is a photograph of a partial tibia — her last connection to her uncle Bob, who died in November 1950 during a battle at the reservoir during the Korean War.
For thousands of other families of servicemembers missing in overseas battles, the search continues.
The mission to recover and identify remains of these servicemembers is led by the Defense POW/MIA Accounting Agency (DPAA), an office of DoD. Its work has led to the repatriation of thousands of servicemembers from World War II to Operation Iraqi Freedom. The missions are supported by funding from Congress and public-private partnerships.
"We are a country like no other," said Rear Adm. Darius Banaji, USN, DPAA's deputy director for operations. "Our word is our bond. We will keep searching, and we will find you."
Banaji assumed his current role just after the 2018 Singapore summit meeting between North Korean leader Kim Jong Un and then-President Donald Trump, when an agreement was reached to return servicemember remains to the U.S.
In its most successful year — FY 2019 — the remains of 217 people were found in more than 35 countries. The COVID-19 pandemic halted excavations midway through FY 2020, limiting travel and recovery missions. Still, in the five months DPAA was operating, teams recovered 120 sets of remains in 15 countries, according to the office.
Recovery Challenges
Approximately 81,800 American servicemembers remain missing. More than 75% of those troops are located in the Indo-Pacific region with at least 41,000 presumed to be deep water losses, according to the agency.
"We're going to work our hardest to find the next person and the next person and the next person and make these identifications, and not stop trying until truly we find everyone that we can," said Carrie Brown, one of the agency's 30 forensic anthropologists who manages the laboratory at Offutt AFB in Nebraska.
Her work has helped identify dozens of sailors and Marines who were aboard the USS Oklahoma (BB-37) when it was bombed on Dec. 7, 1941, at Pearl Harbor. Of the 429 servicemembers killed in the attack, just 35 had been identified in the years directly after, but through efforts of the DoD and its scientists, 309 had been identified as of mid-March.
It's no easy feat. Some sites are impossible to reach because of restricted access to the country or because the site is underwater, such as plane crashes and sunken ships. The sites that are accessible can be difficult to work on for a variety of reasons, such as changing vegetation that makes them unrecognizable, or steep cliffs that require helicopter transport.
Once teams do reach the site, they may deal with comingled remains, which makes it more difficult to identify individuals. When remains of the servicemembers killed on the Oklahoma were exhumed for the lab to identify, Brown said there were a half-dozen sets of bones in one casket. Once they began DNA sequencing, scientists were astounded.
"We had a minimum number of 95 people in that first casket," Brown said.
The identification process begins when remains arrive at one of the agency's labs in Hawaii, Nebraska, Ohio, or Washington, D.C. Anthropologists take photographs of each item recovered and catalog it in their database. Items are cleaned and routed to proper experts, including dental and skeletal analysts.
Some are sent to the Armed Forces Medical Examiner's office at Dover AFB in Delaware, where they are compared to samples of DNA submitted by family members.
Brown said one of the most memorable cases she worked on involved identifying the remains of a World War I veteran. The agency does not typically work on World War I veterans, but in 2009, they were alerted to a site in France that had neatly arranged rocks and reports involving an American.
They began excavating and found a full skeleton — with buttons where his coat would have been, an infantryman badge in what would have been a chest pocket, and a first aid kit with gauze still inside. His wallet was inscribed with the initials "G.H." and contained a newspaper article detailing the conflict apparently responsible for his death.
"George Humphrey," Brown said. "He was a 29-year-old Marine. When we recovered him, he was buried extremely respectfully. Someone had taken the time, and they meticulously drew the map. I can only imagine them trying to go back in 1921 to find this. Landscapes change so quickly, especially during war. But he was laid out. It was a very beautifully prepared burial. I think it shows that amazing brotherhood and that amazing care that they took for a fallen comrade that we still take today."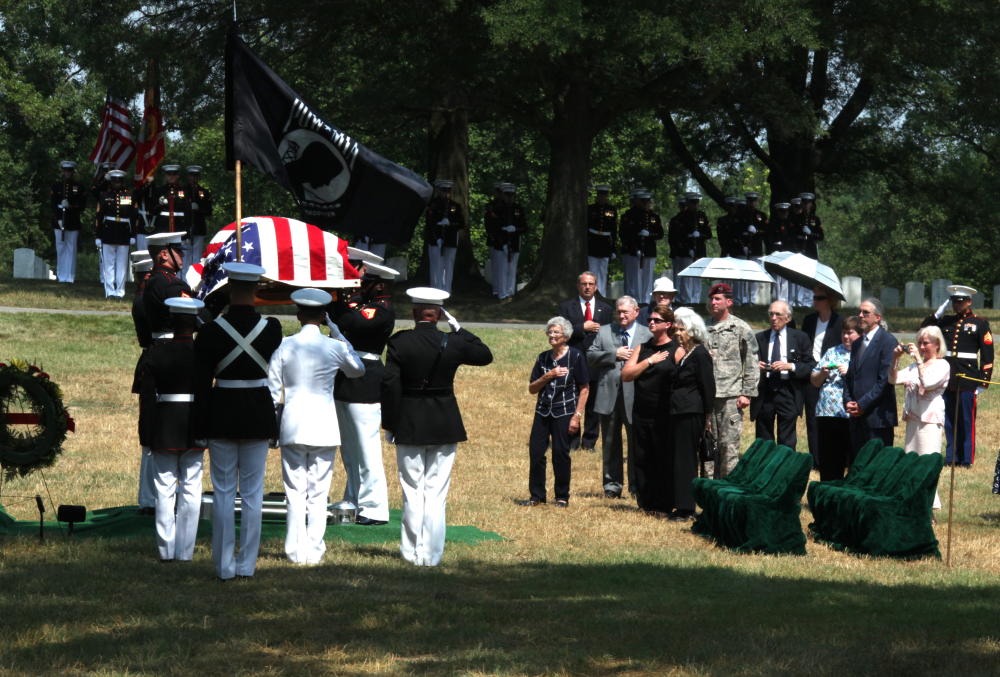 The remains of 1st Sgt. George Humphrey, USMC, are laid to rest in Arlington National Cemetery. (Photo by Lance Cpl. Benjamin Harris/Marine Corps)
Gathering Information
Most missions begin years before shovels hit the dirt.
Historians and analysts comb through reports, war diaries, photographs, ship logs, and memoirs. The information they gather is used to determine which sites in foreign countries teams should visit.
One of the best sources to find possible recovery sites is veterans. Lt. Col. Dan Baughman, USA (Ret), one of DPAA's Korean War analysts, has visited reunions of Korean War veterans to gather their stories. One of the most successful recovery missions was a result of photographs taken and saved by a veteran.
The veteran took a photograph of American servicemembers killed at the Chosin Reservoir in 1950. He gave the photograph to Baughman, who traveled to North Korea with a recovery team in 2001. Once on the ground, Baughman was able to match the photograph against the landscape and narrow the search parameters from hundreds of meters to just about one meter. The recovery team found veteran remains.
"We got 12 individuals unearthed at that site," Baughman said. "It's not only the family members that are interested. It's fellow veterans that also want these cases to be resolved."
The notion that missing servicemembers will be sought lingers in the mind of Capt. Michael Watson, USA, an infantry officer working as an expeditionary
support team leader for DPAA. He grew up hearing stories of his grandmother's brother, who was lost on a Japanese "hell ship" during World War II and listed as "unrecoverable."
Watson has worked on three recovery sites in Vietnam and one in Cambodia.
"When we're out fighting … if we as servicemembers are lost one day, we know someone will be continuing to look for us and provide comfort for our family members," said Watson, a 2010 graduate of the U.S. Military Academy at West Point, N.Y. "I think we here in the DPAA really take that to heart and have that kind of comfort for any kind of future circumstances that might occur."
Attention to Detail
When the expeditionary support team arrives at recovery sites, members gather details through witness interviews and historical archives to pinpoint where digging should start. Most of the time, teams live in primitive huts with field showers and kitchens while working on the site for 45 to 60 days.
Their best-case scenario is a witness who can describe what they remember and show the team where to dig. But it's typical for the team to call an explosive ordnance device technician to walk terrain with a metal detector searching for any glimpse of a plane fuselage or metal identification tags.
Anthropologists on site decide where to begin digging and set up an organized grid. The expeditionary support team works under their guidance, filling buckets with dirt to be shaken over screens in search of bone matter or other items.
Watson said he hasn't found bone material, but his team has celebrated the discovery of pieces of military uniforms. They found a survival kit with a signal mirror and the sleeve of a flight suit in Vietnam and an identification tag in Cambodia.
"It is very exciting when you do find something," Watson said. "It was a little dirty, but you brushed it off and it was just like it came off your own neck."
A material item isn't the same as a skeleton, but Watson said he knows even the smallest item can bring comfort to a family waiting for answers.
"If nothing else is found, at least they have something, but the goal is obviously to return these servicemembers to their families and give those family members comfort that their loved ones are back home with them," Watson said.
Returning Home
Back in Michigan, Sheridan pores over records and maps of North Korea to learn about her uncle's service. She knows he was presented the Bronze Star for his courageous actions at the Chosin Reservoir, but it was a fellow veteran who filled in the gaps.
Styslinger's artillery unit was in danger of becoming overrun by the Communist Chinese forces on the reservoir that day in November 1950. As the unit's leading officer, Styslinger and a radio operator climbed a hill to get a better view of the battlefield so he could maneuver the platoon to safety.
The perilous task was paused when the radio operator was struck by enemy fire and Styslinger patched him up. When Styslinger reached the bottom of the hill after completing his task, he told his troops he thought he had been struck.
His troops laid him on a truck engine to warm him up on a frigid day, but he died before they could render first aid, according to the veteran who spoke with the family. The men scribbled on a map to note where Styslinger was laid to rest so they could come back to retrieve him.
Years passed, and Styslinger's family members submitted DNA to the military in hopes it could be matched against remains someday. Just before Styslinger's brother George died, he informed Sheridan it was her turn as the oldest living descendant.
As a teenager, Sheridan said she prayed for her uncle. As an adult, she followed news about the 2018 summit between North Korea and the U.S., and, remembering her family had DNA on file with the military, hoped it would lead to a match.
The call came in August 2020. Styslinger's remains — a sole tibia — were in Box No. 23. It's a moment of closure Sheridan wishes she could have shared with the 11 siblings who feared their brother was forgotten.
"I was just stunned," Sheridan said. "I was delighted. Part of it is because my uncle was back home, and the other part is because my son is in the Army, so it's incredible. I can't tell you what a delight it was."
Every Officer Has Two Families
For over 90 years, MOAA has been working to get servicemembers and their families the benefits they deserve.